Rhino safaris, holidays & tours
As the rhino populations sadly decline, you should move heaven and earth to see this amazing animal in the wild before its too late
Rhino safaris, holidays & tours available in
Kenya, Namibia, South Africa, Tanzania
Custom designed Rhino safaris in Africa
Describe your dream trip
We'll source the best value for you
Book when you're ready
Help Me Plan
As the rhino populations sadly decline, you should move heaven and earth to see this amazing animal in the wild before its too late
The world's attention is on the African rhino as their numbers thin out fast due to poaching. All five of the world's rhino species are endangered and some are even on the brink of extinction. Seeing one of these majestic creatures in the wild is high up on the list of any wildlife lover.
White rhino (northern and southern) and black rhino are the best known sub species in Africa, but there are also Indian rhino, Javan rhino and Sumatran rhino. The northern white rhino is critically endangered, with only a handful left in captivity and a slim chance of them reproducing. The four subspecies of black rhino are either critically endangered or almost extinct. While the southern black rhino and south western black rhino are out of immediate danger for the moment, the East Africa black rhino in Tanzania's numbers are declining. The north western black rhino has been declared extinct in 2011.
Popular Rhino safaris in Africa
These popular itineraries can be customised to match your budget and travel dates
More on Rhino safaris in Africa
There are five excellent places to see rhinos in the wild in Africa. Ol Pejeta in northern Kenya's Laikipia is Africa's largest rhino sanctuary and rhinos have been protected here since the 1970s. Guests are guaranteed good black and white rhino sightings on a daily basis in this well-managed private reserve. It's also the only place to see the critically endangered northern white rhino in the wild today.
Lake Nakuru in Kenya's rift valley has been a rhino sanctuary throughout the poaching war of the the 1970s and 1980s and it has a considerable rhino population. It's possible to see up to 20 rhino at Lake Nakuru and both white and black rhinos are present.
Tanzania's Ngorongoro Crater is perfect for seeing black rhino. The relatively small size of this caldera almost guarantees rhino sightings, especially in the late afternoon when they emerge from the swamps and thickest get a drink.
In Namibia, the desert rhino camp looks after the rare south-western black rhino. These free-roaming rhinos cover an extensive space, making them difficult to find, but time and patience rewards the patient viewer with incredible sightings of these rare species.
South Africa's Hluhluwe Game Reserve has always been the country's best area for both white and black rhino, but the drastic increase in rhino poaching has had its impact even on Hluhluwe. Hopefully, the war against poachers in South Africa will soon have a positive impact on the rapidly declining rhino numbers in this once-prime rhino conservation area.
Frequently Asked Questions about Rhino safaris in Africa
How does the weather influence a safari?
While a safari holiday can be at any time of year, it is worth noting that seasonality will impact the type of experience you're likely to have as well as the cost of your safari. During the dry season, the wildlife tends to congregate… go there.
What is a typical day on safari like?
Life on safari has a rhythm of its own, largely dictated by the animal's movements. Generally, the most rewarding times for game viewing is in the cooler early mornings and also late in the afternoons when the animals are most active. A… go there.
What vaccinations should I get?
This is all dependant on the countries that you will be visitng and due to the status of certain vaccinations changing at times, please consult our experts before getting vaccines. go there.
Is it okay to drink the water?
In some parts of Southern Africa it is safe to drink the tap water, however it is highly recommended to stick to bottled water (mostly supplied) during your trip as even drinkable African water is completely different in taste and… go there.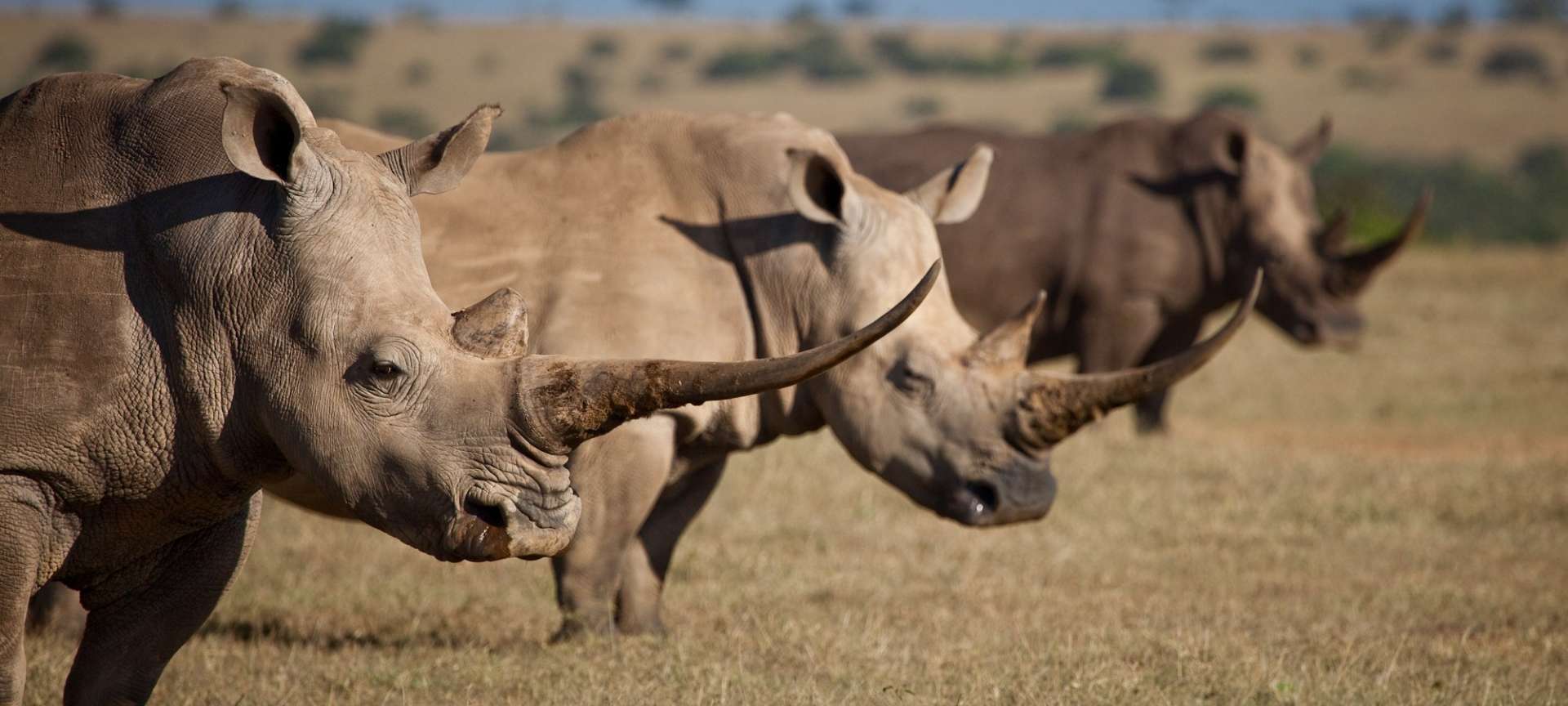 Reviews on our Rhino safaris in Africa
Since the beginning, agents and staff of Discover Africa already work in a professional way for me to plan the trip. Their quick responses to my questions help us a lot before departing from our place to the Africa continent. When we were…
YT
from Hong Kong
This was my first safari. I didn't expect to be so pampered. Everything was first class. We had everything provided for us before even asking. We had a dedicated team at our service. Megan was on call whenever we needed something and she…
Saada
from Nigeria
Tanya was an absolute delight to deal with. From the first phone call she was extremely polite, professional and very eager to facilitate my requests regarding our safari. Our 3 nights at the V & A Hotel were fabulous and Motswari Game…
Debbie
from Australia
Perfectly tailor-made tours that take all your wishes and requests into consideration. All my expectations were beyond fulfilled.
Henrik Wetterstrand
from Sweden
Living afar and trusting in an organisation with whom you have no previous knowledge can lead to feeling of mistrust and wondering whether what we have paid for actually exists. A little more proactive communication would have eased those…
Tony Russell
I just wanted to thank Discover Africa and Karl Svendsen - the safari was great - we saw many more animals than expected including cheetah, leopard, many lions and even a three-day old elephant calf. Additionally, we had our own hippo…
Margaret Dean