Botswana Photographic Scheduled Safari
Let us take you one the adventure of a lifetime through the Chobe National Park, Khwai Community Area and Moremi Game Reserve.
Go on a 10 day safari like this from
USD 2,880
Show price in
USD $ 2,880
GBP £ 2,211
ZAR R 41,348
EUR € 2,512
per person
customised to your needs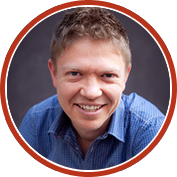 Matthys van Aswegen
The Chobe National Park is situated in the northwest of Botswana and is undoubtedly the country's most beautiful and popular nature and game reserve. It is one of the largest concentration of wildlife in Africa, making it an ideal location for an African safari. Home to an incredibly large elephant population, tour through the park and encounter 120,000 elephants.
Observe a variety of wildlife animals, bird life and embark on a sunset cruise and game drives. Take the perfect wildlife photographs and watch a family of elephants playing in a waterhole.
The Khwai Concession Area of the Okavango Delta lies along the northern boundary of the Moremi Game Reserve. This is an unfenced boundary, allowing wildlife to move freely between the woodlands in the wet season when the water is plentiful and back to permanent rivers and lagoons in the dry season. Experience the wildlife through walking safaris and night drives.
The Khwai River is famous for its large population of predatory birds, most notably the Bateleurs which gather on the outskirts of the river during July - October. As a result, this area is immensely popular with bird spotters.
The Concession is also a good area to see Roan and Sable antelope. On your Botswana safari, you might see kudu, tsessebe, wildebeest, and zebra. Huge herds of migrating elephants enjoy the Mopane woodlands of the interior of the Khwai area. There are fairly stable populations of large predators such as lion, spotted hyena, and African wild dog. If you're lucky, you may also spot leopards.
Moremi Game Reserve rests on the eastern side of the Okavango Delta and was named after Chief Moremi of the Botswana tribe. The reserve covers 5,000 square kilometres in extent, it is a surprisingly diverse Reserve, combing mopane woodland and acacia forests, floodplains, and lagoons. Only about 30% of the reserve in the mainland, with the bulk being within the Okavango Delta itself.
The reserve is the best place to experience excellent views of Savannah game as well as bird watching on the lagoons. Enjoy game drives and nature walks that will give you the opportunity to spot an incredibly wide spectrum of wildlife, ranging from large herds of buffalo, wildebeest, giraffe, and zebra, to the rare sitatunga and lechwe antelope, lion, leopard, cheetah, hyena, packs of wild dog and 550 bird species in the open grassland.
Show price in
USD $3,125 - $5,120
GBP £2,399 - £3,930
ZAR R44,866 - R73,508
EUR €2,725 - €4,465
Estimated cost per person for a 10-day safari like this, depending on the season.
International flights not included.
JanLow
FebLow
MarLow
JunPeak
JulPeak
AugPeak
SepPeak
OctPeak
DecLow
Costing tip: When comparing with other companies, remember most of them only show the low season rate. How pricing works >
What to Expect on This Safari
This popular itinerary can be customised to match your budget and travel dates by adding/removing a few days or selecting different lodges
Spend the day at your leisure in the Chobe NP
Upon your arrival at Kasane Airport on day one of your photographic Botswana safari, you will be transferred to Letaka Tented Camp via road. The journey will take approximately 5 hours
The beautiful mobile tented camp is set up only in the most exclusive campsites within private concessions. Each area is chosen for its natural beauty and the accessibility to diverse wildlife habitats for great sightings.
Experience river cruise boat as it journeys across the waters of the Chobe. Cruise down the river at a leisurely pace and sight herds of elephants, cape buffalo, zebra and more wildlife as they gather on the riverbanks to lap up the cool water.
Meals: All meals and drinks
Transport: Included
Exploring Central Chobe
Spend two nights at one of Botswana's wildlife hotspots, the Savuti Region - known in particular for its exceptional predator sightings.
Here, you will encounter the annual zebra migration closely followed by many lion prides. Good sightings of cheetah and leopard are possible as well as the endangered wild dog also occurs here. Enjoy game drives and nature walks, that will give you the opportunity to spot large concentration of elephants, that congregate around the waterholes, making game viewing exceptional.
Meals: All meals and drinks
Transport: Included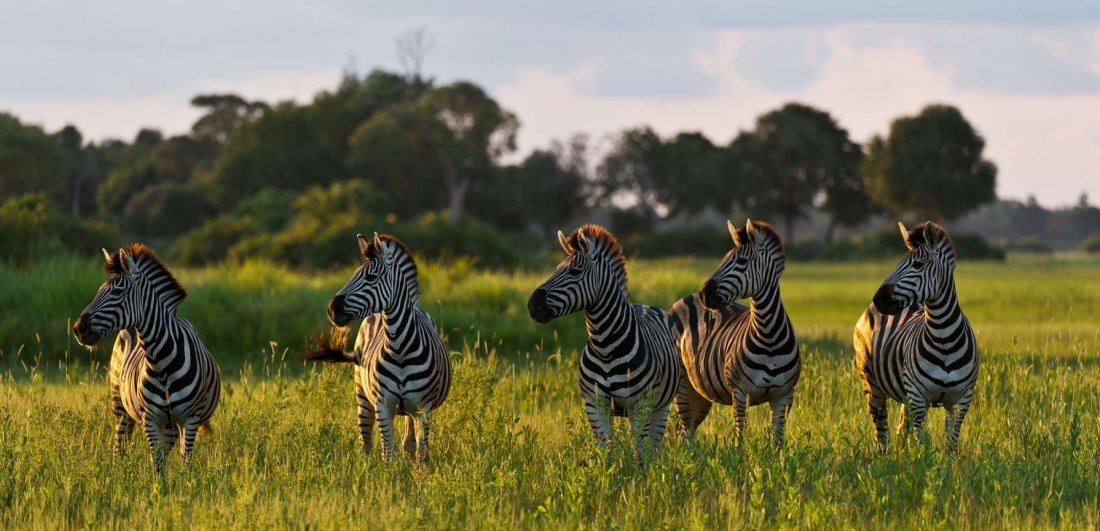 Arrival Khwai Concession Area
Today we leave the drier landscape and head out towards the Khwai Concession Area. The drive is an extended full days game drive with a packed picnic lunch en route. You'll spend three nights camping in the reserve, dividing your time between land and water activities.
Explore morning and evening game drives in the Khwai Community Area. After game drives, enjoy bush picnic lunch or dinner between the Khwai Tented Camp.
Meals: All meals and drinks
Transport: Included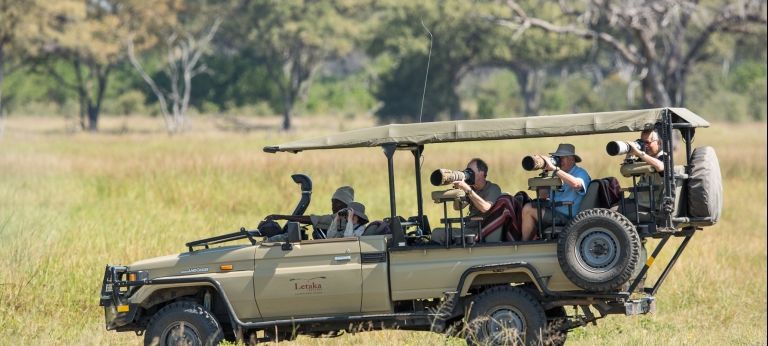 View as animals come down to drink from the river
Spend two nights camping at an exclusive campsite in the community area, exploring the Khwai floodplains.
This river is the only source of water for miles attracting an abundance of wildlife. The area around Khwai is renowned for offering some of the best game viewing in Africa.
Large concentrations of elephants and buffalo can be seen on a regular basis. The predator viewing is very good and guests can expect to see lion, leopard, cheetah, wild dog as well as antelope species. The birdlife is prolific in the area.
During your stay, encounter walking safari and sundowner drinks. Khwai is the perfect place to view a wide variety of bird species. Situated on a beautiful lagoon, therefore allowing you to experience breathtaking Mokoro rides and night game drives.
Meals: All meals and drinks
Transport: Included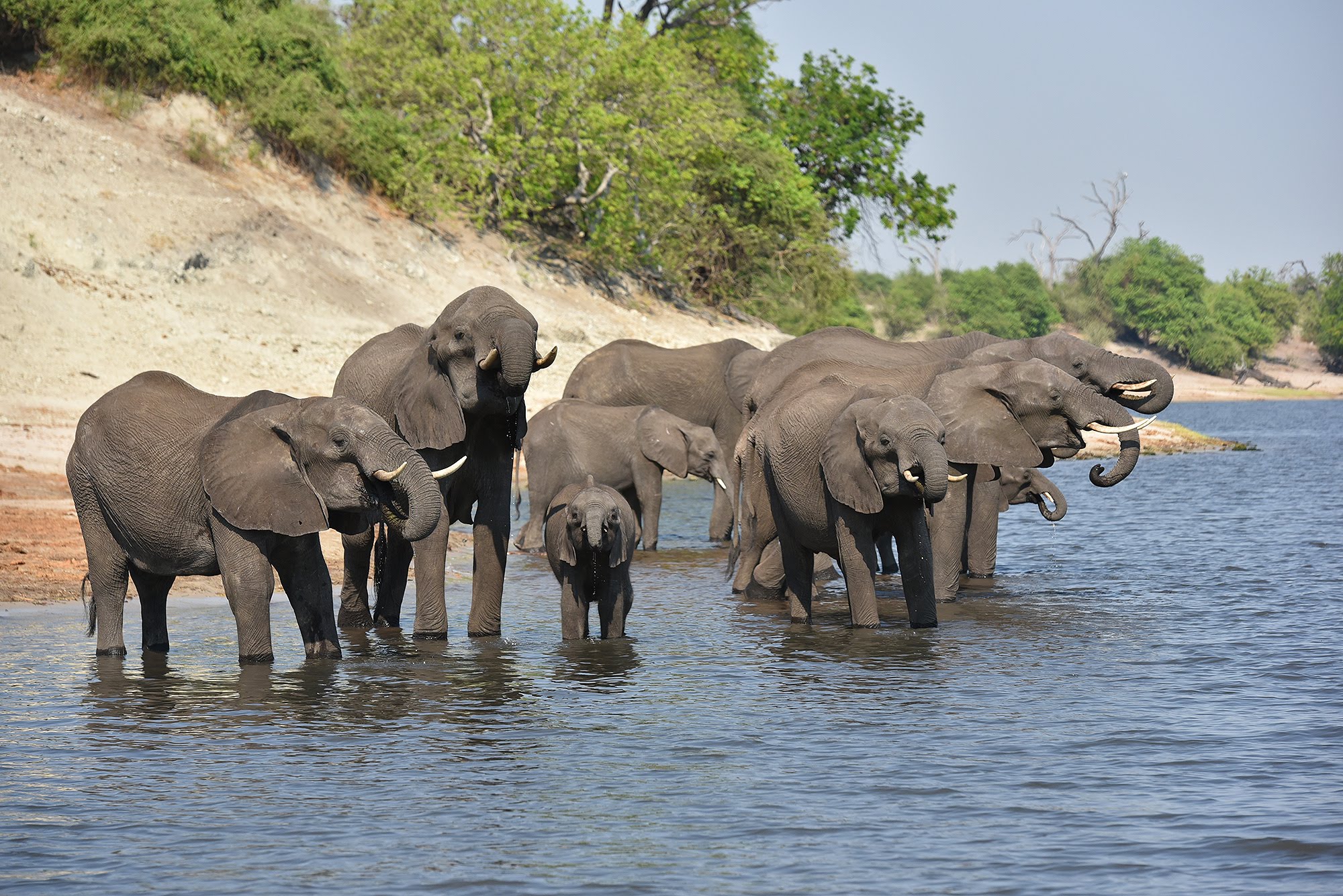 Views over the surrounding Xakanaxa lagoons
Today you head out to the Moremi Game Reserve. The drive is approximately 60km meaning another full day of extended game drive with a picnic lunch on the way. You will spend your next three nights in the reserve, dividing your time between the Xakanaxa, Moremi Game Reserve, and Okavango Delta.
Located on the banks of the Khwai River on the Xakanaxa Lagoon, in the heart of the Moremi Game Reserve - makes it one of the very few safari camps that offers guests an authentic, year round Okavango Delta land and water safari experience.
Enjoy land and water game viewing experience, in open 4x4 safari vehicles or powerboats. The diverse habitat ensures prolific sightings of elephant, buffalo, hyena, giraffe, hippo, wildebeest, kudu, lechwe, lion and leopard among others. Birding is spectacular, especially in the spring and summer months, when the migrants are breeding.
Meals: All meals and drinks
Transport: Included
Pristine wilderness Moremi Game Reserve
Your next game viewing will take you to the diverse Moremi Game Reserve, one the eastern side of the Okavango Delta.
Game viewing is excellent year-round and resident species include lion, cheetah, leopard, elephant, African wild dog, zebra, red lechwe and many more.
You'll be offered morning and afternoon game drives throughout the many different ecosystems that the Moremi Game Reserve has to offer. Explore the Xakanaxa Lagoon and its surrounding channels by boat for a chance to enjoy the picturesque waters of the Okavango Delta, with its kaleidoscope of birdlife.
Experienced guides will introduce you to a whole new world of wildlife; watch leopard stretched out lazily in the branches of a Mopane tree, herds of elephant grazing under a canopy of green or a pride of lions camouflaged in the long grass. Moremi Game Reserve's incredible wetlands support a vast number of antelope including impala, kudu and waterbuck. See the majestic Fish Eagle, Malachite Kingfisher and Pel's Fish Owl on an occasional appearance.
Meals: All meals and drinks
Transport: Included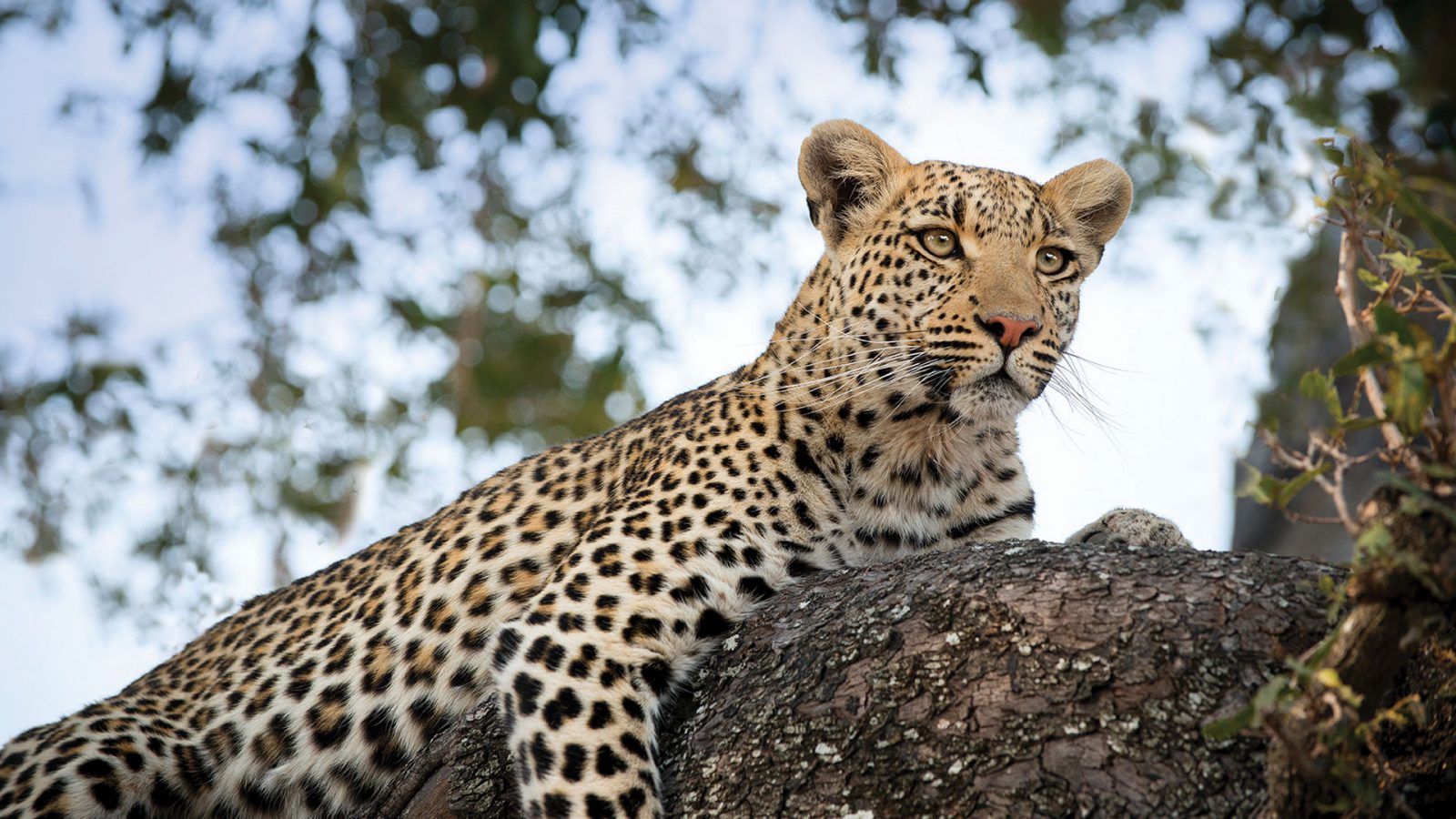 End of service!
Today is your last day of your photographic safari. You have seen and learned so much. There will be a road transfer from the Letaka Tented Camp to the airstrip for your charter flight back to Maun Aiport at approximately 12:30.