Western Uganda
Encompassing the vast majority of the country's parks and reserves, Western Uganda dazzles with its blockbuster wildlife, excellent birding and astonishing landscapes and natural attractions, making it the most popular region with travellers.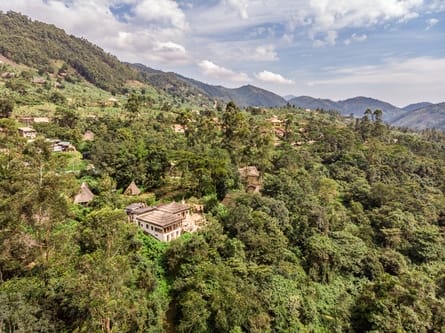 Bwindi Lodge
In the southwest corner of the region, Bwindi Impenetrable National Park is home to the majority of Uganda's mountain gorillas, so it's usually at the top of any safari itinerary. Mgahinga Gorilla National Park, at Uganda's most south westerly corner on the border with Rwanda and the DRC, is home to just one habituated gorilla group, which sometimes moves outside of Uganda's borders, which means that finding the group here isn't 100% reliable.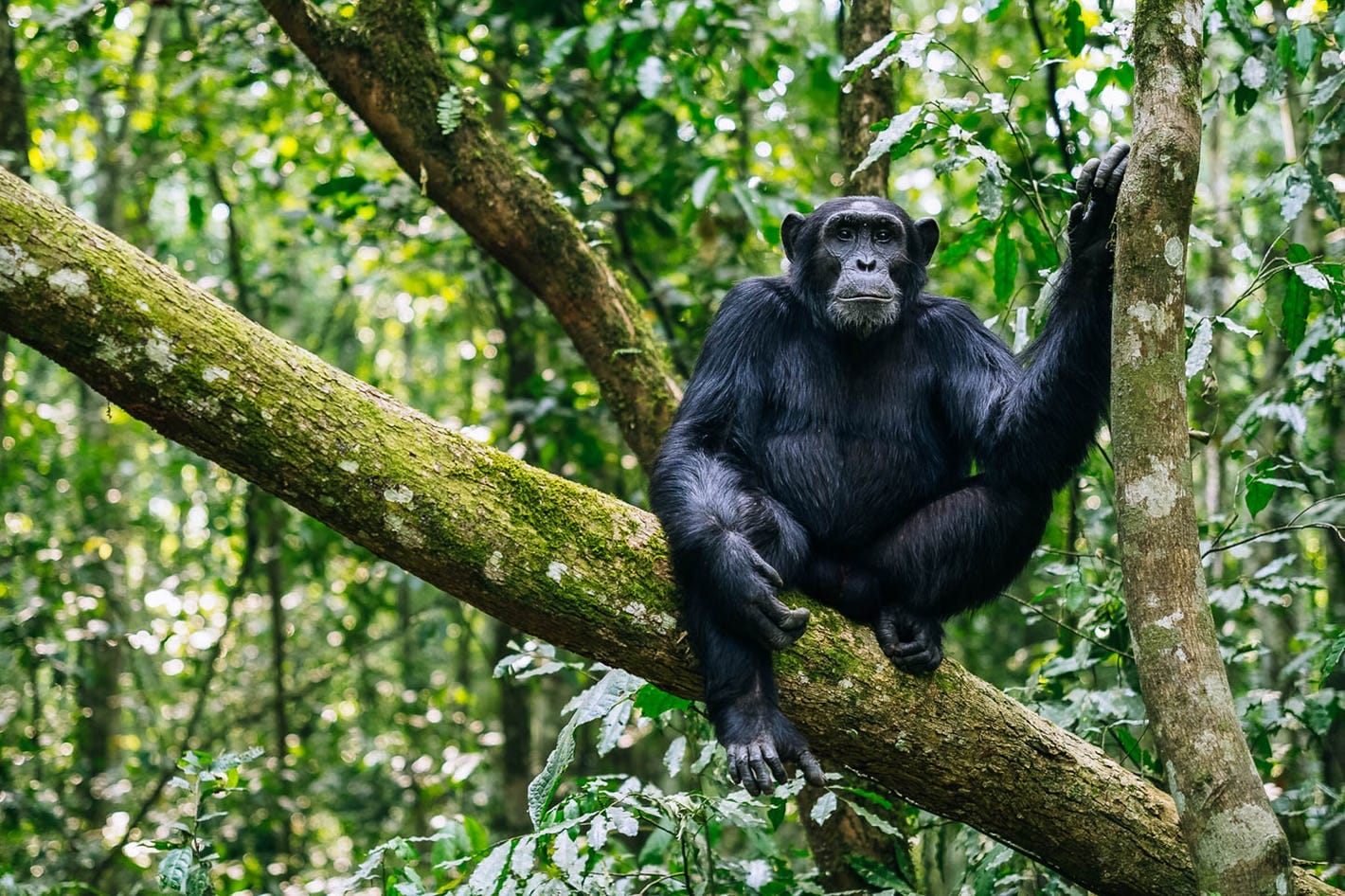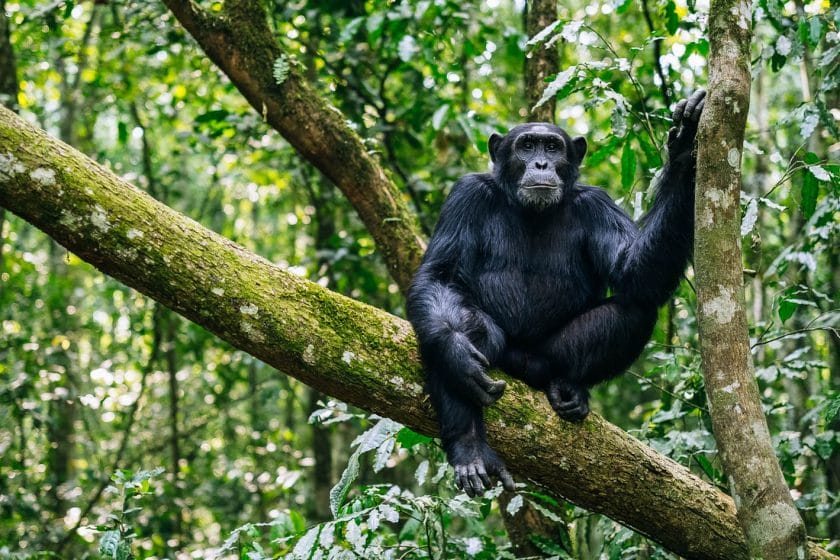 Further to the north of the region, Queen Elizabeth National Park, with its open savanna and huge variety of animal and bird species, is the most popular safari destination, and while Murchison Falls National Park is less visited, it offers East Africa's most impressive waterfall and spectacular wildlife in beautiful landscapes. Chimpanzee trekking is another top activity in Western Uganda: Kibale Forest National Park and Budongo Forest Reserve are two of the best places to go in search of our closest living relatives. Close the capital of Kampala, Lake Mburo National Park is the easiest wilderness area to access in Western Uganda, and while it can't compete with other parks for scenery and wildlife diversity, it's worth a visit for its special species not seen elsewhere.
Western Uganda isn't just about wildlife: it's also home to some of the country's most astonishing landscapes, from the dramatic snow-dusted Rwenzori Mountains to the shimmering blue crater lakes.
Highlights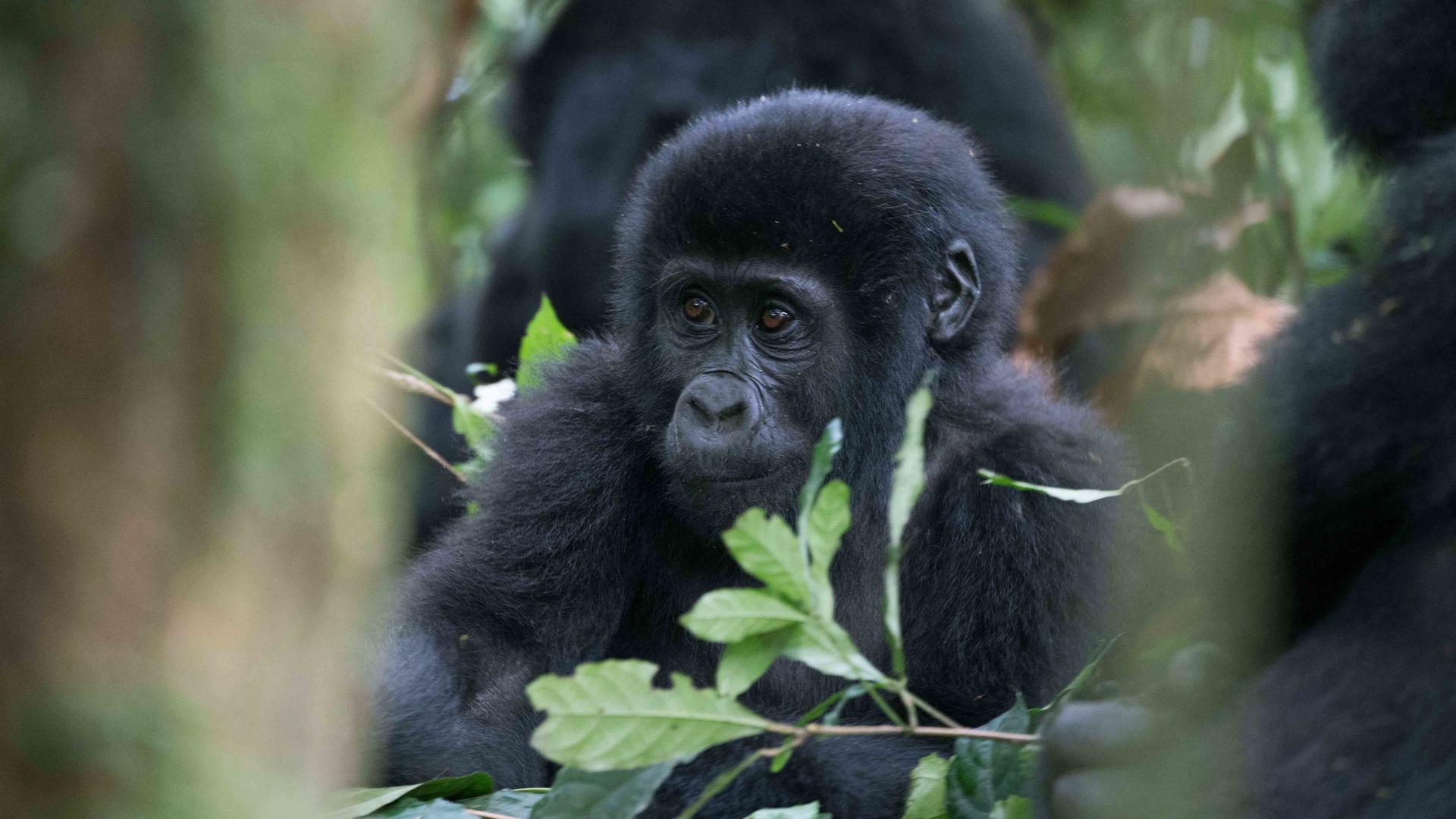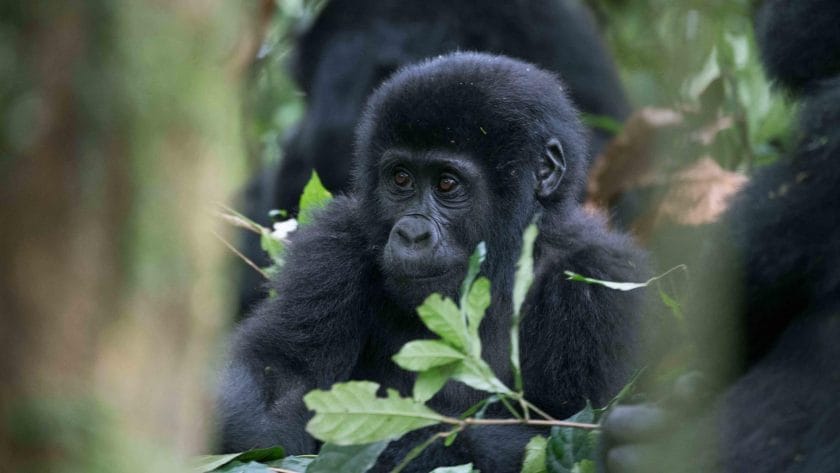 Going gorilla trekking in the mountainous tropical rain forest of Bwindi Impenetrable National Park is, without a doubt, one of Africa's best wildlife experiences. It's a thrilling adventure to hike through the lush, hilly forest to find your assigned gorilla group, but coming face-to-face with these majestic apes is a moment you'll never forget. There are two options for gorilla trekking: you can either spend an hour with a habituated group, or pay more to spend four hours with a group that is in the process of being habituated. Aside from gorillas, Bwindi's other animal life (l'Hoest monkeys, forest duikers, olive baboons, bushbuck and black-and-white colobus monkeys) and 350 bird species can be spotted on guided walks through the forest.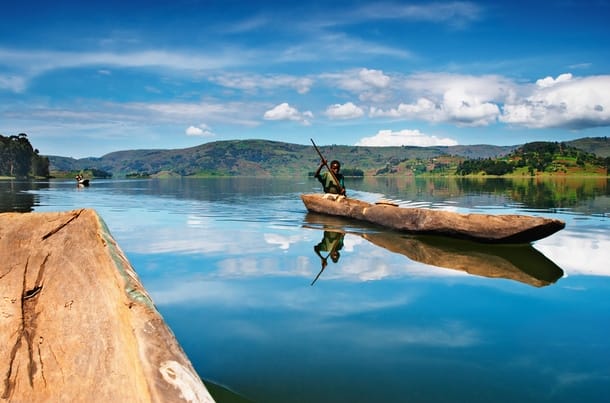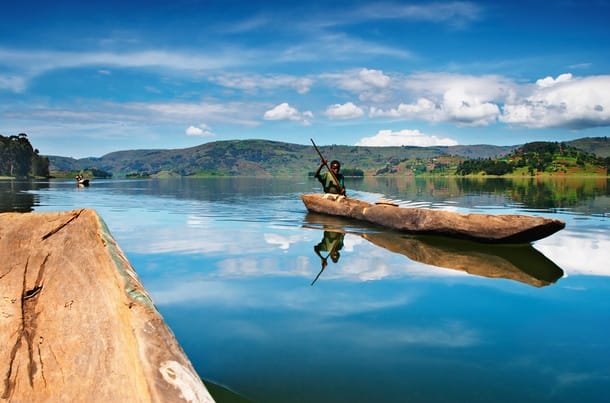 Lake Bunyonyi
Close by to Bwindi, Lake Bunyonyi is a popular spot for people to base themselves in for a few days to go gorilla trekking in the park and then relax at the beautiful lake, which is surrounded by green terraced hills and small villages. There's plenty to fill a few days here, from birdwatching and hiking to canoeing, swimming and mountain biking.
For primates, Kibale Forest National Park is hard to beat, boasting the largest number of primate species of any reserve in East Africa, from the rare red colobus monkeys and olive baboons to l'Hoest and blue monkeys, which you may be able to spot while going on the search for one of five habituated groups of chimpanzees.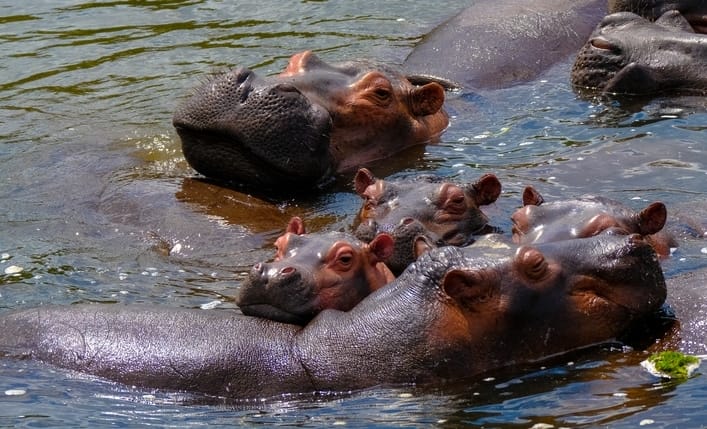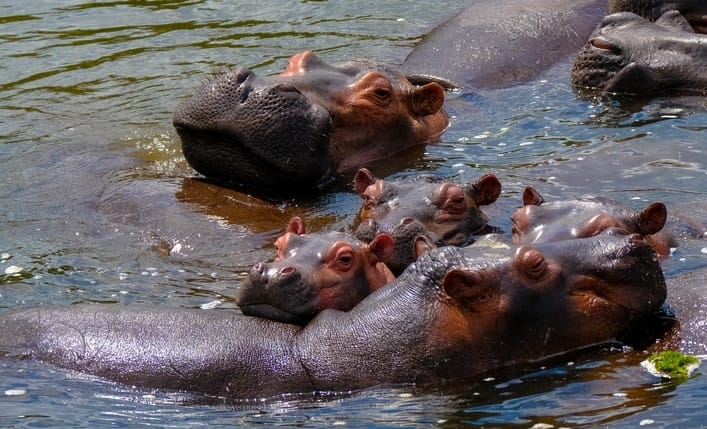 Queen Elizabeth National Park is Uganda's most biodiverse wilderness area, playing host to a magnificent array of wildlife – 95 mammals and 20 predators – as well as habituated chimpanzees. The park's standout highlight is the tree-climbing lions (there's only one other place in Africa where they do this) so catching this sighting is particularly special, while the birdwatching is spectacular, with more than 600 species. Wildlife viewing on boat cruises along the Kazinga Channel for magnificent scenery and fantastic wildlife spotting (including Africa's greatest concentration of hippos) are not to be missed. While you can go chimpanzee trekking in the park's Kyambura Gorge, you have a better chance of seeing chimps at the nearby Kalinzu Forest.
The largest park in Uganda, the remarkably beautiful Murchison Falls National Park, has a lot to offer: East Africa's most dramatic waterfall, wildlife and birdwatching from boat cruises along the Victoria Nile, large herds of elephant, giraffe and buffalo, as well as sightings of lion and leopard, and the chance to see one of Africa's most sought-after birds, the elusive shoebill stork.
The snow-dusted, jagged Rwenzori Mountains – the "Mountains of the Moon" – Africa's highest mountain range, soar up to 5109 metres high along Uganda's border with the Democratic Republic of Congo. The mountains are protected by Rwenzori National Park, and provide thrilling landscapes for adventurous hikes and mountaineering trips.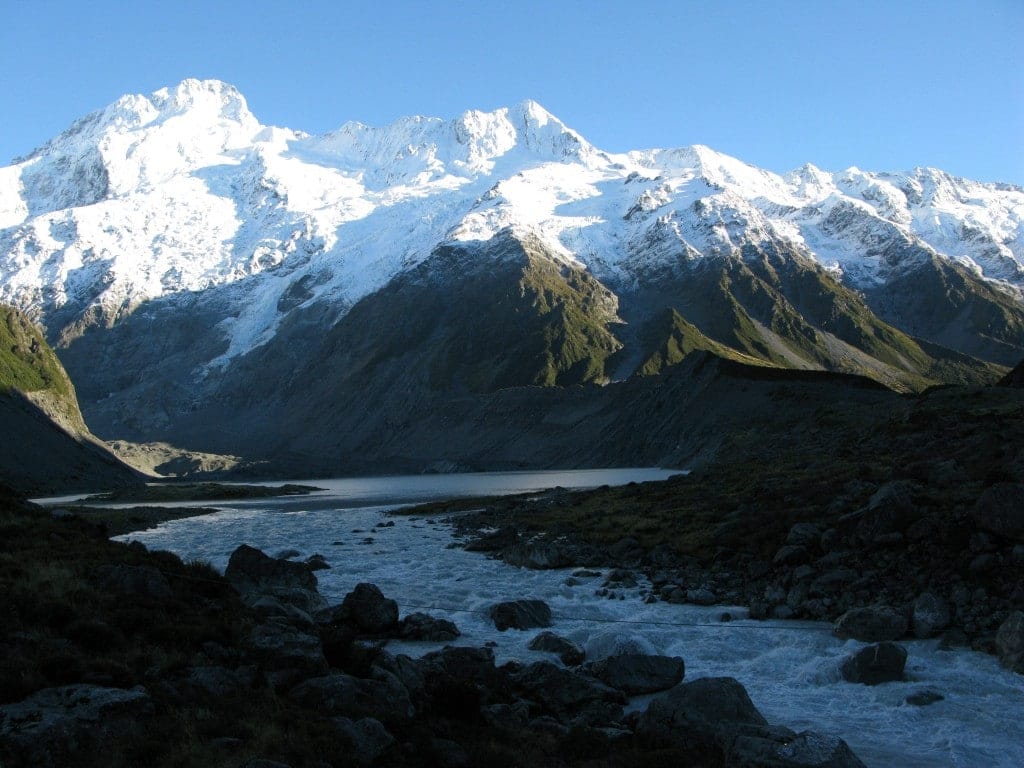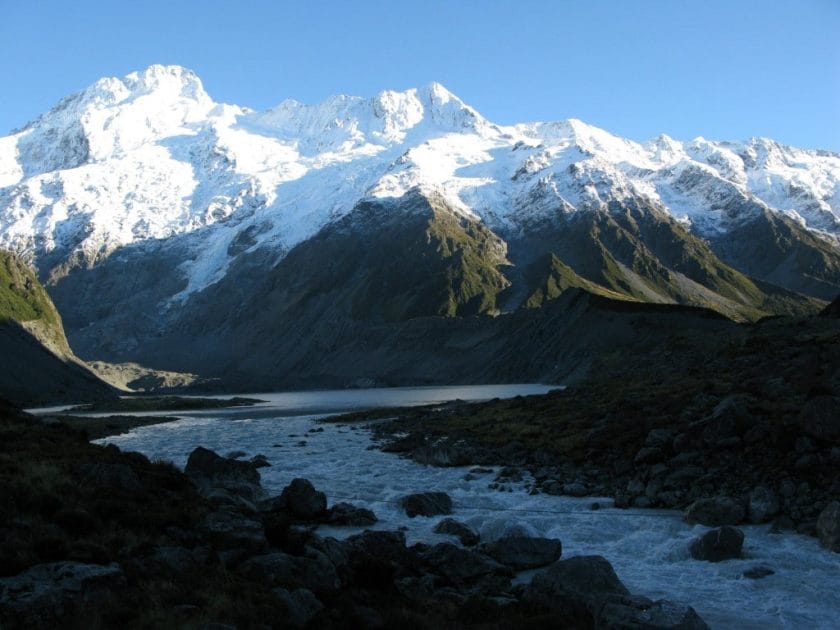 Treks can be anything from one day to a multi-day mountaineering expedition to the top of Mount Stanley, Africa's third highest peak, and along the way you'll be treated to scenery of cloud forests, tropical rainforest, bamboo glades, dramatic valleys and glacier lakes.
In a remote part of the region on the western side of the Rwenzori Mountains and lying alongside the border with the DRC, Semliki National Park sees few tourists due to its isolated location and undeveloped infrastructure, but those who do make it out to the park are rewarded with one of the best forest birding hotspots in Africa. The park protects one of Africa's oldest forests, and with it, a remarkable number of bird species – more than 400 – as well as 300 butterfly species. Highlights include Central African birds such as black-wattled hornbill and Congo serpent eagle that aren't found in any other place in East Africa.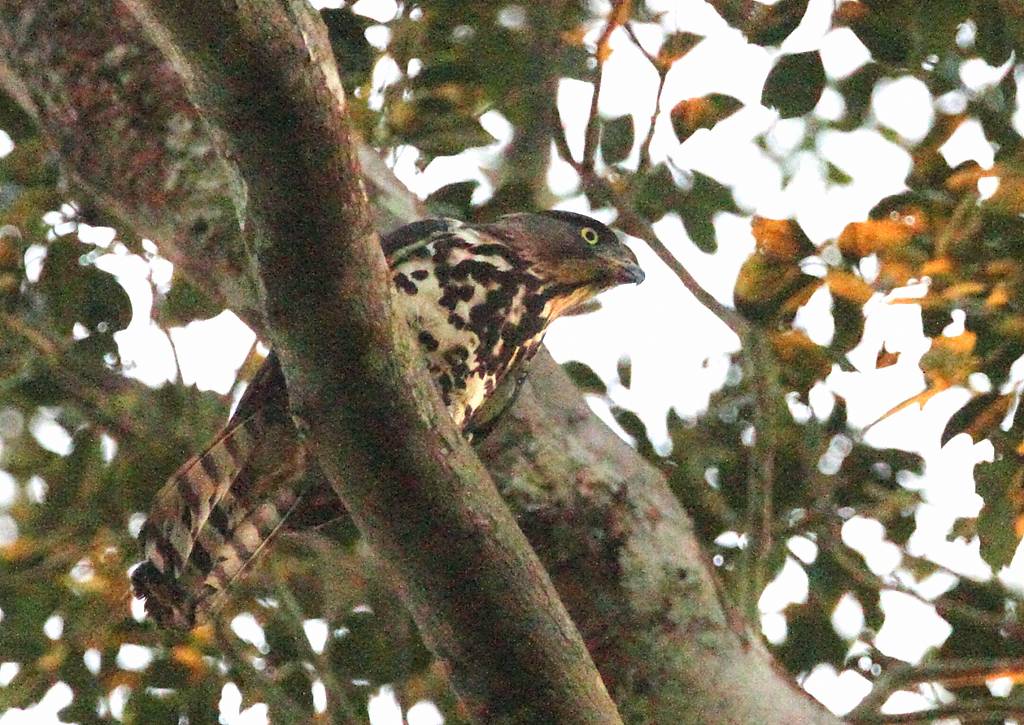 Serpent eagle | Credit: David Hoddinott
Dozens of crater lakes formed by volcanic activity some 10 000 years ago stud the landscape between Fort Portal and Kibale National Park like blue jewels. These photogenic lakes, which are fringed with tropical forests home to monkeys and an incredible diversity of bird species, offer plenty of hiking and birdwatching opportunities, with trails leading you through small villages and tea plantations, as well as other activities such as canoeing and fishing.
Practical Information
Western Uganda is best visited during the drier months of June to August and December to February, when it's easiest to go gorilla trekking in hilly Bwindi and the wildlife viewing in the parks is at its prime. Travelling during the rainy low season months of March to May and September to November does have its budget-friendly benefits though – you'll get cheaper room rates at hotels and lodges and it is possible to get discounted gorilla trekking permits, but be prepared for muddy roads, torrential downpours, challenging hiking and low visibility for wildlife.

If you want to go gorilla trekking, you need to book your permit several months in advance through the Uganda Wildlife Authority or through a tour operator, as there's a limited number of permits that sold every day and during the most popular months for trekking (June to August) the permits can sell out five months in advance. For chimpanzee habituation experiences it's best to book around three months in advance.