The western side of the Etosha National Park has its own character and appeal, plus the all-important wildlife encounters (although game is considered sparser).
The only accommodations here, an NWR luxury eco-camp called Dolomite and a fenced, camping-only site called Olifantsrus – opened in 2010 and 2014, respectively.
This section of the park was also off-limits to self-drivers until 2014, and it's only recently that all can enter and leave through Galton Gate and enjoy the scenery and 15-plus waterholes in the area. This means there is simply less traffic and more peace.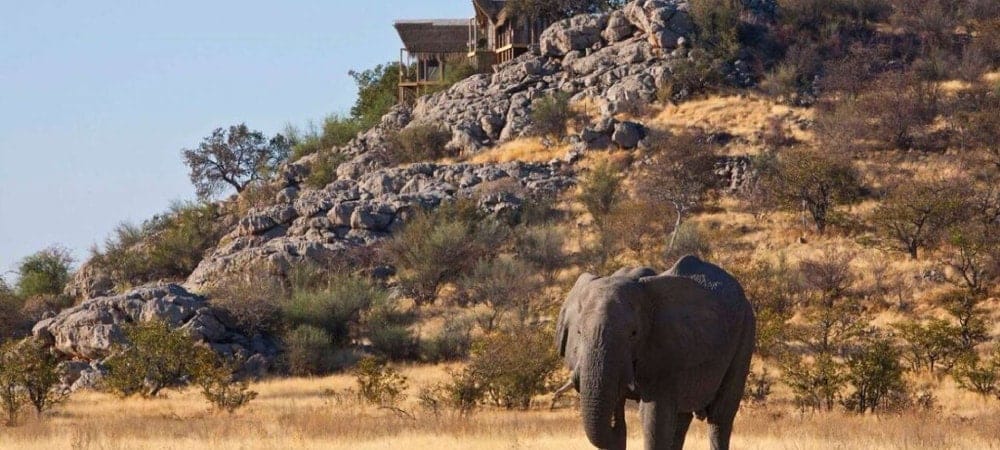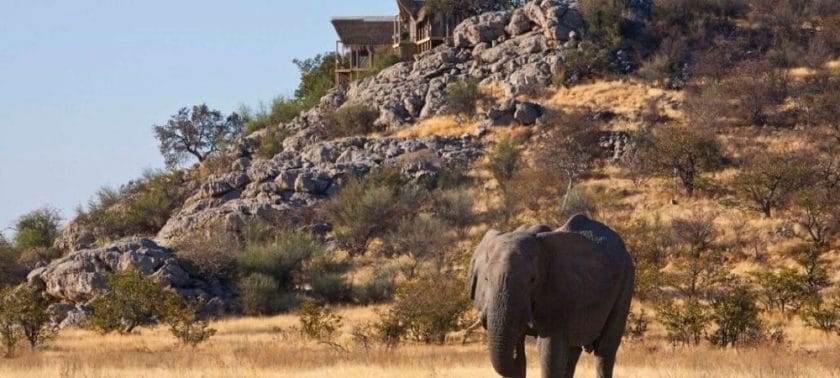 Dolomite Camp
The West offers different vistas and biomes to the east, and central areas—the most obvious being that the landscape is not as flat as a pan(cake), and the soil is not all chalky white but reddish.
There are hills, like the ridges around Dolomite camp, that gave it its name, and these are more wooded, with fewer mopane and more other species such as moringa and star chestnut. Plains game plus elephants frequent the woodlands and savanna surrounds.
There are also patches of sandy acacia shrubs. When driving, mopane takes over from the grasslands after the Ozonjuiti m'Bari waterhole. It's the most common tree in Etosha, making up 80% of all trees.
The region is less of a hot spot for predators, but lions are certainly seen. As always, sightings come down to luck (or a good guide). One resident pride is known as the Rateldraf pride. The name refers to the determined, fearless gait of the honey badger – known to fight back when persecuted by a lion.
Otherwise, more unusual species that frequent this side of the park include Hartmann's mountain zebra, black-faced impala, and brown hyena. It's also fascinating to botanists, with many unusual species magically sprouting after rains.
Photographers and authors Mario and Jenny Fazekas also recommend the area during summer, as "this hilly western part of Etosha is used by wildlife as a retreat during the wet season."
Certain waterholes on this side have been closed for various management reasons, including fighting poaching (some holes were very close to the boundary fence), so ask the camps for the latest news.
The unfenced NWR eco-camp Dolomite is on a wooded ridge of hills and has lovely views, an infinity pool and restaurant, and 20 chalets (three deluxe options have a plunge pool, robe and slippers, and a deck). The furthest chalets are accessed via a steep incline, leaving less fit guests breathing hard.
A golf buggy is supposed to solve this issue, but it isn't always around when needed. The nearest waterhole is Dolomietpunt, just below the ridge (where cheetahs have been seen drinking in the very early mornings).
Klippan, to the north, is known for both Black and White rhinos. Rateldraf is probably where the Rateldraf lion pride got its name.
Giraffes enjoy it too and photographing them drinking with legs akimbo, a series of straight lines and triangles is a total treat. Nomab is scenic and can draw birds of prey, including vultures.
The Fazekas also recommend the stretch between Okawo, a natural spring, and Duikerdrink for various game and birds of prey.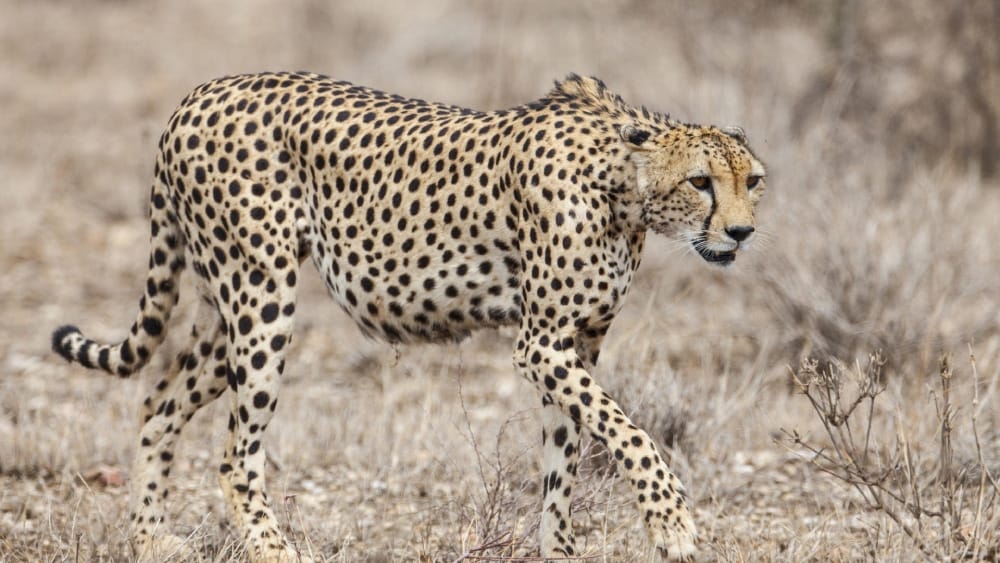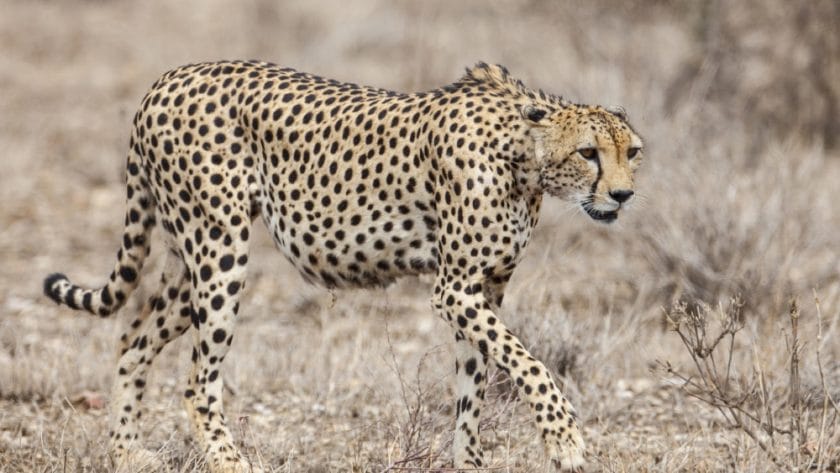 The campsite, Olifantsrus, may suit hardy travelers and the ten sites accommodate a maximum of eight people each. It's less child-friendly, and distances can be daunting. Still, it's an easy self-drive destination for solos, families on safari, and couples.
There is not as much pressure to be fully equipped for vehicle breakdowns as in other wilderness areas in Africa. Guided safari tours in Etosha that often visit other key attractions are an excellent option for those who prefer to hand over all worries once stepping off the plane.
Guides can help locate animals in all seasons. The eco-camp accommodations will suit couples and solo travelers, but those seeking more space and exemplary service may wish to stay outside the park.
Highlights
The Olifantsrus campsite has a relatively new hide, a double-story delight that photographers grumble faces into the sun, but certainly provides good views of animals coming to the water to drink. The lower section offers a bird's-eye view of the game, and the upper story adds height.
One Tripadvisor reviewer writes about being eye-to-eye with an elephant bull, which then sprayed the windows with water! Mario Fazekas describes a piece of fascinating Olifantsrus history: "Olifantsrus camp is built around the remains of the old elephant abattoir, and guests can see where the elephants were slaughtered, hung, skinned and dried.
There is a small museum documenting these dark days of culling." Happily, elephants now go unmolested here. The Etosha elephants are large but have stubby tusks on the whole, possibly due to a lack of minerals or gradual hereditary change (big tuskers had it tough in Namibia back in the day). Note that day visitors to Olifantsrus are charged a fee to visit the hide or picnic site.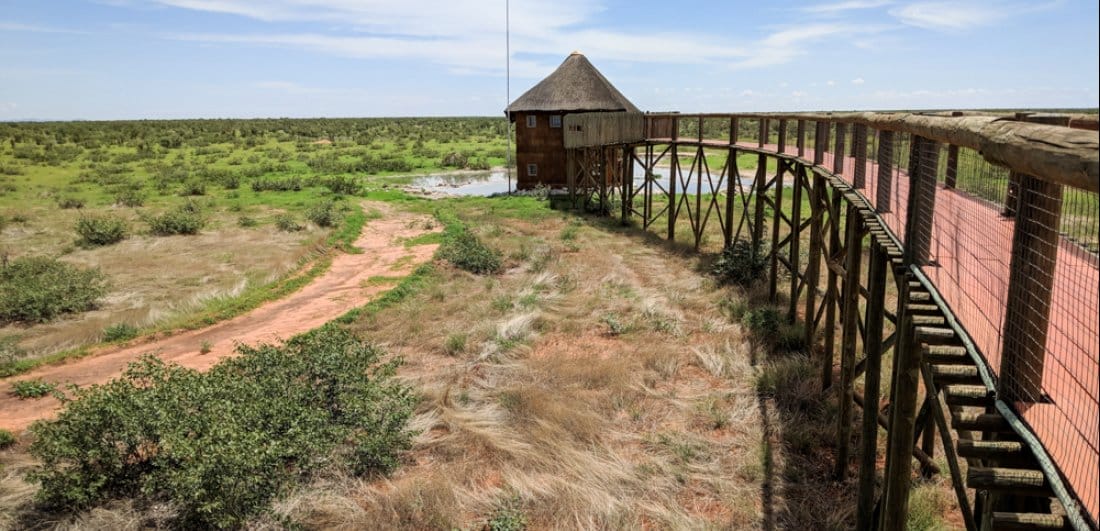 South African-based birding guru, Ian Sinclair, describes Etosha as "the star on the crown of the whole of Namibia." Summer is when avian action is in full swing.
The central area around Halali is an excellent spot to seek out the noisy Bare-cheeked Babbler and Violet Wood-hoopoe, Swallow-tailed Bee-eaters, and lovely little predators like the Red-necked Falcon. But the West has its stars, too – the dolomite hills are home to various near-endemics and specials.
A guide from Lawson's Birding, Wildlife and Custom Safaris suggests searching for Hartlaub's Spurfowl, Monteiro's Hornbill, White-tailed Shrike, Rüppell's Parrot, Rockrunner, Violet Wood-hoopoe, Bare-cheeked Babbler, Chestnut Weaver, Yellow-throated Sandgrouse, Pallid Harrier, Montagu's Harrier, Red-necked Falcon, and Carp's Tit. Less avid birders will be pleased to hear that owls, eagles, and vultures can all be seen.
Practical Advice
This section of Etosha is closer to the stark splendor of the Skeleton Coast and the wilderness of Damaraland. It can also offer an alternative route to Swakopmund on tarmac roads, although long sections on dirt are possibilities for those with 4x4s.
Remember the distances: Dolomite camp is a hefty 180km/112mi from Okaukuejo. Crossing the entire park from east to west in a day at the speed limit (and allowing for sightings) would be grueling and is not recommended.
Keep an eye on your fuel gauge. There is no fuel within 85km/53mi, so you'll need to leave the park and fill up at Kamanjab.
At Dolomite Camp, suppress any superstitions and book number 13. It has views of the camp's waterhole, plus a private pool (only three chalets have this perk). There is no self-catering, so you'll need to dine at the restaurant.
Leisure tourists from Europe and North America visiting Namibia for 90 days or less do not require a visa.