There are families who have visited Etosha for generations, sometimes in family groups that range from pint-sized grandkids to grandads. Instilling a love for the park experience – exciting drives, mammal lists, tents, and searching biscuit-coloured grassland for biscuit-coloured lions – is a
delight and a privilege, no matter the budget. A safari is an enormously exciting experience for most children, who will delight in watching creatures previously only seen in books and on TV walk and trumpet in front of them.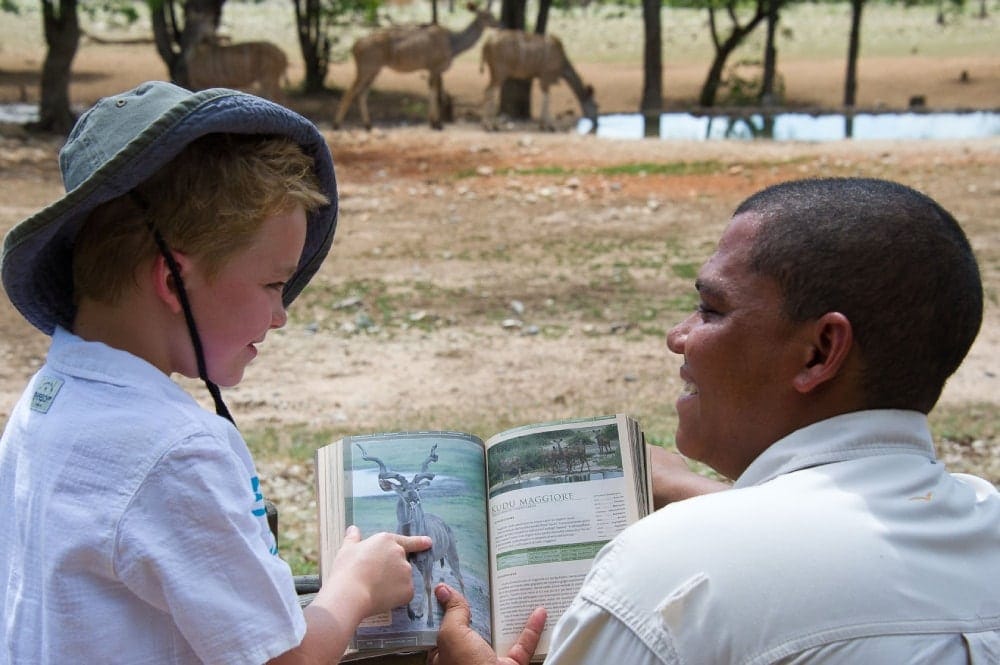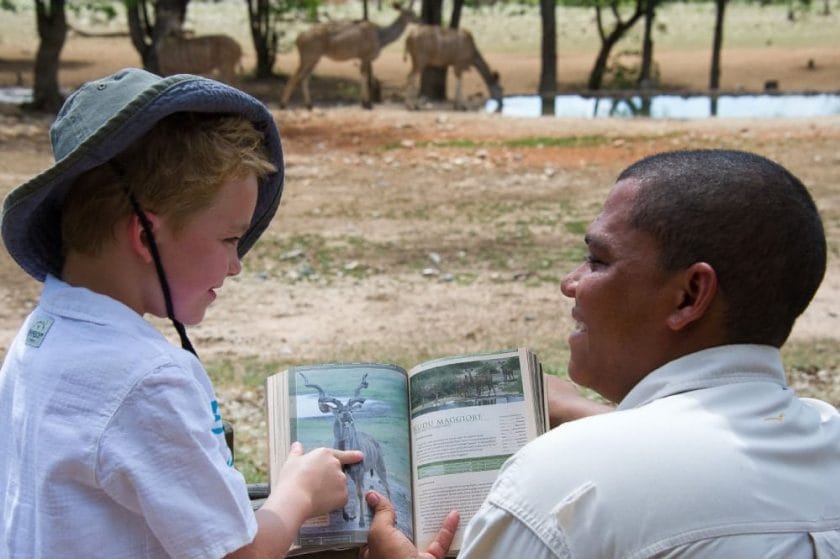 There are some caveats – although many families will chose to ignore them; families are as different from each other as insects and mammals! Generally speaking, however, experts tend to suggest taking older children on safaris: eight-to-ten years old and up is perfect. Distances in Namibia are impressive, standard game drives far too long for wriggly tots, and it gets properly hot, which will wilt the sweetest-natured kid. Also empty landscapes, no matter how beautiful, tend to leave children unmoved.
Choosing accommodations suitable for the family will of course be paramount. The Namibia Wildlife Resorts classic camps will be full of families and smaller kids are bound to meet others splashing in the pools. Some guided tours too, will book accommodation in these camps. The camps are relaxed and casual and self-driving allows parents to cater to their children's tolerance levels. Guided activities for small children, however, will be limited.
Family accommodations in more luxurious establishments outside the park is available – but suitable rooms, especially in the more upmarket establishments, can be limited at busy times. Book in advance. Self-driving, private tours and fly-in safaris are all options. Some lodges will not take young children, and families may have to book a private vehicle (smaller children will not be allowed on group game drives). Most lodges limit guided walks and such activities to older children too: check before booking. Parents able to choose all the creature comforts they desire may want to ensure that their rooms or family chalets have two bathrooms – extremely useful for the early morning crush before game drives or activities. A swimming pool is a great boon for children of all ages, and will often absorb all the extra time one has on safari with two drives a day.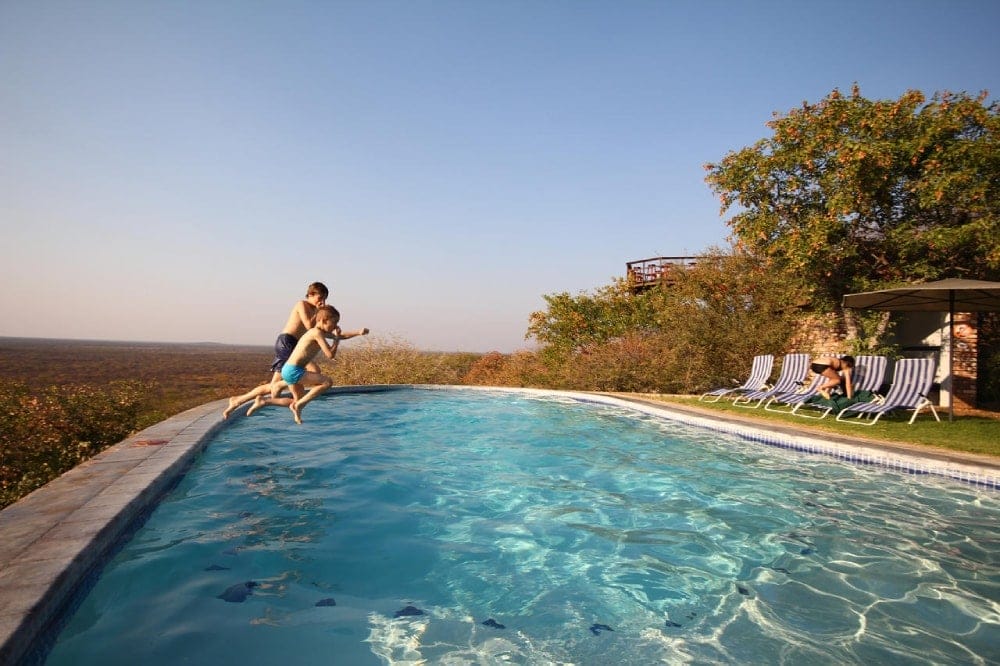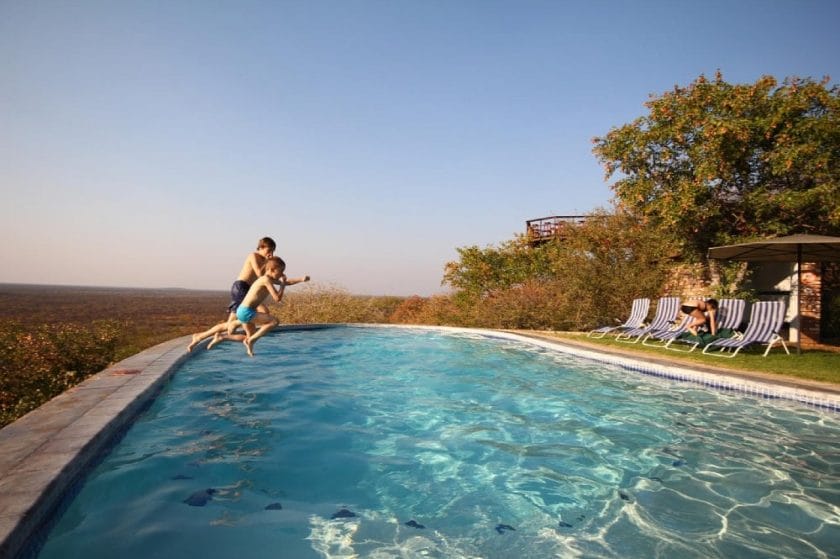 Upmarket lodges that cater for children may also provide a games room, short safe walks to look at plants and insects, private game drive vehicles (unfortunately rather expensive), and hides (great for leg-stretching and whispers). Rates for children will differ, from "under-threes free", to full rates for kids of 12 and up.
Families who are not self-driving can also find guided tours to suit their needs, complete with an informed guide – bliss for those who want to switch the planning side of the brain off. These can be all-inclusive and cater to different budgets, from camping to exclusive, fly-in options. Expect set departure dates for most, excluding the most upmarket. Try and be paired with another family; the children can play together. Lower cost camping tours sometimes do not include activities: check, as it can be very disappointing to be within a stone's throw of a dream activity, only to find it is unaffordable.
As Wanderlust notes, first-time safari goers with kids tend to be most concerned about health and safety. Etosha is considered very low risk for malaria in winter months, although repellent is always a must, as are long-trousers, socks and sleeves at dawn and dusk. In the rainy season, there is a malaria risk, although this is still considered medium to low. Many who are not travelling on to another malaria area or north to the Caprivi Strip (now called the Zambezi) choose not to take prophylactics, but consult a doctor. Of the medication available, etoshanationalpark.org suggests Malarone. If concerned about both the medication and the mozzies, pick a date at the height of the dry season and pack repellent.
All regions of Etosha are suitable for family travel, so the choice of accommodations will decide things. The western region of the park has fewest options to choose from, both inside and outside the park and the game is not as dense.
Travel Tips
Get the children some binoculars, and teach them how to use them before coming on safari. It's a skill that adds huge value to the experience, particularly for nascent twitchers.
Get a species list from the camp shops for children to tick off or make your own: most love a treasure hunt for animals.
At the NWR classic camps, children under six stay free; children from six to 12 sharing with an adult pay 50%. Onkoshi does not accept children under six. Dolomite does, but is unfenced and has walkways threading between rocks; not an ideal playground.
Namotoni and Okuakuejo have small museums and there are interpretive exhibits up at some camps. Children will also love looking at sightings books where available – other visitors note what they have seen and where, leaving tantalising information that can help decide what waterhole to visit next.
Waterholes make Etosha special in winter: the animals come not only two by two, but at times by the hundred. Much easier for families than endlessly scanning grass and scrub for elusive critters.
As tempting as it is for children to run around barefoot when it's hot, hardy sandals or closed shoes are recommended, especially when camping. This will avoid punctures (thorns) and stings (scorpions at worst).
Parents should be able to buy most essentials supplies at supermarkets in large towns. The sun may be more of a threat than any bug. Smear the kids with high-factor lotion and make them wear a hat.
Wifi is available at large camps; vouchers can be purchased at the camp shops. Teens will find this information essential.
Plastic bags are banned in Etosha.