Welcome to the best-known part of Etosha: The expanse of land fringing the eastern and southern rim of the enormous depression that is the ancient salt pan itself. Nothing grows in the salty, lime-rich pan except algae, but it and other smaller pans such as Okahakana are surrounded by grassland, mopane shrublands, and some woodland, and the area sustains a remarkable variety of life. Of the Big Five, only buffalo don't reside here – and that is more than made up for by exceptional sightings of black rhino, seldom seen in most other safari destinations. The park's 300-odd lion (the country's core population) are relaxed around vehicles and one study noted density was quite high, at 1.8 lions per 100km2. Slinky, secretive leopards are of course harder to see but certain waterholes are known to have a resident spotted cat.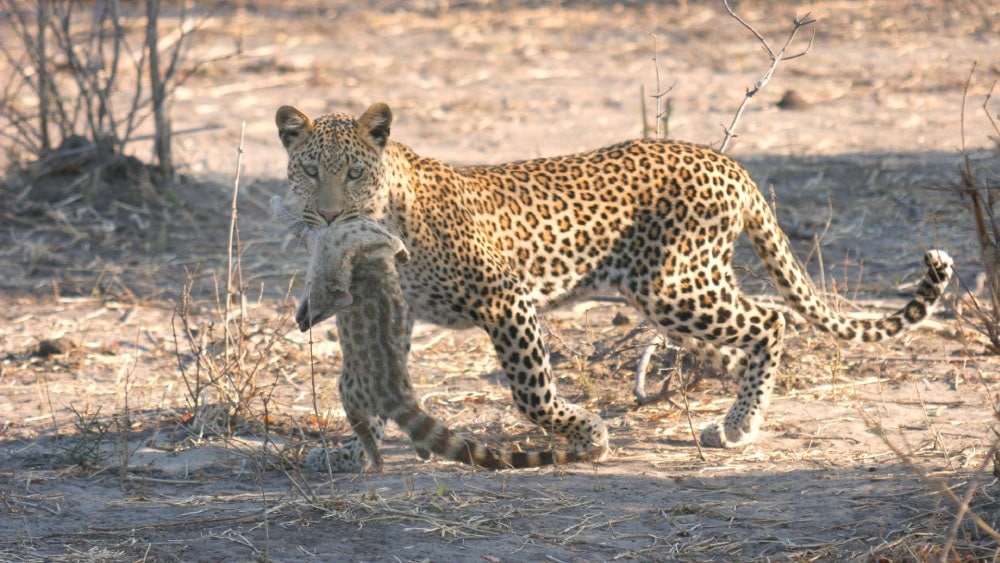 Most visitors will drive to Etosha from the capital, Windhoek. It's 430-odd kilometres up routes B1 and C38, an easy trip that takes around five hours. A quick orientation tour is helpful. Visitors will enter this section of the park through either the southern Andersson Gate, or Von Lindequist Gate in the east. A little further north is King Nehale Lya Mpingana Gate, for those coming down from the Caprivi region, now called Zambezi. Camps in this region are the older, government-run classics, renovated about a decade ago: Namutoni, found inside the eastern border of the park, Halali, situated south of Etosha Pan, and Okaukuejo, near the pan's eastern tip. All will suit couples, solo travellers and families happy with budget accommodations (although they are not dirt cheap). Guided game drives are on offer at all camps, morning, afternoon and night. The C38 through the park links all three camps, and tempting loop roads slip off to waterholes along the way. The names themselves are a delight, hinting at the essence of the place and the cultures that have lived here: Okaukuejo, for example, means the woman who had a child every year; the tongue-twisting Omumborombonga means leadwood tree, protected hardwoods that are rare in Namibia and grow at this pan; and Tgumses translates as "the soil deep in the hole is always wet".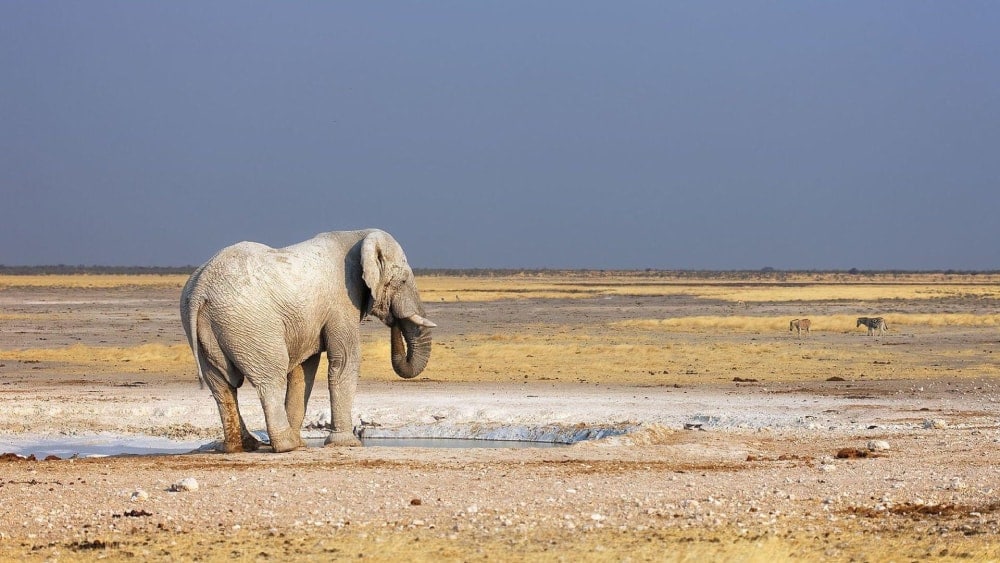 It is worth remembering that Etosha really is an arid place, a harsh landscape that some might find unforgiving. Towards the end of dry season, grazing around waterholes is depleted and hooves clatter on stones as animals come down to drink. It is quite primordial in ways; but foregrounds the natural cycles that allows life to flourish even in tough places like this.
As game tends to migrate east when the rains come, the Namutoni area is a good option. It is also near Fischer's Pan, a hotspot for migrant waterbirds – blushing pink flamingos! – in rainy season, as well as cheetah. Pretty makalani palms sway around waterholes on this side of the park. An NWR ranger born in Namutoni recommends the Sandveld north of the camp for big herds of elephant and that giant among antelope, the eland. The few white rhino in the park (reintroduced in 1995) liked the area between Namutoni and Halali at one stage; look for them near the Springbokfontein waterhole. The old fort at Namutoni is a remarkable sight in the desert surrounds. It was virtually obliterated by Owambo warriors at the turn of the 20th century, but rebuilt within a couple of years. At all three classic camps one can stay in chalets (some family chalets have a kitchenette but most chalets aren't fully self-catering), double rooms (in blocks of four) or the campsite, and there is a restaurant, shop with basic supplies, a pool and fuel.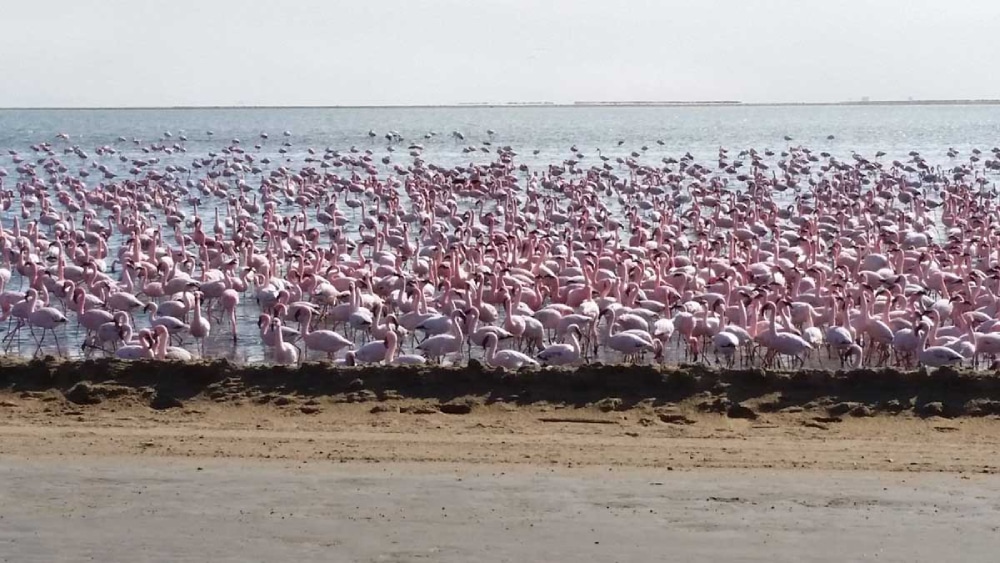 Halali, opened in 1967, has the same basic amenities and accommodations as Namutoni although it's slightly smaller, and it too has a floodlit waterhole, more frequented by the coveted black rhino than Namutoni's. It's usefully situated, has an attractive setting below a hill, and boasts the odd honeymoon suite and a busy pool. The birding in camp is excellent.
Okaukuejo, opened in 1955, is the park's oldest and largest camp and its large, floodlit waterhole is legendary (as a result, you may be elbow to elbow with others on the viewing stands, waiting for a black rhino to trundle down to drink: it's the best place in Africa for these volatile creatures). The few waterhole rooms which overlook this prime territory are what to book if you're ever lucky enough to get a slot! The camp is close to Andersson Gate and the waterholes in the area are extremely popular. The grassy stretches west of Okaukuejo attract game in large numbers after the rains, and are a calving hotspot.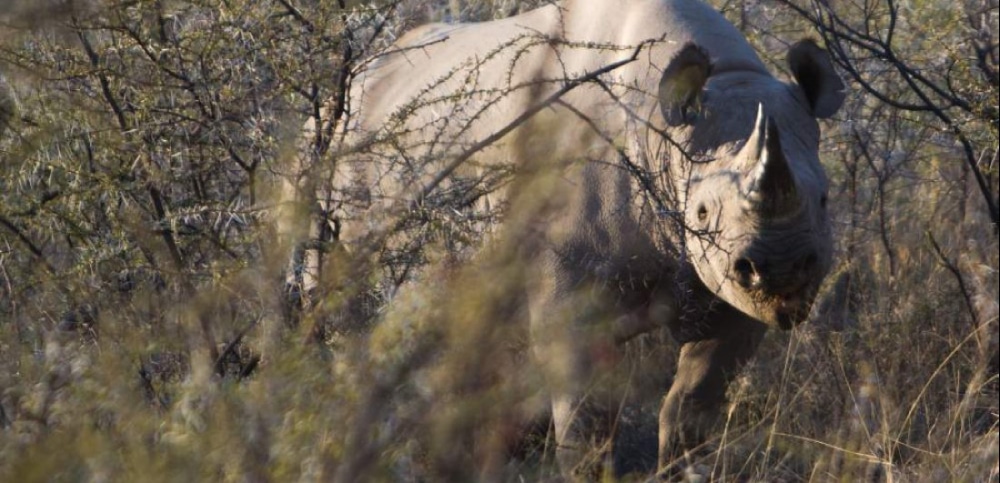 The best accommodations in this region of the park are at Onkoshi (opened in 2008), the newer solar-powered "luxury eco-camp" north of Namutoni, although you will have to eat at the restaurant and there is no waterhole here, so game is scarcer in winter. It is more intimate, with only 15 chalets on raised wooden decks, an infinity pool and vast vistas. Only lodge guests can access the area; no self-driving visitors, so there is more peace as well as space, although prices of course beat the classic camps. Wildlife photographers and co-authors of The Photographer's Guide to Etosha National Park, Mario and Jenny Fazekas cite this as their favourite camp for its photo opportunities. "The camp faces west and is situated right on the edge of the salt pan so when the sun sets you get magnificent landscape images of the sun reflecting off the water and silhouettes of flamingos, pelicans and other waterbirds," they say. "The best time would be after the rains, but some years the pan still has water even in the middle of winter." This camp will suit couples and solo travellers with a little more to spend. Young children and decks don't go together.

One note on the area overall: there are reports that the park's picnic sites and toilets are sadly neglected. Also, it's not an exclusive luxury experience, aside from the quality of the game viewing! Visitor numbers have surged and overland trucks and tour buses, never mind numerous day visitors and tours, are a feature. Those who want good service, more attentive staff and an exclusive experience should opt to stay outside the park.
The Perfect Pan
Many of the area's waterholes have a distinct character and are known for particular sightings; some even have 'resident' leopards (although never trust a guide who promises a leopard sighting; they can't be guaranteed). Etosha's game is used to traffic. Pure bliss is finding a quiet spot to sit and listen and watch and wait for action, be it zebra jostling for a drink, streams of gorgeous sandgrouse flying in as black-backed jackals try and snap them from the air, or sudden drama as elephant arrive in rumbling groups to slack their thirst. Anja Denker, a Namibian wildlife photographer who has visited the park six times in 2018 alone, cites one of her favourite waterholes as Salvadora, which has views stretching over the water to the horizon and the white mud that elephants coat themselves in. "Salvadora's backdrop makes for great photography and is always good for spotting lion prides, cheetahs, hyena and a variety of antelope that frequent the surrounding grassland, all year round," Denke says. She also rates Chudob, near Namutoni "for the sheer variety of game that congregates there, especially in the dry season" (it's also wonderful for giraffe drinking, legs splayed wide). Nebrownii is excellent for ghost-white elephant – and lion. Halali and Goas have reputations for leopard, as does Rietfontein, which is also a lion hang-out. Fischer pan is marvellous when covered in flamingos.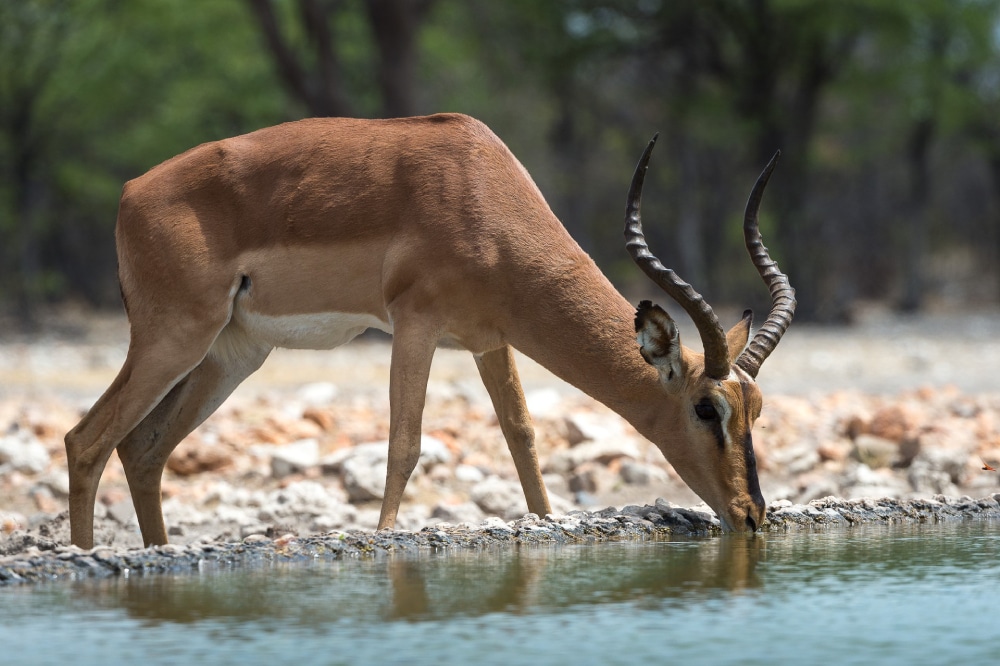 Credit: Namibia Tourism Board
The Etosha Viewpoint
North of Halali camp and very close to Nuames Waterhole is a causeway that takes one out onto the crazy paving cracked white mud of Etosha Pan itself (generally one can't drive on the pan surface). It's the closest most of us will get to a lunar landscape. Mirages can turn the horizon to static and it is a good place to feel the immensity and age of the pan: 100-million years old, once a massive lake fed by the Kunene River, which – inexplicably – changed course in some ancient tragedy. PS: It can get mushy after rains when the road is closed; this is a dry season activity.
A Nest that's a City
Look out for the remarkable structures built by sociable weavers (Philetairus socius). The name rather gives it away: these rather ordinary-looking birds know how to build a community. Their enormous compound nest – the largest in the world – is crammed with independent chambers for young families, and a handful of neighbours help to feed any chicks. Birdlife calls them "ecological engineers" as the nests are used by other species, often in ways we are yet to fully understand. A good spot to start looking for them is in Okaukuejo rest camp, although nests will weigh down bigger trees across the park. Pygmy falcons are associated with the nests too.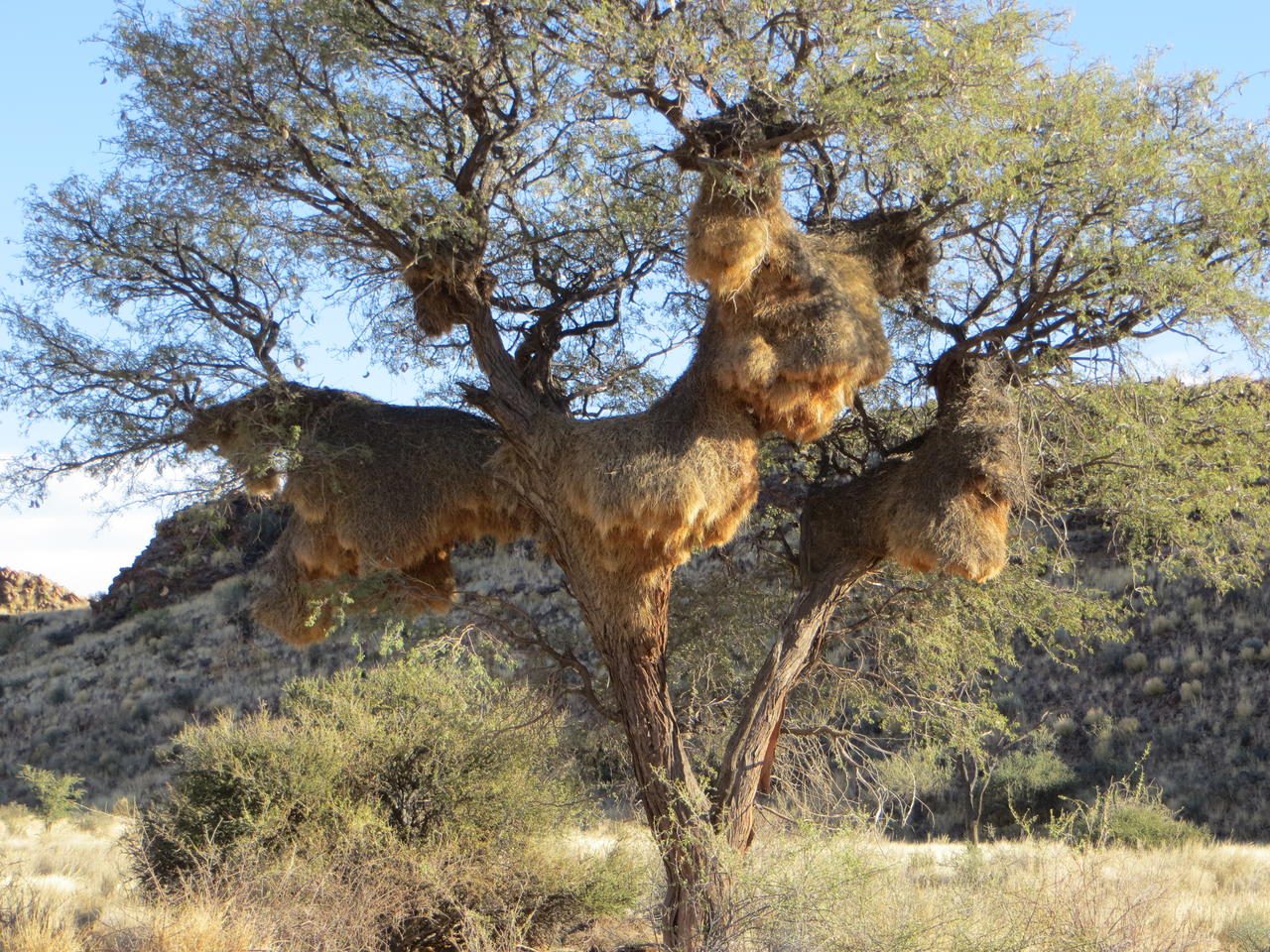 A Fairy Tale Forest
It's the driest, least crowded "forest" you're likely to see, but Sprookjeswoud, about 30 kilometres west of Okuakuejo on the road to Grunewald waterhole, is otherworldly. It means ghost or phantom forest, and contains some gnarled African moringa trees (Moringa ovalifolia), standing like lumpy figures in the bright light. The San used to say the trees were thrown from heaven in anger and landed upside down (they have something a little baobab-like about them, with sparse leaves, but are not related).
The Perfect Shot Mirages, Zebra Stripes, Water, Sky
Etosha is a photographer's dream, especially as animals obligingly trot down to waterholes in winter. Photographer Anja Denker says that Etosha is a challenge due to the harsh light that reflects off the predominantly white soil and surface of the pan. "The best light is in the early morning and late afternoon, with spectacular sunrises and sunsets to boot. It's best to bring a long telephoto lens as sightings might be a fair distance away, and a wide angle to capture the landscape or the magnitude of game which frequents the waterholes." Mario and Jenny Fazekas, authors of The Photographer's Guide to Etosha National Park agree that "a telephoto lens is critical." They also suggest familiarising oneself with one's equipment before the trip – they were once shooting a leopard at the floodlit Moringa waterhole at Halali and a hapless guest baffled by her camera settings interrupted, asking them to take a shot for her!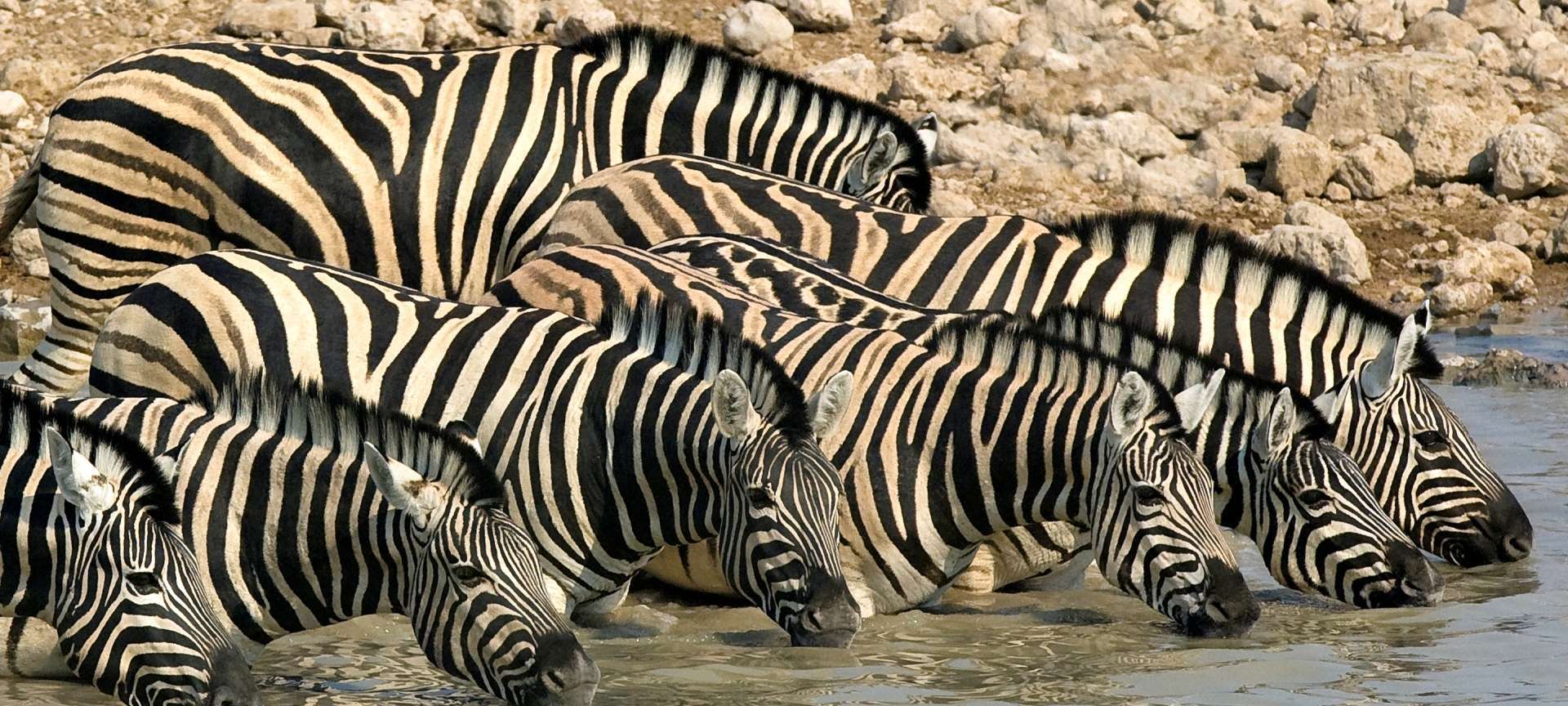 Practical Advice
Etosha is Namibia's flagship park and so popular that it can be difficult to find room to stay in the government-run camps. Book well in advance.
Etosha is enormous and distances extremely deceptive, especially if the 60km/h speed limit is taken into consideration (sadly, not everyone complies). It is larger than South Africa's Kruger National Park and driving just from Von Lindequist Gate to Okaukuejo, for example, is a hefty 140km that averages 4.5 hours.
Guests must check in at Namutoni or Okaukuejo upon arrival.
Children are welcome at the classic camps; no children under six at Onkoshi.
One can book guided game drives – including at night when visitors may not drive themselves. An excellent way to see the after-dark species.
The classic camps usually have mobile phone reception.
Self-driving photographers may find a copy of The Photographer's Guide to Etosha useful; it has information on where to park, best light, and what action can be expected or hoped for at various waterholes.