It is possible to combine the best of two worlds: Spend hours at some of Etosha's most desirable waterholes, ticking off a Noah's Ark-sized list of species – and then escape to the quieter surrounds of a lodge or camp on a private reserve for the night. Etosha is completely fenced, unlike, for example, the Kruger National Park in South Africa, where fences between the public park and its plush private neighbours have come down. That said, there are some notable private reserves on Etosha's borders, impressive not only in size but for the quality of the game viewing on offer. Many also have waterholes, and while predators are scarcer, some harbour a good selection of game including specials such as sable, roan and rhino. As they are also not bound by park rules, guests can be offered more diverse activities, like guided walks or rhino tracking – very welcome for families or active visitors who like to stretch between game drives. Nature trails wind through some properties without dangerous game, also wonderful for down-time hours.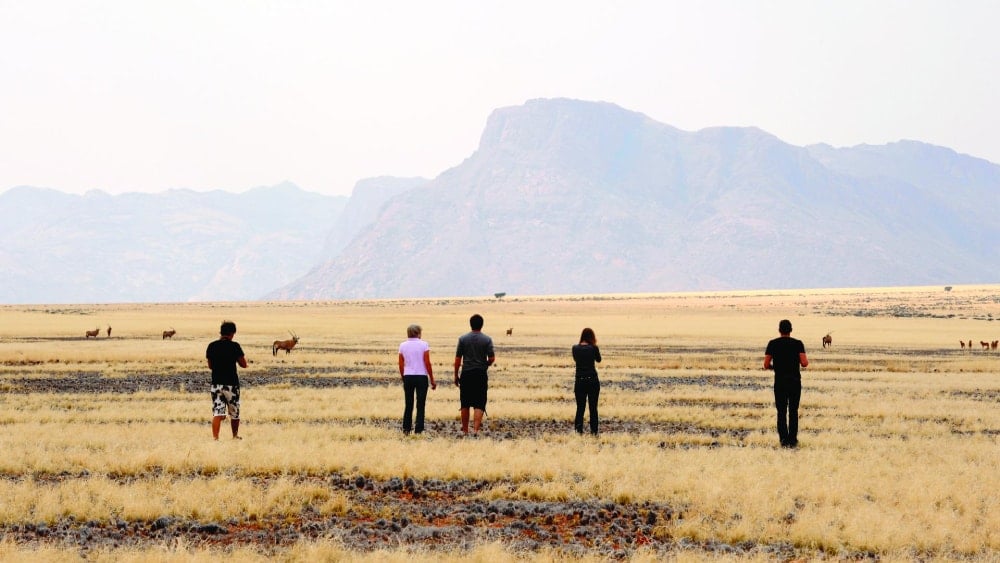 Credit: Ongava Tented Camp
An astonishing 25% of Namibia is conserved through national parks, communal conservancies and private reserves. One key thing to check when booking in a private area is whether the conservancy offers hunting (a few do); this will be incompatible with some visitors' personal ethics.
Accommodations are varied and couples searching for romance as well as wildlife, solo travellers and families are all catered to. Places to stay range from rustic campsites to fine lodges or exclusive-use villas, complete with your own guide for game drives. Unlike many high-end safari lodges in other parts of Africa, those around Etosha tend to offer different kinds of packages. Most will have an accommodation-only option for self-drivers with various activities and meals charged separately – but also all-inclusive options for those who want to park the car on arrival (or who hop off a charter plane). If all-inclusive, most needs are catered to, from local beverages and meals, to game drive vehicles with experienced guides. Guests who want to go on many guided drives may wish to assess the activities costs before booking, as at times an all-inclusive rate is better value. Spa treatments are available in some spots, as are various activities from clay pigeon shooting to visits to hides. Safari staples such as boma or outdoor dinners, and drinks around fire pits are common. There's nothing like a log fire sending up sparks to rival the stars above.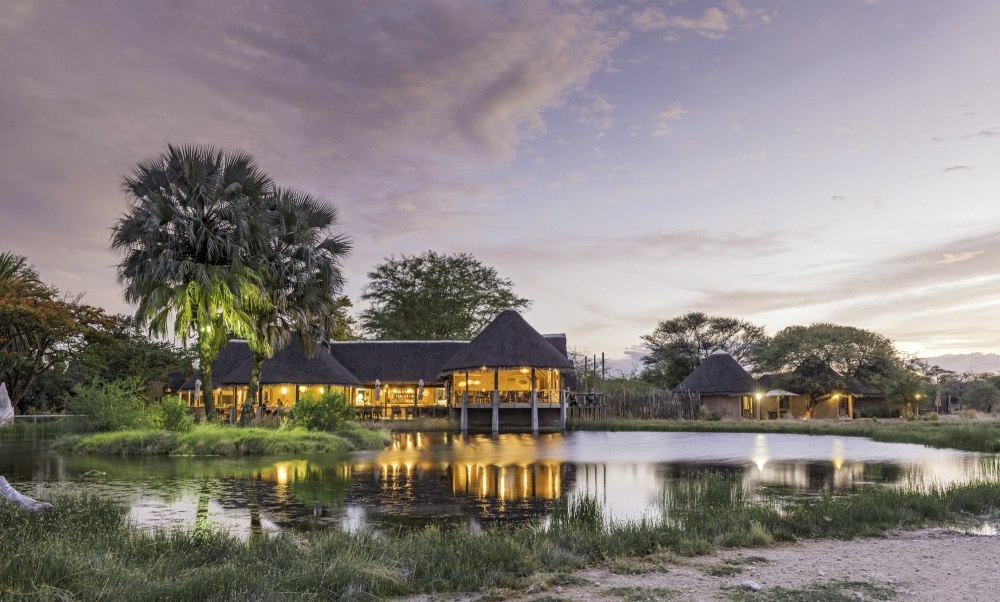 Onguma Bush Camp
Private reserves close to Von Lindequist Gate, in the east of the park can easily be accessed by road, but some of the lodges will have an airstrip or share one with a neighbour, so fly-in safaris on charter planes are an option for those pressed for time. Proximity to the park gates really is a plus, both to enjoy more cool early-morning and late-afternoon game viewing hours in the park itself, and to get home sooner for sundowners when tired. Private reserves on the eastern side of the park include an important 34,000 hectare reserve, and a well-known 4,000-hectare property that borders Etosha.
Closer to Andersson Gate is a large 30,000 hectare reserve which protects parts of the tongue-twisting Ondundozonanandana foothills (the wonderful name translates roughly as the mountain where the boy took the calves) and a multitude of smaller reserves and properties. Accommodations can range from exclusive and romantic "premier" lodges, luxury tented camps and family-friendly options to camping. Of course not all properties have Big Five species, but a couple will have lion and/or black and white rhinoceros. Staying outside the park and being able to explore on foot may also allow contemplation of smaller species, more vulnerable to the traffic of Etosha: impossibly cute elephant shrews, springhares, lesser bushbabies and many more.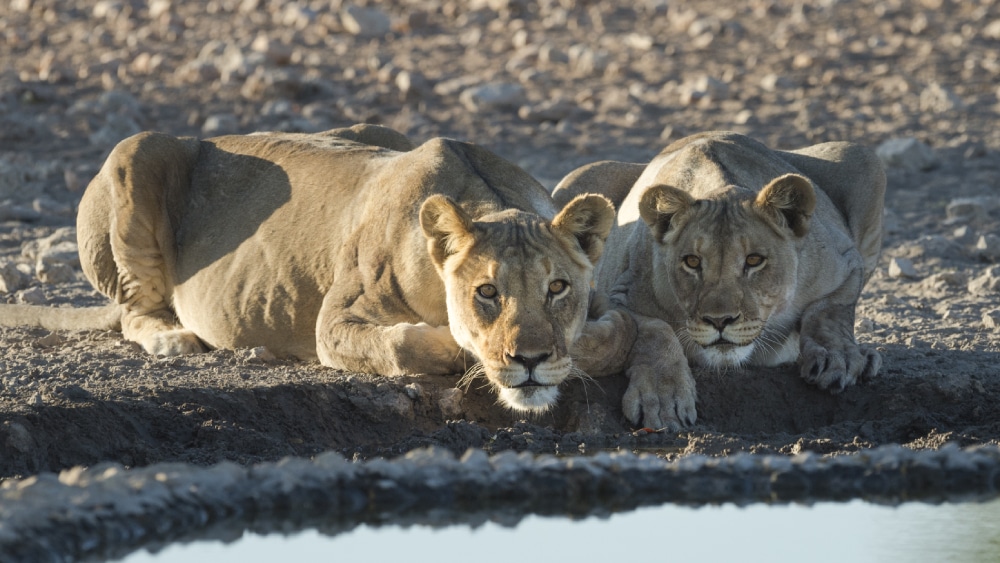 Galton Gate accommodations options are definitely sparser, but there is a casual, community-owned lodge with three of the Big Five on 8,800 hectares and an airstrip.
A Discover Africa expert can help match specific needs and desires to the right accommodations.
Highlights
Certain reserves outside the park offers guided walks – and the chance to track resident rhino. A walk in any reserve with a representative or two of the Big Five can be thrilling: walking in silence in single file with an armed ranger, feeling your senses come alive and gradually tune in to the sounds of the bush: alarm cries from birds, the crunch of hooves on stone, the smell of hot vegetation. To approach the enormous bulk of a rhinoceros on foot is an awesome experience in the old sense of the word. It is like seeing concentrated time and evolution and power in one breath-taking moment. In fact, any nature walk, even on a private reserve without Big Five species, is recommended. Specialised guides can point out birds, read animal tracks as if they were newspapers, locate fascinating insects and smaller reptiles and rodents, and generally transport guests to a world that plugs one into the web of life.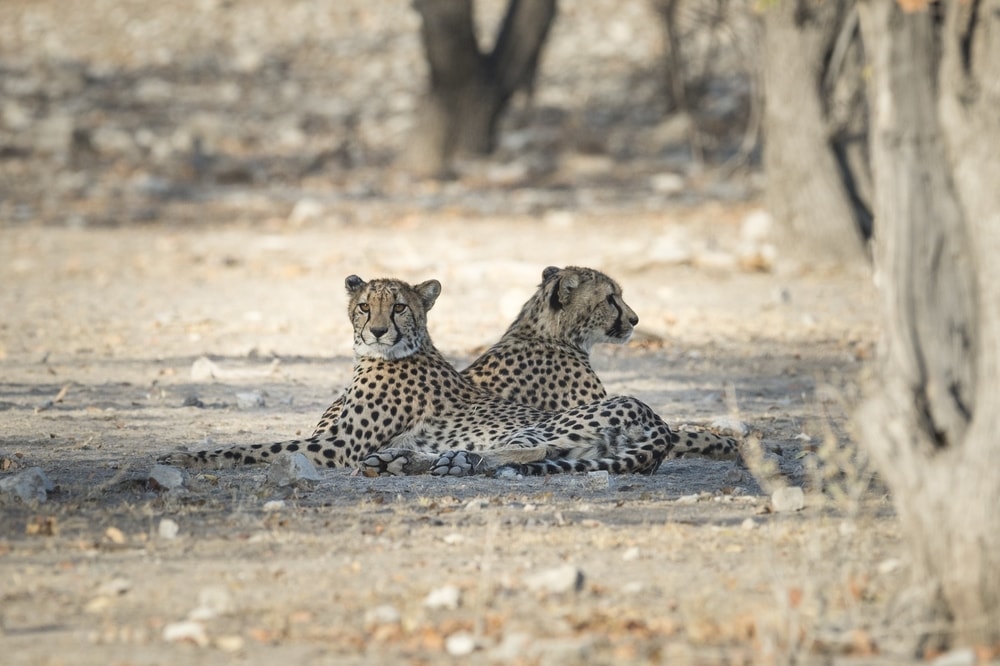 Sundowners Private reserves are indifferent to gate closing times. This means that should a group see a remarkable cheetah on the move as the sun slips towards the horizon, there's no need to leave. Vehicles can stay with her for as long as she allows… Alternatively, guides will stop for sundowners at particularly beautiful spots, all the better to watch the skies turn pink and orange as dark approaches.
Practical Advice
High-end lodges pride themselves on the skill of their guides; many will have special interests such as birds or botany: let the lodge know in advance of your interests.
Self-drivers must offset the hassle of getting to the gates at sunrise and sunset with the advantages of being outside the park.
Etosha National Park gate times must be respected. The opening and closing hours are based on sunrise and sunset hours, and change weekly. A detailed timetable will be provided by most accommodations.
Not all high-end lodges welcome children; do check child policies before setting your heart on a particular property. Over-12s are generally accommodated.
A swimming pool is a real asset in summer – as is a waterhole in winter.
Booking in advance to avoid disappointment is recommended during high season and December and Easter local holiday periods.
While animals in Etosha are so habituated to people that wearing bright colours is not much of an issue, neutral-coloured clothing (not white) is recommended for walks and activities in private reserves.
Lodges do not supply all guests with binoculars. Do bring a pair; it revolutionises game viewing and birding.
Guests will have heard of the terrible poaching threat to rhinos in Africa. Lodges may ask that you delete GPS or location data on pictures taken of the animals; this is recommended in Etosha National Park too.
Charter flights limit luggage to just 20kg (including hand luggage and cameras) and bags must be small, soft and flexible to fit into the craft: no inflexible suitcases.