There's a reason so many couples choose a safari for those extra special occasions. So much about the experience sighs with romance: deep, dark night skies washed in starlight, the impossibly relaxing smell of sun-warmed savanna, rain on dry earth, or vegetation crushed by passing herds. Most importantly, it's an escape to a place where the rhythms of life swirl around one. Ancient laws and cycles are observed; contemporary life takes a back seat and patterns of attraction and birth and death take centre stage. It's proven that time in nature boosts health and happiness, and the Great White Place is nature on steroids. Add some contemporary luxury to all that delicious wildness – of the kind that can be found in a superior lodge – and the scene is set for romance.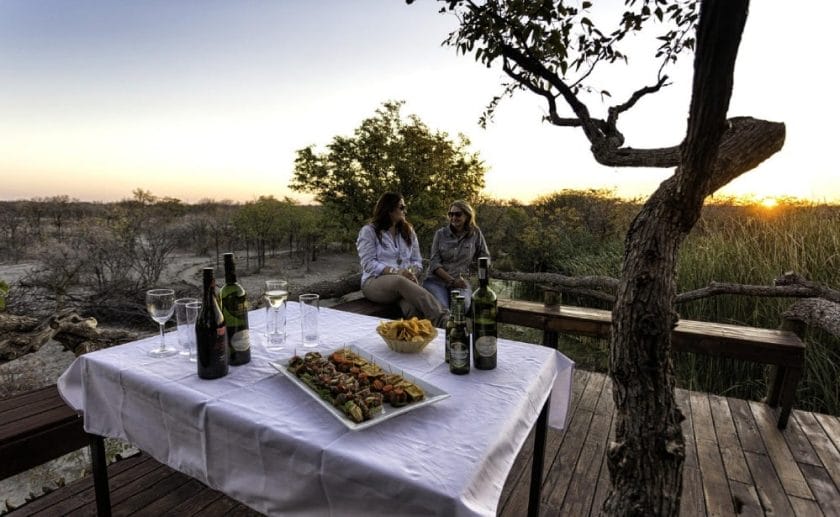 Etosha Village
Couples celebrating in style will be well-catered to on private reserves outside Etosha. Often within easy driving distance of one of Etosha's main gates, there are some extremely attractive lodges, villas and tented camps tucked into wildlife-rich surrounds or with sweeping views. For a safari of this kind, its likely one would opt for a fully-inclusive stay that will take care of all meals and activities such as game drives, let alone more menial tasks. Fly-ins, for those after the superlative experience, will offer views of the immensity of Namibia's empty spaces. Lodge accommodations can be booked whether you are self-driving or doing a private tour, although there may be extra costs for the guide's bed. We would recommend choosing accommodations based on the size of the camp (smaller is usually more intimate and cosy), and the presence of a floodlit waterhole if remotely possible: there is nothing like holding one's breath, hand in hand as a leopard slinks to the water's edge. Additional activities like rhino tracking, guided walks and hides are options couples may leap at experiencing together. If visiting in summer, a private plunge pool may be desirable, and some may like the idea of perks like outdoor showers. In winters, fireplaces in a lodge's communal areas or a fire pit are nice-to-haves for atmosphere. Service in such accommodations really should be good and genuine – if not absolutely top notch. Compared to the classic restcamps within Etosha, however, it will shine.
Most private reserves offer sundowners: drinks of your choice in an exquisite setting or at a remarkable animal sighting. One Tripadvisor reviewer recalls watching a crash of enormous rhino, drink in hand, as the sun eased itself below Etosha's big horizon. It was, unsurprisingly, a highlight.
There is also a plethora of down-to-earth, more reasonable accommodations outside the park if the private reserves are beyond reach or one is after a more rustic experience.
A mobile safari can also whisk you from place to place in expert hands, and if higher end, is likely to be lodge-based as opposed to camping-based.
The most romantic options in Etosha itself are undoubtedly the smaller, more contemporary "luxury eco-camps" of Dolomite in the west and Onkoshi in the east, although they won't offer the enormous volumes and space of private suites, nor fine dining. They are, however, both marvellously situated, with shimmering views and all the joys of being in the park with (at Onkoshi) white-mud clad elephants wandering by like ghosts at dusk. And one can abdicate driving responsibility and book guided drives.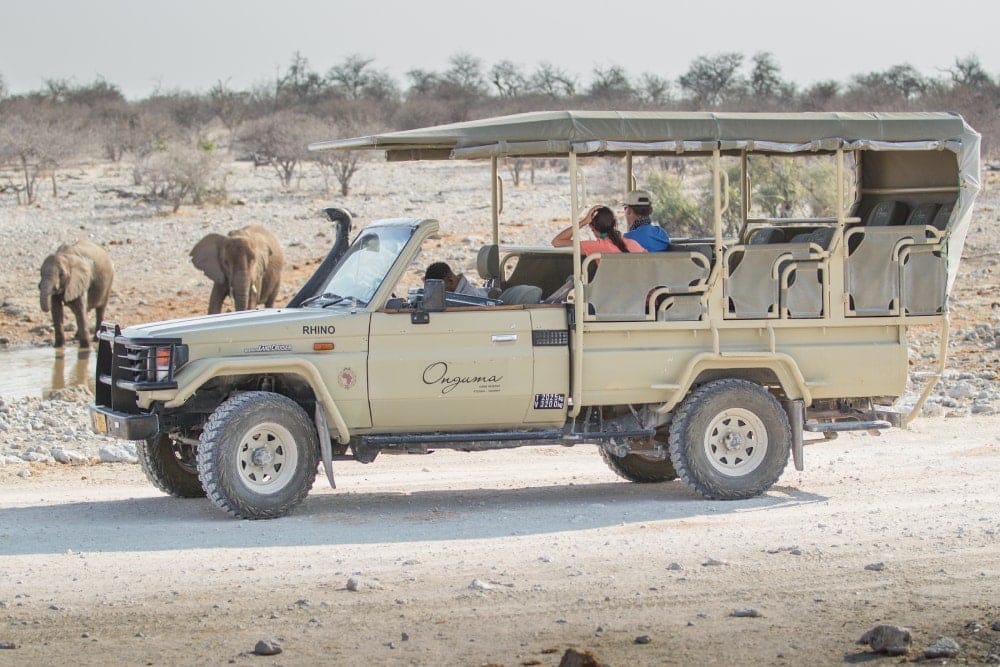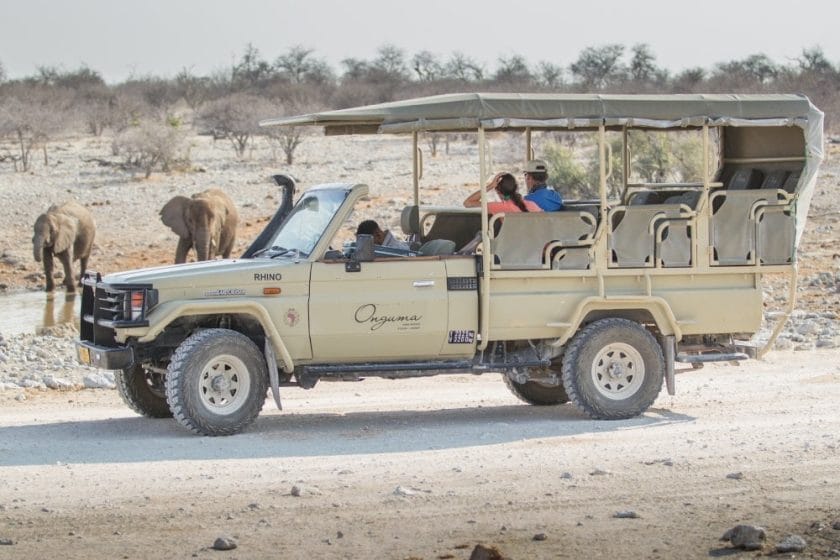 For those to whom romance means proximity to the wild and the sounds of the bush filtered through canvas, the busy camping sites in the classic restcamps will probably not be top of your list. Even Olifantsrus, although 130km from Okaukuejo and with just 10 sites, can get busy (day visitors can visit). Unlike Botswana, private tours that offer wild camping in exclusive, unfenced areas are not allowed in Etosha itself – all private tours will accommodate couples in the official restcamps. If you're not really suited to roughing it in a sea of other tents and caravans, perhaps the best option is to splurge a little and seek out a permanent tented camps on a private reserve. Private camping outside the reserve is also a possibility.
By the way: overland tours offer adventure for couples who want to see the highlights of a region on a tight budget. But as the groups are relatively big, chores must be done and the itinerary is static with very long periods on the road.
Travel Tips
Mosquitos aren't romantic. If you're camping independently, consider taking a net.
Take warmer clothes for drives and chilly evenings; winter in Namibia does actually have winter – temperatures plummet when the sun goes down.
Private dining (in your room) is usually an option at the better lodges, as are individual tables in communal dining areas.
Couples know each other best. Some may find large animals in close proximity frightening as well as thrilling. If an expert guide will help alleviate nerves, choose a guided tour.