Namibia truly is an exceptional choice for travel due to its wonder of giant dunes, wildlife and favourable currency.
Boasting with extraordinary destinations which span from South Namib desert where massive, vast desert dunes spread along the Atlantic seaboard, to the North, encountering wildlife in Etosha National Park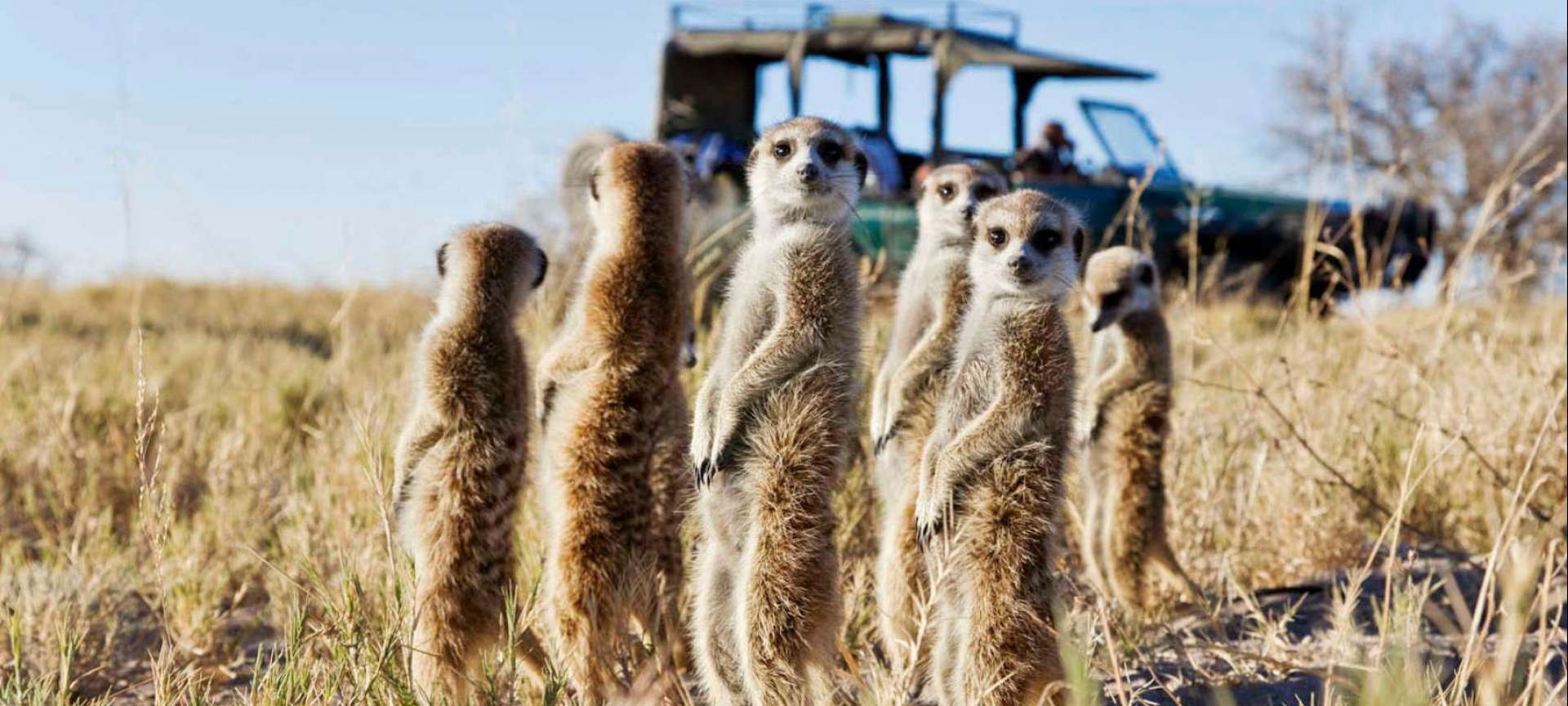 Meerkats in one of the best places to see in Namibia
Namibia is a remarkable destination for the traveller who enjoys hitting the road starting from the North to the Southern part in a 4x4 hire, Namibia.
For awe-inspiring moments, herewith our recommendation on the best places to see in Namibia.
The Fish River Canyon
The famous Fish River Canyon is found to the South of Namibia and located in the Ai-Ais Richtersveld Transfrontier Park.
The Canyon is an admired wonder of Namibia. Known as the biggest canyon in Africa and falls after, the enormous Grand Canyon in the USA.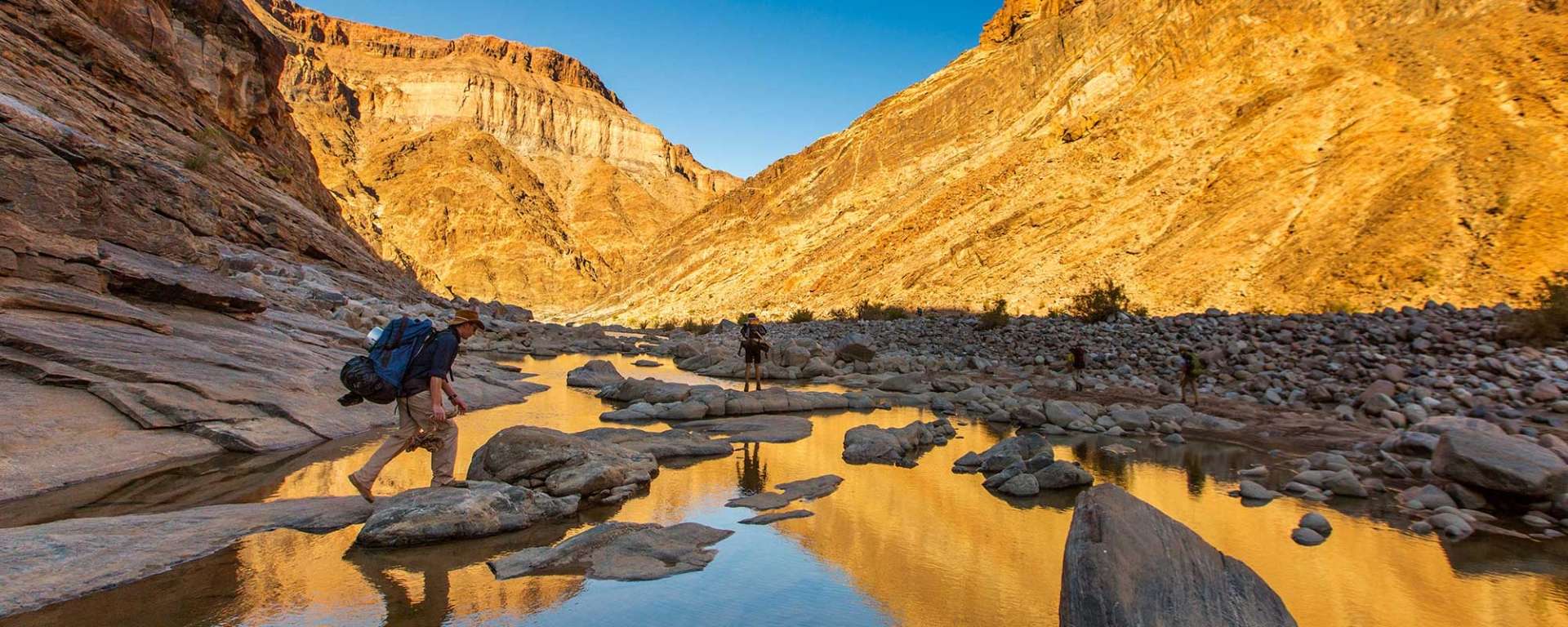 Hiking the Fish River Canyon
Travellers from all over the world come to experience the famous hiking trail, and the spectacular views certainly have something to do with it.
Ai-Ais resort is well known for its natural thermal hot springs. Embark on this hiking adventure. Ai-Ais resort marks the end of the 85km long Fish River Hiking Trail. With spectacular features of canyons 65km long and reaching depths of 548 meters can be seen and explored.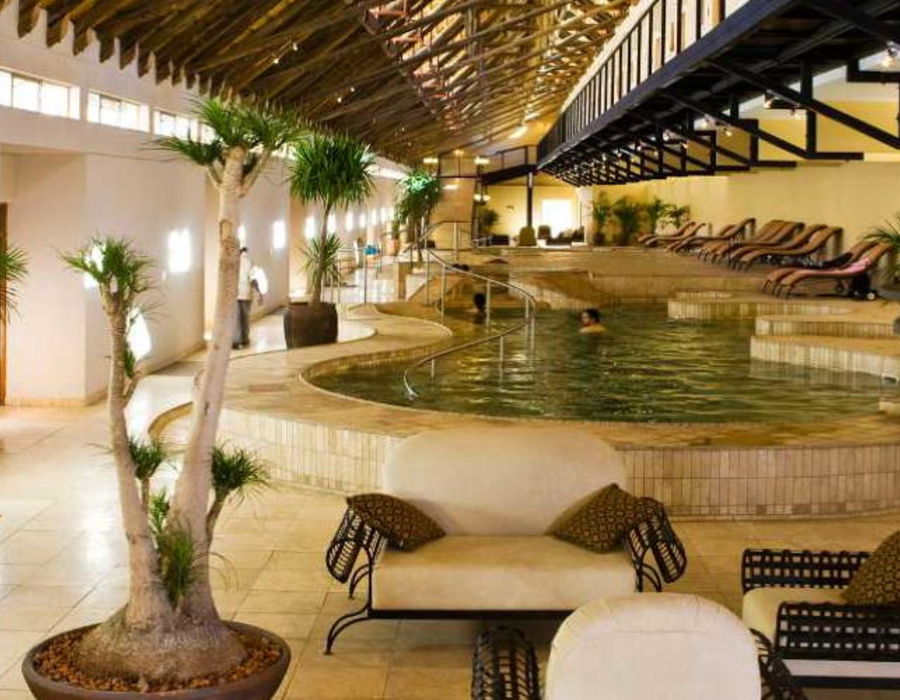 Ai Ais, Thermal hot springs
Sossusvlei
Sossusvlei (also called Deadvlei) is a salt and clay pan, surrounded by substantial red dunes, situated in the southern part of the Namib Desert, within Namib Naukluft Park.
The sands found here date back 5 million years and consist of tiny grains in thin layers of iron oxide. It gives the desert it's distinctive orange to deep red coloured dunes which change dynamically in shape and size with the winds—appreciated globally as the worlds oldest desert with some of the highest and biggest dunes.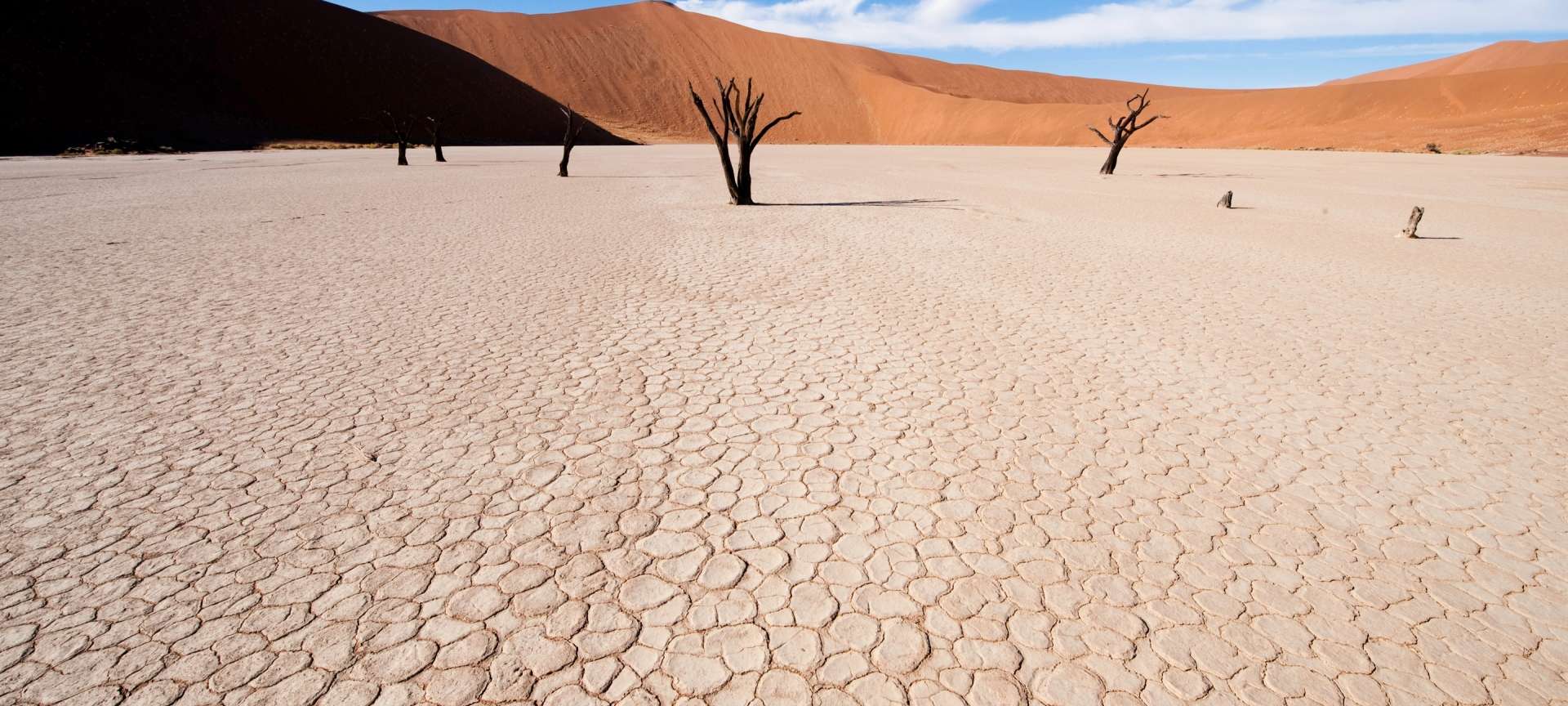 Sossusvlei Valley, Best places to see in Namibia
The daytime temperature remains relatively constant throughout the year. However, the occasional cold front coming from the Atlantic seaboard brings the cooler temperatures at night. Life here takes refuge in the source of water provided from cold fronts which are crucial to their survival.
Fauna and flora are still abundant and has adapted exceptionally well to the hot temperatures.
Animals such as antelope, springboks, ostriches and other small mammals can be found wandering the desert lands.
Swakopmund and Walvisbay
Swakopmund is an admired coastal town in Namibia, consisting of sandy beaches which face the Atlantic ocean and with historic German colonial architecture. Perfect for families or friends who can visit the seafront, the aquarium or the Swakopmund Museum.

Swakopmund Jetty , Best places to see in Namibia
In Swakopmund the visit of the seafront, the aquarium and the Swakopmund Museum is worthwhile. There are numerous boulevards and a sizeable traditional street market where travellers can buy souvenirs.
The Skeleton Coast
Obtaining its name from the great numbers of stranded whales and stranded ships - whales stranded on the beach, leaving their skeletons all over. A considerable number of vessels also abandoned on the Skeleton Coast due to the thick fog, strong wind and unpredictable stormy weather. This is the worlds largest ship cemetery.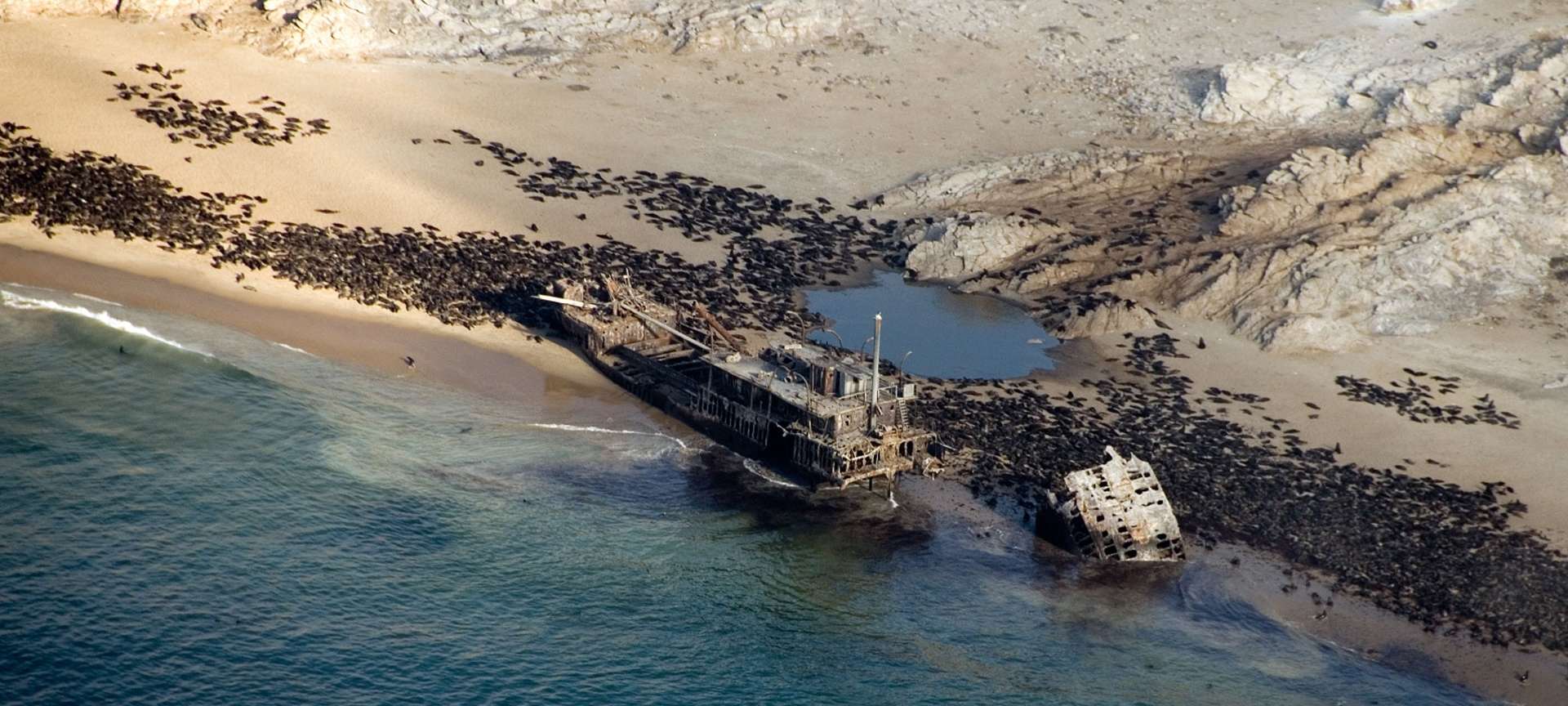 Skeleton Coast, Best places to see in Namibia
Found in the northern part of the Atlantic coast of Namibia, this area is 40km in width and stretches over 500km across the coast. Despite a hostile character, several wild animals and plants can still be seen.
Previously visits to this remote, desolate corner of Namibia was possible only by light-aircraft flight. However, if you prefer to embark on a journey via the road in a private vehicle, this can be arranged.
With only a few lodges, you barely see any other visitors adding to that eerie feel.
Etosha Region
The name Etosha is derived from the word Oshindong meaning "Great White Place" referring to the Etosha pan.
Etosha is a nature conservation area found in the north of Namibia, covering a total area of almost 22,912 km². The region is mainly covered by the Etosha National Park and includes the southern parts up to Outjo and west to east of the park.

Etosha National Park, Best places to see in Namibia
The park is completely fenced off for the protection of the animals and is known as Namibia's biggest and most important national park. Wildlife such as large mammals including lion, leopard, giraffe, elephant and rhino can be found. Even smaller species thrive in Etosha National Park, making it a great safari destination.
Accommodation and lodging are widely available inside and outside the park, and it's easily accessible for any type of traveller. Whether preferring to go wild and go camping or wanting to enjoy a Big 5 safari in all its comfort of luxury, you can be sure to find suitable accommodation for yourself, your family or loved ones.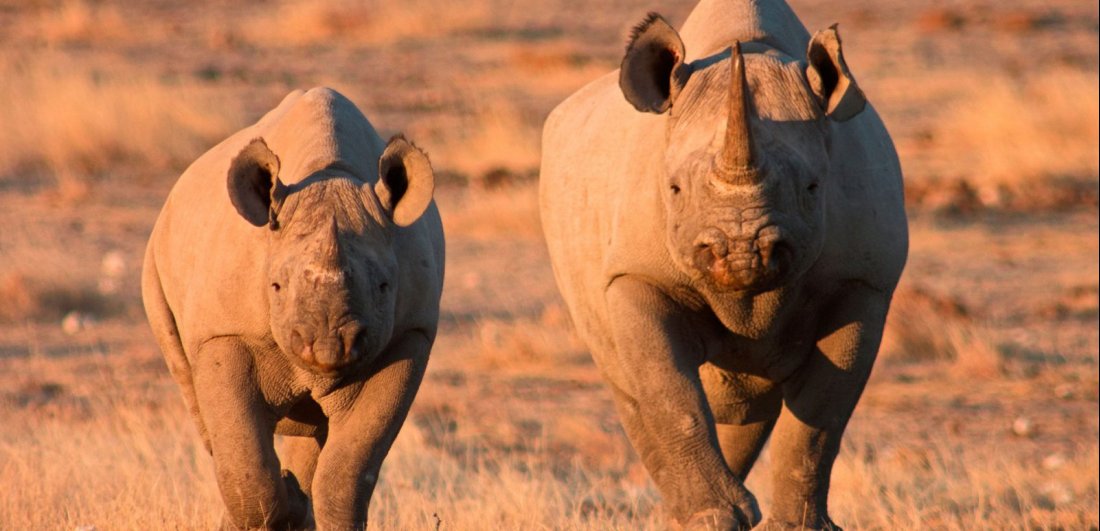 Rhinos in Etosha Pan, Best places to see in Namibia
To summarise Namibia is a prime destination in Africa and is known for ecotourism which features Namibia's extensive wildlife and diverse culture. Great for a self-drive vacation, a family holiday and even romantic getaways, offering reliable game viewing all year round. With extreme adventure sports, hiking trails and history to explore there is something for everyone.
Be sure to include the above top 5 places into your next adventure to Namibia and if you're looking for the best safari lodges in Namibia then have a look at our blog!
---