Namibia is known as one of Africa's most intriguing corners. It offers tourists exclusive game-viewing experiences with its adventurous Namibia safari options and its exotic desert-adapted animals.
It offers tourists a secluded, remote Namibia safari vacation that we believe is ideal for a post-covid vacation.
We are so eager for tourists to visit this desolate paradise that we have decided to compile a list of the top six Namibia safari lodges:
Namib Dune Star
"Absolutely outstanding and must-do experience for all those who come to this part of Namibia!" Hoopmans from Marrakech Morroco
"This is one of those places that should be on your travel adventure list. Sleeping in the oldest desert on earth under the stars far removed from civilization is just amazing." Wikus from Namibia."
What makes Namib Dune Star Camp unique?
Namib Dune Star Camp is a Lodge in Namibia where dreams come true, perched on the crest of a sand dune where the stars are so clear that they seem just beyond control.
Unlike any other Namibian Safari Lodge, you can sleep under the stars while still getting access to modern conveniences – in the world's oldest desert – which is one of the many reasons it is regarded as one of the best Safari lodges in Namibia.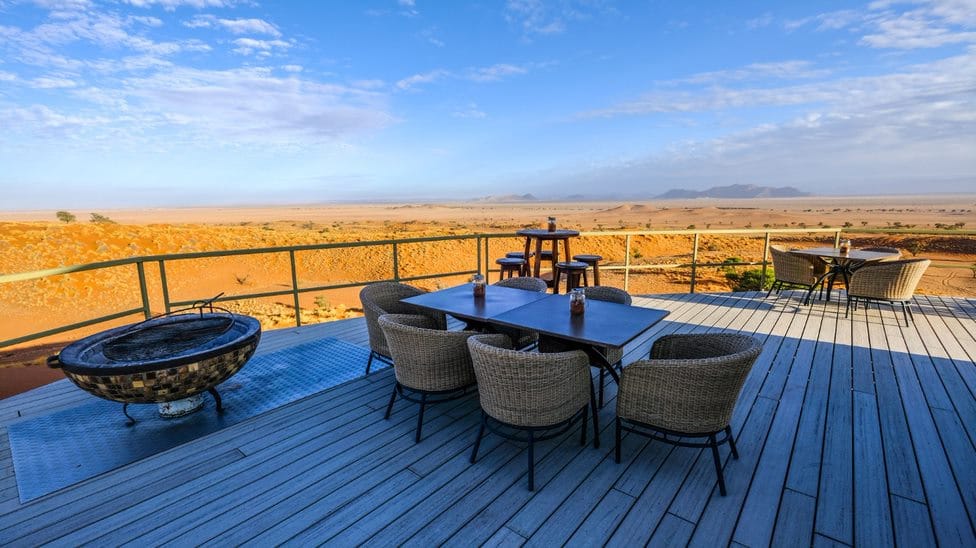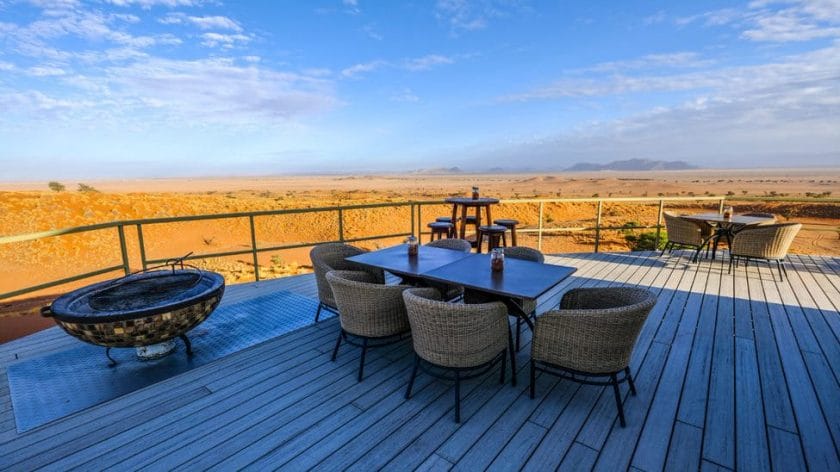 Dining at Namib Dune Star Camp
Dining options at Namib Dune Star Camp
Dinners and breakfast are prepared in the kitchen by a team known for its delectable offerings at this Lodge Safari in Namibia.
Dinners are served in three courses, and breakfast is a full breakfast with hot and cold options, both served in the dining room of this spectacular Namibian Safari Lodge.
According to many reviewers, Namib Dune Star Camp's mouth-watering 4-course meals are a significant factor that contributes to Namib Dune Star Camp's status as one of Namibia's best safari lodges.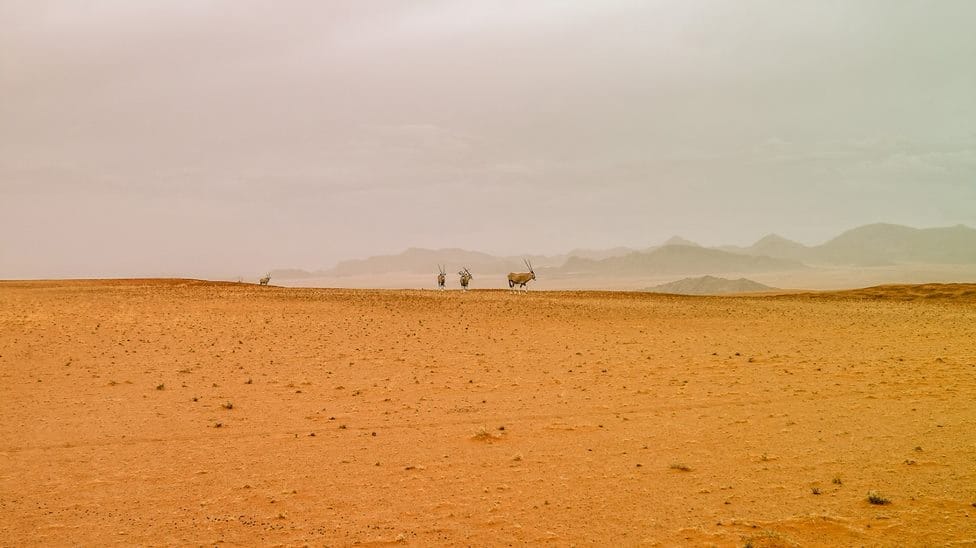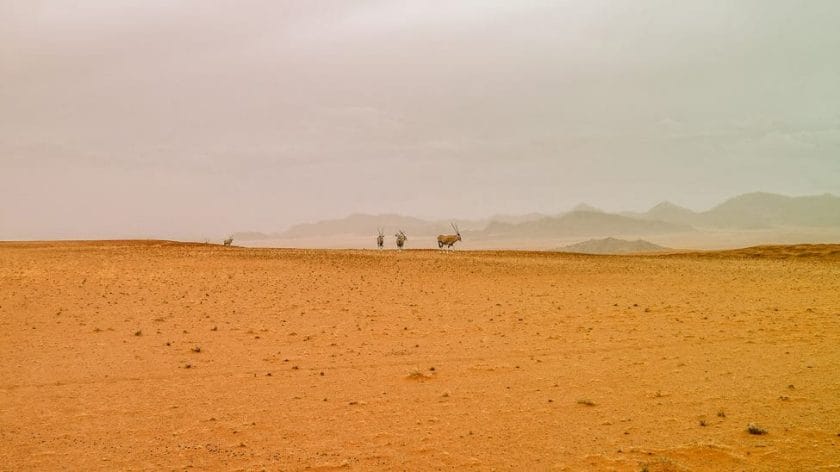 Oryx wildlife viewing in the Desert landscape, Namibia
Activities at Namib Dune Star Camp
sunrise and sunset guided walks
Kambaku Lodge
"Fantastic Lodge with Family Flair for Horse-Riding " Gunther V from Frankfurt."
"Beautiful lodge with an excellent team!" Isabel from Dusseldorf."
What makes Kambaku Safari Lodge unique?
Kambaku is a small but award-winning family-run Lodge Safari in Namibia nestled at the foot of the Waterberg Plateau.
Kambaku warmly welcomes all visitors to their Namibia Safari Lodge and provides special rates for children, teens, and solo travellers.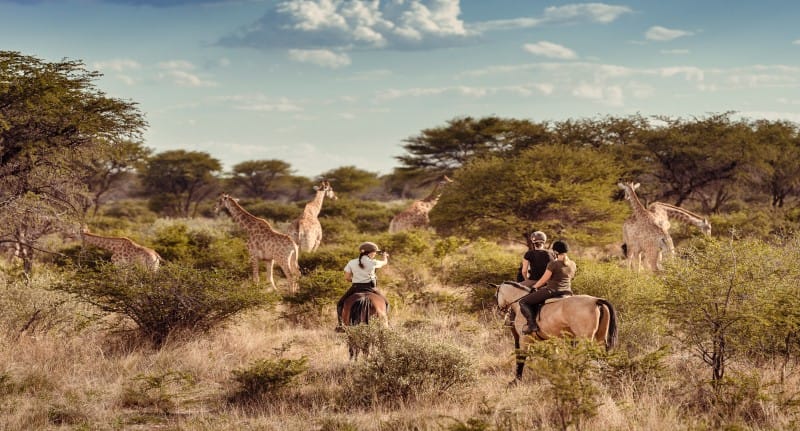 Horse Riding at Kambaku Lodge, Namibia
Couples and honeymooners, on the other hand, find comfort in luxurious rooms with private porches/terraces, open fireplaces, fruit baskets and wine selections, and the option to book a private guide for a wildlife Namibia Safari adventures in Namibia's heart.
Kambaku operates a private Hospitality College for young Namibians who want to work in the hospitality industry and have the best vacations possible.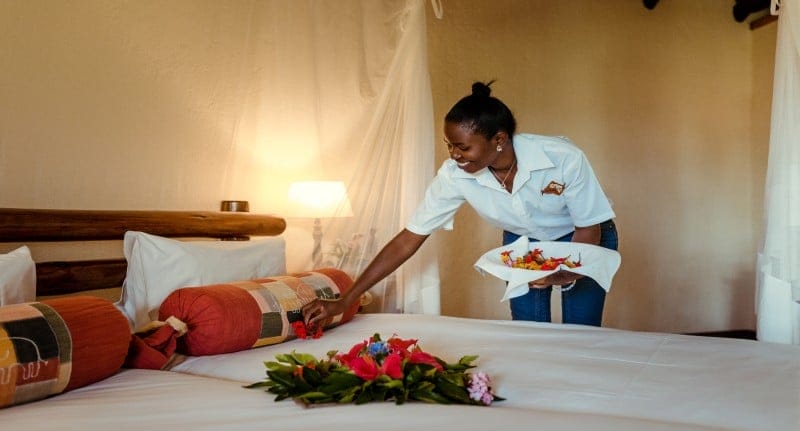 Kambaku Lodge, Best Safari Lodges in Namibia
Licensed teachers and experts from leading hotels around the world teach students excellent service skills and international hotel know-how, with studies in the College on-site and realistic job experiences in their lodge.
Their specialized hotel and kitchen workers are also regularly educated. The Staff can spend training time in hotels/restaurants in Germany and Switzerland, ensuring that they maintain their status as one of Namibia's best safari lodges at all times.
Dining options at Kambaku Lodge
Another aspect that makes Kambaku one of the best Safari Lodges in Namibia is that they are pretty famous for their food.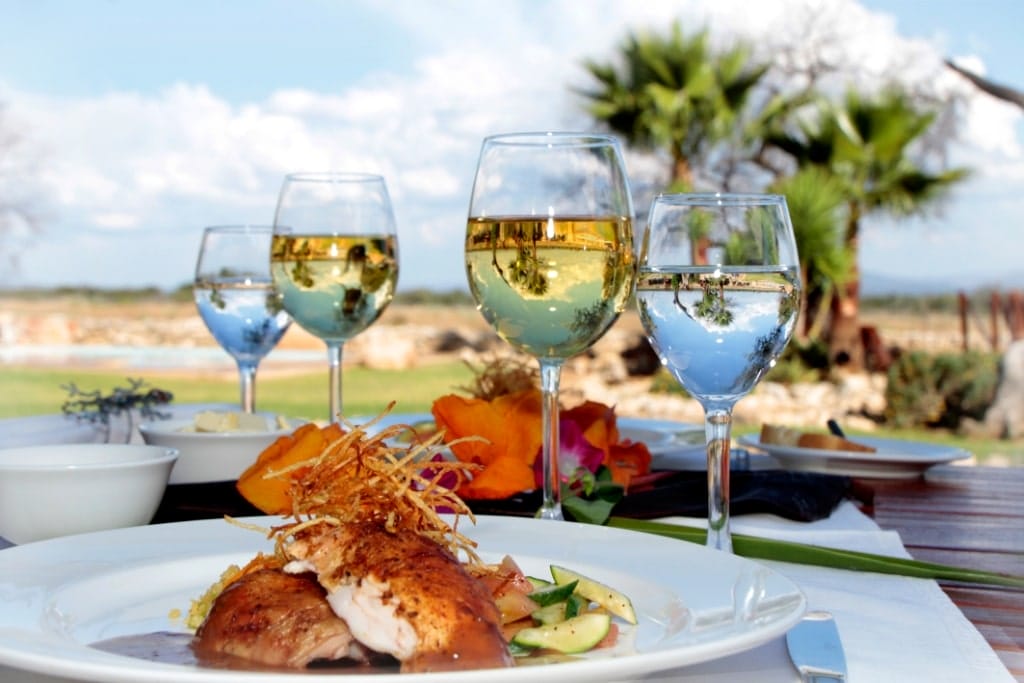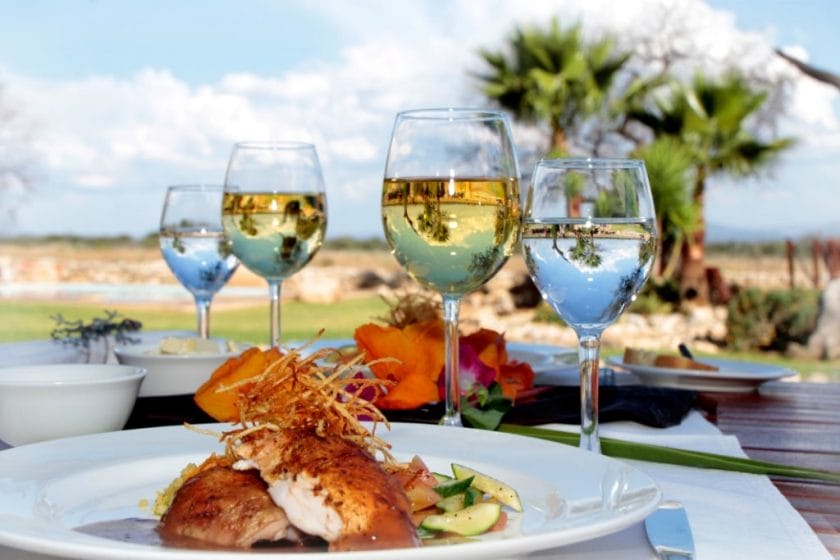 Dining at Kambaku Lodge, Namibia
Quality ingredients such as fresh vegetables from their kitchen garden and meat from the reserve, delicious Mediterranean recipes and homemade bread and more, chosen wines from Southern Africa, and stylishly decorated places ensure a touch of haute cuisine at lunch and dinner under the stars.
So all is in place for a great indulgence on a Namibia safari in the heart of Namibia.
Activities at Kambaku Lodge

Guided Wildlife activities available twice a day (nature walks, game drives, observations at waterholes/hides with guides, etc.)
Wildlife training college experience
Hiking Trails
Mountain Biking
Table Tennis
Beach Volleyball
Archery
Clay Pigeon shooting
Horseback riding
Grootberg Lodge
"Exceptional views & staff" 2s on Tours from Frankfurt.

"Breathtaking view and landscape" Penny from the United Kingdom.
What makes Grootberg Lodge unique?
Grootberg Lodge is Namibia's first middle-market establishment operated entirely by the Conservancy of Namibia. The Grootberg Lodge's hosts are also members of the rural community.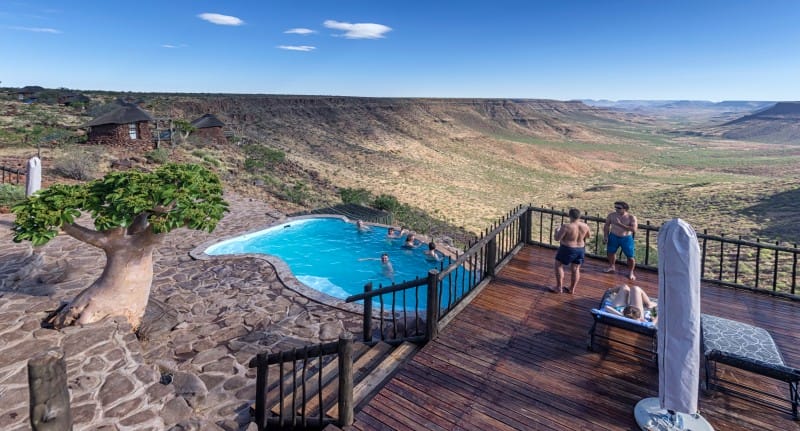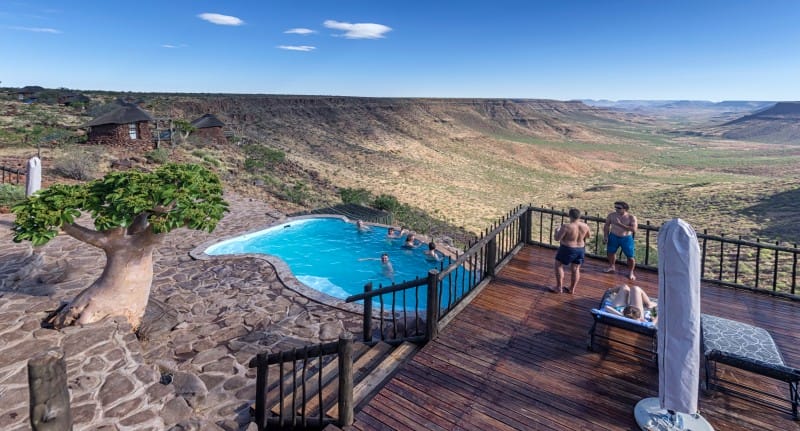 Grootberg Lodge, Namibia
On your Namibia safari, marvel at the stunning view of the Klip River Valley below while sitting on the deck or cooling off in their infinity pool and observing the scenic views of one of Namibia's best safari lodges.
Dining options at Grootberg Lodge
Enjoy a magical sundowner from the Namibia Lodge Safari restaurant's veranda while tasting the hearty meals prepared by their enthusiastic chefs, or get cosy with family and friends around their fireplace to add a cool winter night atmosphere.
Activities at Grootberg Lodge
Damara Cultural tour
Desert Elephant tracking
Moringa Guided Walk
Rhino Tracking
Erindi Private Game Reserve
Rated 4.5 Stars on Tripadvisor.
"Erindi was the highlight of our Namibia trip, great staff, great food nice rooms and all the animals." Danny from Stockholm.

"Erindi never fails to amaze. The premises are beautifully cared for with luscious green grass. The management staff is committed and extremely helpful." Jaime from Windhoek, Namibia.
What makes Erindi Private Game Reserve Unique?
The Erindi Private Game Reserve, regarded as one of Namibia's best safari lodges, is a vast natural wonderland where conservation is at the heart of its eco-tourism philosophy.
They are the custodians of the most endemic species and numerous conservation initiatives.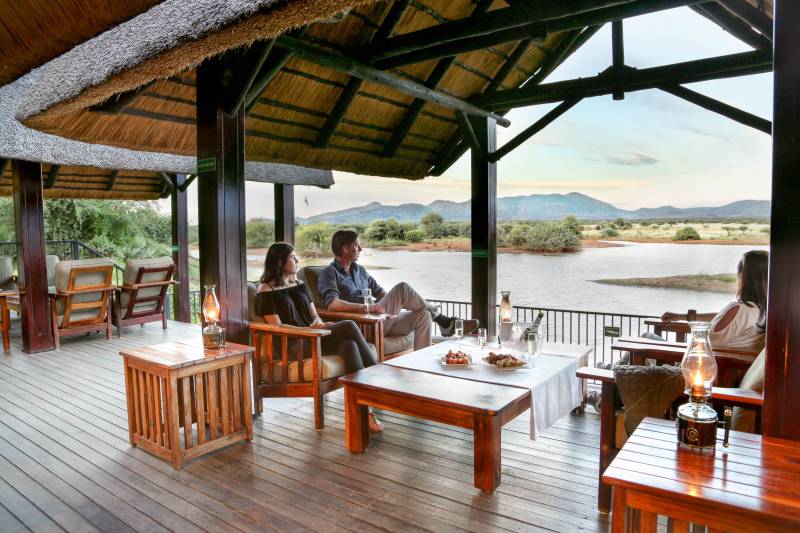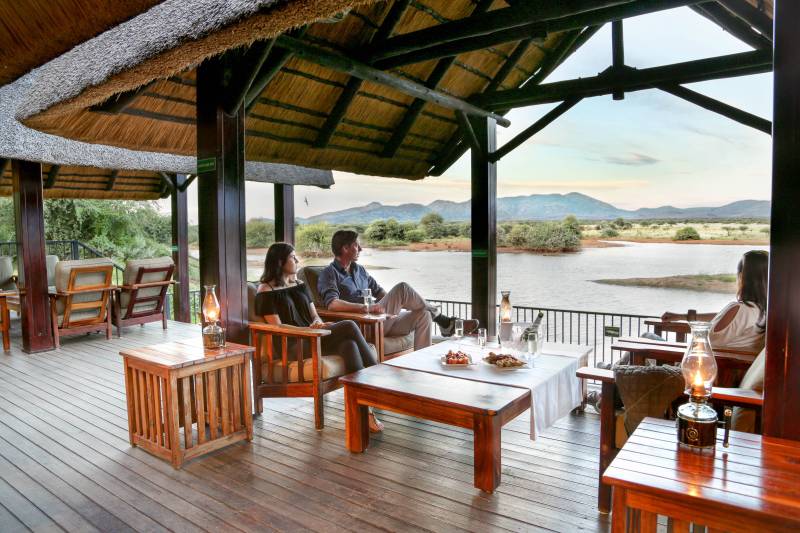 Overlooking the watering hole, Safari Lodges Namibia
They have taken on an immense challenge of undertaking conservation initiatives in the name of eco-friendly tourism while empowering our local communities, with 70,719 hectares of pristine wilderness under their protection.
Today, Erindi is an idyllic Namibia Safari retreat with a rich cultural heritage, skilled guides, and unrivalled hospitality, offering visitors the kind of safari that will last a lifetime.
Dining options at Erindi Private Game Reserve
Dining at the Old Traders Lodge is a culinary adventure that mixes regional African cuisine with many cooking types left behind by the great continent's early explorers.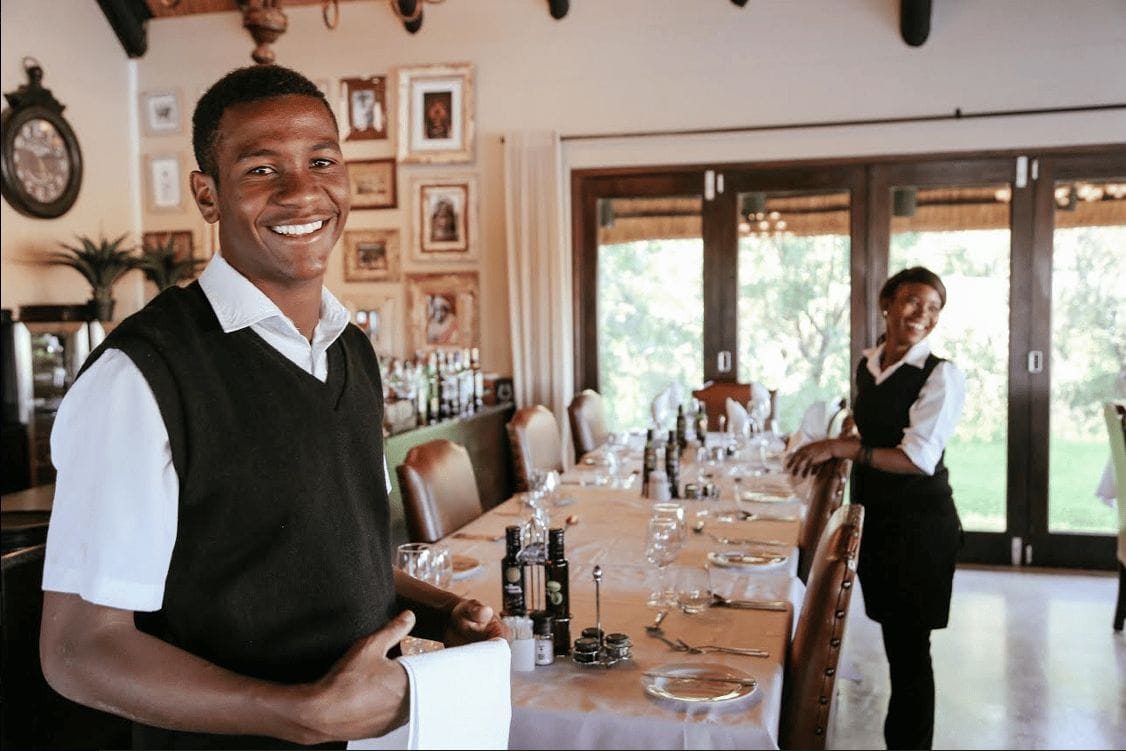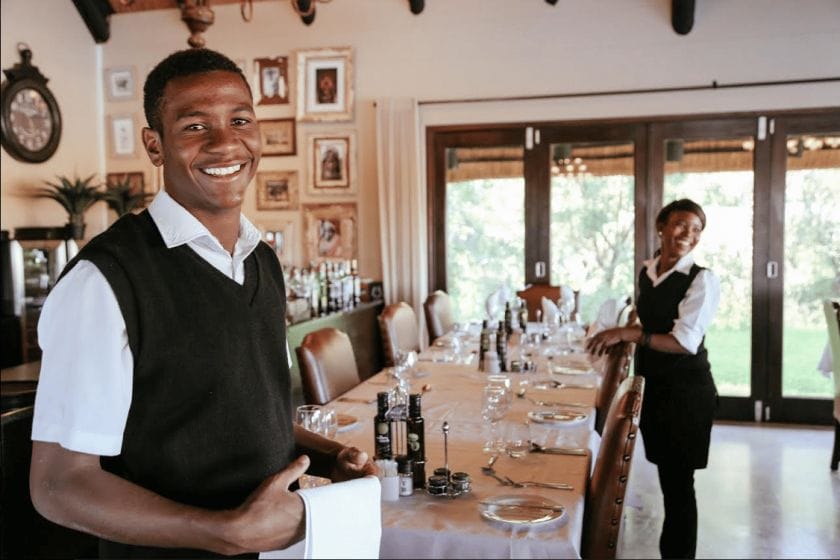 Breakfast with a view on a Namibia Safari, Old Traders Lodge
This Namibia Safari Lodge stocks a wide selection of South African wines, spirits, and liqueurs.
Every afternoon, this Safari Lodge in Namibia serves high tea with delectable sweet and tasty food.
Activities at Erindi Private Game Reserve

Game Drives with wildlife viewings (guided game drive, private game drive, leopard project drive, etc.)
Walking safaris (Cheetah walk, guided bush walk, San Village trip, etc.)
Conservation experiences ( ultimate ecological experience, telemetry tracking, etc.)
Photography activities ( Private photographic safari, Private Birding drive, Fly your drone safari)
Hobatere Lodge
Rated 4.5 Stars on Tripadvisor.
"Hobatere was my favorite lodge on my trip to Namibia." Piaa M from Shanghai.

"Thank you, COVID, for giving us the opportunity to visit Hobatere, where we were surrounded around the clock by huge herd of elephants, zebra, oryx, giraffe and impala, who were free to roam the lodge due to the lack of visitors." Finny123 from Windhoek.
What makes Hobatere Lodge unique?
Guests on a Namibia safari will immerse themselves in the untamed wilderness of Damaraland by staying at Hobatare Lodge. Their slogan is "become one with honour."
Hobatere Lodge is a wildlife sanctuary worth visiting on a Namibia safari, thanks to their near friendship with the Namibian Lion Trust Foundation, frequent sightings of wildlife viewings such as; elephants, and a plethora of birdlife.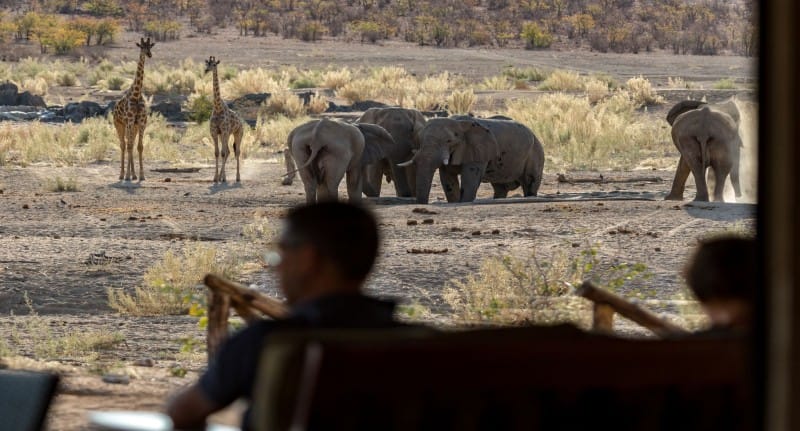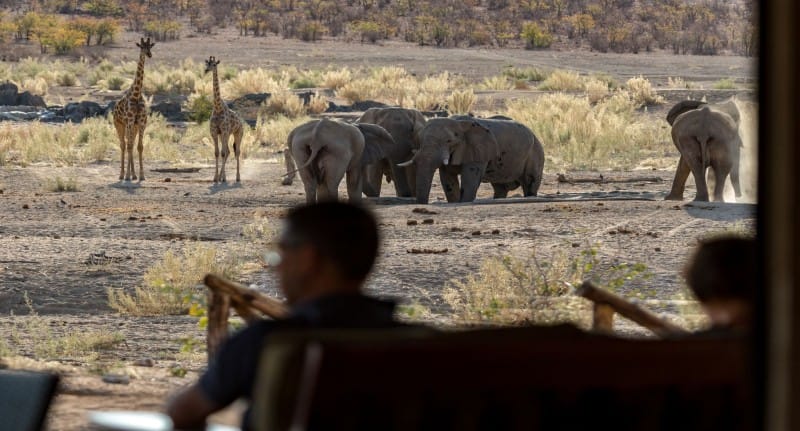 Hobatere Lodge Game Viewing | Photo Credits: Denzel Bezuidenhout
The Namibia Safari Lodge is situated in an area that is a sanctuary for outdoor enthusiasts. The proximity of the waterhole ensures an up-close encounter wildlife viewing with wild creatures in the forest, making this one of Namibia's best safari lodges.
Dining Options at Hobatere Lodge
A boma is the Southern African word for an enclosure, usually for wild animals. This Namibia Safari Lodge's boma dinner is for guests who want to interact with the bush soul and enjoy the sights and sounds of an African night on a Namibian safari.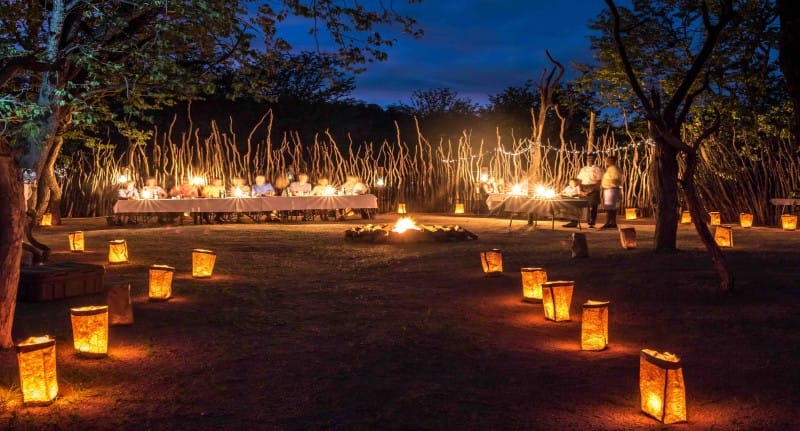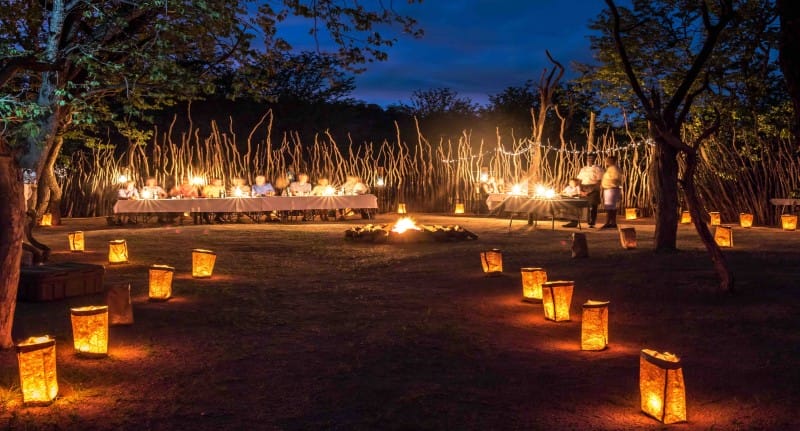 Boma Themed Dinner at Hobatere Lodge
What activities does Hobatere Lodge offer?

Night Drives
​Afternoon Game Drives
Etosha Game Drive
Overnighting in a Tree House experience
Rated 4.5 stars on Tripadvisor.
"From the minute we drove onto the premises to the minute we saw it in our rearview mirror it was absolutely amazing." Kwenanij from Windhoek"

"Wow just wow, this place will blow your mind..

Oh talk about the quality of the service, and exclusive privacy… Oh my this place is one of dreams.." Leonard Richard from Pretoria.
What makes The Desert Grace unique?
This Namibia Safari Lodge property provides a never-before-seen peek into the mighty Namib Desert's rhythms. Each building is built entirely of sandbags, rather than bricks, as part of a daring architectural feat.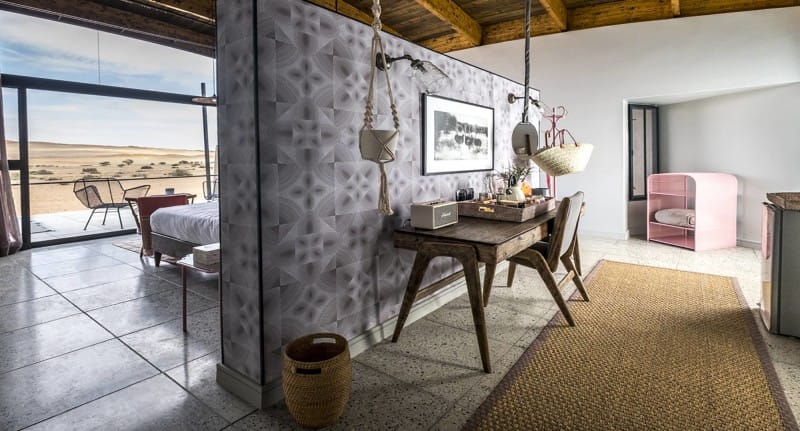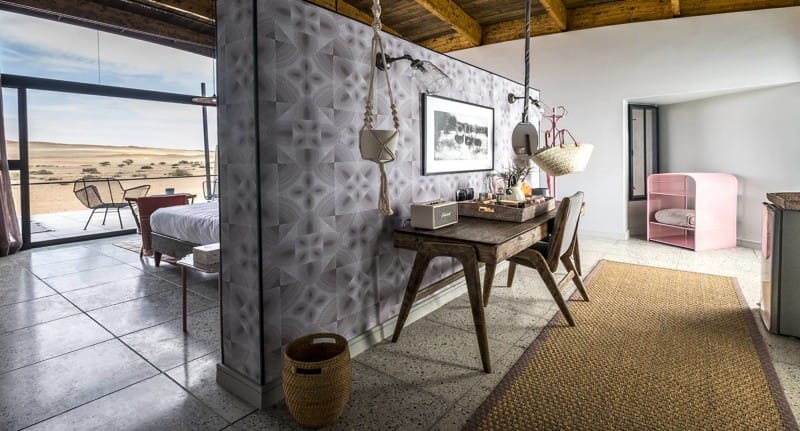 The Desert Grace Lodge, Best Safari Lodges Namibia
These intricately designed bungalows pay homage to old Hollywood in a modern form, making this one of Namibia's most interesting and best safari lodges.
This Namibia safari lodge, which faces west, offers views of the sunset from the warmth of a private plunge pool.
Dining Options at The Desert Grace
The restaurant at Desert Grace is set up like a food stand, with a buffet of appetisers that includes a variety of salads, bread, cheese, and soup.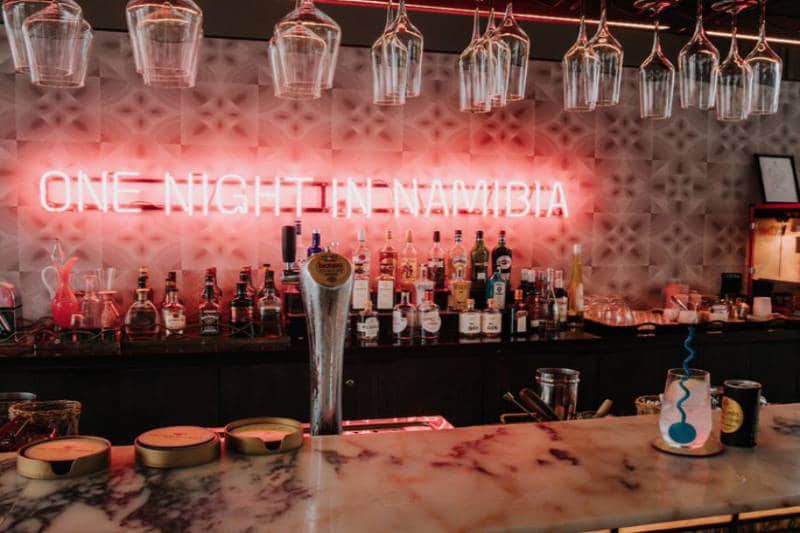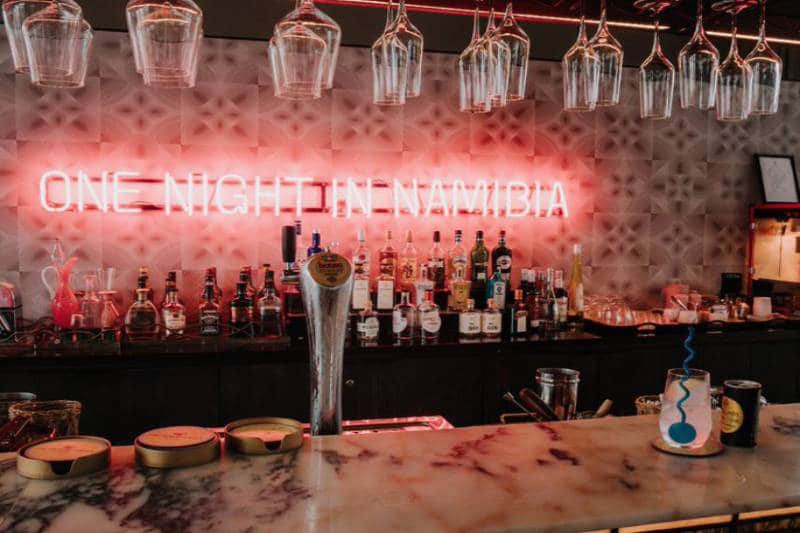 One Night In Namibia Bar, The Desert Grace
There are two main course options: make your own pizza stand and a barbeque/braai stand where you can choose from a range of meats, including some exotic local options.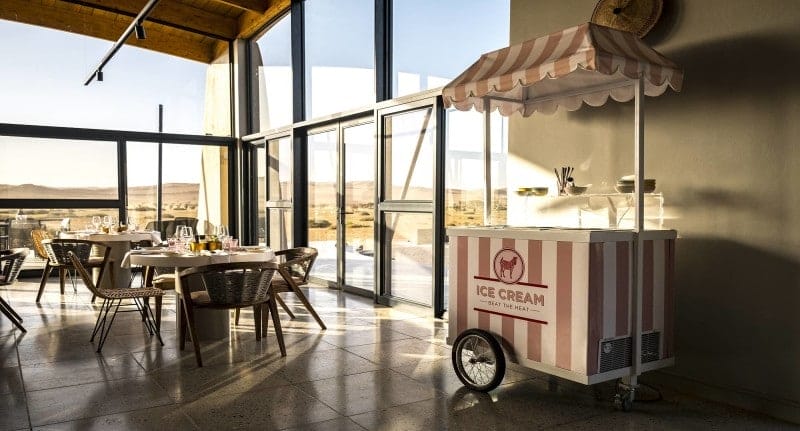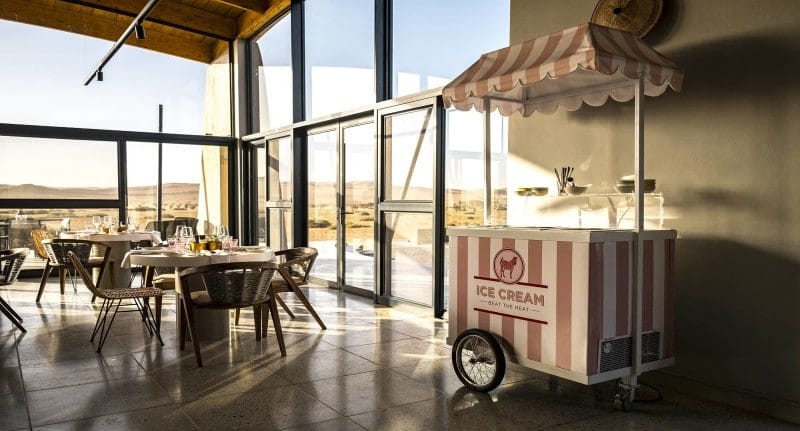 Dining Area at the Desert Grace Lodge
Dessert is a help-yourself pink flamboyant ice cream cart, which is quite fitting considering the warm desert surroundings.
What activities does Desert Grace offer?
nature guide
Sossusvlei excursion (guided)
scorpion night walk (guided)
e-biking guided and self-guided
walking trails (self-guided)
Etosha Safari Camp
" The service was impeccable, the staff were all very friendly and professional." Tuna from Windhoek.

"We liked the place! Very cosy and the music in the evening was fun. The dinner was good. We did a tour with 1 female guides through Etosha. Her name is Francelina. We had a wonderful day with her. Because of her african eyes we saw 4 of the big 5. Francelina is a fantastic guide! " Wim Van Heunen from the Netherlands.
What makes Etosha Safari Camp unique?
The Etosha Safari Camp represents the Namibian Shebeen Culture in everything it provides, making it ideal for a Namibia safari by taking on the iconic location of Etosha and adding a playful-local flair to it.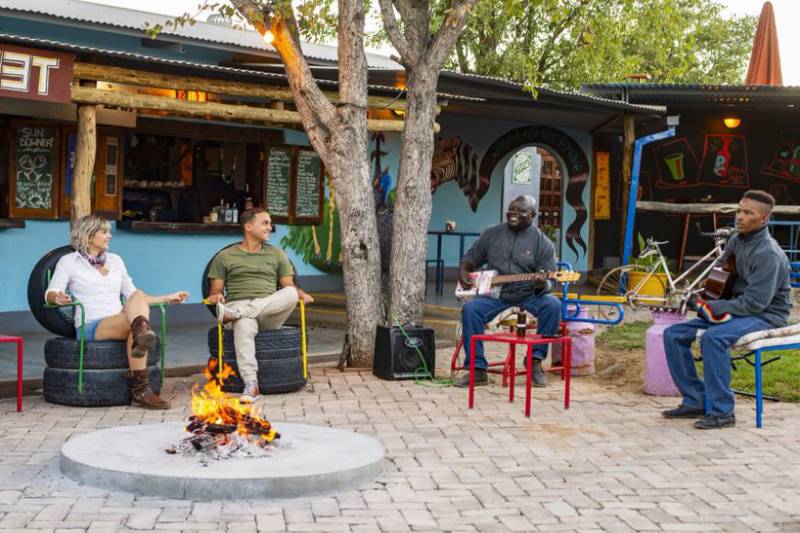 Etosha Boys playing music at Etosha Safari Camp
The Etosha Boys, with their strum guitars and vibrant local songs, offer a Shebeen-style of life that is embraced not only by the bright colours and humour but also by indulging in the local music offered by The Etosha Boys, with their strum guitars and vibrant local songs every evening at this Lodge Safari in Namibia.
Dining at Etosha Safari Camp
A delicious assortment of food is spread out on an old train compartment at this Safari Lodge in Namibia.
During the cooler months, guests can dine in the fascinating 'township' dining rooms or outside in the courtyard, where The Etosha Boys strum guitars and sing lively local songs.
During the day, African wildlife takes precedence for a Namibia Safari at this Etosha Safari camp, which is just a short drive from the lodge's gateway, Andersson Gate.
Activites at Etosha Safari Camp
Full-Day Game Drive with Wildlife viewing
Half-Day Game Drive with Wildlife viewing
Congratulations, you have reached the end of our list of the best safari lodges in Namibia. We hope this article has helped you prepare for your next trip to Africa and choosing the right safari destinations.
Besides a Namibian safari, there are also several other safari destinations to choose from, such as; Skeleton Coast, Namib Naukluft park, South Africa, Botswana, Kenya, Zambia, Zimbabwe, and so much more; stay tuned for whatever country or destination gets featured next month. Or why not try out a self-drive adventure through Namibia?