To help you experience the Great Wildebeest Migration in all its glory, you're going to need answers to the questions floating around in your head. With the help of East Africa experts, we've answered 18 of the most popular questions regarding wildebeest migration safaris, including t
he costs of an african safari to ensure you capture the magical experience you're hoping for.
1. How long should a safari be to see the migration?
One week on safari is the minimum amount of time we recommend for experiencing a migration safari. However, your budget dictates how long or short your safari is. At the end of the day, the more time you spend on safari, the better your chances of seeing the migration. In a perfect world, you would want to stay for as long as possible but we all know that that is not realistic.
If budget is a limitation, speak to your booking agent to find you affordable accommodation options so that you can prolong your time with the migration.
2. Is it better to go to the Masai Mara or Serengeti to see the migration?
Tanzania has more than 90% of the Serengeti ecosystem within it but less than 10% of the accommodation. The Masai Mara, Kenya, has less than 10% of the ecosystem and over 90% of the accommodation. It also depends on what time of year it is as this determines which side of the Mara River you should stay at.
It's a good idea to book yourself a spot at one or two accommodations on each side, depending on the time of year you're travelling. The migration can be found on the Tanzanian side of the Mara River throughout the year but a huge number of wildebeest cross into the Masaai Mara between late July and October each year.
Our suggestion is that you try to combine the Serengeti with the Masaai Mara from late July to October.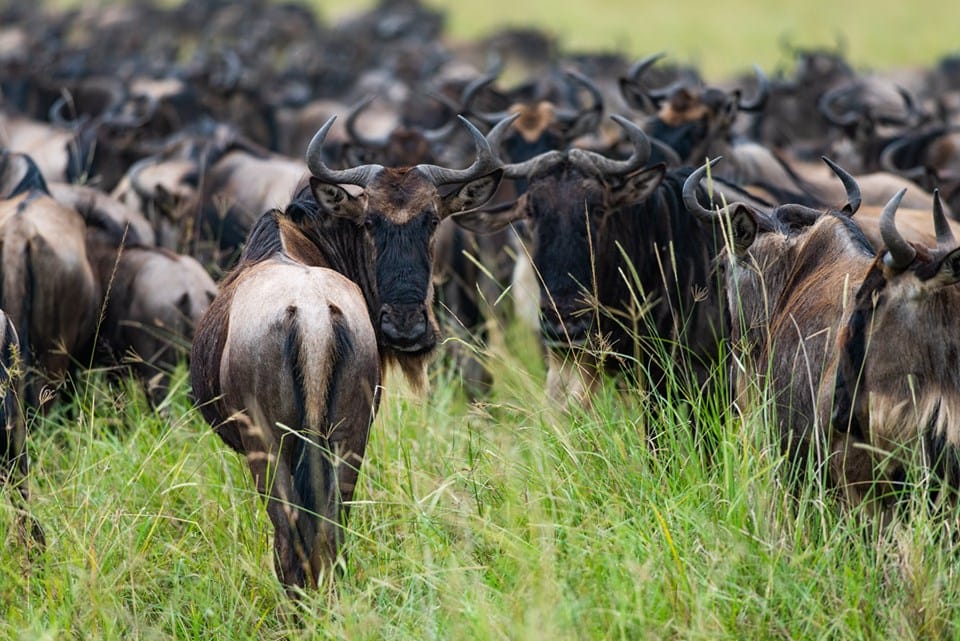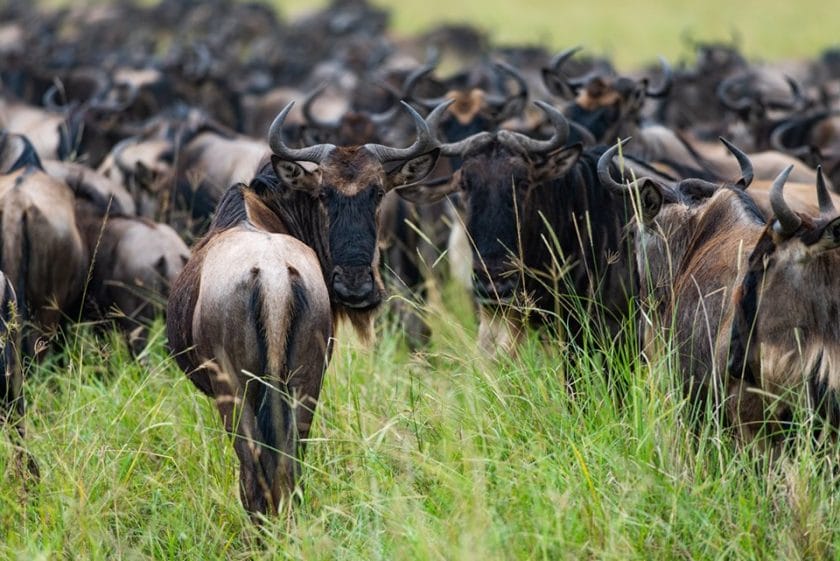 3. Does it get overcrowded around migration time?
It depends on the time of year you go. Some people prefer to go during the calving season (February / March), others during the river-crossing season at the Grumeti River (June to mid-July) and the Mara River (August to October). There may be more visitors during peak, river-crossing season but there can only be as many people as there is accommodation available.
Where you go in the Masaai Mara is vital. Speak to your booking agent to get you the best possible accommodation options in the Mara that would have you in the right quiet little corner.
4. How much can I expect to pay for a Great Migration safari?
Our new Migration safari packages are now available and are organised according to budget and travel dates. They range from between $6000 and $14 000. Remember that you can create your own safari package based on your budget by subtracting a few days and choosing less expensive accommodation.
Consider going out of season to keep costs down. We're here to help.
5. Is it possible to get close accommodation to the migration?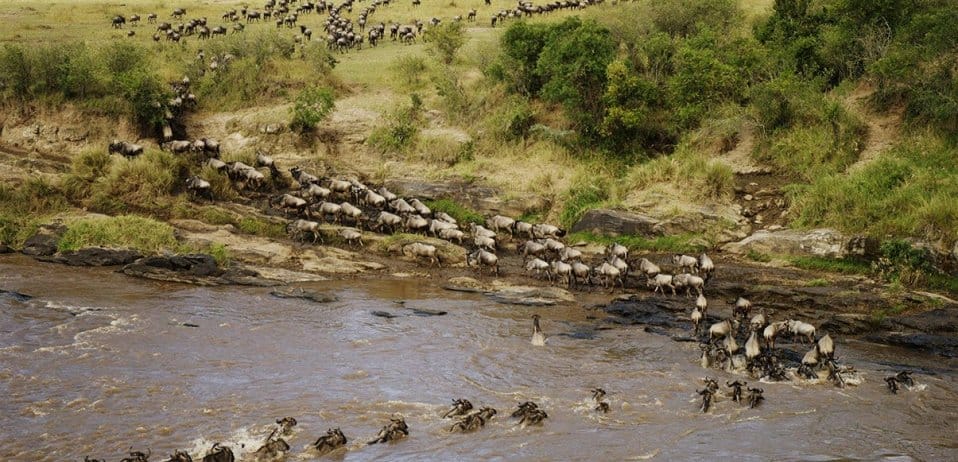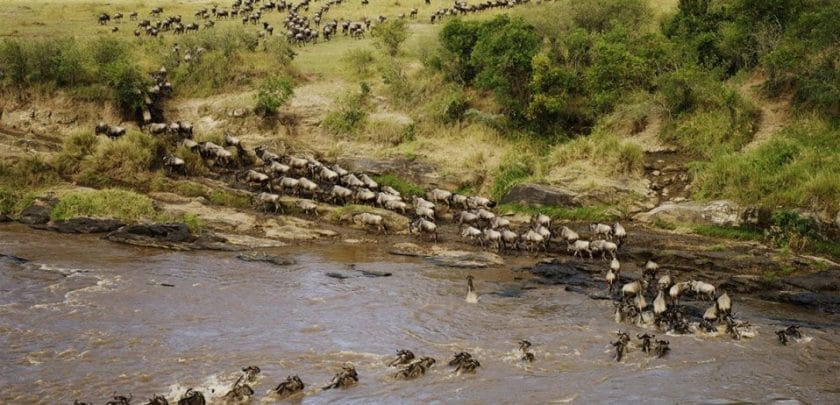 Yes, it is possible. There are certain key areas where we know the herds will pass because of traditional migration routes and also because the herd needs access to drinking water. That means we can predict fairly accurately where the herds will be, especially when they are not mobile during calving season in the Serengeti.
Each of these areas have different levels of accommodation and the earlier you speak to your travel expert, the more options you will have.
6. Other than wildebeest, what wildlife can be seen on a migration safari?
The wildebeest migration is a kind of circle of life, which means a lot of different creatures and wildlife are involved in the cycle. Wildebeest may be the stars of the show, but other plains game like zebras, Thomson's gazelles and eland embark on the migratory journey too. These travelling herbivores attract predators like lions, hyenas, leopards, cheetahs, wild dogs and crocodiles.
It's also not uncommon to come across giraffes, elephants, buffalo, rhinos and hippos while on a migration safari too.
7. When does the migration start and finish?
The migration isn't something that starts and stops, but there are better times and locations throughout the year to see the herds in great volumes. Herds generally enter the Mara anytime from late July onwards and return to the Serengeti towards the end of October and November.
If you would like to see where herds are right now, or will be at the time of your safari, check out our interactive wildebeest migration map.
8. How fast do the herds move from A to B?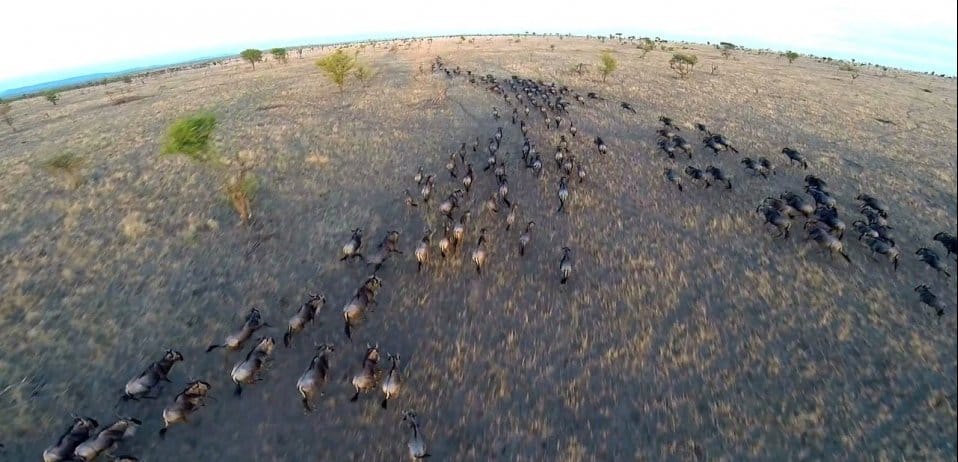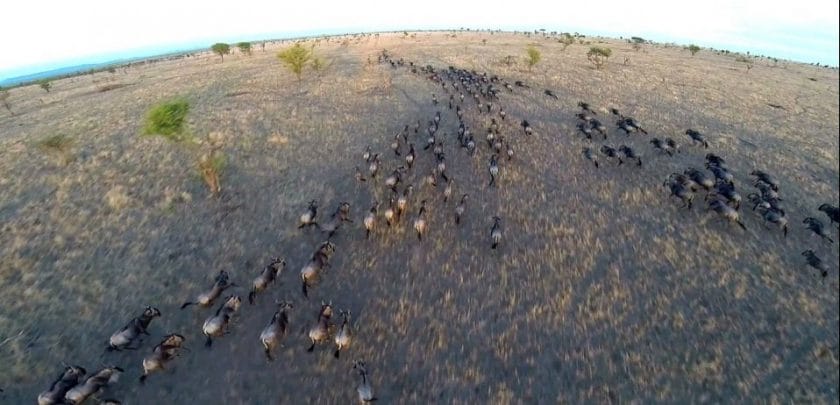 The great migration takes place throughout the whole year. The pace of the migration is determined by the change of seasons because the wildlife follow the rain and new grass it brings for grazing.
9. Where would the migration be each month of the year?
HerdTracker shows you where the migration is in real-time and our interactive wildebeest migration map predicts possible forecasts of where the migration might be at a given time.
10. Is it better to join a group safari or to go on a tailored, private safari?
A group or scheduled safari is fine when the herds are on the southern plains because the route only goes as far as the central Serengeti and sometimes up to Lobo or the Grumeti River. No scheduled safari would go to the Mara River on the Tanzanian side. In order to see crossings in the Serengeti you would have to fly there or go on a private safari.
A private safari gives a personal, exclusive experience while a group safari offers you the opportunity to share your experience with other travellers. Also, a private safari is more flexible and may cater to individual needs while a group safari is pre-planned and caters according to the majority of the group.
11. What else can a migration safari be combined with?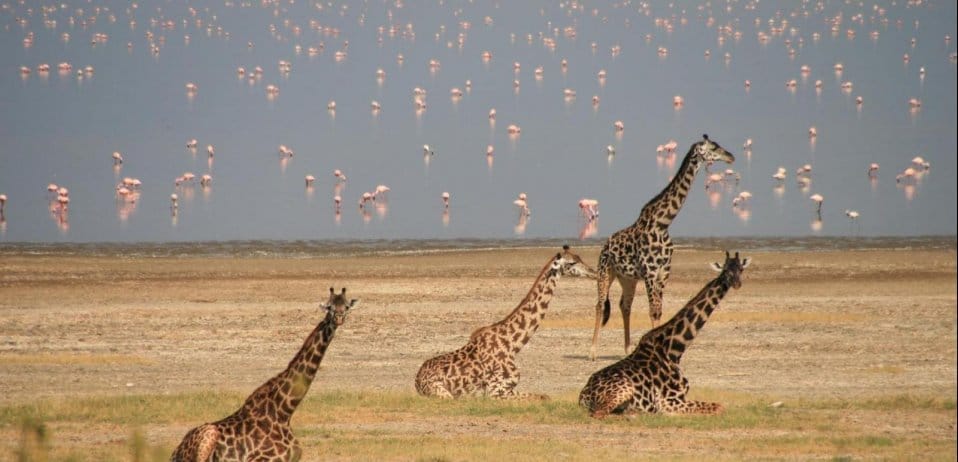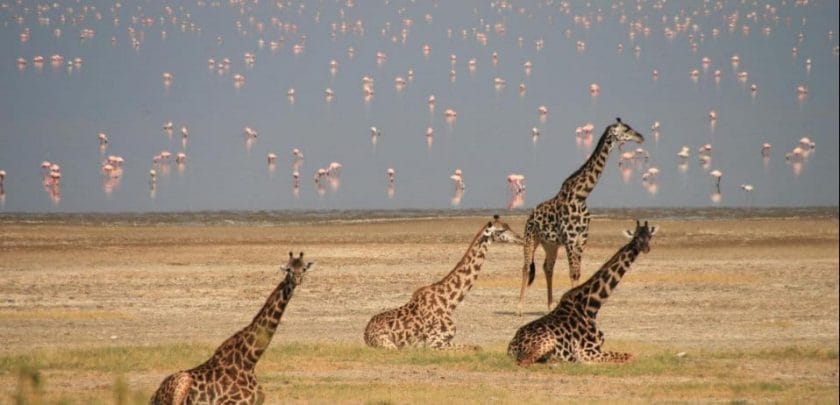 Lake Manyara
There are a number of great activities you can enjoy to compliment a migration safari. Hot-air balloon safaris over the Serengeti or a short flight to Zanzibar or climbing Kilimanjaro are two recommended options. There are also wonderful parks to combine your migration safari with; Tarangire, Lake Manyara and Ngorongoro Crater are all great wildlife destinations.
You can also add non-migration areas to your migration safari within the Serengeti or greater Masaai Mara.
12. Are mobile and tented camps safe to stay at when going to see the migration?
Mobile and tented camps are safe. Even though these are bush camps, they are good quality operations. To date, there have been no reported incidents of guests being harmed by wildlife when staying in this form of accommodation.
Keep in mind that wildlife only see shapes as opposed to things. That's why you are safe in a vehicle – the animal sees the vehicle's structure and not a group of individuals. However, the moment you remove yourself from the bigger vehicle shape you are noticed as an individual and animal behavior will change towards you.
Therefore tents are just as safe as lodges.
13. Are there scenic flights that operate over the migration?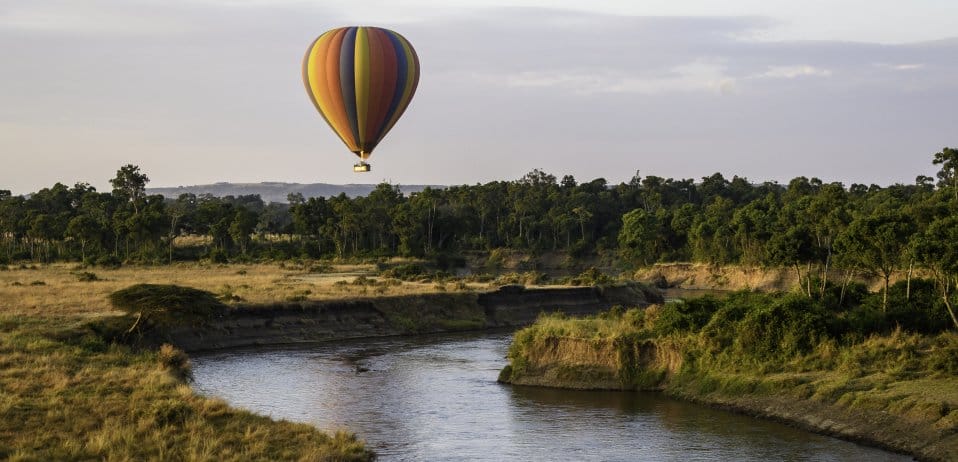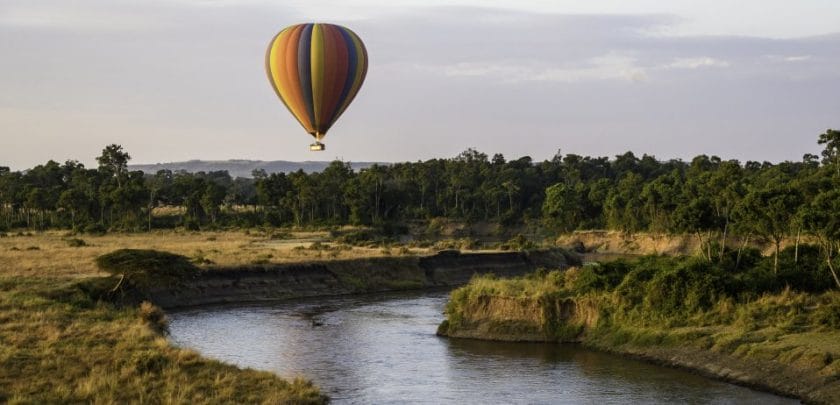 Credit: Little Governors Camp, Masai Mara, Kenya
Yes, you can take a scenic flight by hot-air balloon or plane to see migratory herds from above. It is always advised to book in advance, which we will do for you once you have your travel dates. There are times of the year where the ballooning would be closer to where the migration is.
We would recommend ballooning in the Mara from August to the end of September, the central Serengeti in June and again during December and January. The western Serengeti corridor can be enjoyed from a hot air balloon during late June and July when spotting the herds is easy.
14. What vaccinations are needed for a safari in East Africa?
Normally, it is recommended to take malaria prophylactics and get vaccinated against yellow fever when traveling to East Africa.
15. Is it better to visit the Masai Mara or the Serengeti first?
It is generally regarded that you should visit the Serengeti side before going across to the Masaai Mara. This is true for the beginning of the river crossing season (late July to end of August). You would, however, swap those two around during the end of the season when the herds start crossing back (October / November).
The reason for this is so that you move with the herds as opposed to moving in the opposite direction.
16. What is your most affordable Great Migration package?
We recommend visiting the Serengeti for a Great Migration safari during the green season between January to late March. This is also known as the calving season and packages are far less expensive.
17. Does a migration safari guarantee migration sightings?
Yes, you will see migratory herds when booking a migration safari. The time of year you choose to go on safari will affect the numbers of plains game in the herds though. Work with our travel experts and use our HerdTracker app to find out where the herds are right now.
18. How long before a migration safari is it best to book?
It is recommended that you book at least 8 to 12 months in advance. There are a limited number of lodges, so the earlier you start planning the more options there are for you.