A 6-day safari trip to Hwange National Park in Zimbabwe, including overnight stays in Victoria Falls pre and post-trip. We were traveling in late November 2022. 
Elephant Camp, Wild Horizons
Elephant Camp is an ideal overnight stop in Victoria Falls. Situated in the Victoria Falls National Park, just a short drive from the airport, the food here is good, and the service is attentive and friendly.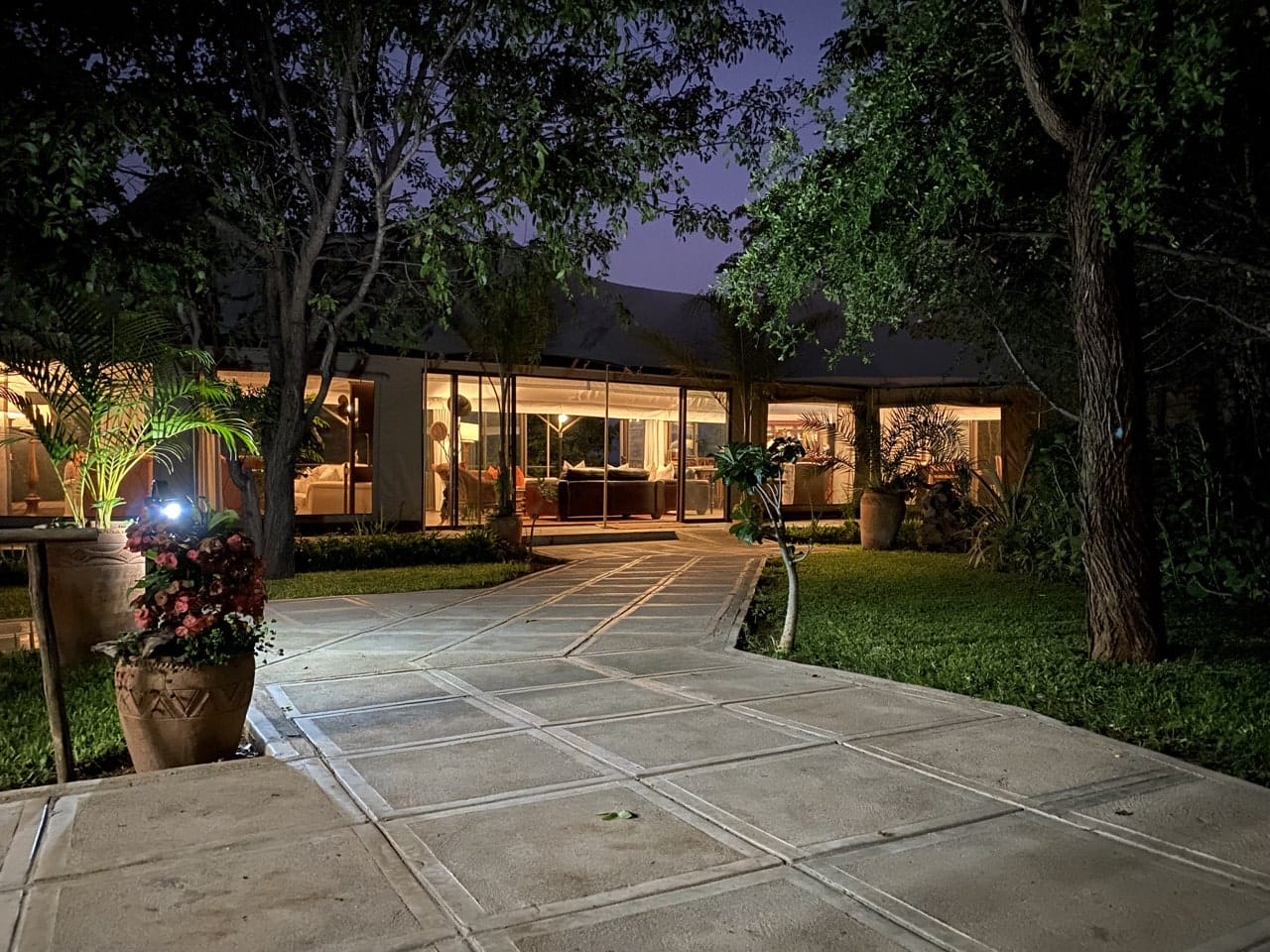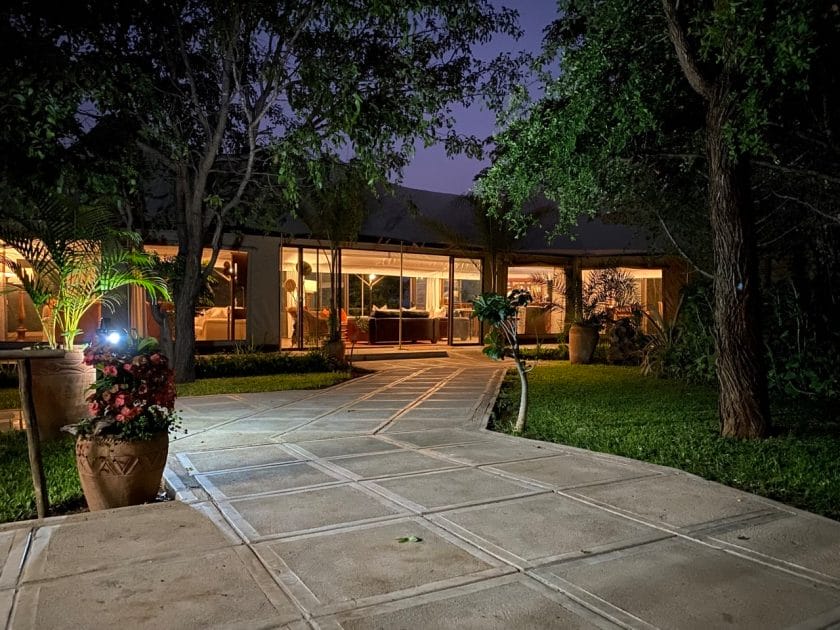 The tented rooms are large, with a big 4-poster bed, lounge, spacious bathroom, outside shower, and a plunge pool on the deck.  We had rooms four and five with views of the "smoke" rising from the falls in the distance. 
Nehimba Camp, Hwange National Park
The first stop on our Hwange safari was two days at the wild and remote Nehimba camp in the North West of Hwange National Park. Nehimba is part of the Imvelo group of safari lodges. The group operates exclusively in Hwange, making them specialists in this rapidly resurging wilderness area. (Read further down about Hwange's past and present).
Our guide (Harris) and his team looked after our every need at Nehimba. The team was knowledgeable and professional and made our Hwange safari great fun. Nehimba has nine canvas-walled, thatched-roof rooms on raised decks, all situated in a large arc around a substantial watering hole.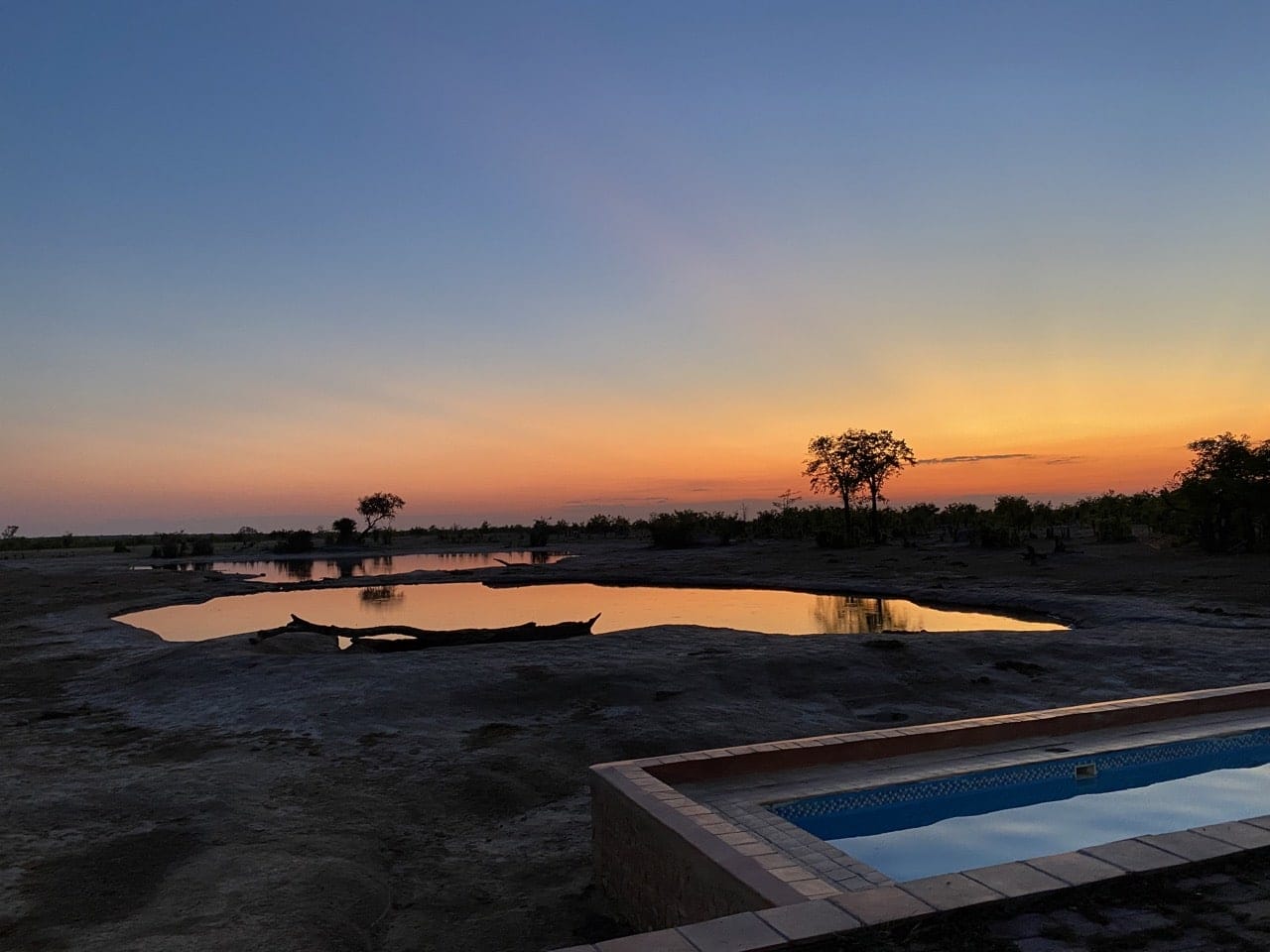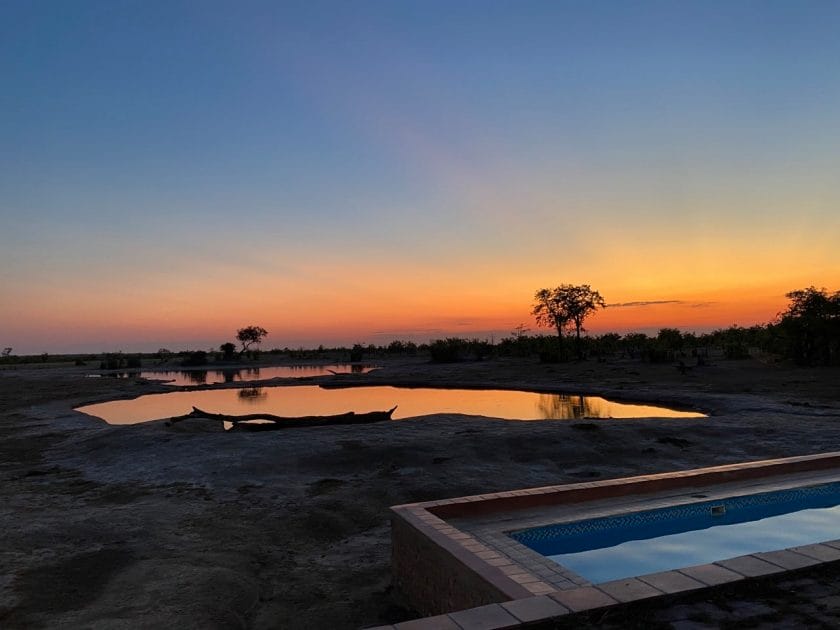 We went on game drives and bush walks, sat around the campfire, learned about the area and seasons, and relaxed in the swimming pool that overlooks a large watering hole frequented by elephants and other game. 
We saw lions, elephants, giraffes, zebras, buffalo, antelope, many raptors, and birds on our game drives and safari walks. 
The drive to/from Nehimba from Victoria Falls is about 5-6 hours, so be prepared for a day on the road (and sand tracks once in the park). Alternatively, you can fly in/out of the camp via the nearby airstrip. 
Bomani Camp, Hwange National Park
Bomani Camp is on the Eastern border of the Hwange National Park. It's Imvelo's most popular and accessible camp. It offers nine canvas-tented double/twin rooms (all en-suite), a sizeable two-roomed family suite (where we stayed, see below), and a separate thatched bungalow. Bomani can comfortably accommodate groups of 20-25.
We stayed for two nights in their much larger family room — also in the traditional safari canvas style — with two large bedrooms (both en-suite), a lounge, a dining room, and a wooden deck overlooking the plains out front. 
We saw lions hunting, elephants drinking, and much other game and bird life from the deck and campfire area.
During the second leg of our Hwange safari, we enjoyed game drives and game walks with Bomani's professional and friendly team of guides, hosts, chefs, and service staff. Everything happened under the guidance of lodge owner Mr. Butcher, whose passion for the land and the people who live there is evident in everything he does.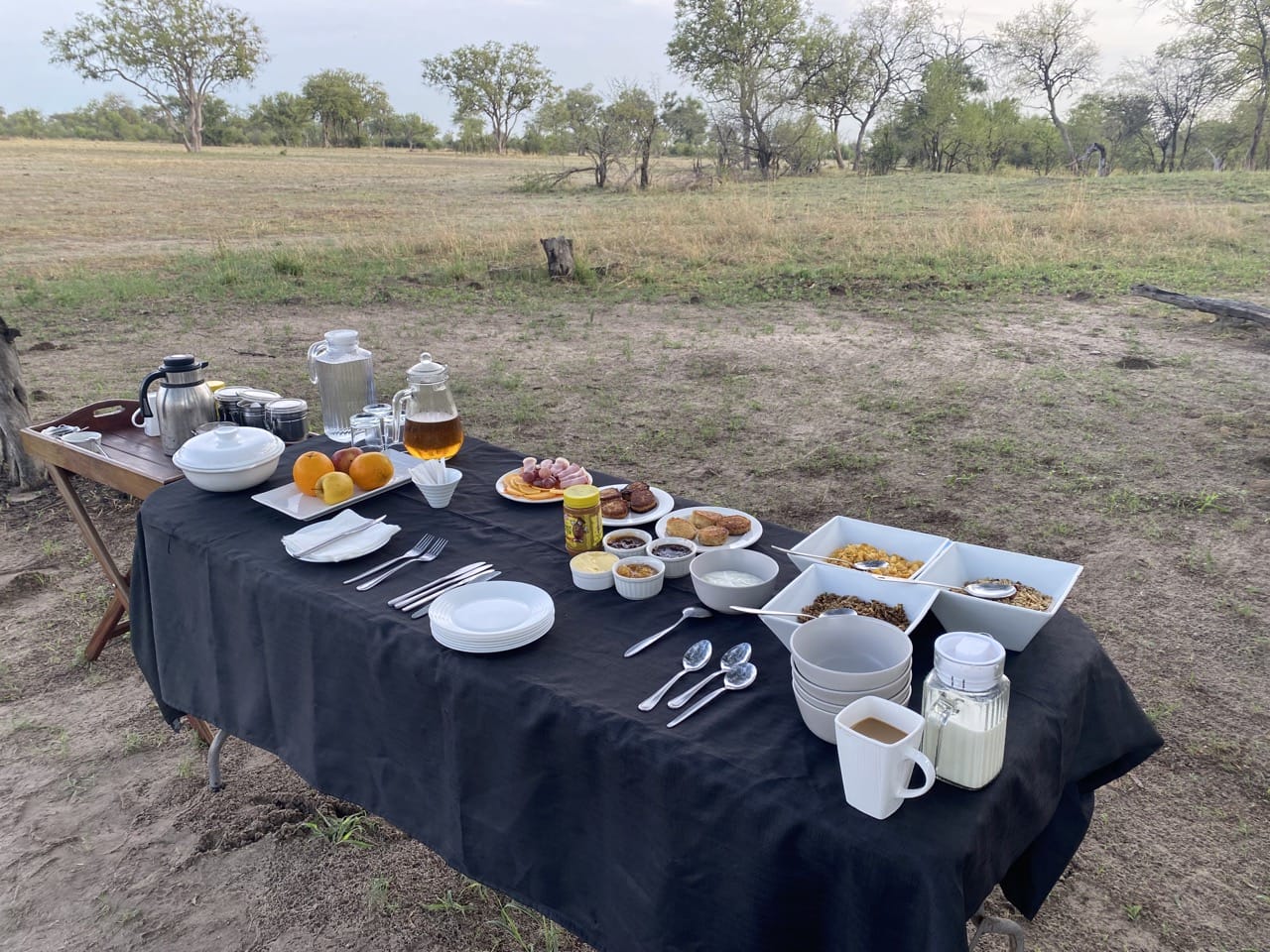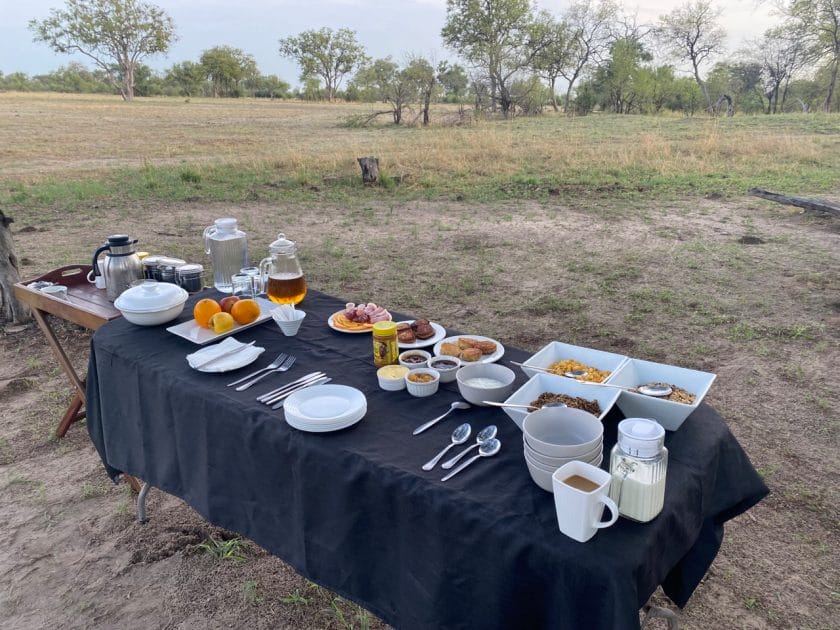 The food was good and varied, with most meals taken outdoors, some even while on safari, watching the wildlife come and go. 
We visited the nearby village to see how Imvelo supports and collaborates with the locals. They have regional programs that positively impact education, health, and conservation. Their rhino project is a "world first" that intrinsically links wildlife, tourists, and the local community. Watch this inspiring space. 
One truly unique part of the Bomani experience was how we got there.
The Elephant Express
The Elephant Express is a refurbished railway tram with open sides for game viewing. Coming from Vic Falls, guests first drive the 2-3 hours by road, then board the tram for a 2-hour rail journey to Bomani.
We saw Sable, giraffes, elephants, and more on our trips in and out of the park. We were told it's not uncommon to see lions sunning themselves on the tracks.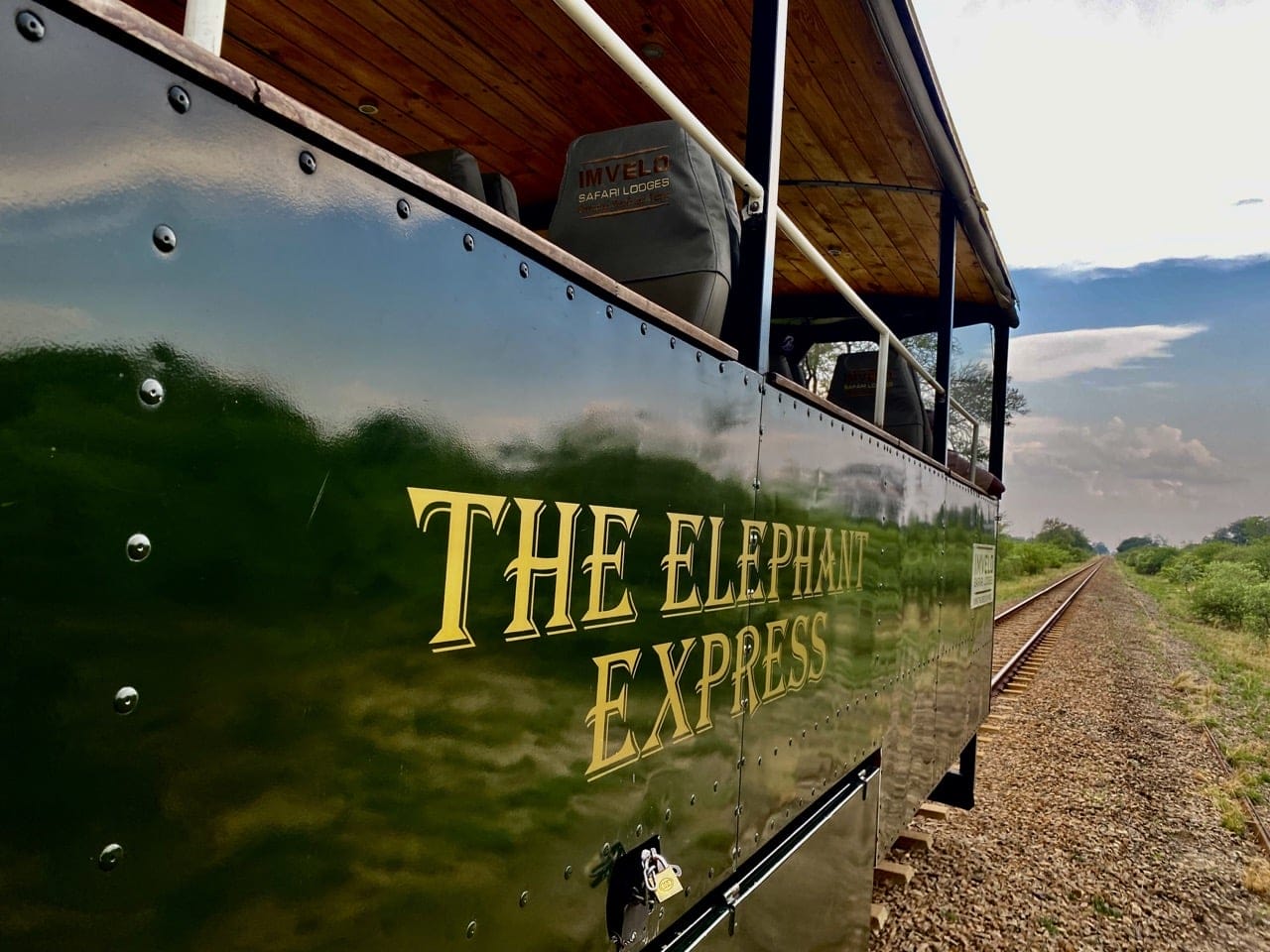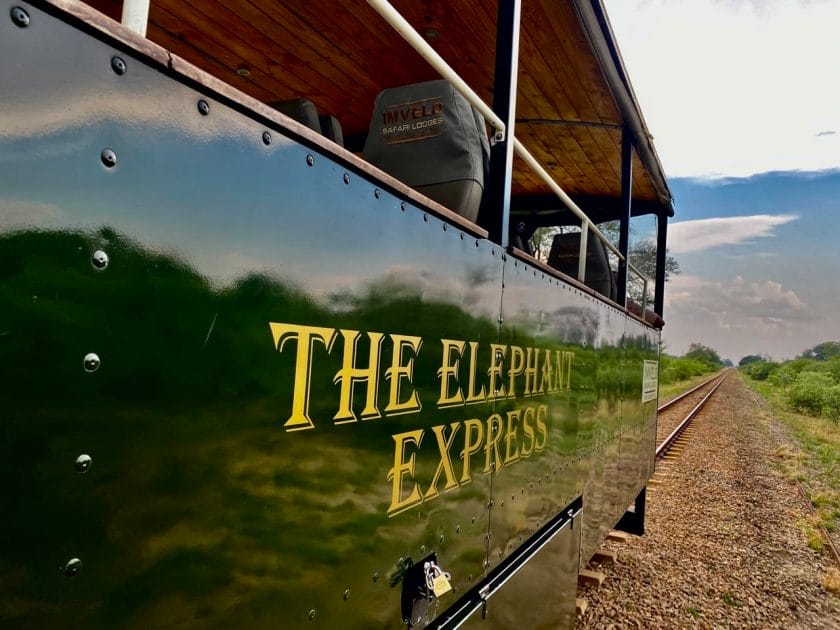 We also visited Camelthorn Lodge for a couple of hours after the heavens opened with the first significant rains of the wet season.
Established in 2014, Camelthorn is uniquely situated inside a separately fenced-off rhino sanctuary (yes, you'll be staying alongside free-roaming white rhinos). The thatched lodge has a large dining room with three fireplaces, a splendid terrace surrounding an enormous Camelthorn tree, and a bar/lounge with framed photos and memorabilia from Zimbabwe's colonial railway-establishing era. Local Ndebele artwork and decor complete the picture. 
There are eight private chalets (called "forest villas"), each connected by pathways through the indigenous wooded area. All rooms are en-suite, spacious, elegant, and comfortable. Most have an upper deck to enjoy the area's trees, bird life, wildlife, and tranquility. 
Victoria Falls River Lodge
The Victoria Falls River Lodge is set within the Zambezi National Park, a stone's throw from Victoria Falls. All rooms of this 5-star lodge offer spectacular river views, are surrounded by trees, and provide complete privacy from adjacent rooms. 
We were hosted in the lodge's brand-new villa (opened August 2022) and were blown away by the setting, architecture, decor, small comforts, and service.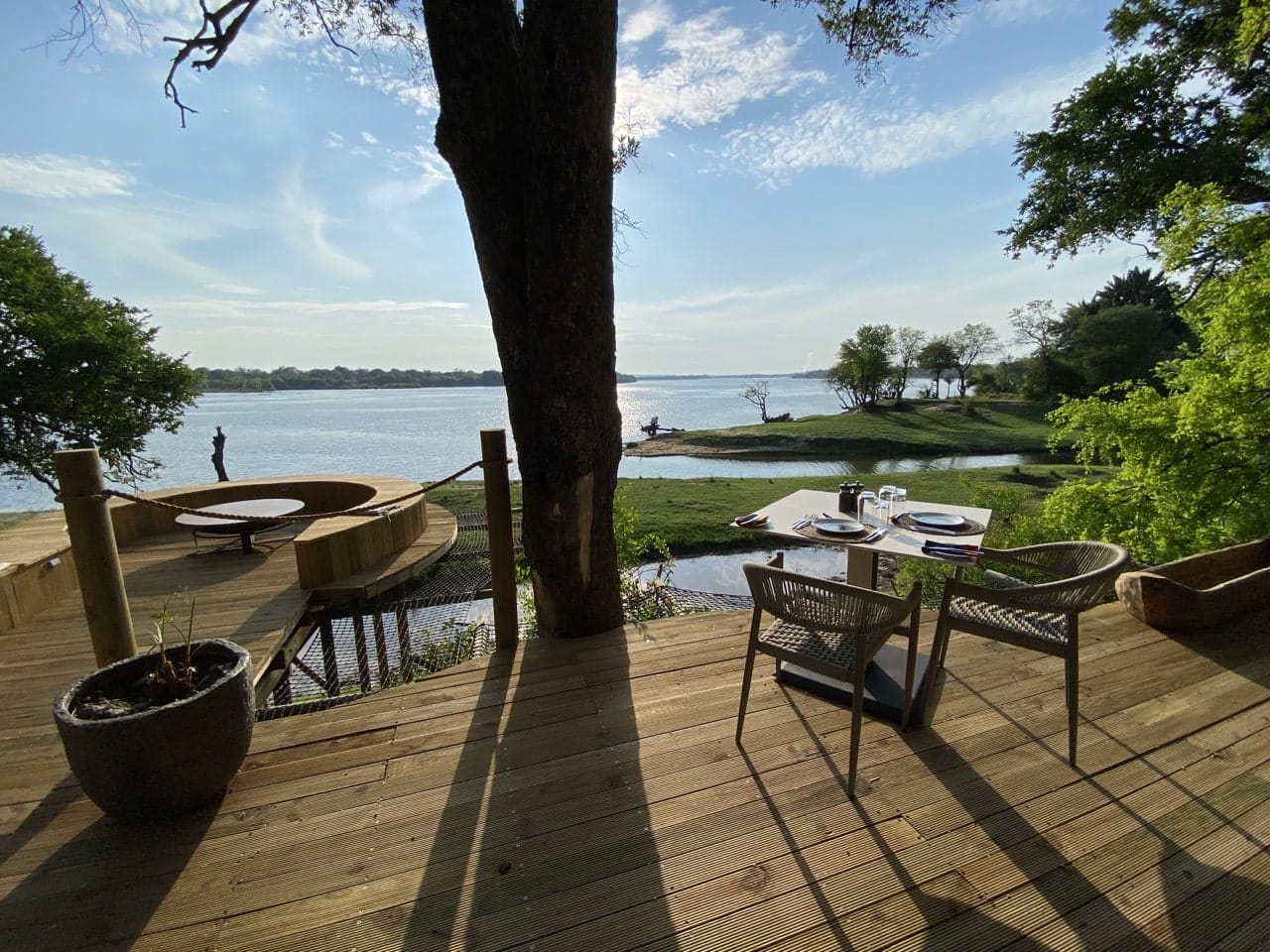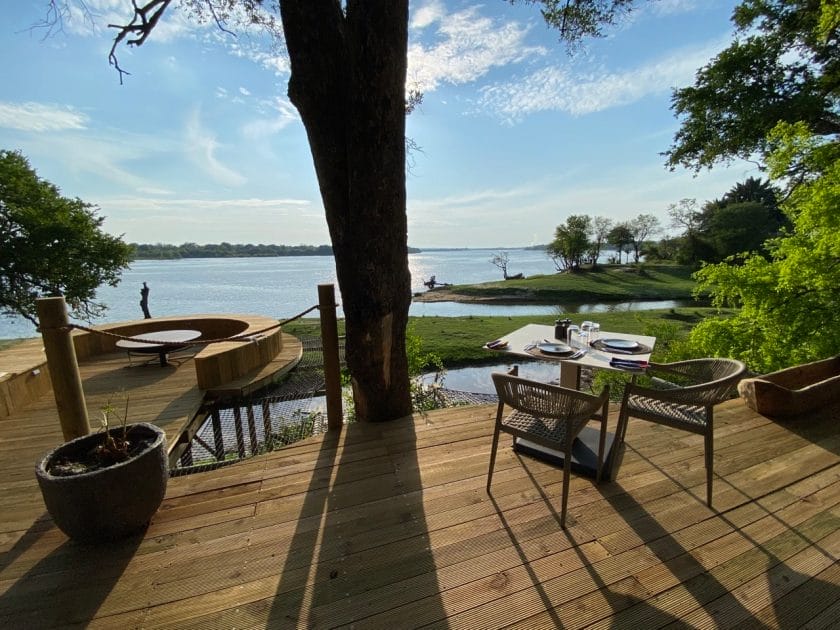 We stayed for only one night but wished we had two more to soak in the beauty and charm of the exquisite villa. We saw hippos, elephants, crocodiles, and rare birds from the comfort of our deck during our brief overnight stay.
Service was 5-star, with a dedicated guide, chef, housekeeper, and butler (Keanu assisted with anything and everything). The lodge has luxury tented suites, family suites, the villa, and treehouse suites on Kandahar Island, a short cruise across the river. 
This is, without a doubt, one of the top luxury lodges in Victoria Falls.
Hwange National Park (past and present)
I was last in Hwange in 2006. The park was in dire straits back then. Poaching was rampant (while there, I helped with snare removal patrols). None of the park's water pumps were working, which meant animals were dying of thirst through the dry winter months, and the national park facilities desperately needed maintenance and attention. 
Fast forward 15 years and the park is thriving. 
All the pumps are working (solar-powered), and the animals are much happier and healthier. More than 40,000 elephants are present in Hwange. Poaching has essentially been eradicated, new lodges have opened, and travelers are starting to recognize the wonders of Hwange once more. 
Road access is limited and slow going, but small aircraft operators are returning to the area post-covid, possibly the last piece of the safari puzzle falling into place. 
Getting there:
We flew from Cape Town to Vic Falls directly with Kenyan airways (the flight continues onto Nairobi). We returned direct to Cape Town with Airlink. There are direct flights from Johannesburg too. 
Seasonality notes:
The best months for a Hwange safari are the dry winter months from April to October, when the vast elephant herds congregate at the waterholes. 
The green (low) season runs from November to March. There are fewer elephants and wildlife sightings, as the game no longer relies on watering holes for water and stays in the deep, thick bush and forested areas.
January and February offer plenty of excitement as the plains game give birth, which results in a spike in predator-prey interaction. This is the best time to see lions, cheetahs, and wild dogs hunting. Expect afternoon rains and warm, humid weather. The rains transform the plains from dry and arid to lush and green. This time of year is best for a Hwange safari at either Bomani or Camelthorn, as the Ngamo Plains are exceptional during the green season.