"Don't even consider going down for this one"
The birding world was turned upside down when on the 17 July 2016, a group of specialist birders encountered a bird on the way to the Strandfontein Sewage Works. It was located at the Zeekoevlei picnic area, on the eastern banks of Zeekoevlei in Cape Town, South Africa.
The bird did not fit any of the descriptions in local reference books and had the 'experts' puzzled. That evening these specialists plus a few more, made the trip out to the site for further examination. It was finally ID'd as a Rufous-tailed Scrub-robin (Cercotrichas galactotes - see page 458 "Birds of Africa" Sinclair and Ryan).
The Rufous-tailed Scrub-robin is a European bird with a migration route as far south as Kenya. Vagrants have occasionally occurred in Malawi. This was a 'Giga Tick" (as was that Yellow-throated Leaf-love (Chlorocichla flavicollis), located in the Caprivi in March 2016). It's fairly similar to the Kalahari Scrub-robin with a few subtle differences.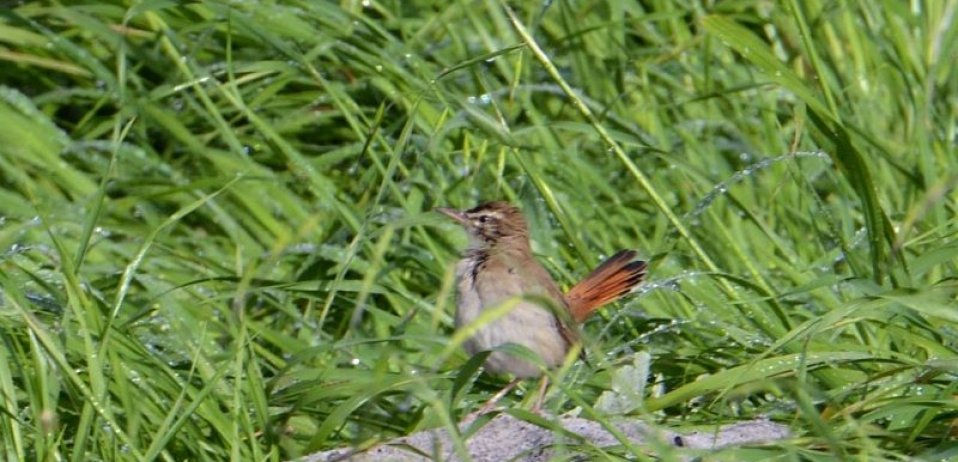 The Rufous-tailed Scrub-robin hides in the dew-laden grass of Zeekoevlei's picnic area. Image by Neil Ebedes.
The find was immediately broadcasted in Trevor Hardaker's Rare Bird alert, so the information was almost instantly available to birders / twitchers throughout South Africa (and worldwide).
Most self-respecting birders use the above group to keep up to date with the goings on of 'vagrant species' and also for education and interest purposes. Meetings were cancelled or shifted, negotiations were conducted with partners and other necessary arrangements made. This was a "must see".
The challenge however was that I had a medical procedure two weeks prior to this find and the operation was a good opportunity to conduct some necessary repairs to the camera. "nine weeks," said the urologist. "You shouldn't drive for four weeks and don't pick up heavy weights!"
My better half indicated that the urologist would need to give his thumbs-up before I could go. A loan camera would have to be sourced - of the same brand. Too difficult to learn new technologies for such an important find. Time was of the essence, the weather in the Cape was forecast to be foul, with cold front after cold front lashing the Western Cape. Accommodation needed to be arranged.
Driving was touch and go, but approval was given. The lens a Nikkor 80 - 400 AF VRII Zoom F4.5-5.6G was within the weight limits – just (including the camera and monopod approx. 2,5kg). The urologist, an amiable fellow with an excellent 'bedside manner' gave that knowing look, the healing process was going well.
Now for the camera! A Nikon D7200 was obtained. The problem identified later was that it had been used by a professional photographer, who had rearranged some buttons to suit specific needs. It had an additional problem. The autofocus was inoperable and only discovered on site. Manual focus for bird photography is not ideal.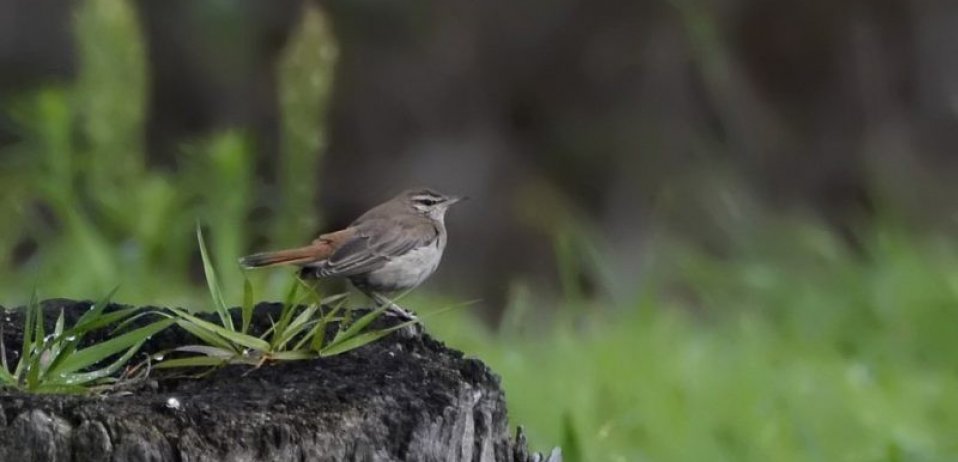 The Rufous-tailed Scrub-robin perched on a tree stump in Zeekoevlei's picnic area. Image by Neil Ebedes.
A disappointing first day. The weather was against us and a glimpse was noted by Ian Sinclair. This always remains a 'grey area' for birders – can that new bird be ticked? Ian Sinclair is a well-known character in birding circles. An author (and co-author) of many bird books (including Sasol BIRDS of Southern Africa) and an Irishman to boot. What an interesting individual to have on site.
The next day with the weather much improved, the site was again visited. A large crowd had gathered and the bird was soon located! High fives all round, various targets achieved, endorphin levels significantly raised. An enormous number of shots were taken – usually with auto ISO, shutter speed around 1000 at F5.6. EV set at +0.33.
Birders are a jovial and sociable bunch, with many interesting interactions. This bird should have returned to Europe by now, it was probably a case of 'reverse' migration.
Our Rufous-tailed Scrub-robin has become the largest 'twitch' in Southern Africa (now well over 1100 twitchers). It continues to be located and reported in the same area.
That vagrant Spotted crake located at various sites including Midrand (January 2016) has been downgraded into second place.
An adventure of note…
---