One of Africa's top national parks, Hwange National Park in Zimbabwe's northwest should be on any safari lover's bucket list. Roaming Hwange's savanna grasslands and woodlands are the Big Five and 100 other species of mammals – the park has the biggest diversity of mammals out of the world's national parks.
One of the big draws of Hwange is that it's easily accessible – you can fly into Victoria Falls and either hire a car or get a road transfer to the park, an hour's drive away.
Wildlife highlights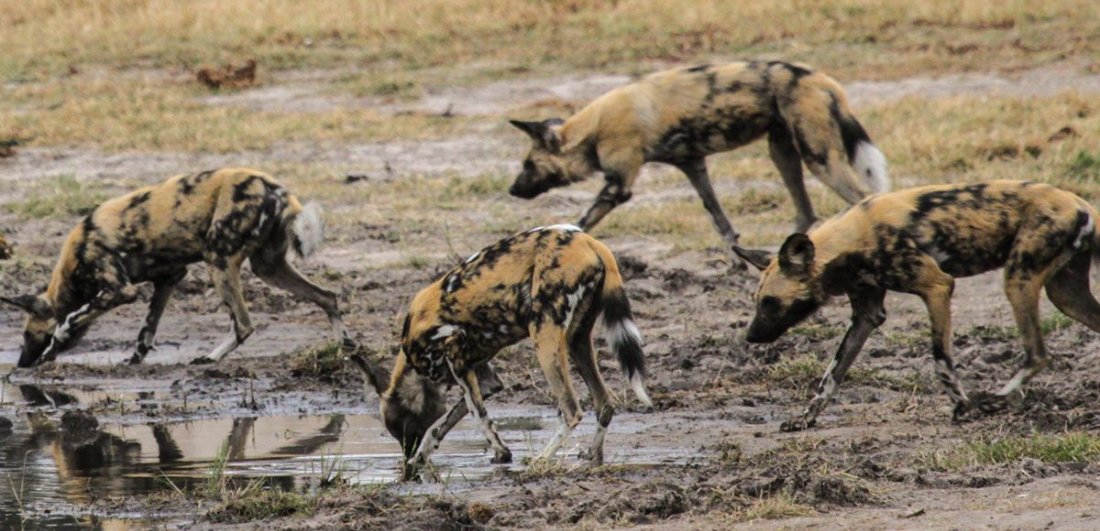 The Belgium-sized park is also home to some 50 000 elephants and is known for regular sightings of cheetah, leopard and lion, as well as one of Africa's largest populations of the endangered wild dog and rare species such as roan and sable.
Birdwatchers will be impressed with the 500 species recorded here.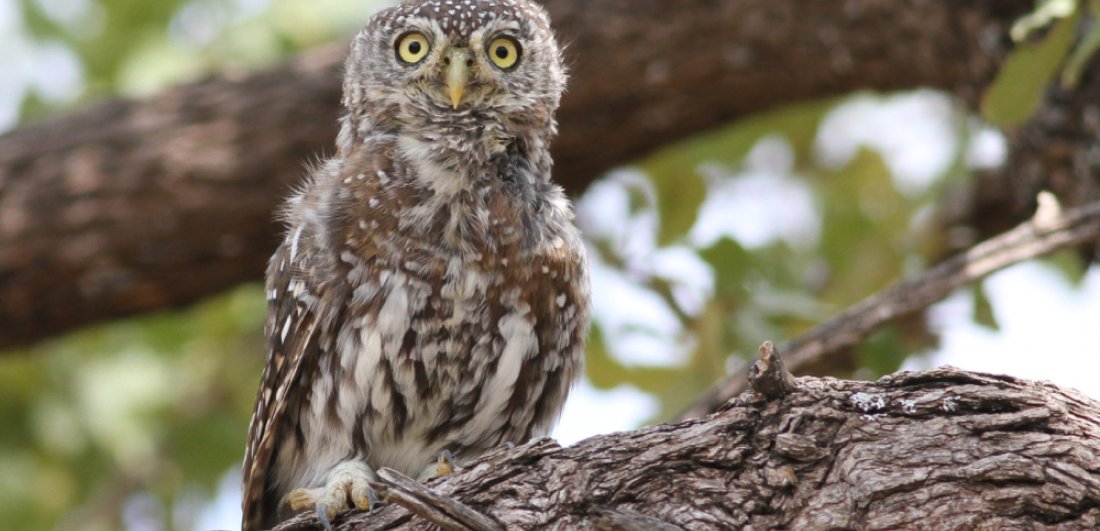 What sort of traveller would enjoy Hwange?
Try this safari to three of Zimbabwe's highlights
Travellers who want to experience Victoria Falls and a wildlife-rich park will love the close proximity of Hwange to one of the most visited landmarks in the world.
Families will feel at home here, as well as those looking for a self-drive adventure.
Where to stay
There are private luxury lodges both inside and outside of the park which offer fully-inclusive rates, while inside the park there are three Zimbabwe Parks and Wildlife Management Authority camps, which have affordable lodges, self-catering cottages and campsites, as well as exclusive camps and wild campsites. Talk to us about arranging a travel package to meet your budget.
Camp Hwange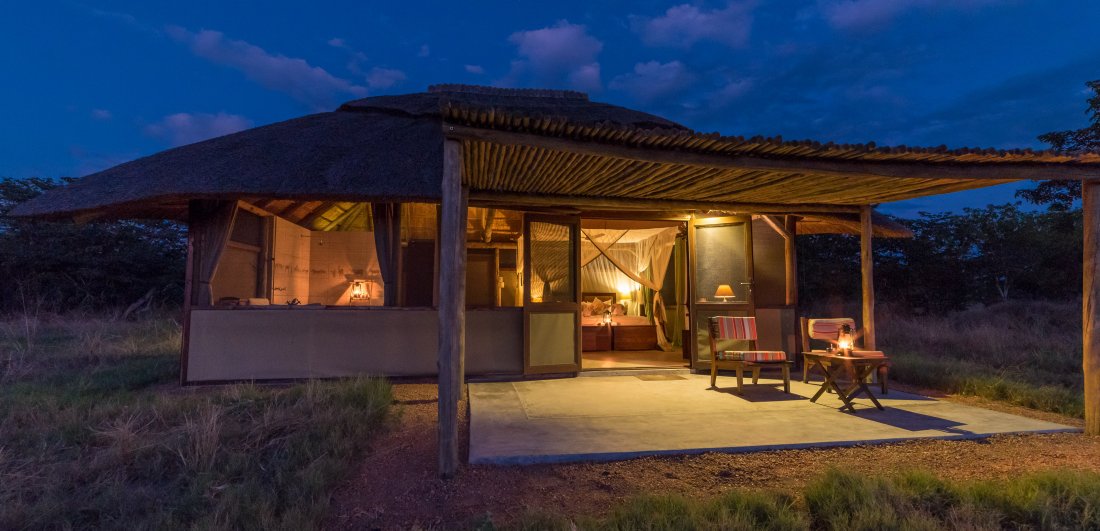 Just three hours from Victoria Falls, Camp Hwange is a firm favourite among safari goers. The eight comfortable chalets sleep two people at a time, making it intimate enough for a family safari, or chance to connect with others as a solo traveller.
All the chalets as well as the main lodge overlooks a permanent water hole, where wildlife abounds. Activities include day and night game drives as well as walking safaris.
When should you visit Hwange?
Game viewing in Hwange is superb during the dry winter months. The park has no permanent natural water sources, so once the rains have stopped and the landscape starts to dry out from June onwards, animals have to rely on the manmade pumped water holes for water.
Travel tips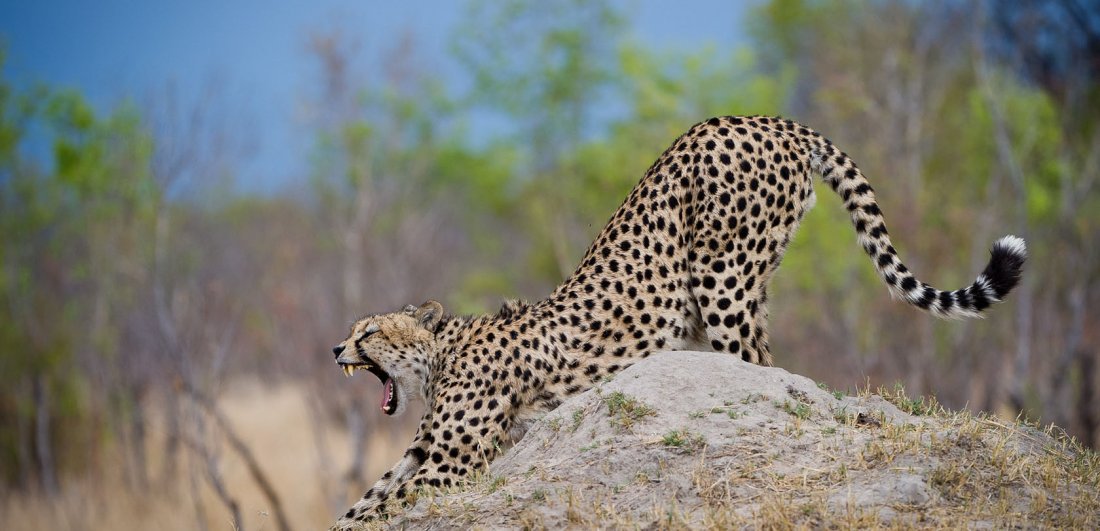 You can drive most of the park's roads in a 2x4 vehicle, and there are many options of places to stay to suit a range of budgets – everything from campsites to luxury safari lodges.
Along with game viewing by self-driving and guided game drives, you can also do horseback safaris – either short rides or multi-day adventures – and walking safaris, which give you a chance to immerse yourself deeper into the wilderness. Enquire about which camp offers these exciting activities.
Unlike other parks in Zimbabwe, Hwange is accessible in the wet summer season (November to April), although it's very hard to spot big game during these months and it's best to go only if you're a keen birdwatcher.
October is the hottest month of the year and can be uncomfortable for those unused to or sensitive to extreme temperatures.
What makes Hwange so special is its lack of crowds. For all of its biodiversity, huge herds of elephants and ease of sightings in the winter months, the park never gets crowded, which means you have the space and the quiet to soak up the magic of the bush.
If Hwange National Park sounds like your idea of an authentic Zimbabwe safari destination, contact us for some travel inspiration and safari packages to suit your budget.
---