In August 2020, our planned holiday to Greece was cancelled and had to be unravelled because of the Coronavirus pandemic. To avoid a similar disappointment in 2021, we decided to stay closer to home. We picked Mozambique, which is said to have earned the title "The pearl of the Indian Ocean". We figured that ten days in the Bazaruto Archipelago would be the perfect way to nurse the post-traumatic stress suffered from covid confinement and recent social unrest in our home country of South Africa.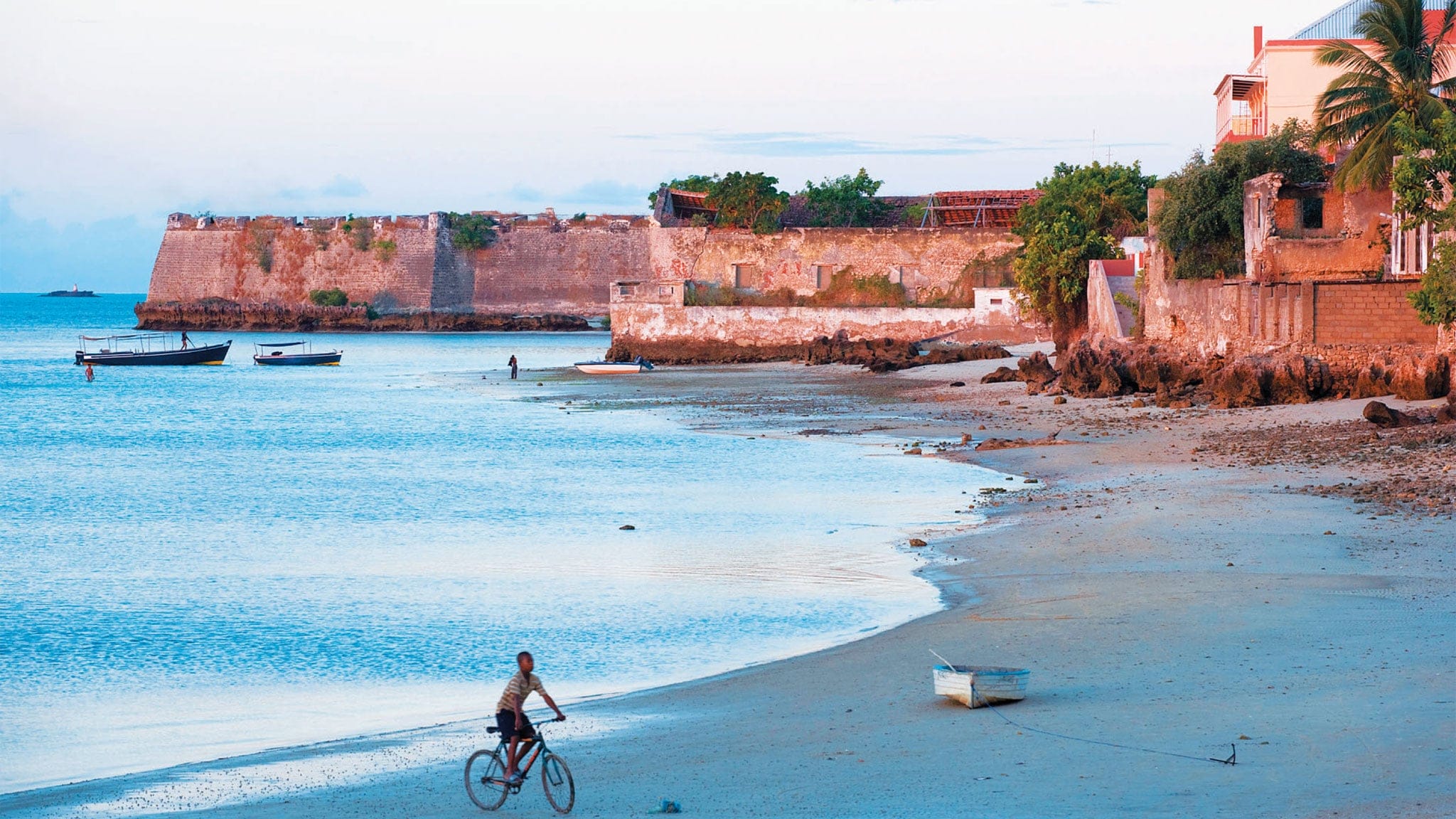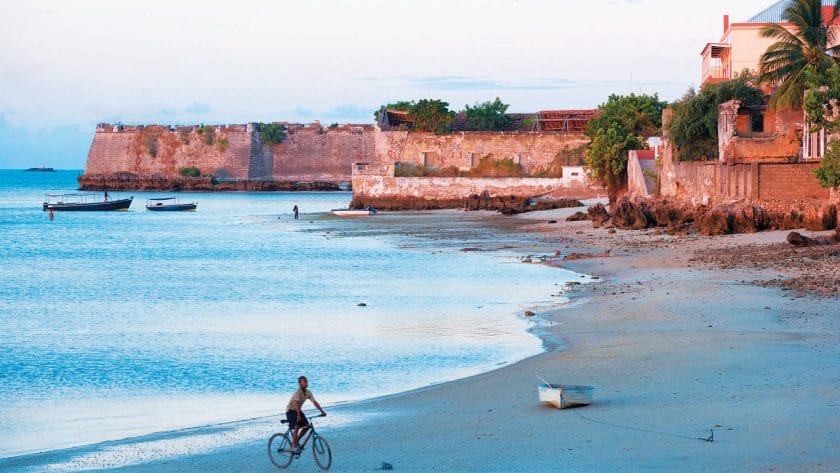 Beach cycling Mozambique Holiday
I hoped to rekindle some childhood memories and create new ones with my family. Both my wife and I consider ourselves beach connoisseurs, who have widely scoured the planet for the best stretches of sand and sea. The Bazaruto Archipelago was missing from our repertoire, so we took the opportunity to escape to this East African Eden.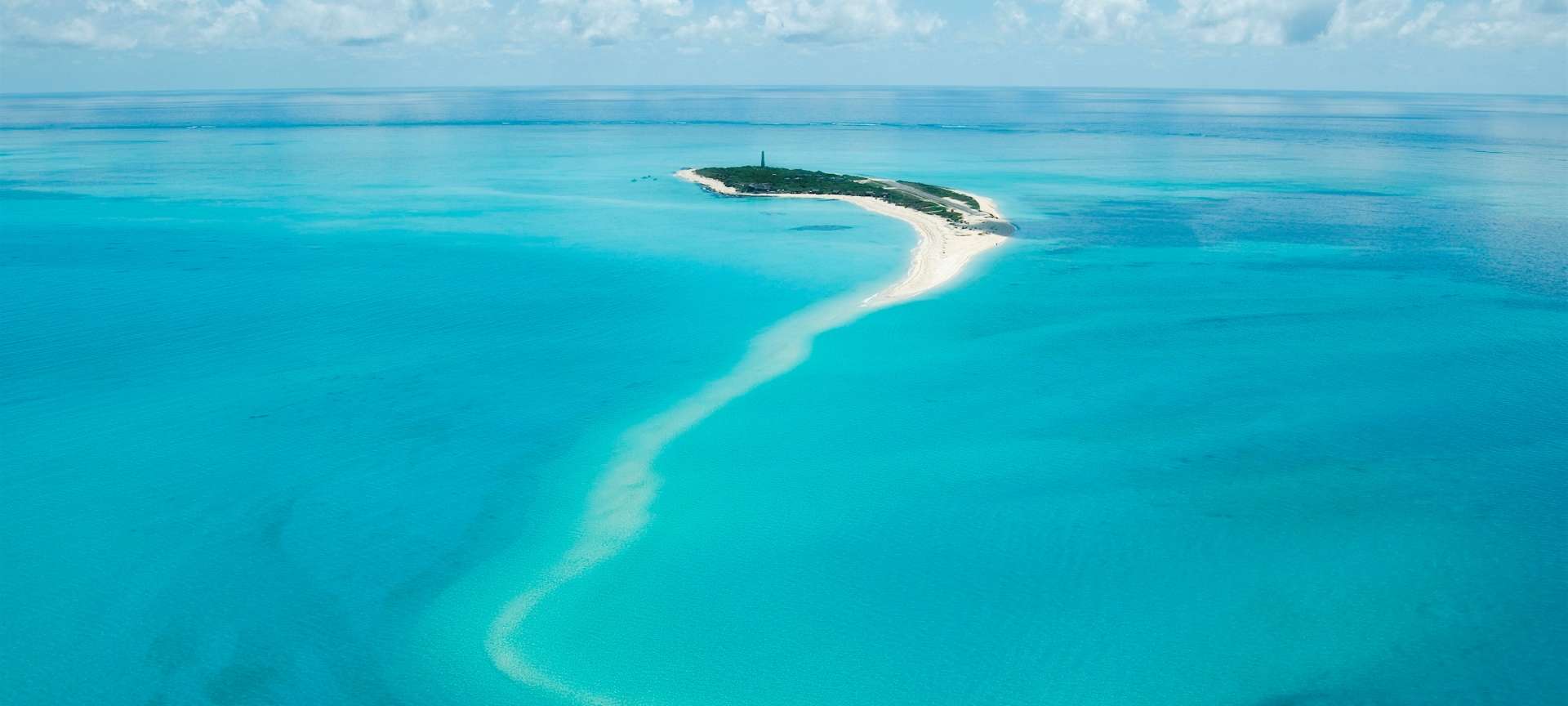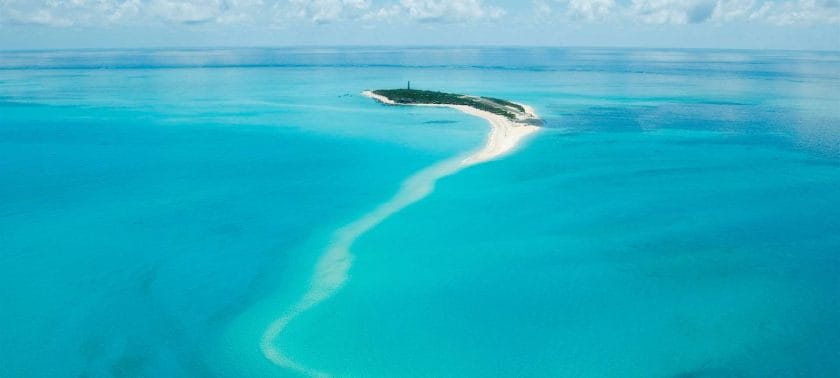 Medjumbe Private Island
Fate and blessing would lead us to Benguerra, the second largest island in the group. The island is covered by large sand dunes, has sections of indigenous casuarina pine forest, and is filled with freshwater lakes, which serve as the nesting ground for flocks of black-winged Flamingos. Benguerra is also home to herds of shy red Duiker antelope, prolific birdlife, exotic butterflies, and freshwater crocodiles.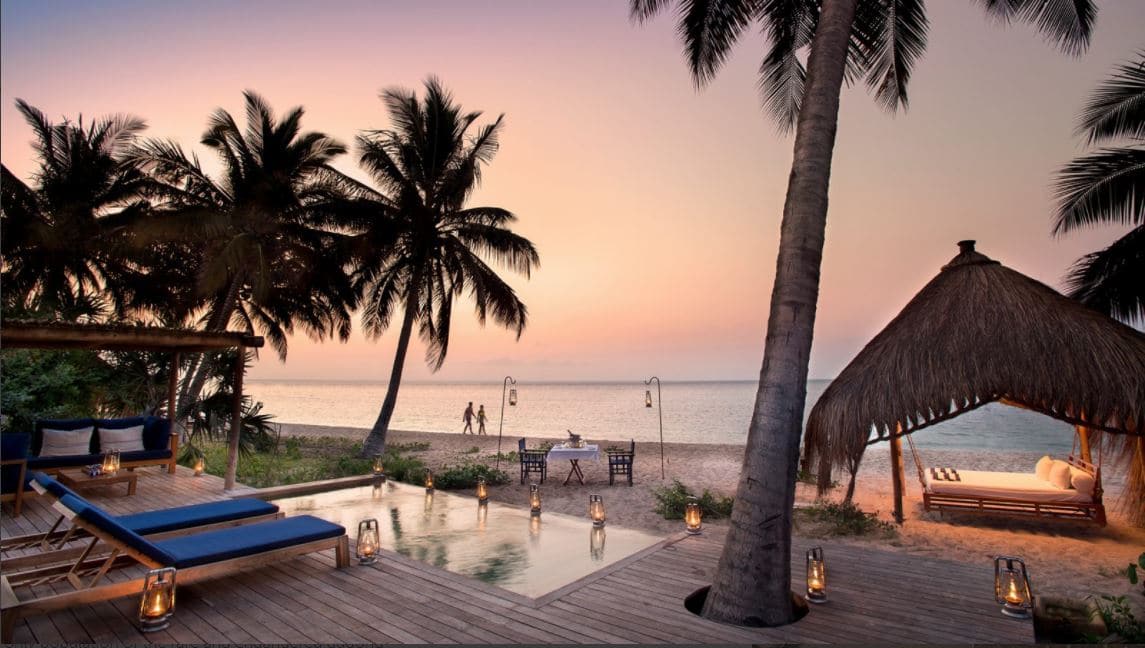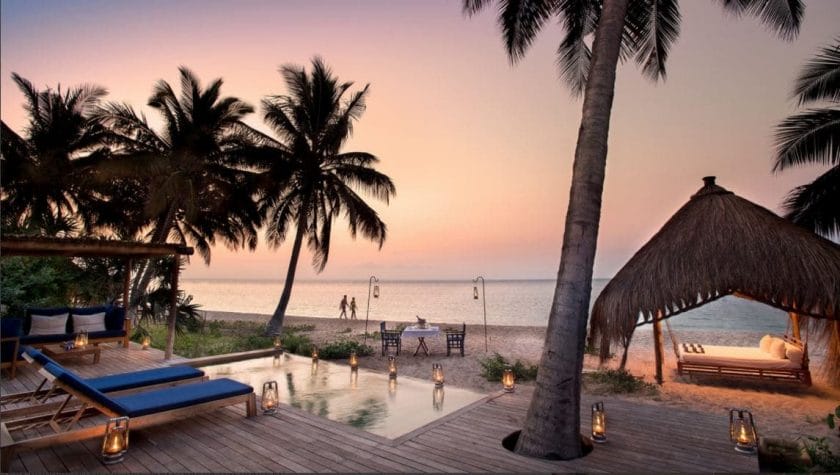 Luxury Lodge in Mozambique
One should not expect the isolated pockets of indulgence of the Maldivian variety. This is authentic Mozambique, with a permanent human population of about 1800 locals, living simply, in small villages dotted along the coast and scattered in the island interior. Nor should one presume the bustle of activity of a Mauritian resort, complete with multiple restaurants, a kids club, and a round of golf. There are four unobtrusive lodging options for holidaymakers on Benguerra. We chose the intimate laid-back 20 villa Azura Benguerra Island, which extends a genuine and personal service.
On arrival, we were graciously welcomed with chilled scented face cloths to cool our brows and proffered sweetened iced tea on a silver tray. As we cast our eyes to the gloriously setting sun sinking below the horizon, we watched the silhouette of a porter chain wading from our boat, calf-deep in water with our retrieved luggage hoisted on their heads.
Upon polite introductions, Chelsie the general manager presented us with a useful piece of advice. "This is an island, don't worry about the sand and water, it gets everywhere". This guidance was warmly embraced by both parents, as we were busy reigning in our children. They were scampering around the newly varnished decks with sandy wet feet, acquired during their coming ashore from the transfer boat.
Nothing is too much trouble for the exceptional Azura hospitality team. They happily go out of their way to cater to your every whim, and just as important, also know when to leave you alone. Mino our host for the entire time there, had the nature of an angel; strong, kind, caring, and patient. He fitted in well with our 6 and 7-year-olds who were intrigued by everything.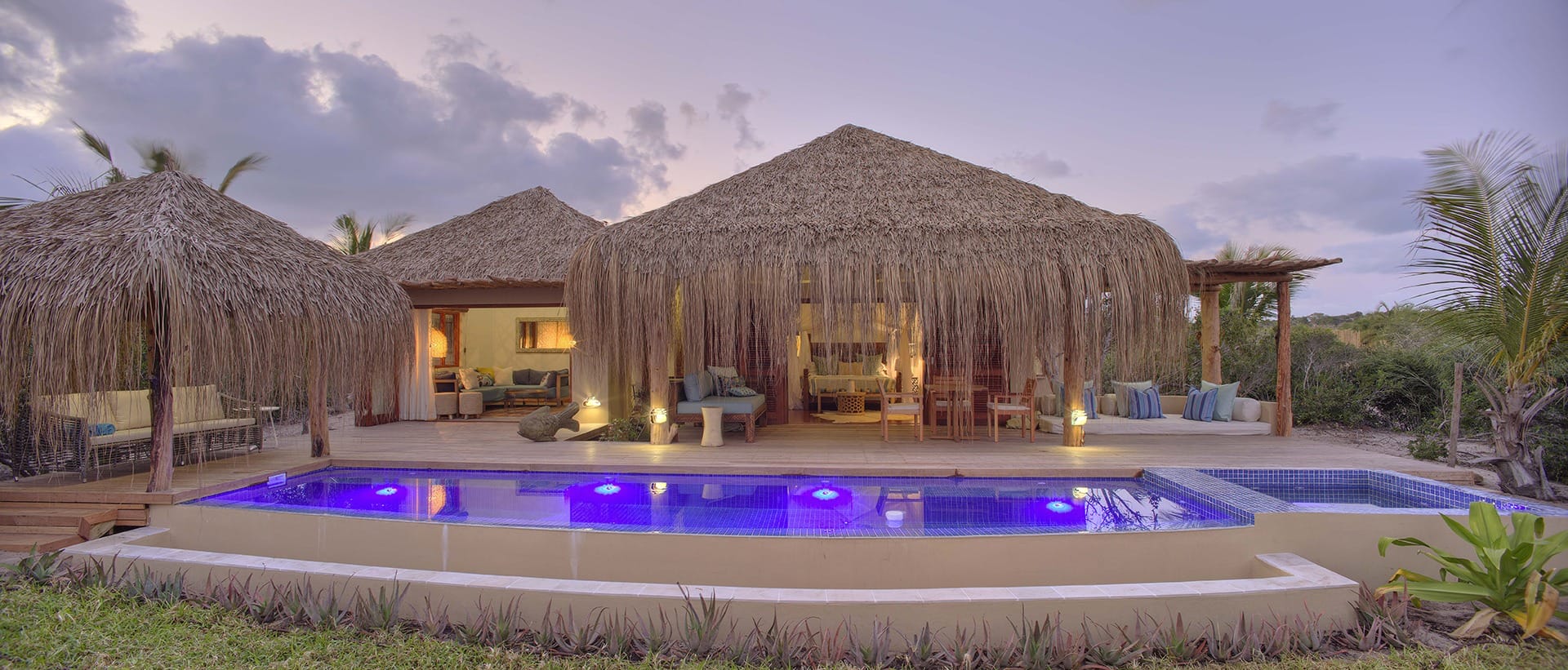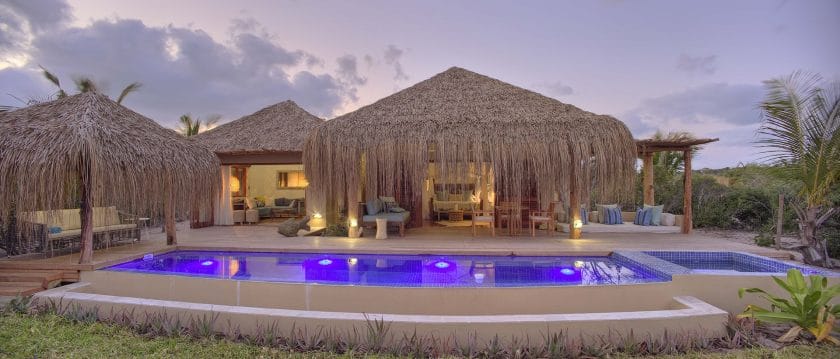 Benguerra Beach Villa
Nestling beautifully into island life, Azura demonstrates perfectly how sustainable tourism should be undertaken. Even before opening the lodge, they had built a school with teachers' quarters and set up the Rainbow Fund charity for the villagers. Along with their luxury lodge neighbours AndBeyond, Azura has co-funded a much-needed clinic and it is the only place that offers basic healthcare to the islanders. In addition, Azura source their seafood and vegetables from the island's inhabitants and have cultivated an ecosystem of small local businesses around them. The lodge itself currently employs some 170 staff.
Our typical day started with a beach wander in the milky early morning light; finding shells, chasing crabs, and watching the fishermen ply their trade. Brilliant blue and yellow kingfishers diving for their breakfast were regular sunrise visitors, as were white-breasted cormorants, tall grey herons, stumpy legged pelicans, and the elegant great ibis. We spotted local village children rolling on the sand, giggling in each other's arms and they would call after us, as their mothers collected sand oysters in woven baskets made from lala palms.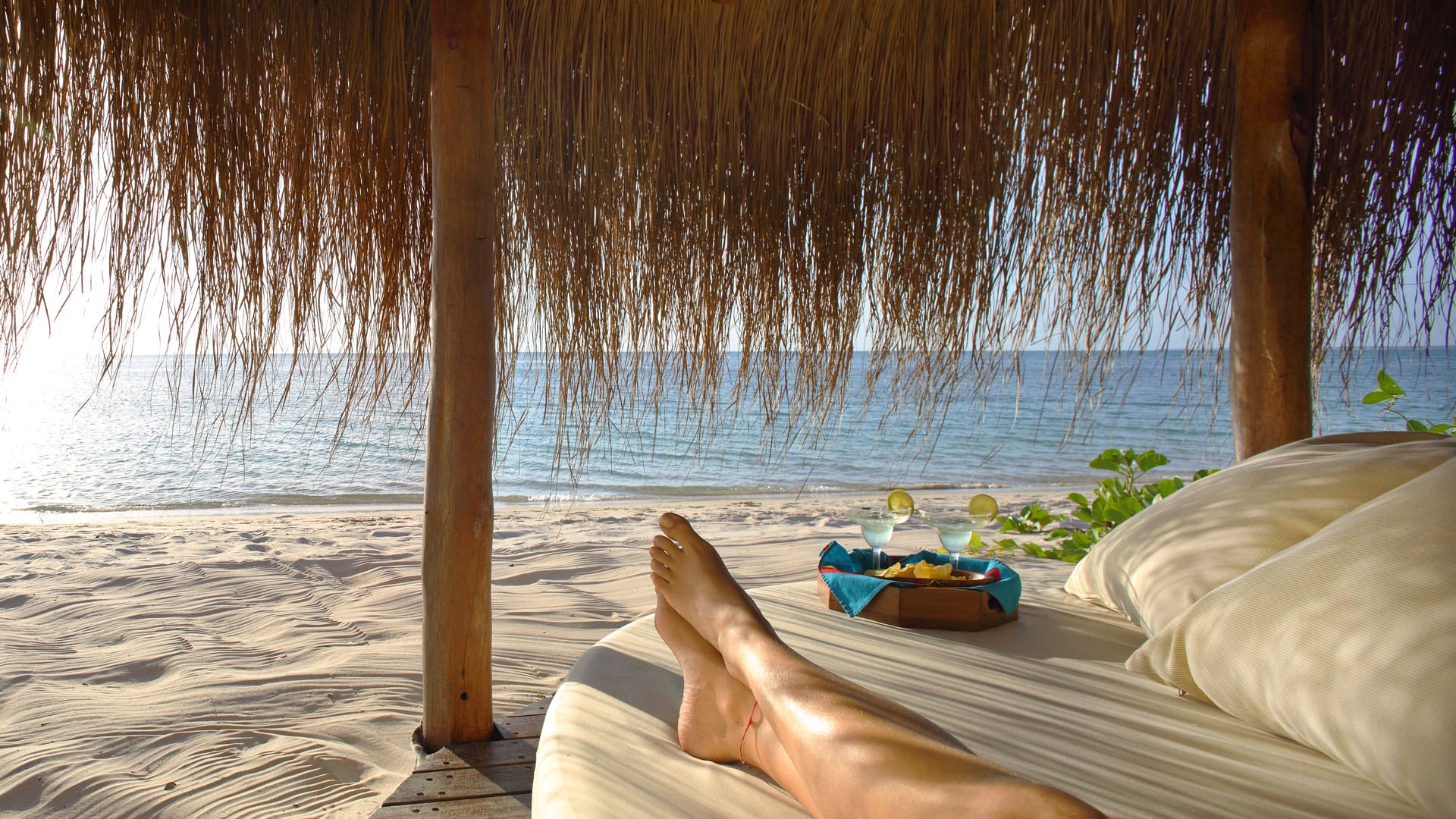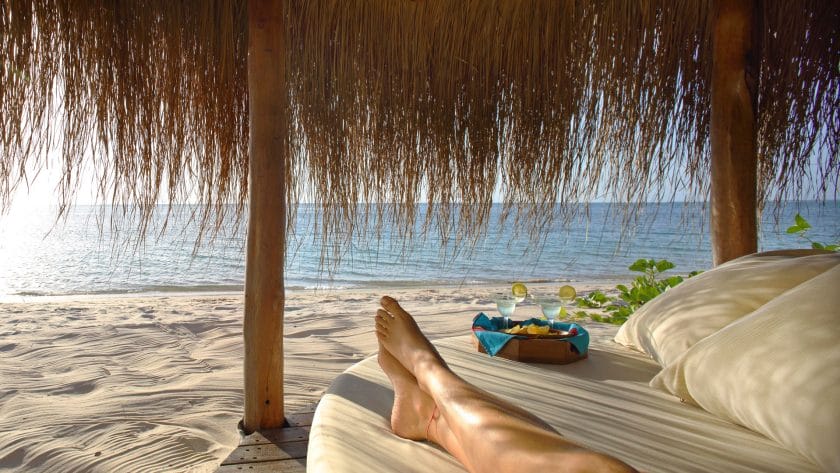 Relaxing Beach Holiday
There are more than enough activities to keep one busy at Azura. Deep-sea fishing, scuba diving, snorkelling, island hopping, kayaking, standup paddling, dune exploring, dhow cruises, horse riding, island soccer, private picnics, and the well-spent lunch days at the oh-so-eco- chic Peri-Peri beach club. However, if it is in one's preference, a different approach could be taken. Such as one embraced by a couple we met from the Mediterranean. They made us laugh when we asked them over post-dinner bar banter what they were doing the next day. The answer was a matter of fact "Nothing of course!"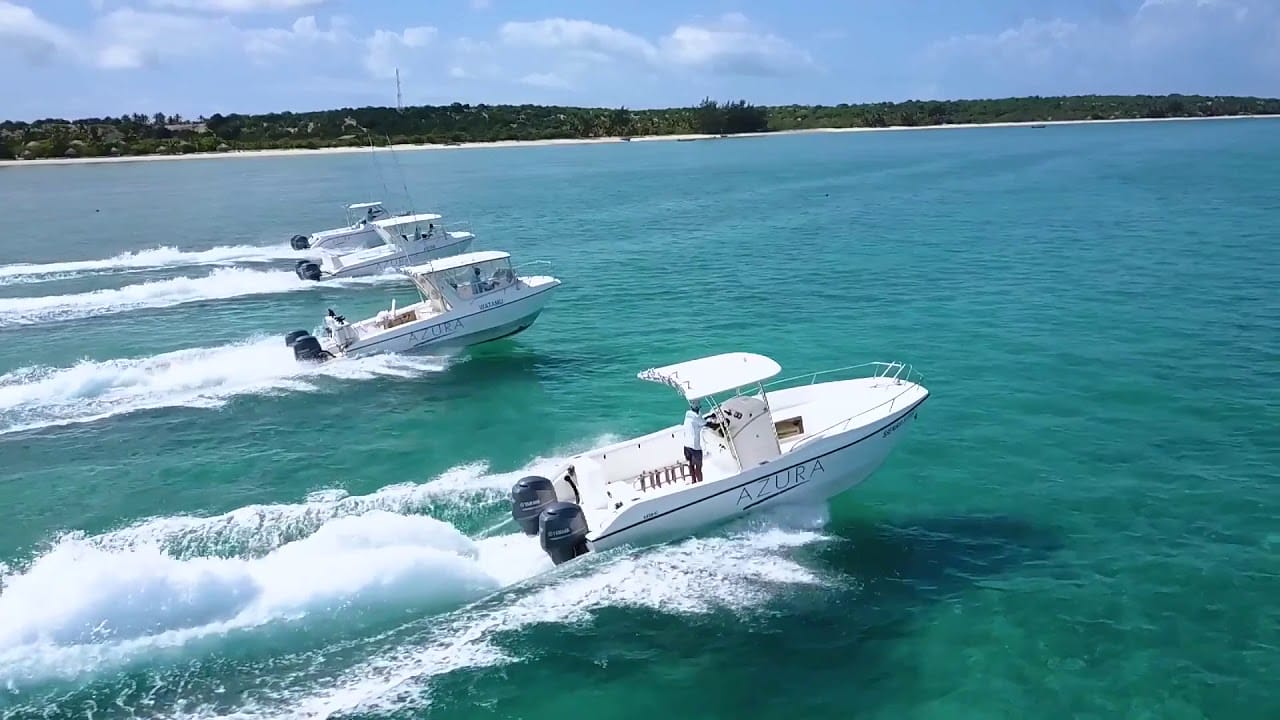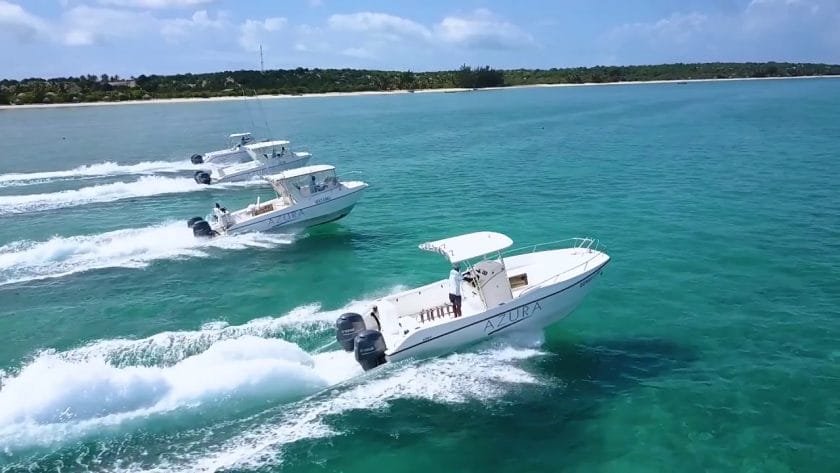 Activities at Azura
There are so many things to rave about and recommend. One of my highlights was our day trip to Paradise Island where we explored the abandoned ruins of the once glorious 250 roomed Santa Carolina Hotel. The hotel was abandoned in 1973 when business owner, Joaquim Alves, fearing the worst, fled the country just before independence. The increasingly deteriorating shell later served as a military base for FRELIMO, the local freedom fighters, during the civil war. After that, it was left solely to the mercy of storms and cyclones.
While on Paradise Island we were afforded the prospect of chalking up more marine sightings along the pristine house reef. Imagine a kaleidoscope of colour, with fish shoals numbering in the 1000's, then add dolphins, turtles, eels, rays, sharks, breaching humpback whales, and a dugong. Yes, true story. My wife actually caught a privileged glimpse of the extremely rare and ever-elusive dugong. Performing such adventurous activities works up an appetite.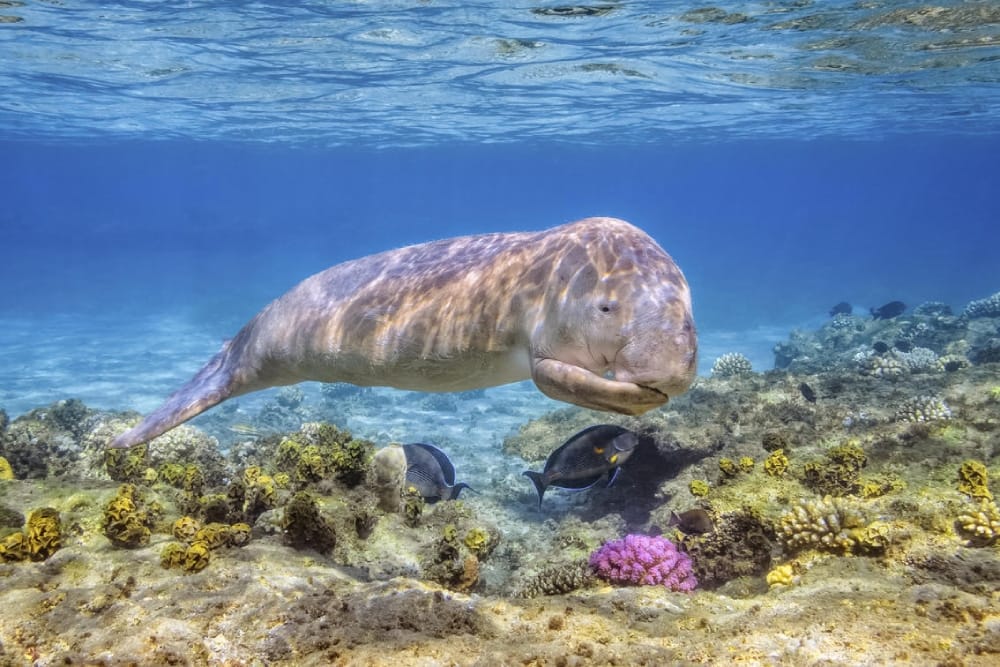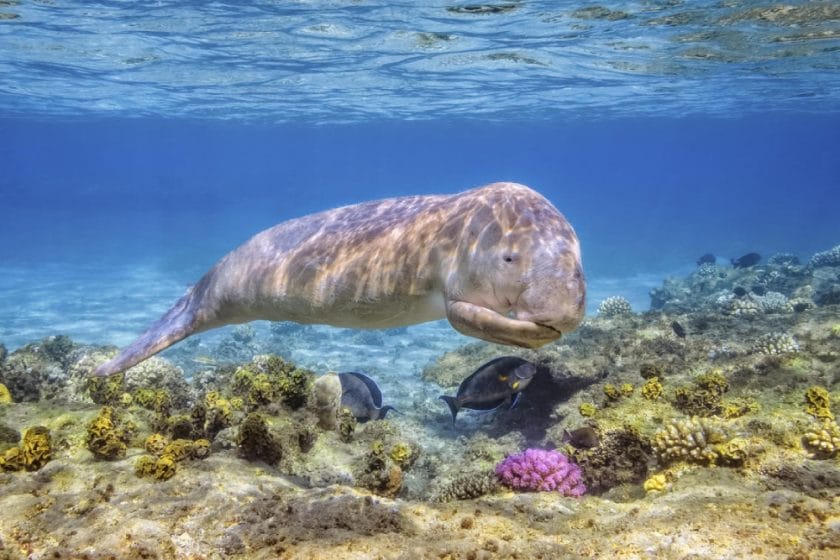 Dugong Spotting in Mozambique
A white-themed picnic meal is very welcome around mid-day. The lunch was perfectly set up on a deserted stretch of beach, under a large sun umbrella with a table and four chairs, linen cloth and napkins, silverware and glasses, and an icebox filled with drinks. As we dined beneath screen-saver blue skies, it was almost impossible to believe where we were. I had to pinch myself and my wife to ensure that we were not dreaming.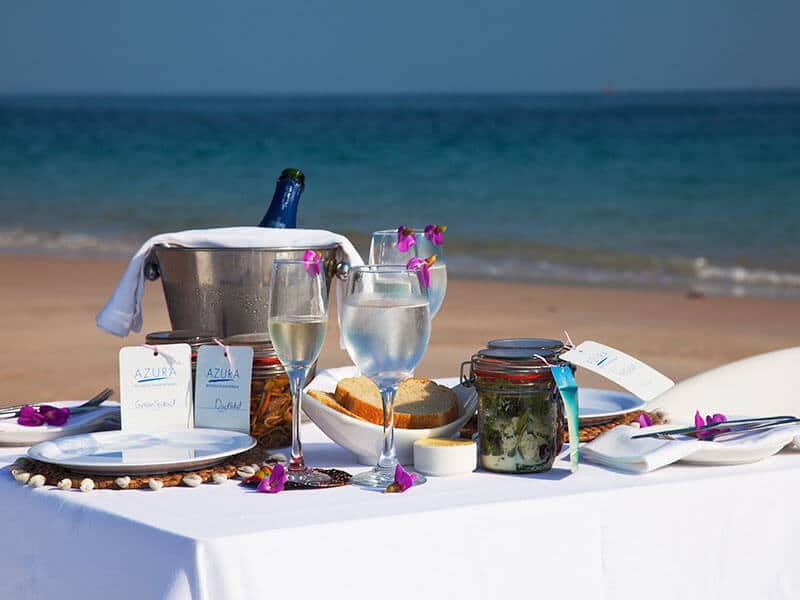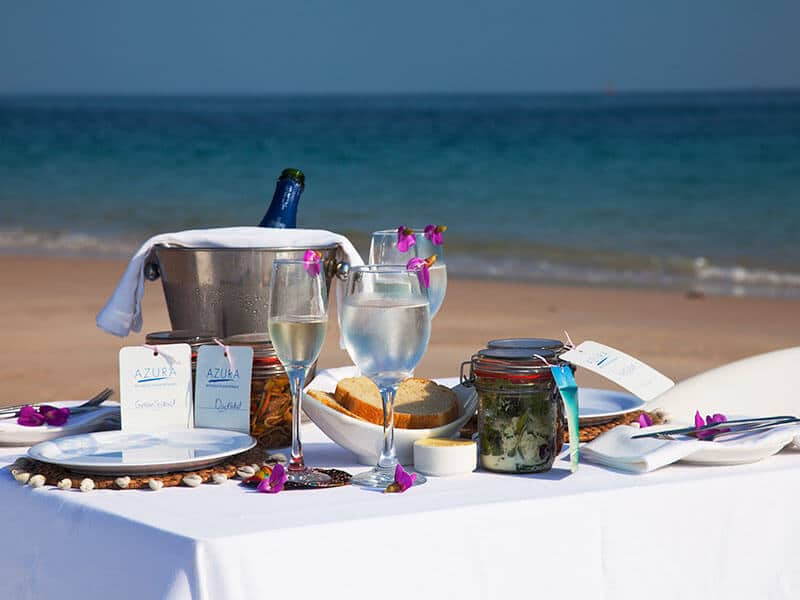 Picnic on the beach
One would think ten days pass in a flash. On the contrary, incredibly, time seemed to slow down and stretch while on Benguerra. Azura time as it was fondly referred to at the lodge. Existence was so simple. I was given the rare chance to sit idle and allow my mind to wander undistracted by the routine trappings of normal reality. I am sure everyone who visits this part of the world wishes that it would last forever.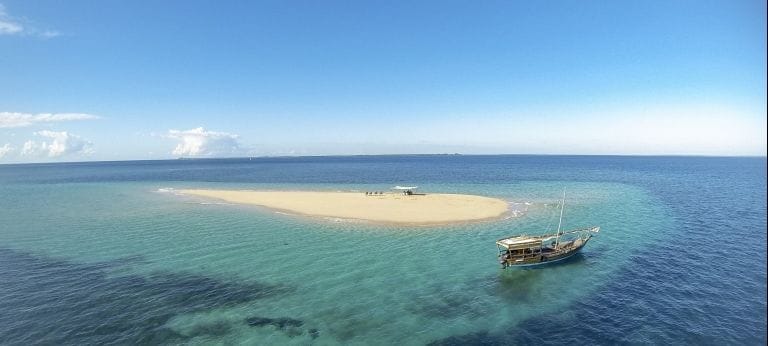 Aerial Dhow at sandbank
Finally, the brutal day arrived when we had to leave. Each day on Benguerra offered something new and equally special. Even now, when I close my eyes I can see the mosaic of blue flickering in my mind, and if I try hard enough I'm almost certain I can smell the sea breeze and hear the ring of pure Mozambican silence.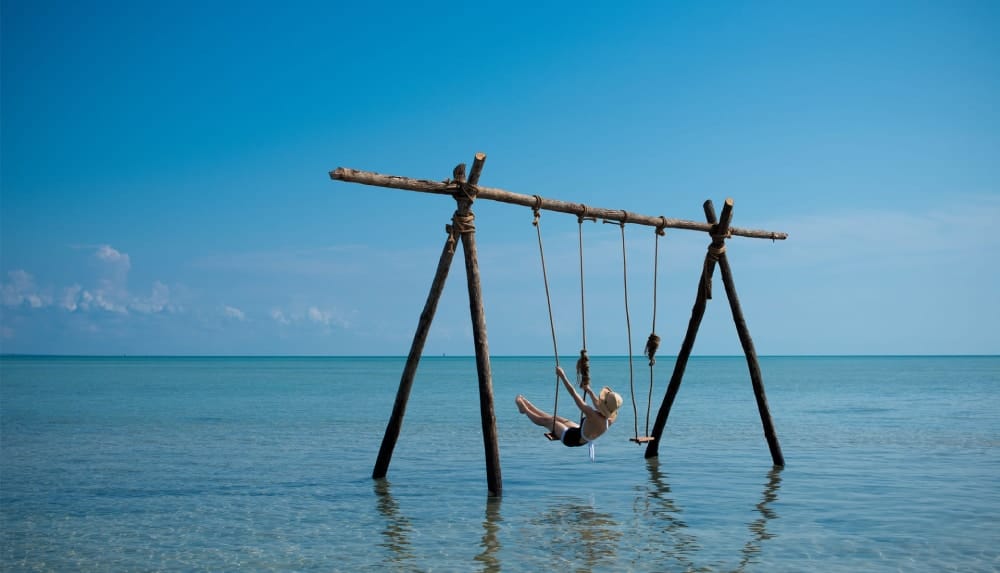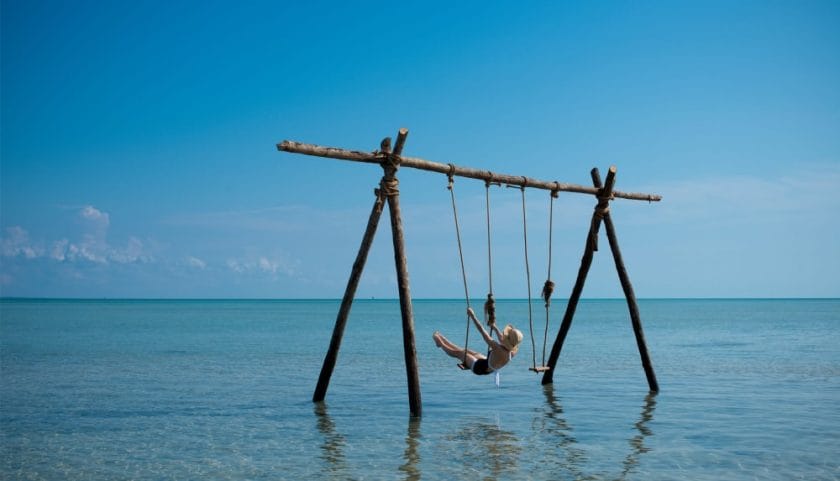 Benguerra Island Mozambique
What this trip confidently resolved, is that the Bazaruto Archipelago is unquestionably a contender for a favourite vacation spot. It calls for definite bragging rights as an up-and-coming destination and certainly challenges the appeal of other Indian Ocean pearls like Maldives, Mauritius, and Seychelles.