Luxury Mozambique Honeymoon Holiday (7 days)
Luxury Mozambique Honeymoon Holiday (7 days)
Powder white beaches and crystal clear, warm ocean water is what honeymoons are made of - and this is the perfect honeymoon option for you if this is what you are looking for.
Mozambique is emphatically a maritime country, with an astonishing 2,500 kilometres of Indian Ocean frontage separating South Africa from Tanzania, and the vast majority of visitors never stray further inland than they need to. Despite this, the country is divided into two distinct parts, the north and the south, linked by a solitary bridge across the Zambezi River and offering very different experiences to visitors.
JanLow
FebLow
MarLow
Apr
May
Jun
JulPeak
AugPeak
SepPeak
OctPeak
NovPeak
DecLow
Costing tip: When comparing with other companies, remember most of them only show the low season rate. How pricing works >
What to Expect on This Safari
This popular itinerary can be customised to match your budget and travel dates by adding/removing a few days or selecting different lodges
Mozambique arrival
The town of Vilankulo has grown exponentially over the last 10 years due to a solid increase in tourism hence it's a great destination for a rugged yet luxurious African honeymoon. The town itself is only 5km long making navigating your way to the best beach spots of the area a breeze.
Fly from Maputo to Vilanculous, where you will be met by the staff from Dugong Lodge and assisted to the boat that will transfer you to the lodge. You may need to wade a bit in the water to get to the boat, so be sure to wear appropriate waterproof clothing.
On arrival at the lodge, once you have checked in, the rest of the day is for you to enjoy at your leisure.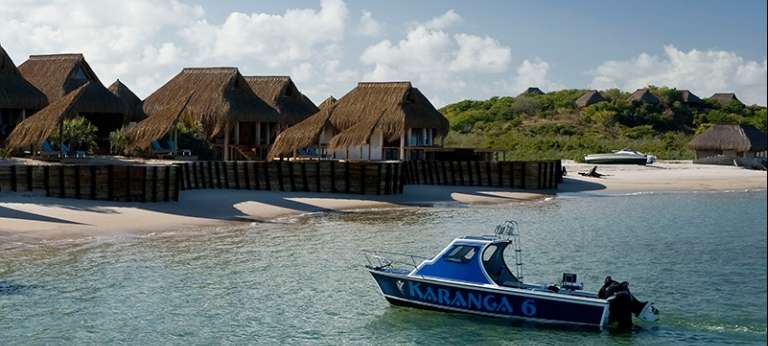 Dugong Beach Lodge
The next six days are to be spent entirely at your leisure, so do as much or as little as you wish. Included in your stay is a Dhow sundowner cruise, guided trails and nature drive. There are quite a few other optional activities (costs not included) that you can do as part of the experience.
On site activities are the following: beach walks, snorkelling, kayaking and massage treatments and a Hobie Cat which is a type of miniature sailing catamaran. Island excursions, deep sea fishing, visits to the local fishing village and snorkeling are other additional activities to keep you busy.
Or you could just lie on the beautiful beaches, soaking up the sun and reading the novels you've been meaning to catch up on.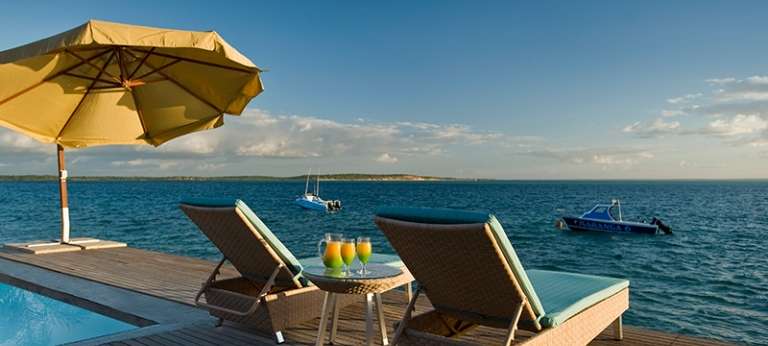 End of Journey
Make your way back to Vilanculous and Maputo with the boat ride and flights the same as your arrival arrangements. Once you are back in Maputo, connect with your onward arrangements.
Please note: Return flights from Maputo have been included, but we are able to change this, depending on your travel arrangements. Included in the honeymoon package are the following added value: complimentary bottle of sparkling wine, romantic private dinner and a romantic turndown. Please enquire about other specials at the lodge whilst making the booking.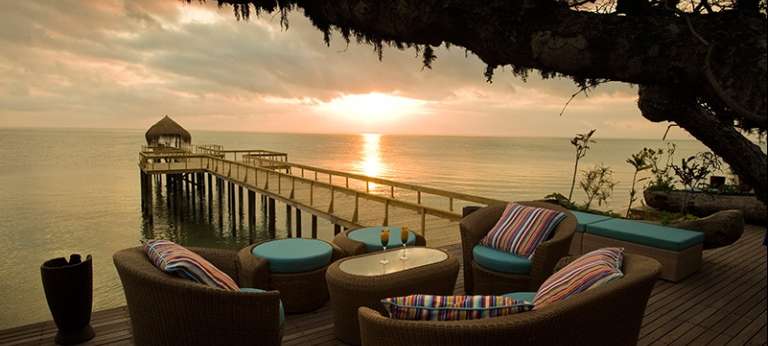 Recommended Iteniraries and Tours