Lake Kariba safaris, tours & holiday packages
Wrestle with a tigerfish, drift through a pod of hippos and soak up the charm of a vast unspoilt lake.
Visiting Lake Kariba almost feels like going on a seaside holiday. Imagine a seaside holidays came with elephants feeding next to your boat, pods of hippos grunting at night and giant crocodiles basking on the shore.
Kariba is the biggest man-made lake in the world, so big that in some areas you can't even see land, which adds to its seaside allure. One of the best ways to explore the dam is to charter a houseboat. Some of those available are quite basic and rustic, used by oligarchs to cruise the Mediterranean Sea. Try to book a houseboat that is equipped with a smaller motorboat to enable you to explore nearer the shore and between the gorges.
If there is one sport that Kariba is famous for, it's fishing. Anglers return year after year to battle it out with the tigerish that famously live in these waters.
Carla Lewis-Balden says
"My favourite childhood vacations involve cruising Kariba on a houseboat – it's the place to make memories with your family. I remember threading earthworms through fish hooks to catch bream, drifting through grunting pods of hippos and having the best fish and chips of my life with our catch of the day. Kariba bream tastes wonderful, without the muddy taste one often gets from freshwater fish."
More on Kariba holidays
Bream is also popular with fishermen, and your catch of the day can usually be transformed into delicious fish and chips by the houseboat's chef.
Sundowner cruises on the lake are spectacular. There are few sights to match a Kariba sunset, where elephants wade in the shallows between dead trees silhouetted against the crimson ball of fire slowly sinking behind the horizon.
Matusadona National Park, one of southern Africa's wildest and most pristine game sanctuaries, is situated on Kariba's southern shore.
If you aren't fond of boats, there's also a wide selection of accommodation on land, from five-star lodges to resorts in Kariba town and rustic fishing camps. Some of the lodges offer walking safaris on the lake's islands.
Kariba Map
Kariba's location on Google Maps

Frequently Asked Questions about Kariba
What vaccinations should I get?
This is all dependant on the countries that you will be visitng and due to the status of certain vaccinations changing at times, please consult our experts before getting vaccines. go there.
Is it okay to drink the water?
In some parts of Southern Africa it is safe to drink the tap water, however it is highly recommended to stick to bottled water (mostly supplied) during your trip as even drinkable African water is completely different in taste and… go there.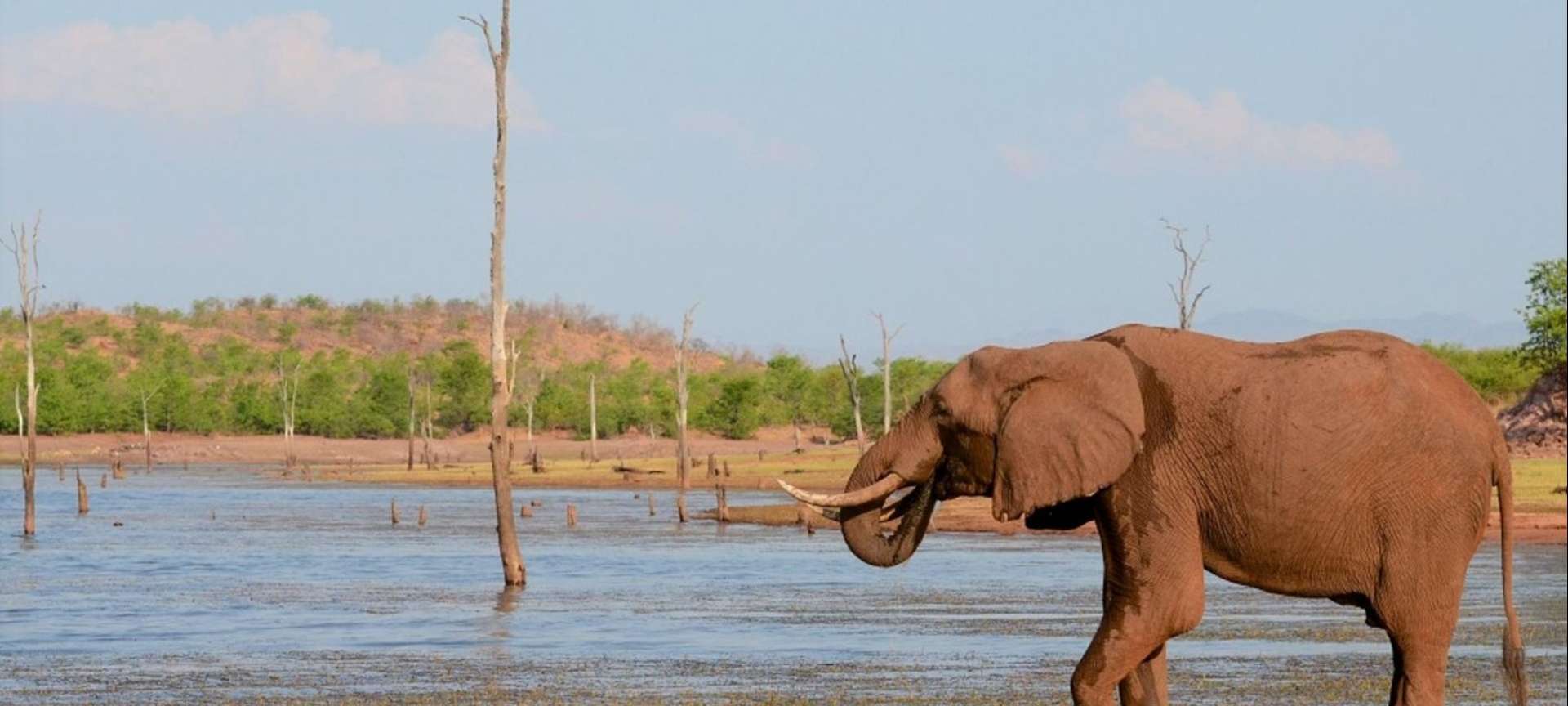 Reviews on our Kariba safaris
This was my first safari. I didn't expect to be so pampered. Everything was first class. We had everything provided for us before even asking. We had a dedicated team at our service. Megan was on call whenever we needed something and she…
Saada
from Nigeria
Tanya was an absolute delight to deal with. From the first phone call she was extremely polite, professional and very eager to facilitate my requests regarding our safari. Our 3 nights at the V & A Hotel were fabulous and Motswari Game…
Debbie
from Australia
Perfectly tailor-made tours that take all your wishes and requests into consideration. All my expectations were beyond fulfilled.
Henrik Wetterstrand
from Sweden
Living afar and trusting in an organisation with whom you have no previous knowledge can lead to feeling of mistrust and wondering whether what we have paid for actually exists. A little more proactive communication would have eased those…
Tony Russell
I just wanted to thank Discover Africa and Karl Svendsen - the safari was great - we saw many more animals than expected including cheetah, leopard, many lions and even a three-day old elephant calf. Additionally, we had our own hippo…
Margaret Dean
Planning the trip was managed extremely well especially since travel was at a busy time of year and not much notice was given. All communication was by email, and was responded to promptly and efficiently. Different options were provided…
Suzanne McKeen