Wild Zimbabwe Safari (7 days)
Wild Zimbabwe Safari (7 days)
A Zimbabwe safari offers beautiful landscapes and fantastic encounters with wildlife in the famous Hwange National Park and Matusadona National Park
Zimbabwe's spectacular scenery, abundant wildlife, rich history and good infrastructure make for a highly rewarding tailor-made holiday. Making travel by air, land and water all possible. You can access the most remote corners of the country. Our itinerary ideas are based on extensive travel in Zimbabwe and is inspired by routes that our Africa specialists have taken and enjoyed, staying at a selection of camps with the most experienced guides.
Start your journey at Hwange National Park which is Zimbabwe's biggest reserve and boasts with giraffe, lion, zebra and approximately 40,000 elephants. It's a diverse area that is shared between desert-adapted and woodland species. Visitors have the choice of game drives, guided walks or horseback safaris, as a means of experiencing the park and its creatures. ​
Bordering Lake Kariba, it's no surprise to learn that Matusadona National Park is famously teeming with animal life. A mixture of grassy floodplains and rugged, hill country, Matusadona offers sanctuary for some of Zimbabwe's biggest elephant and buffalo herds, many of which use as a vital staging post on cross-country migration. Enjoy early morning and afternoon game drives, boat cruises on the lake, tiger fishing and excellent bird watching. If you're a more adventurous person, stretch your legs and enjoy a walking safari with an expert guide and armed rangers.
FebLow
MarLow
AprPeak
MayPeak
JunPeak
NovLow
DecLow
Costing tip: When comparing with other companies, remember most of them only show the low season rate. How pricing works >
What to Expect on This Safari
This popular itinerary can be customised to match your budget and travel dates by adding/removing a few days or selecting different lodges
Guaranteed to be authentic & thoroughly enjoyable
On arrival at Victoria Falls International Airport, you'll be met and transferred to The Hide Safari Camp, perfectly situated within Hwange National Park, Zimbabwe's largest game reserve. With deluxe tents, all boasting en-suite bathroom and private verandas overlooking the busy waterhole - keep your binocular on hand, as elephants, lion, buffalo can often be seen satisfying their thirst.
Highlights include day and night game drives, guided bush walks, undergrounds hides and The Dove's Nest Treehouse is available at no extra charge. After an exhilarating day of game viewing, you can retreat to the cool refuge of the camp's swimming pool and can enjoy delectable meals and drinks for three nights.
Meals: All meals, drinks and activities
Transport: Included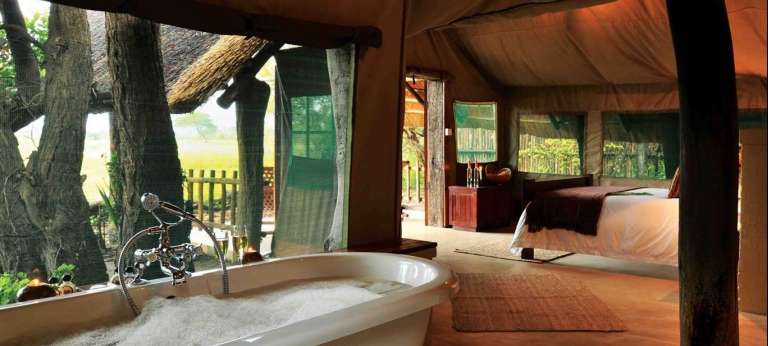 An absolute must on your travel list!
After enjoying your first three nights at Hwange National Park. You'll be transported to the Changa Safari Camp, which will be your home for the next three nights with all your meals, drinks and activities included. Changa Safari Camp is a dream safari destination on the shores of Lake Kariba in the Matusadona National Park, with a view of the Matusadona Mountains.
The rich wilderness area offers exceptional game drives, guided walks, fishing safaris, bird watching of 350 species identifies in the area. During your nature game drives, be sure to spot healthy population of predators - including lion, leopard, hyena, cheetah, elephant, buffalo and antelope. Hippo and crocodiles are abundant in the cool waters. However, if you're lucky, you may catch a glimpse of the last remaining Black rhinos.
Meals: All meals, drinks and activities
Transport: Included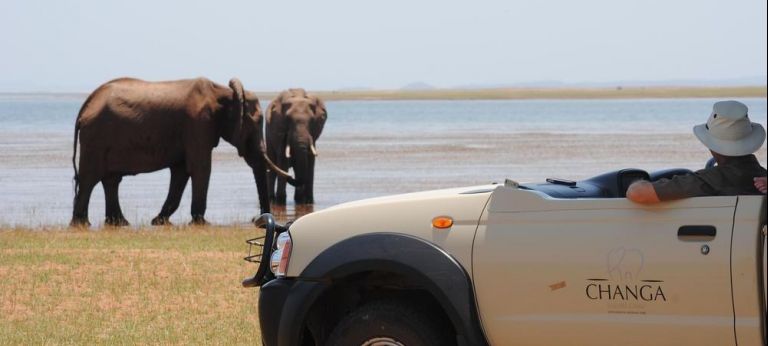 End of safari!
After breakfast, take a game drive to the airstrip, where you will be met by your charter flight back to Victoria Falls International Airport.
Recommended Iteniraries and Tours