Passage Through Southern Africa in a Luxury Train (10 days)
Passage Through Southern Africa in a Luxury Train (10 days)
Weave your way through a safari medley that introduces you to the mighty Victoria Falls, a remote slice of the Okavango Delta and the African gems in between.
South Africa is remarkable when it comes to the 'smaller stuff'. Indeed, some ecologists regard it to be the world's third most important country in terms of overall biodiversity, thanks to its unusually high level of endemism. The tiny Cape Floral Kingdom, centred on Cape Town, contains something like 5% of the world's plant species, two-thirds of which occur nowhere else on the planet.
JanLow
FebLow
MarLow
Apr
May
JunPeak
JulPeak
AugPeak
SepPeak
Oct
Nov
DecLow
Costing tip: When comparing with other companies, remember most of them only show the low season rate. How pricing works >
What to Expect on This Safari
This popular itinerary can be customised to match your budget and travel dates by adding/removing a few days or selecting different lodges
A South African welcome
Your journey begins as you're met at Johannesburg International Airport and welcomed to South Africa. You're then driven to the Davinci Hotel and Suites on the Nelson Mandela Square. At this point you may want to freshen up and relax after your flight. Sandton Square is connected to the hotel, so when you're ready to venture out of your luxurious space, a cosmopolitan shopping experience awaits. If you're eager to experience some historical culture with a visit to Soweto we will gladly arrange a half day tour for you as an optional extra.
Meals: None
Transport: Included
Travel by steam locomotive
After an early breakfast it's off to the private Rovos Rail station. Once you are 'all aboard', it's not hard to get comfortable while the most luxurious train in the world sweeps you along a scenic route, propelled by its authentic steam engine. You'll wind your way south through Johannesburg, Witwatersrand's goldfields and along the Magaliesberg Mountains, which happen to be almost 100 times older than Mount Everest.
Dinner is a classic affair, and an introduction to the cuisine of Southern Africa. After dinner, you will reach Botswana. With the border formalities sorted, your cabin calls for an evening of rest.
Meals: Breakfast, lunch and dinner. Selected drinks while you are onboard Rovos Rail
Transport: Included
Tropic of Capricorn
This morning you wake up in Botswana, and while breakfast is served, the railway leads you through the country's capital, Gaborone. During the course of the day you will cross the Tropic of Capricorn and continue via Mahalape and Francistown heading towards Zimbabwe.
Tonight dinner is served en-route to Plumtree where the Zimbabwe border formalities take place.
Meals: Breakfast, lunch and dinner. Selected drinks while you are onboard Rovos Rail
Transport: Included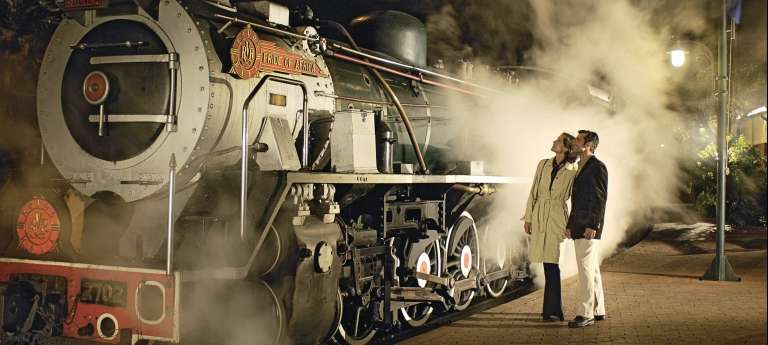 Wildlife spotting in Hwange
From lunch-time, over 100 kms of Hwange National Park's eastern edge lies ahead. This will give you a chance to set yourself up in your cabin or the observation car and keep your eyes peeled for roaming wildlife. For a more intimate tour of Hwange National Park, a game drive is arranged for you in the late afternoon into Zimbabwe's largest game park.
Dinner will be served in the dining car while the train makes its way to Thompson Junction for the overnight stop.
Meals: Breakfast, lunch and dinner. Selected drinks while you are onboard Rovos Rail
Transport: Included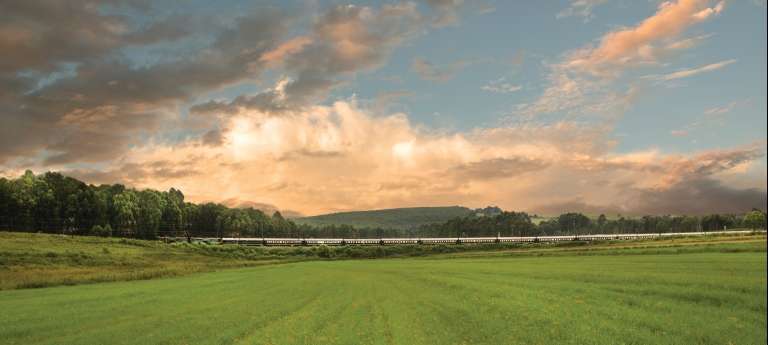 The grand 'Old Lady" of the Falls
After breakfast it's time for a taste of Zimbabwe. Your train will pull into the station, marking the end of your steam locomotive adventure, and the beginning of one in Victoria Falls. From the station you'll be driven to the stately, Edwardian-style Victoria Falls Hotel which is affectionately known as "the grand old lady of the Falls". It's here that you'll spend the night.
Once checked into the hotel, your guide will show you around town and take you on a tour of the largest waterfall in the world – the mighty Victoria Falls. The late afternoon brings a sundowner cruise on the Zambezi River where the sunset never disappoints.
Meals: Breakfast
Transport: Included
Chobe Cruising
Today, Botswana's Chobe National Park awaits. After checking out of the hotel, you're driven over the border (after the formalities) and hop on a boat at the immigration office that will take you to the Zambezi Queen on the Namibian side of the river. The Zambezi Queen is an exquisite houseboat that offers a luxurious river safari experience. Enjoy lunch in the restaurant or simply relax on the deck while the last passengers arrive.
In the late afternoon, the river's wildlife activity picks up as land-based mammals head down to the river's edge to quench their thirst. This will bring opportunity to do some water-based game viewing. At this point you can either stay on the Zambezi Queen to enjoy a scenic safari drift, or you can opt to go out on one of the smaller boats on offer.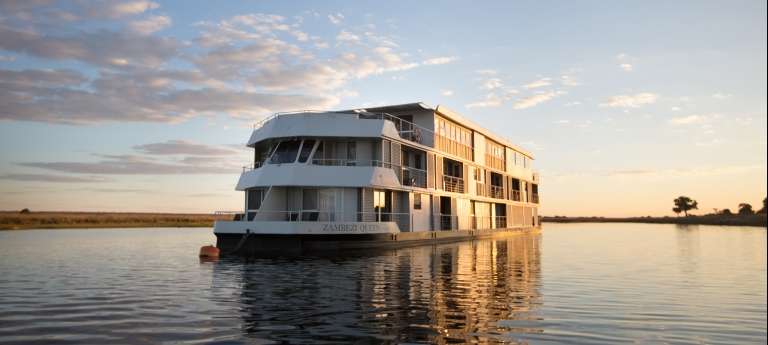 Houseboat Meandre
This morning holds a variety of activities to choose from. After breakfast you have the opportunity to do some water-based game viewing or try your hand at fishing for Bream or Tiger fish. If you'd prefer to soak up some of the local culture, then a visit to a nearby village in Namibia may appeal to you.
After the morning's activities it's time to tuck into a scrumptious lunch before enjoying a relaxed afternoon at your leisure. Seeing as it's your final evening on the Chobe River, we recommend you savour the sunset with a gin and tonic in hand. A trip on one of the Zambezi Queen's smaller boats will get you a little closer to viewing elephants, hippos, buffalo and smaller creatures that may gather along the river bank.
To toast the end of an adventure in Chobe National Park, an African themed evening of dinner and dancing is in order.
Meals: All meals and selected drinks while on the Zambezi Queen
Transport: Included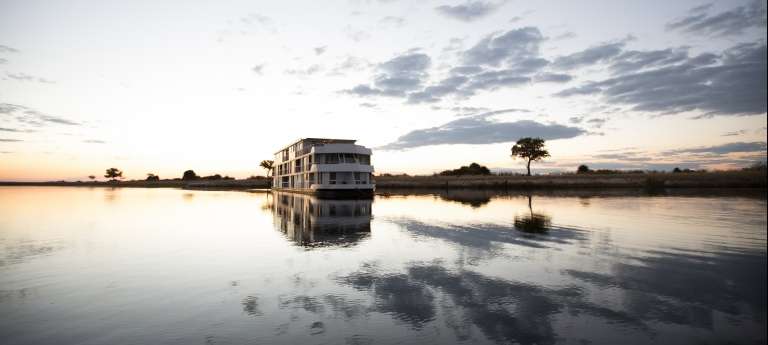 Live like a king
After this morning's immigration office affairs in Kasane are sorted, it's off to Kasane airport. Here you will climb aboard a scheduled charter and fly into the northern part of the Okavango Delta. You will be met at the airstrip by your ranger and head through to Kings Pool.
Once you've settled in and enjoyed a light lunch, you can spend the afternoon at your private plunge pool or visit a very unusual hide. The hide's view point is safely underground, with the water at eye-level which allows you to see elephant feet and trunks almost within touching distance.
This evening enjoy a magical dinner and tales of Africa from your guide. Make sure you peer up at the brilliant display of stars before retiring to your room.
Meals: All meals and selected drinks
Transport: Included
The wilds of the Okavango
Your early start is met with tea and coffee before setting off into the delta. This is a great time of day to venture into the wild, as first light is all the visibility you need to see what the overnight wildlife activity has left. How you choose to experience this is up to you - you can either go on a game drive, a boat ride, or for the more adventurous, ask your guide to take you on a walking safari.
Breakfast back at the lodge satisfies the appetite worked up after the morning wildlife tracking adventure. The afternoon brings about a chance to try your hand at fishing on a catch-and-release excursion, or perhaps booking one of the massage treatments at the lodge's spa is an optional extra that sounds more appealing.
Tonight, dinner is served in the boma, which offers you a chance to dine under the stars.
Meals: All meals and selected drinks
Transport: Included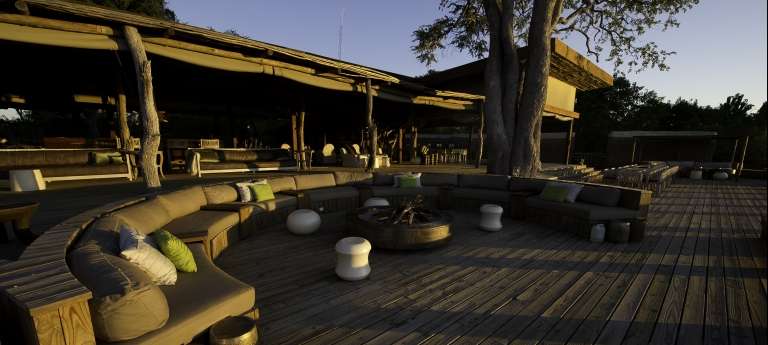 End of the road
Depending on the time of your flight out of the Okavango Delta, you may have time to squeeze in one last morning game drive before checking out. The finale of your trip is a flight back to Kasane where your African adventure ends and the next part of your life's journey begins.
Please note that this journey is managed by pre-selected departure days on Rovos Rail and the Zambezi Queen. To make the itinerary work, in conjunction with international flights, we may have to flip the itinerary around or add in extra days. But not to worry, your Discover Africa journey specialist will handle all of these arrangements for you.
Recommended Iteniraries and Tours