Custom designed Migration Safari in Tanzania
Describe your dream trip
We'll source the best value for you
Book when you're ready
Help Me Plan
An unforgettable safari experience where wildlife is a feast for the eyes.
African safaris offer once-in-a-lifetime adventures and every wildlife lover has it on their travel checklist. This migration safari offers the chance to see exciting animals amidst breathtaking scenery. No wildlife event beats the great wildebeest migration safari Tanzania. For two seasons every year, herds of wildebeest make a circuit through the Serengeti plains following the grass that grows with the periodic rains.
Popular Migration Safari in Tanzania
These popular itineraries can be customised to match your budget and travel dates
More on Migration Safari in Tanzania
Introduction
If you want to experience a seamless migration safari in Tanzania, then you'll need to plan adequately. The great wildebeest migration is an annual event that occurs in Kenya and Tanzania. The start of the migration is dependent on the timing of the year's rains. Considering the unpredictability of the rains, there are a few tips to assist in planning for a safari of this nature. In terms of when to go, the migration takes place between May and December which is regarded to be the peak season. It is however important to keep in mind that the timing of the migratory herds' movements can be unpredictable.
Know before you go
The people are great. There are over 100 ethnic groups in Tanzania, making the local cuisine fascinating and cultural activities intriguing.
Mount Kilimanjari is massive. At 5895m high and 40km wide, it's little wonder why this is Africa's highest peak.
The road infrastructure is not as good as it used to be.
Drink bottled water.
Get vaccinated, especially against malaria.
When to go
What to pack
Bringing the right personal items and clothing on your migration safari in Tanzania not only keeps you comfortable and safe, it also increases the level of enjoyment in the various adventurous activities you are going to undertake. The most important and obvious rule is to ensure you pack lightly. Make the wisest choice on what clothing you will bring. Unless you plan to attend a special event, formal clothing is unnecessary. Bring loose-fitting clothes that will make you comfortable throughout the day and night. Avoid bright coloured clothing that might soil easily and choose neutral colours such as light bark, khaki, beige, green and olive. Ensure you pack insect repellent as tsetse flies and mosquitoes are concerns in Tanzania.
Due to the intensity of the activities you may undertake throughout your stay, appropriate shoes to protect your feet from thorns and stones are a must. Get some waterproof shoes such as hiking boots for game drives and hikes.
Weather and Climate
Between April and May, the rains abate and the Serengeti tends to dry out, which may not make this the best time to visit. From June to July, a transitional period starts and the rains alternate with the dry season. This is the regarded as the mid season.
Safari / Holiday Styles
​Safari-style holiday where your itinerary is planned and your needs are generally taken care of.
Where to stay
​From August to December.
Our Recommended Accommodation
Frequently Asked Questions about Migration Safari in Tanzania
What is a safari "bucket" shower?
Safari/bucket showers are common in mobile or tented camps where there is no permanent plumbing. They are an effective yet environmentally friendly way to shower where water is at a premium and provide plenty of hot water to wash… go there.
What is the accommodation like on safari?
Safari lodges have guest rooms similar to a hotel with en-suite bathrooms. They are comfortably furnished with all facilities normally associated with a 3-star hotel. Tented lodges have rooms which are tents on a platform and with a roof and… go there.
What languages are spoken in Tanzania?
Language The official language in Tanzania is Swahili but there are hundreds of other local dialects. English is the second official language and the country's commercial language. It is also the main teaching language used for all higher… go there.
Can I bring my children along on a safari?
Family safaris in Africa are a worthwhile and meaningful experience. Aside from spending quality time with your nearest and dearest under a wide blue African sky, a safari in Africa offers invaluable experiences including unique cultural… go there.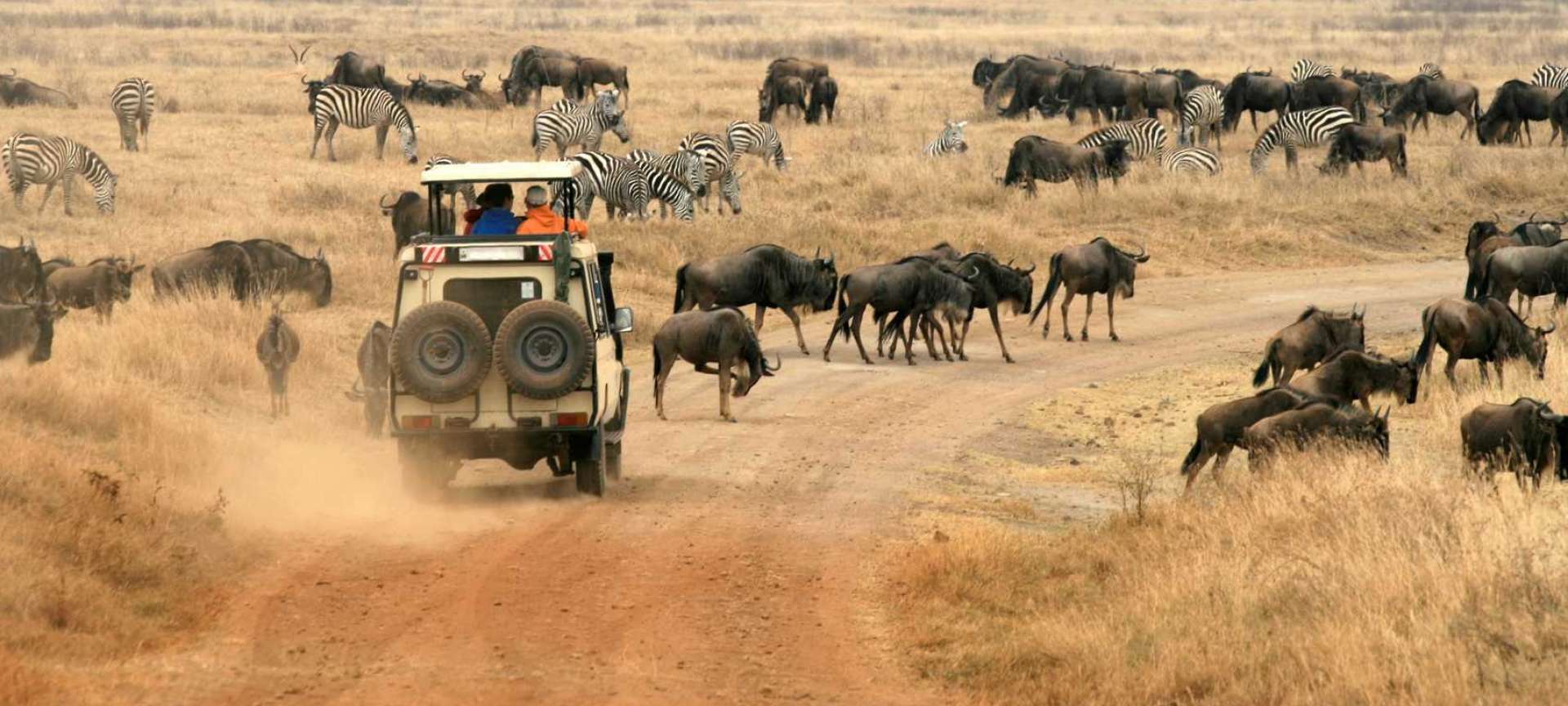 Reviews on our Migration Safari in Tanzania
Since the beginning, agents and staff of Discover Africa already work in a professional way for me to plan the trip. Their quick responses to my questions help us a lot before departing from our place to the Africa continent. When we were…
YT
from Hong Kong
This was my first safari. I didn't expect to be so pampered. Everything was first class. We had everything provided for us before even asking. We had a dedicated team at our service. Megan was on call whenever we needed something and she…
Saada
from Nigeria
Tanya was an absolute delight to deal with. From the first phone call she was extremely polite, professional and very eager to facilitate my requests regarding our safari. Our 3 nights at the V & A Hotel were fabulous and Motswari Game…
Debbie
from Australia
Perfectly tailor-made tours that take all your wishes and requests into consideration. All my expectations were beyond fulfilled.
Henrik Wetterstrand
from Sweden
Living afar and trusting in an organisation with whom you have no previous knowledge can lead to feeling of mistrust and wondering whether what we have paid for actually exists. A little more proactive communication would have eased those…
Tony Russell
I just wanted to thank Discover Africa and Karl Svendsen - the safari was great - we saw many more animals than expected including cheetah, leopard, many lions and even a three-day old elephant calf. Additionally, we had our own hippo…
Margaret Dean