June to July Great Migration Safari in Tanzania with HerdTracker (9 days)
June to July Great Migration Safari in Tanzania with HerdTracker (9 days)
HerdTracker invites you to join them on a migration safari in Tanzania's Arusha, Tarangire National Park, Ngorongoro Crater and the Serengeti National Park.
Go on a 9 day safari like this from
USD 7,960
Show price in
USD $ 7,960
GBP £ 6,376
ZAR R 135,435
EUR € 7,079
per person
customised to your needs
June signals the end of the rainy season when the Serengeti plains are lush and green. The herds are spread out during this period so you can expect longer and more rewarding game drives. It's also during this time when the wildebeest cross the Grumeti River which is home to some of the largest Nile crocodiles in the world. July marks the start of the Mara River crossing as well as the mating season in the Serengeti.
Your migration safari will start in the city closest to Mount Kilimanjaro, Africa's highest peak. Following this you will visit Tarangire National Park which has the highest concentration of wildlife in Africa.
You'll then head to the Ngorongoro Crater, which teems with wildlife and provides spectacular viewing all-year round. Afterwards you will visit the central Serengeti to witness part of the great wildebeest migration and watch as the herds follow the rains.
But the game viewing doesn't end with the wildebeest migration. You will also sight lion, elephant, giraafe, gazelle and eland.
Show price in
USD $7,960 - $7,960
GBP £6,376 - £6,376
ZAR R135,435 - R135,435
EUR €7,079 - €7,079
Estimated cost per person for a 9-day safari like this, depending on the season.
International flights not included.
Costing tip: When comparing with other companies, remember most of them only show the low season rate. How pricing works >
What to Expect on This Safari
This popular itinerary can be customised to match your budget and travel dates by adding/removing a few days or selecting different lodges
Welcome to your Tanzania migration safari!
After arriving at Kilimanjaro International Airport and completing your customs / immigration requirements, you'll be introduced to your migration safari guide who will transfer you to the Onsea Hotel in Arusha. You will stay at the hotel on a bed and breakfast basis for one night.
Relax in their Wellness Machweo area after an exhausting trip to Mt. Kilimanjaro or a bumpsy safari trip. Explore coffee tours, that will take you to a local organic and Fair Trade coffee farm. You'll enjoy a cup of coffee with the farmers, while having a homemade Tanzanian lunch. Travellers will also get the chance to visit the oldest church on Mt. Meru and visit Maraa Primary School project which is supported in collaboration with the iThemba Foundation.
.
Meals: Bed and Breakfast
Transport: Included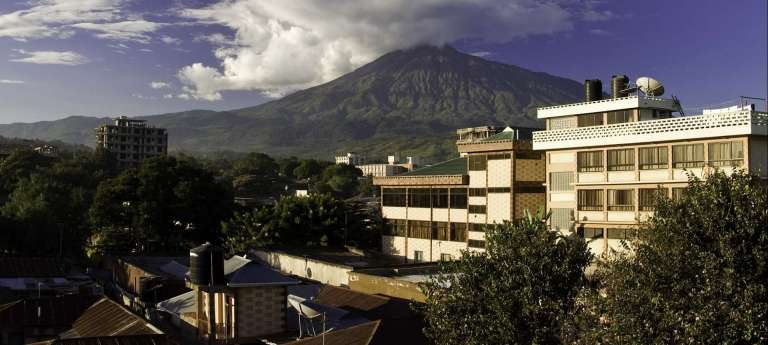 Explore Tarangire National Park
Leave Arusha for Tarangire National Park and enjoy a game drive en-route. Spend two nights with all your meals included at the Nimali Tarangire Camp which is located only 2.5 hours from Arusha. Nimali is an exclusive luxury lodge located on the eastern boundary of Tarangire National Park and is renowned for its stunning baobab trees and large elephant herds. The lodge is also situated alongside the riverbed and well hidden amongst the trees.
The main area overlooks a waterhole that attracts wildlife and every evening, you will relax in the lounge with a sundowner alongside a fireplace. Explore the wildlife and enjoy game drives in Tarangire National Park.
Meals: Full Board
Transport: Included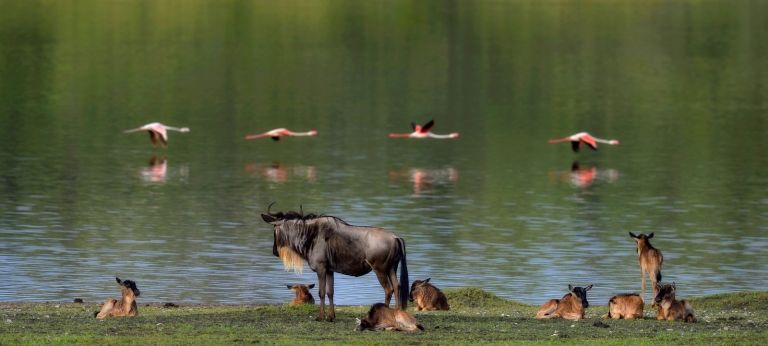 Encounter cultural activities
Say your final goodbyes to Nimali Tarangire, as you head to the Ngorongoro Crater region. Experience a game drive in Lake Manyara National Park on route to the Sanctuary Ngorongoro Crater Camp where you will spend the next two nights with all your meals and activities included.
All the main areas have breathtaking views of the scenic surroundings and large trees that surround this intimate camp.
Highlights include game drives in the famous Ngorongoro Crater, with a picnic lunch. You can also enjoy cultural activities in the nearby Masai village.
Meals: Full Board
Transport: Included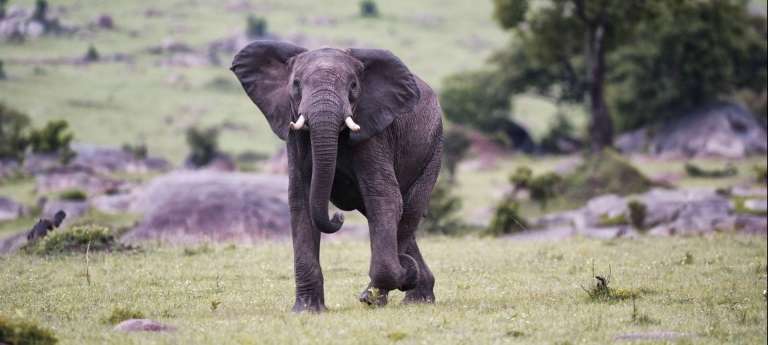 Enjoy more of the wildebeest migrating
Drive to the Serengeti National Park and enjoy watching the great wildebeest migration. Nasikia Naona Moru Camp will be your home for the next three nights, with all your meals and activities included.
This tented camp is situated on an elevated viewing point alongside the famous Moru Kopjes, offering a fantastic vantage point for spotting game and migratory herds throughout the year. The landscape stretches from the southern plains of the Serengeti, into the central hub of the most famous national park in Africa. Additionally, the tented suites cater for honeymooners with private bush dinners, small groups and families.
Encounter guided wildlife viewing, bird watching and nature walks in the central Serengeti, while balloon safaris are a romantic and evocative way of experiencing the wilderness of East Africa. This affords you a unique perspective as you silently fly over the plains.
Meals: Full Board
Transport: Included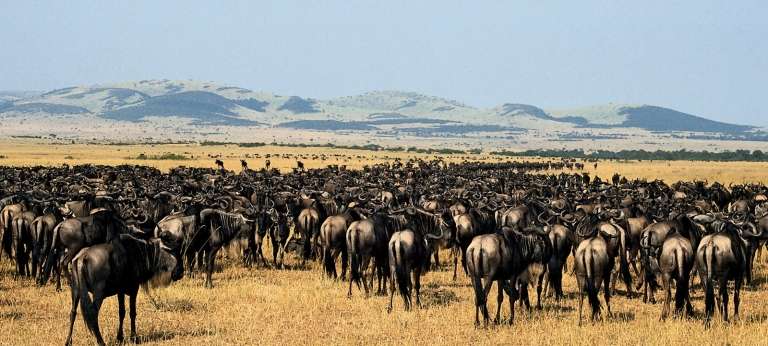 Your Tanzania migration safari ends
Unfortunately, all good things come to an end. You'll be transported to the Seronera airstrip for a scheduled flight back to Kilimanjaro to catch your connecting flight back home.