When you think of Kenya, you probably have visions of the Great Migration and epic safaris. While this holds true, the country is also home to a sprawling coastline that borders the warm and inviting Indian ocean. This is where you'll find Kenya's amazing white sand beaches fringed with palm trees and teeming with marine life.
The perfect break after a long, hot, and dusty safari, take your pick from our list of the top 10 best beaches to explore on a holiday in Kenya, as well as five of the best beach resorts to stay at. 
Diani Beach: Best Known for Water Sports and Wildlife
Situated just 30 km south of Mombasa, this south coast beach was awarded the Best Beach Destination in Africa for five years running. Diani Beach is a true tropical paradise, with fine white sand beaches stretching as far as the eye can see.
Perfect for everyone, from families to couples, Diani features a number of marine parks aimed at conserving wildlife and protecting the ecosystem, and they're the perfect place to go snorkeling or scuba diving.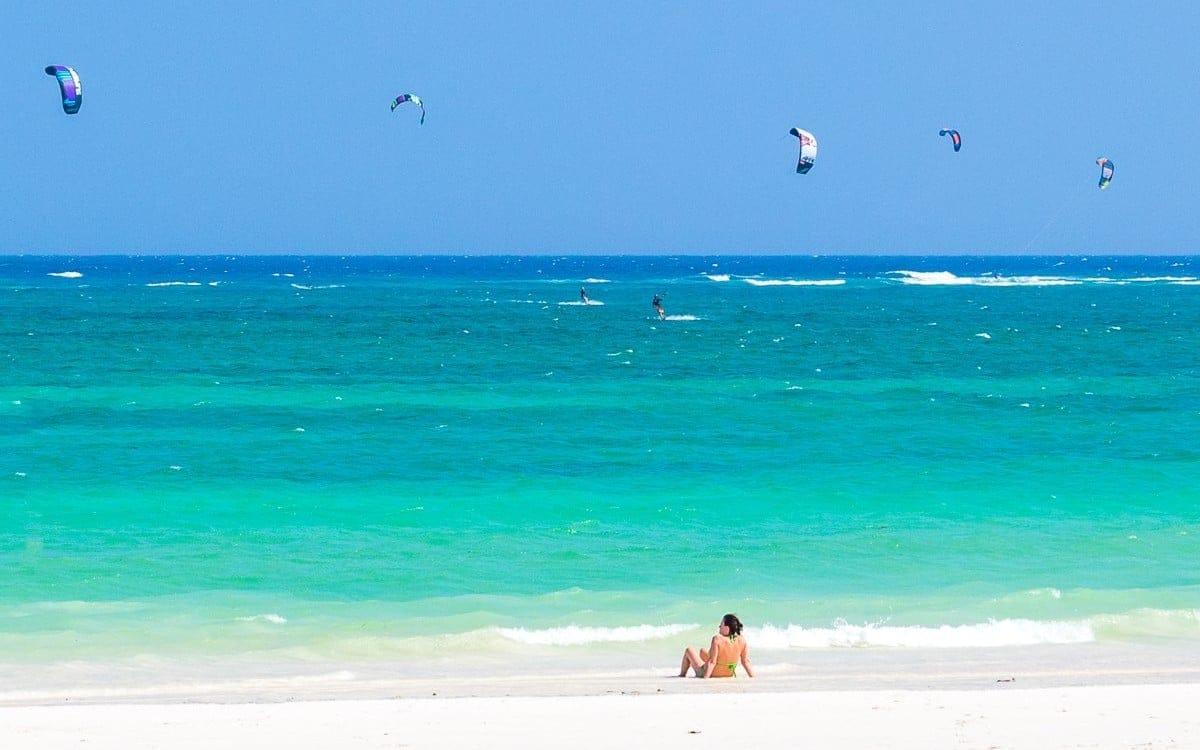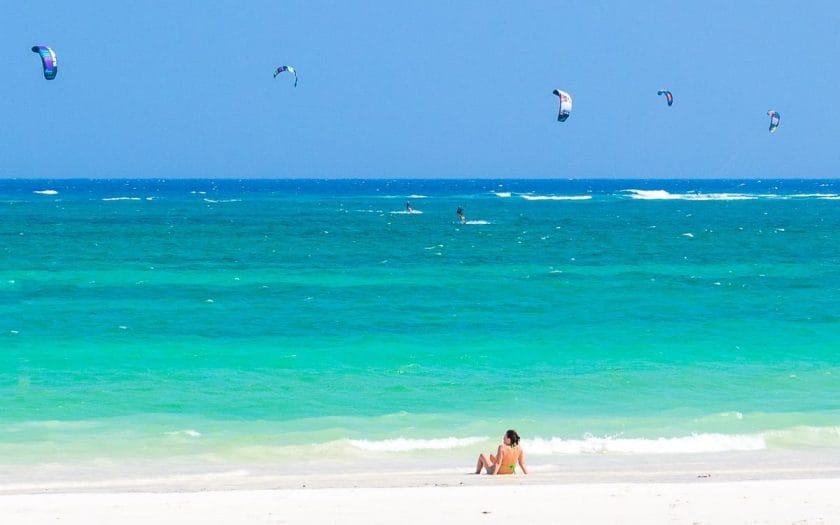 Diani Beach is one of the greatest water sports destinations in East Africa. Kayaking, jet-skiing, windsurfing, kitesurfing, and paddleboarding are all possible here. Other attractions include deep sea fishing, glass boat tours, and the nearby Shimba Hills National Reserve.
Diani Beach has high-class restaurants, hotels, supermarkets, and a number of shopping centers. The best time to visit is between December and March and June to September.
Watamu Beach: Best Known for Snorkeling and Scuba Diving
Watamu is situated 105 km north of Mombasa. This untouched coastal paradise is a unique melting pot of Kenyan, Arab, and Italian culture. With coconut palm trees, soft white sand, and crystal-clear warm waters, it's the perfect place to unwind after a thrilling Kenyan safari.
Watamu is an excellent destination for snorkeling and scuba diving, and is home to an abundance of wildlife.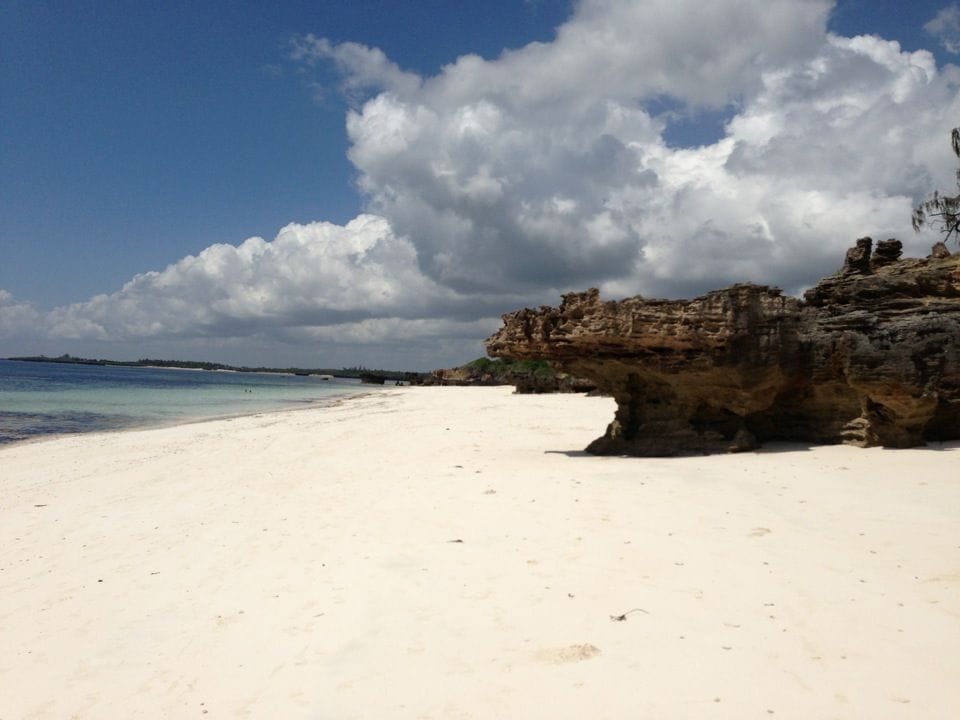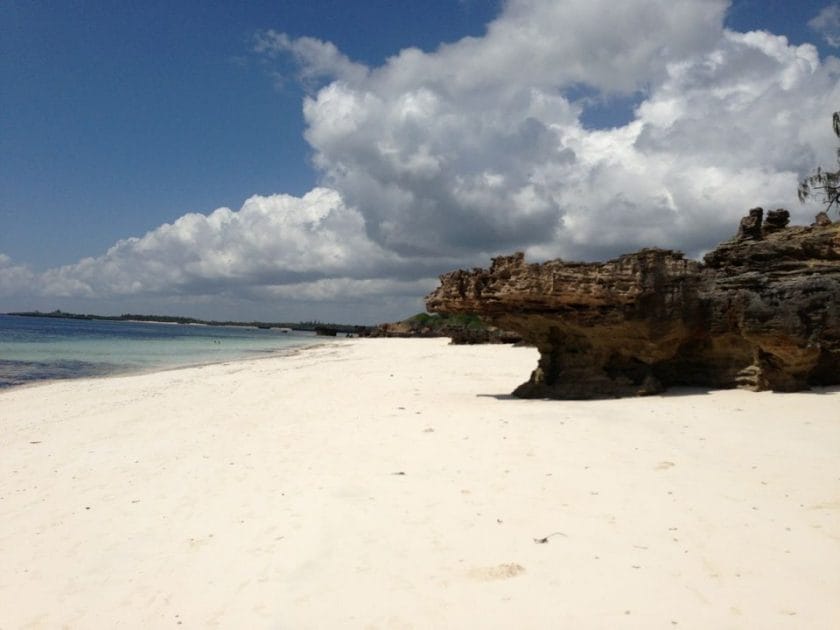 A major drawcard is the Watamu Marine National Park located about 1 km off the coast and is home to 600 fish species, 110 stony coral species, and innumerable invertebrates, crustaceans, and molluscs.
Although you can visit Watamu Beach all year round, the best time to go is from July to October when the days are dry and sunny and the skies are clear. 
Malindi Beach: Best Known for Nightlife and Water Sports 
Situated on the north coast of Kenya, Malindi Beach is a charming combination of old and new. Luxury resorts line the palm fringed beaches and the town is home to East Africa's oldest Christian church. In the modern day town center, you can find craft shops, restaurants, bars and a nightclub.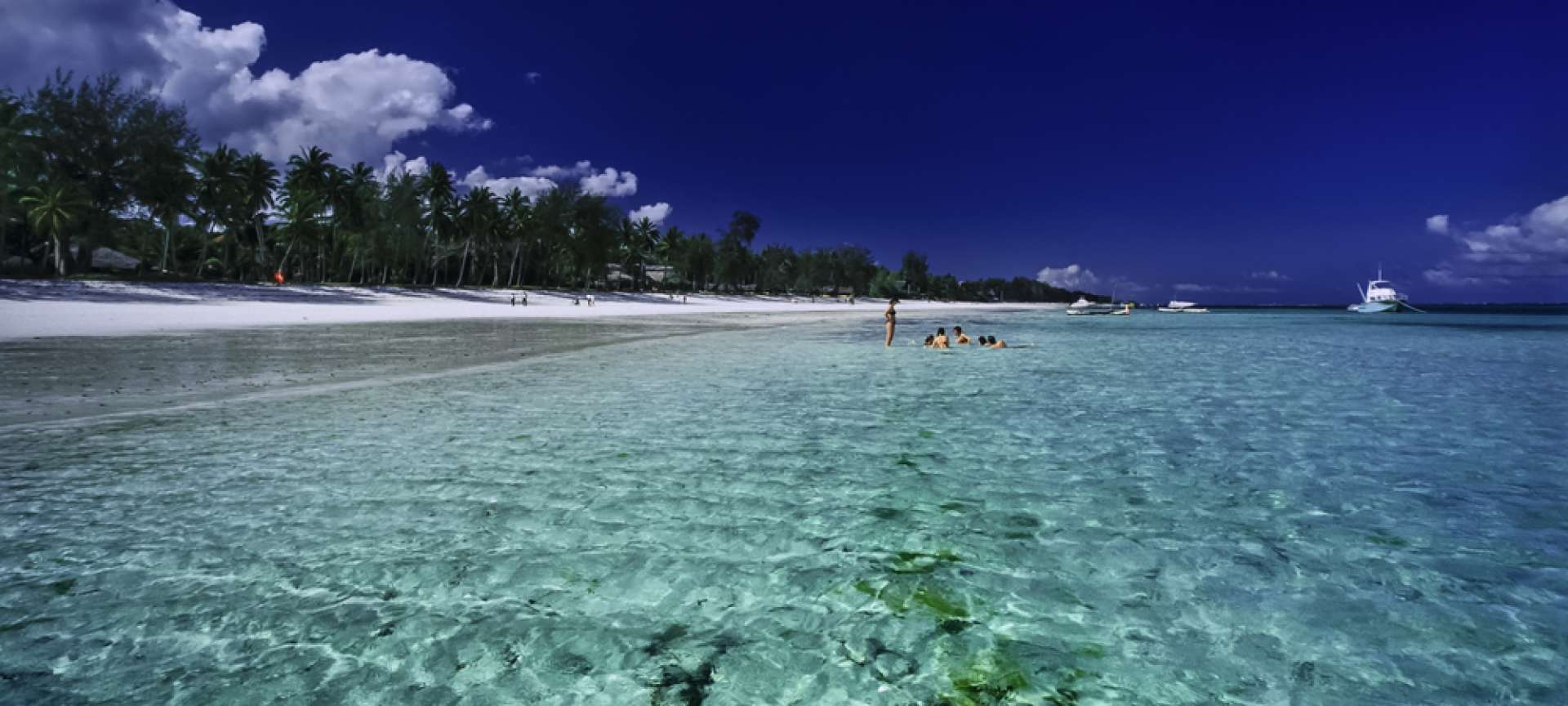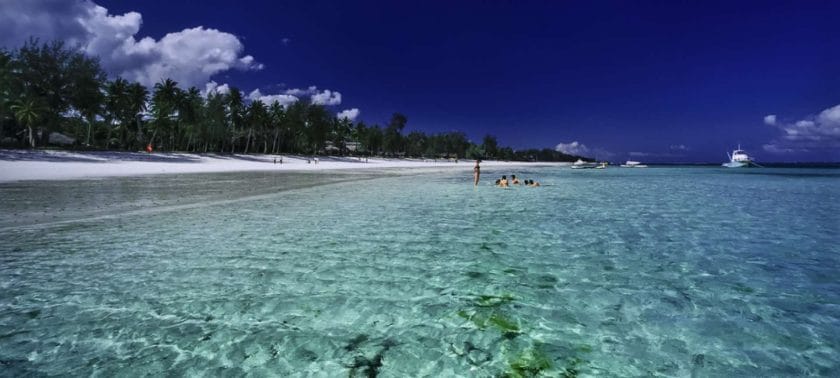 Malindi's Marine Park was established in 1968 and was the first of its kind in Africa. The park teems with diverse coral kingdoms and various colorful fish species such as Angel, Butterfly, Surgeon, and Trigger fishes. 
Don't miss out on a glass-bottomed boat ride to view these aquatic marvels or get adventurous and go snorkeling or scuba diving in this marine paradise. Most of the hotels offer water sports such as windsurfing, boating, deep sea fishing, and dhow cruises.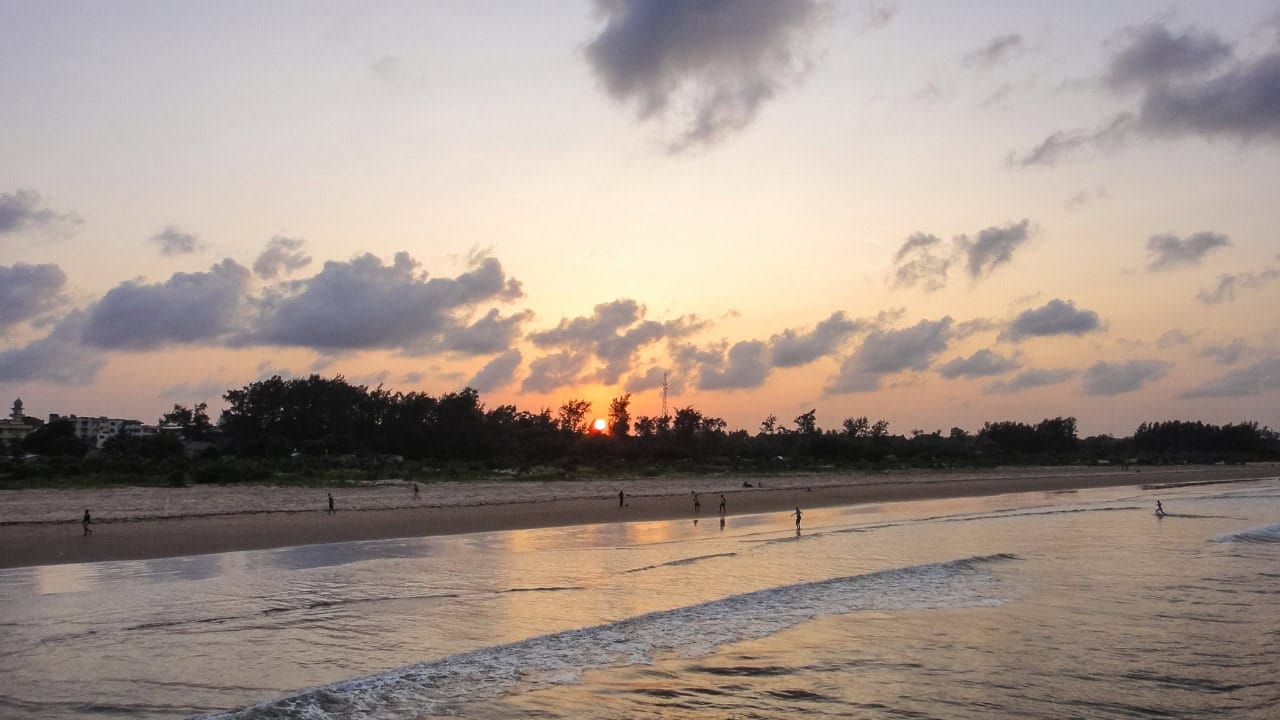 The Malindi Museum houses some interesting exhibitions on the history of the area and is a fine example of 19th century building craftsmanship. While Malindi is blessed with a wonderful climate all year round, the best time to visit would be from May to October. 
Lamu Island Beaches: Best Known for Culture and Snorkeling
Beyond its beautiful beaches, warm tropical waters, and dreamy sunset dhow trips, Lamu Island is a history and culture lover's dream. Founded in the 12th century, the island is one of the best-preserved examples of Swahili architecture in Africa.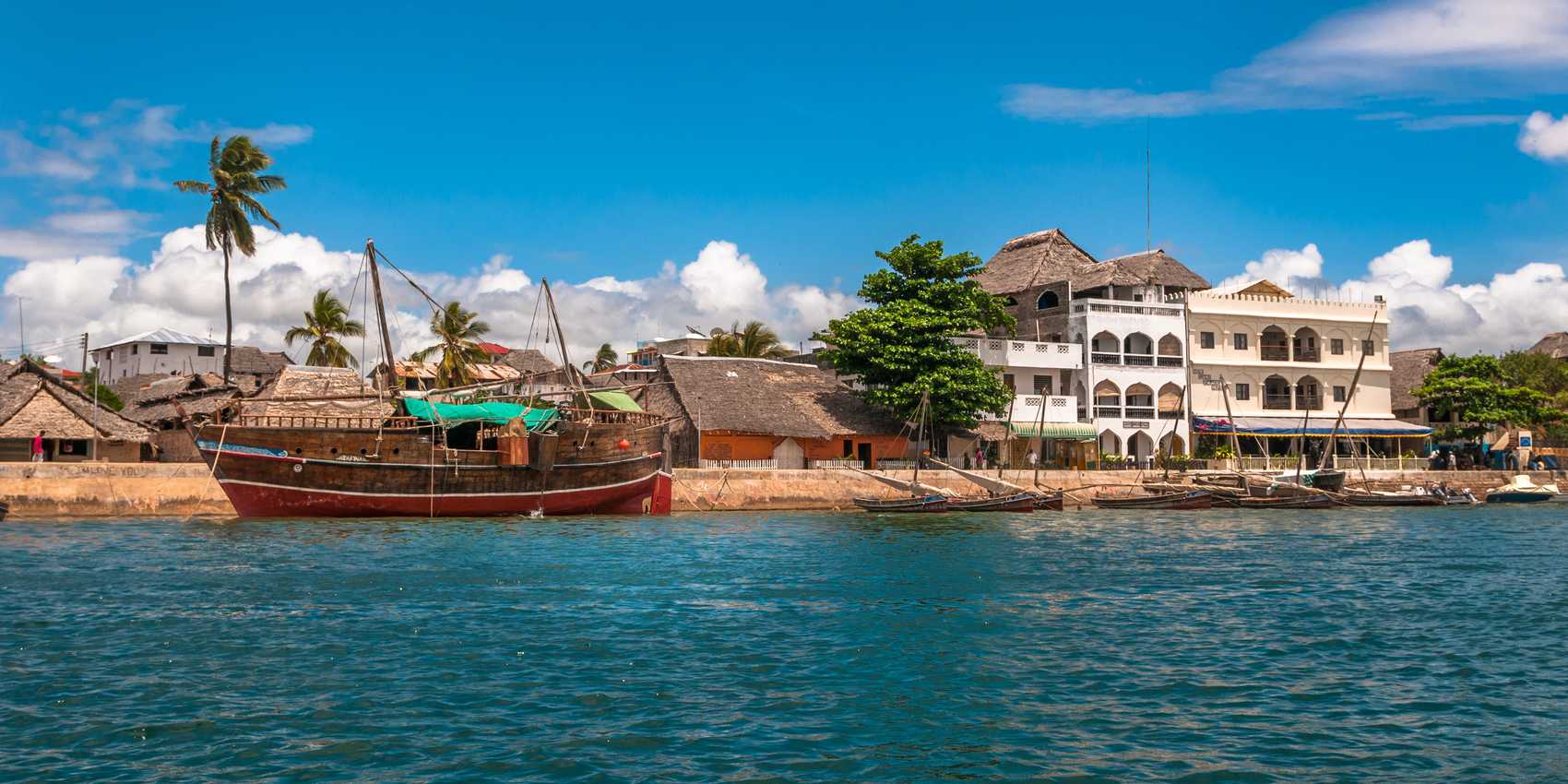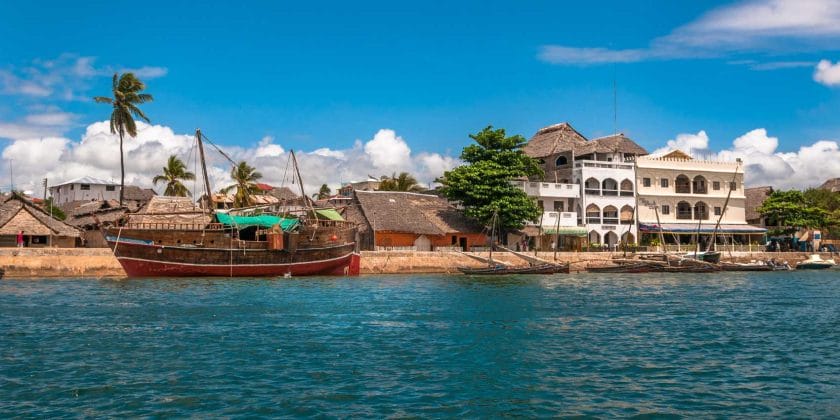 Old Town Lamu is a UNESCO World Heritage Site, and a visit here is like going back in time. The only way to get around here is by foot or donkey, which just adds to its charm. 
For breathtaking beaches, head for Shela hamlet, two miles south of Lamu Old Town. The island is home to many cultural festivals, including the Lamu Food Festival, Lamu Arts Festival, Lamu Maulidi Festival, Lamu Yoga Festival, and three-day Lamu Cultural Festival.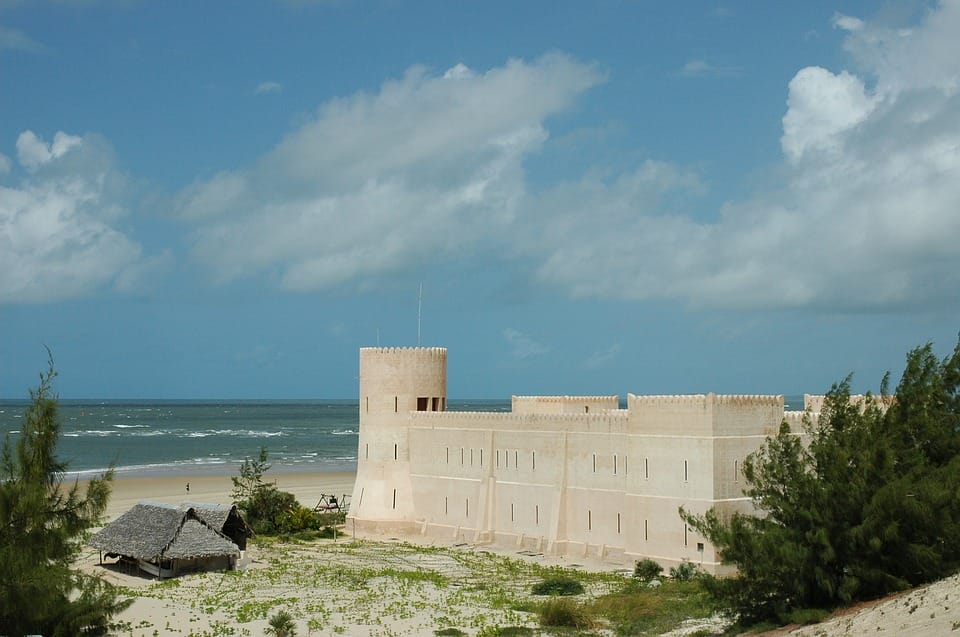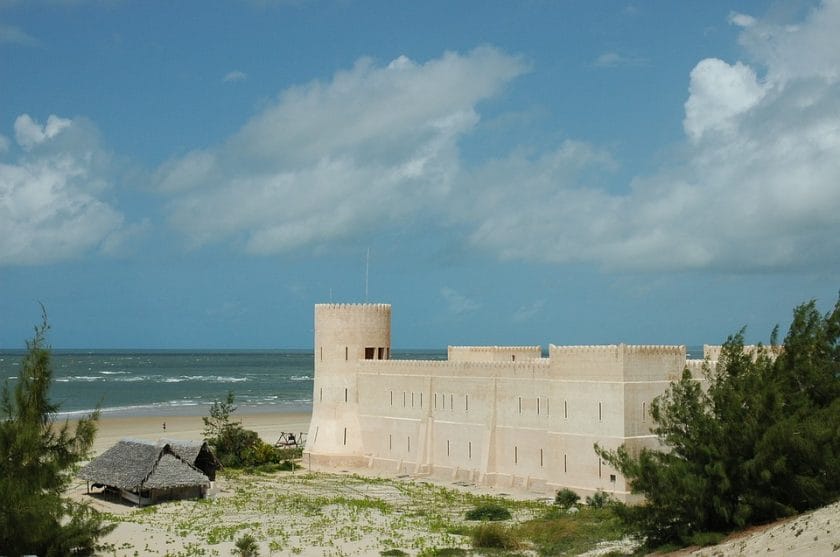 The snorkeling and scuba diving at Lamu is unmissable, with excellent coral reefs, colorful reef fish, dolphins, and turtles. The best time to visit the island is in the dry seasons from July to October (cooler weather) and January to March (very hot weather).
Nyali Beach: Best Known for Water Sports and Marine Life
This idyllic destination is located in Mombasa County and is connected to Mombasa Island by the new Nyali Bridge. Nyali Beach is popular with surfers and kite surfers and being part of the Mombasa Marine Reserve, snorkeling and scuba diving is excellent here. Nyali is pretty westernized and you'll find supermarkets, cinemas, and shopping malls. 
High-end hotels, beautiful residential houses, and resorts stud the long white sand beaches. At the southern end of Nyali Beach is the Shiva Cave, believed to enhance the fertility of its visitors.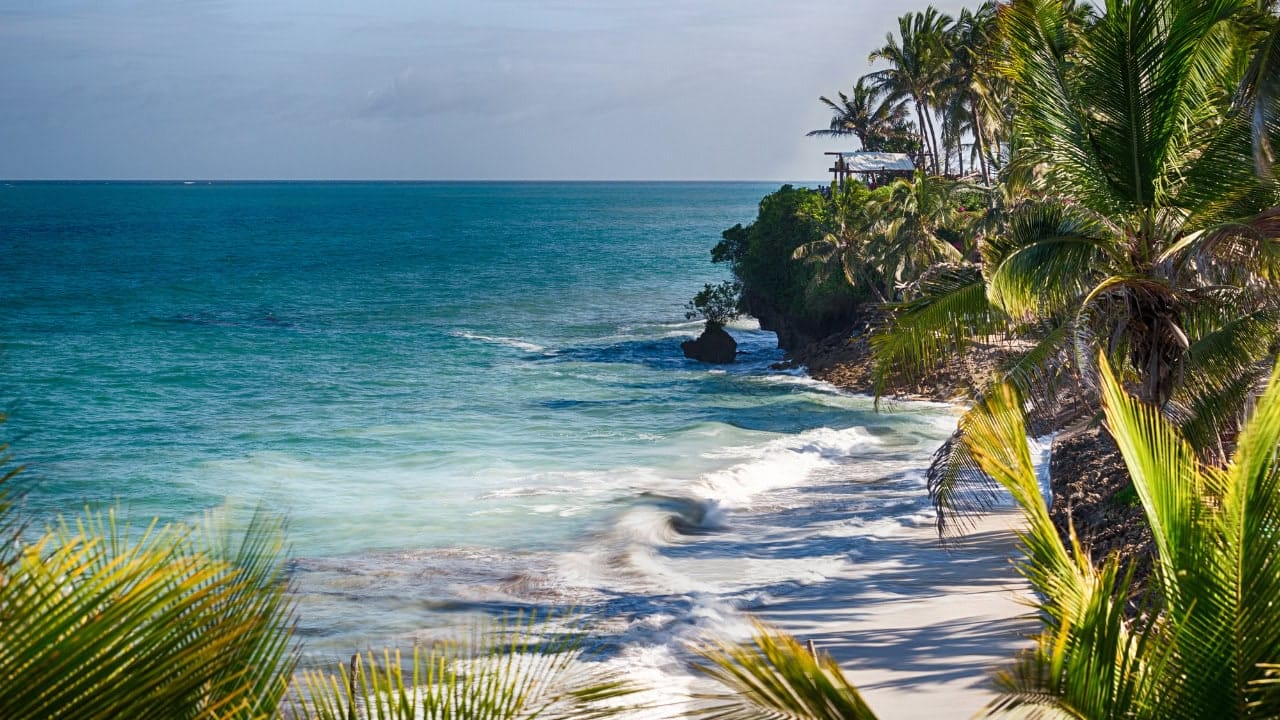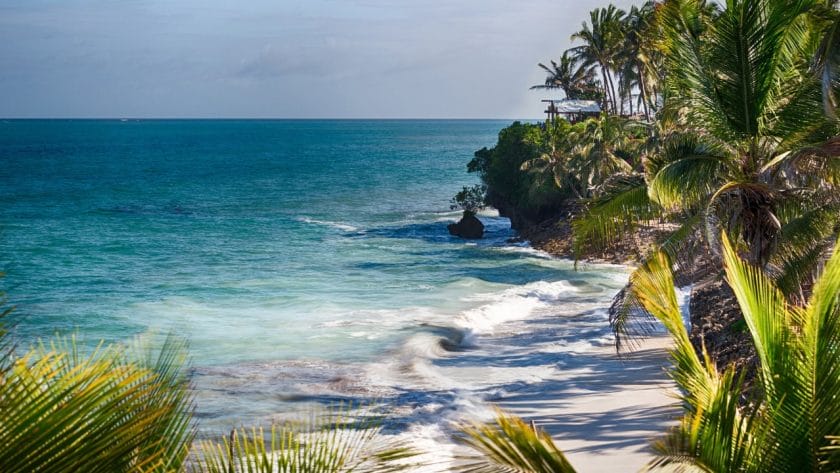 Other attractions include the Nyali golf club, Dwarika Dham Hindu Temple, Mamba Village (the biggest reptile farm in Africa), and the Bombolulu Workshops and Cultural Center. Although the weather at Nyali Beach is pleasant throughout the year, the best time to visit is from August to November.
Tiwi Beach: Best Known for Relaxation and Snorkeling
South of Mombasa and 20 minutes up the coast from Diani Beach, you'll find the idyllic and secluded Tiwi Beach. Yellow sand beaches fringed with palm trees and relatively little development make Tiwi a perfect place for some quiet relaxation.
Rent an umbrella and a sling chair, kick back, and relax. The reef is close to the shore, and snorkeling in the rock pools is excellent.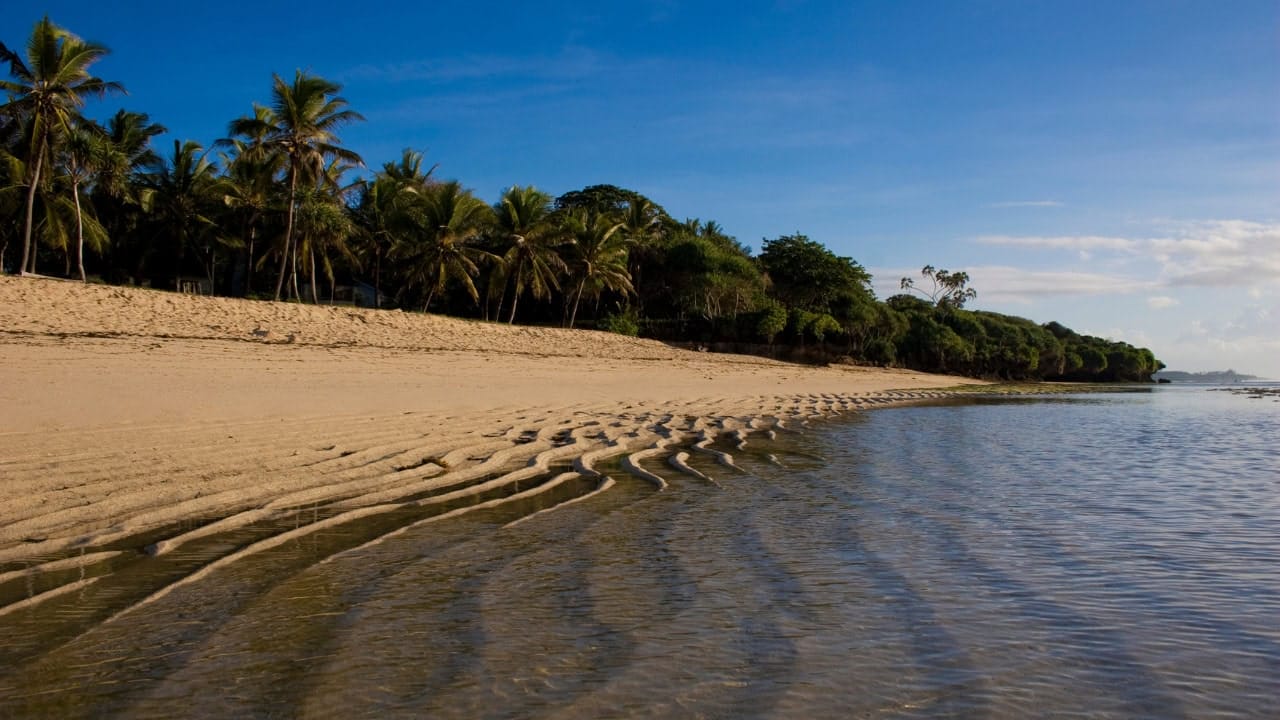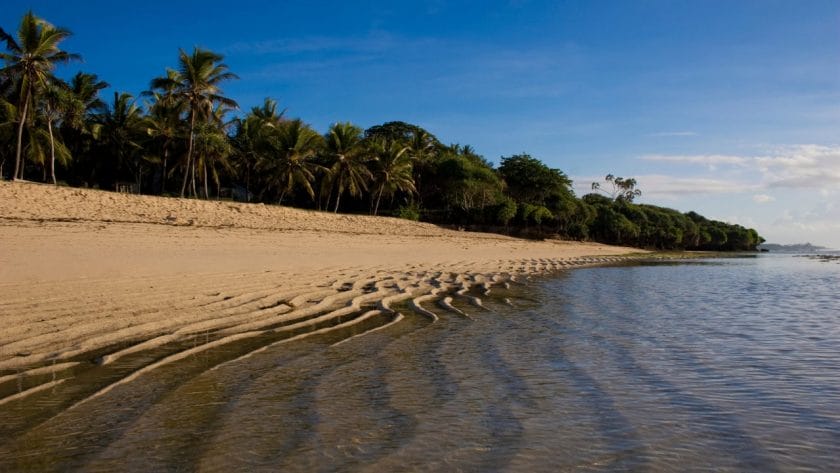 Visit the incredible Africa Pool at low tide, shaped like the continent of Africa and filled with colorful fish, starfish, and octopus. With only one large resort and a single shore-side cafe featuring fresh seafood, Tiwi is a great escape from the hustle and bustle of some other beaches in Kenya.
While the weather in Tiwi is pleasant most of the year, it's best to visit in February when the weather's a bit cooler.
Bamburi Beach: Best Known for Water Sports and Relaxation
Situated close to the vibrant city of Mombasa, Bamburi Beach is popular for relaxing on the shore or going for a stroll along its soft white sands.
Close to Bamburi Beach, the Mombasa Marine National Park is excellent for snorkeling and diving and you'll get to see colorful coral gardens and a range of marine life, including tropical fish, turtles, and dolphins. Bamburi Beach offers an array of water sports, such as scuba diving, jet skiing, windsurfing, and kayaking.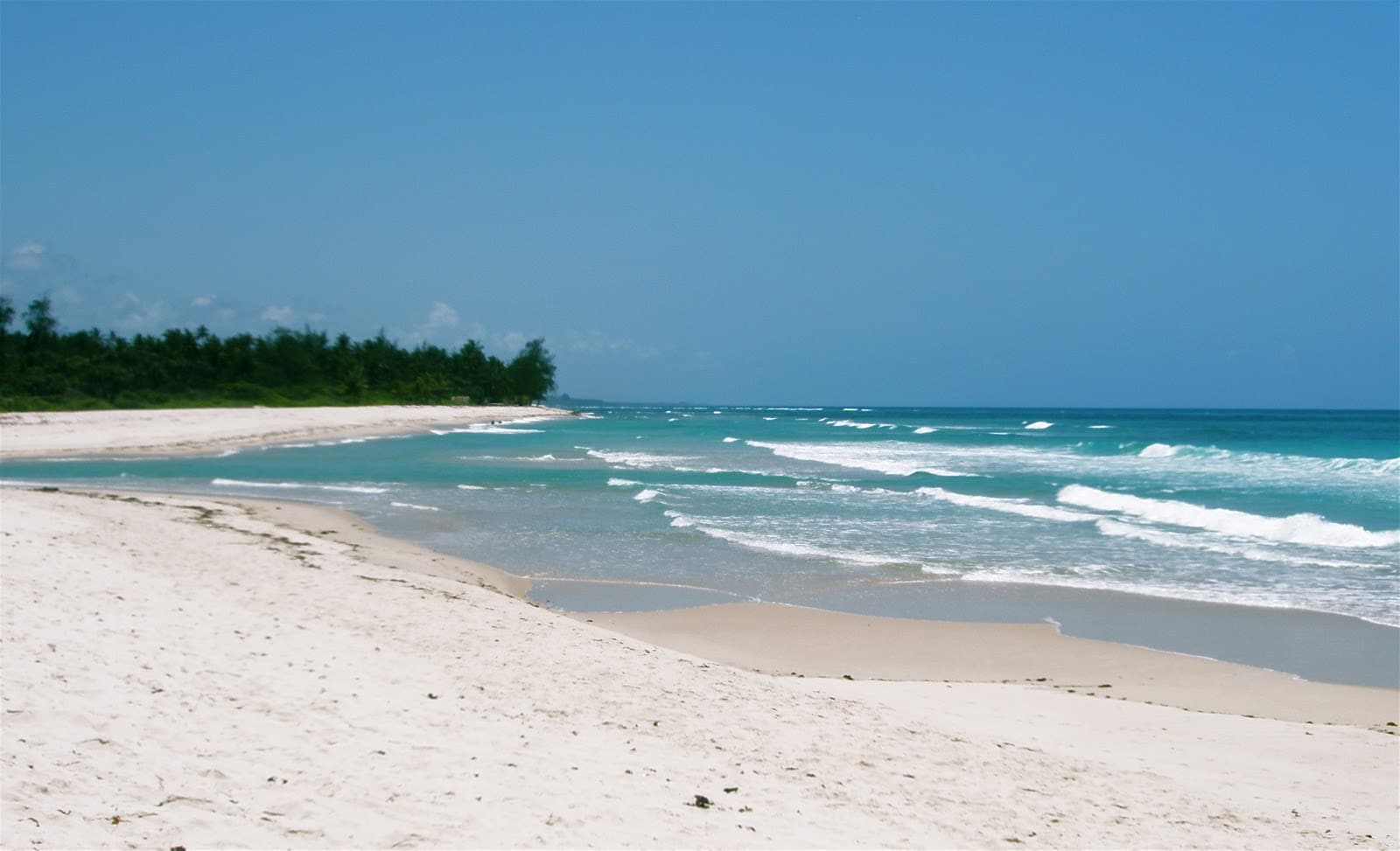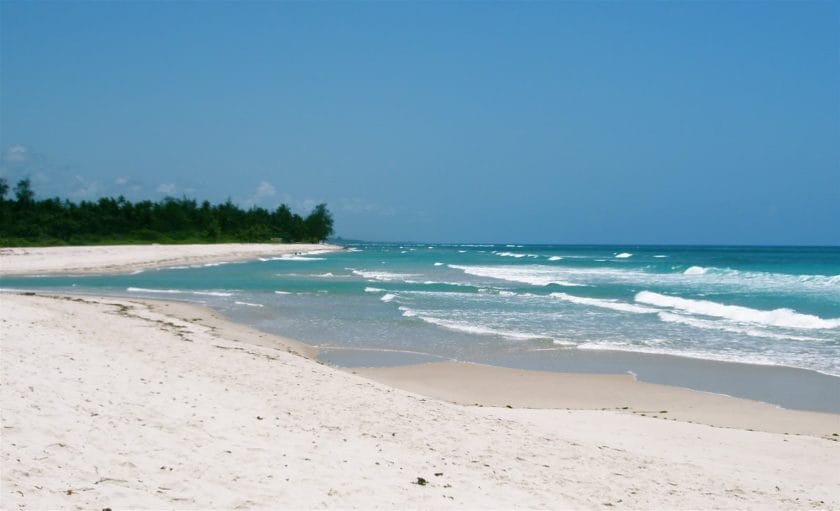 When you're done with that, explore the beach's many restaurants where you can try out some authentic Swahili cuisine. For a change of pace, the nearby Haller Park offers guided tours of the reserve and wildlife sanctuary, where you'll get to see crocodiles, hippos, giraffes, and a huge variety of bird species.
The best time to visit Bamburi Beach is during the dry season, which runs from July to October and from December to March. 
Shanzu Beach: Best Known for Relaxation and Water Sports
The soft white sands and crystal clear waters at Shanzu Beach make it the perfect place to unwind and relax next to the warm Indian ocean. On the other hand, if you're looking for a bit of adventure, Shanzu offers a wide range of water sports, from scuba diving and snorkeling to jet skiing, kayaking, and exploring the coastline on a boat tour.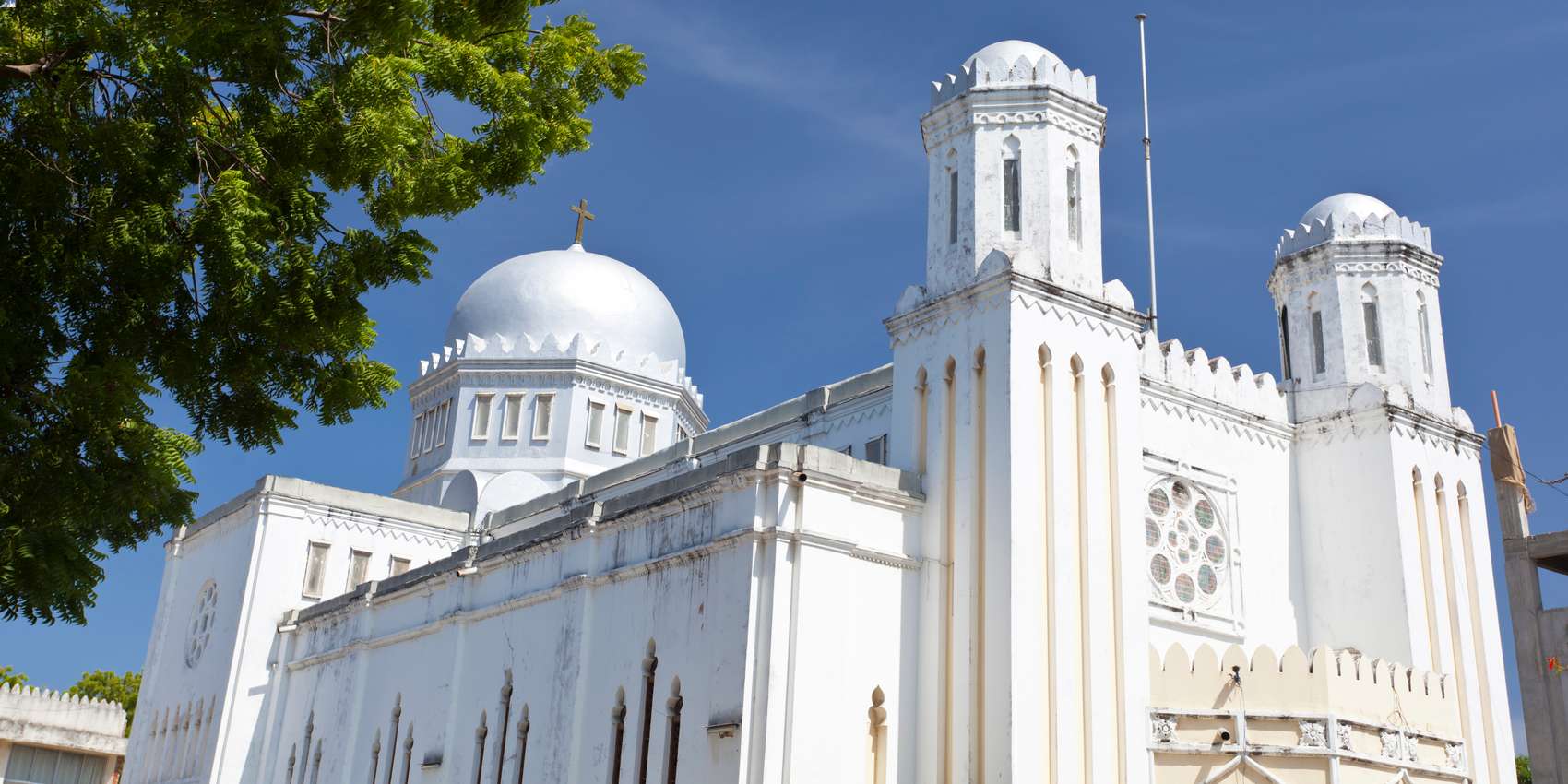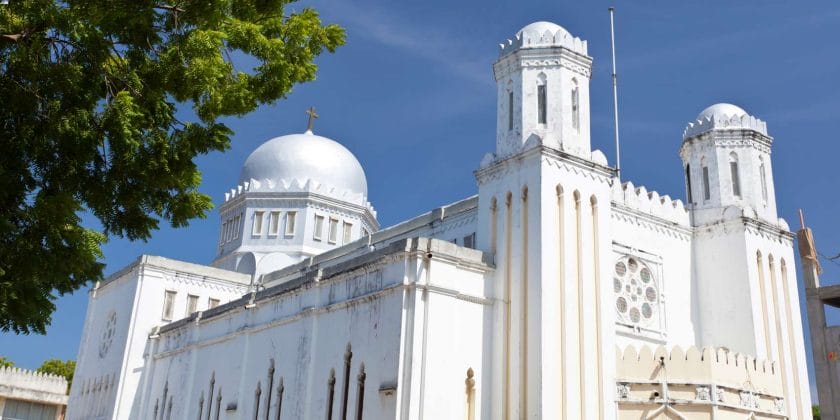 Another attraction at Shanzu is the Mombasa Butterfly House, where you'll get to see a variety of butterfly species in a beautiful tropical garden setting and learn about their life cycles. Shanzu Beach is close to Mombasa, so you can easily explore the city's history and local culture.
The best time to visit Shanzu Beach is in February, once the weather's a little cooler. 
Kilifi Beach: Best Known Relaxation and History
Kilifi Beach is a serene and tranquil destination. Pick a spot on the beach and unwind in the warm coastal breeze, or indulge in some water sports like snorkeling, scuba diving, kayaking and paddleboarding. It's also worth taking a boat excursion to explore the coastline and mangrove forests.
Kilifi Creek is worth a visit, where you'll get to spot abundant birdlife and try your hand at fishing.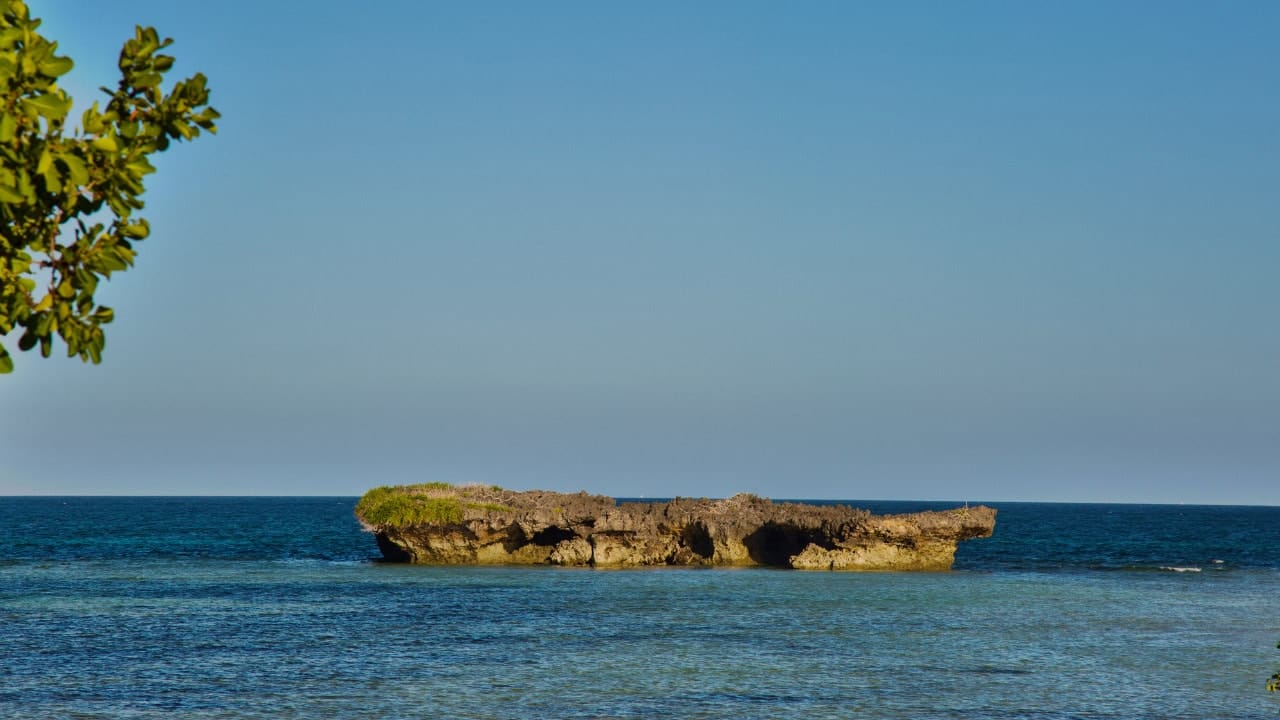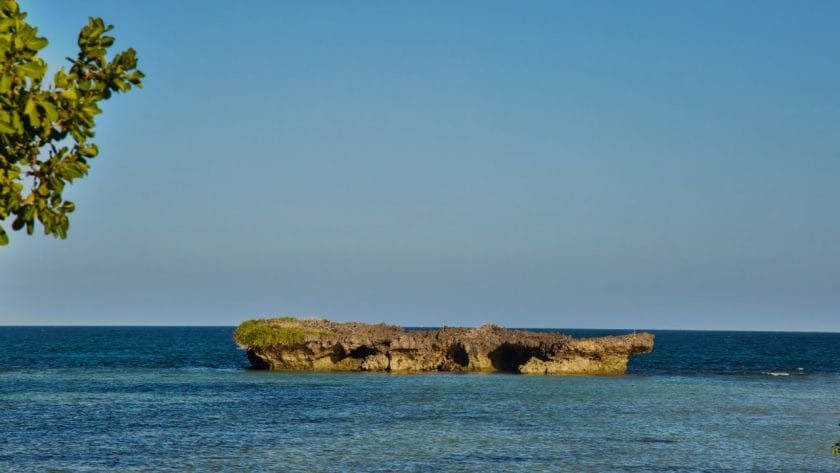 Close to Kilifi Beach, you'll find the ancient ruins of Mnarani. Dating back to the 14th century, these historical ruins provide a glimpse into the region's rich Swahili Heritage, and you can take a guided tour to discover more about their history.
While you're at Kilifi Beach, sample delicious Swahili cuisine and explore the vibrant food markets to experience authentic culinary treasures. The best time to visit is in summer, from December through February.
Manda Island Beaches: Best Known for Tranquility and Snorkeling
Manda Island is surrounded by idyllic beaches that are ideal for relaxation and beach picnics. The crystal-clear waters surrounding the island are a haven for snorkeling and scuba diving and feature vibrant coral reefs and teeming marine life such as tropical fish, sea turtles, and sometimes even dolphins.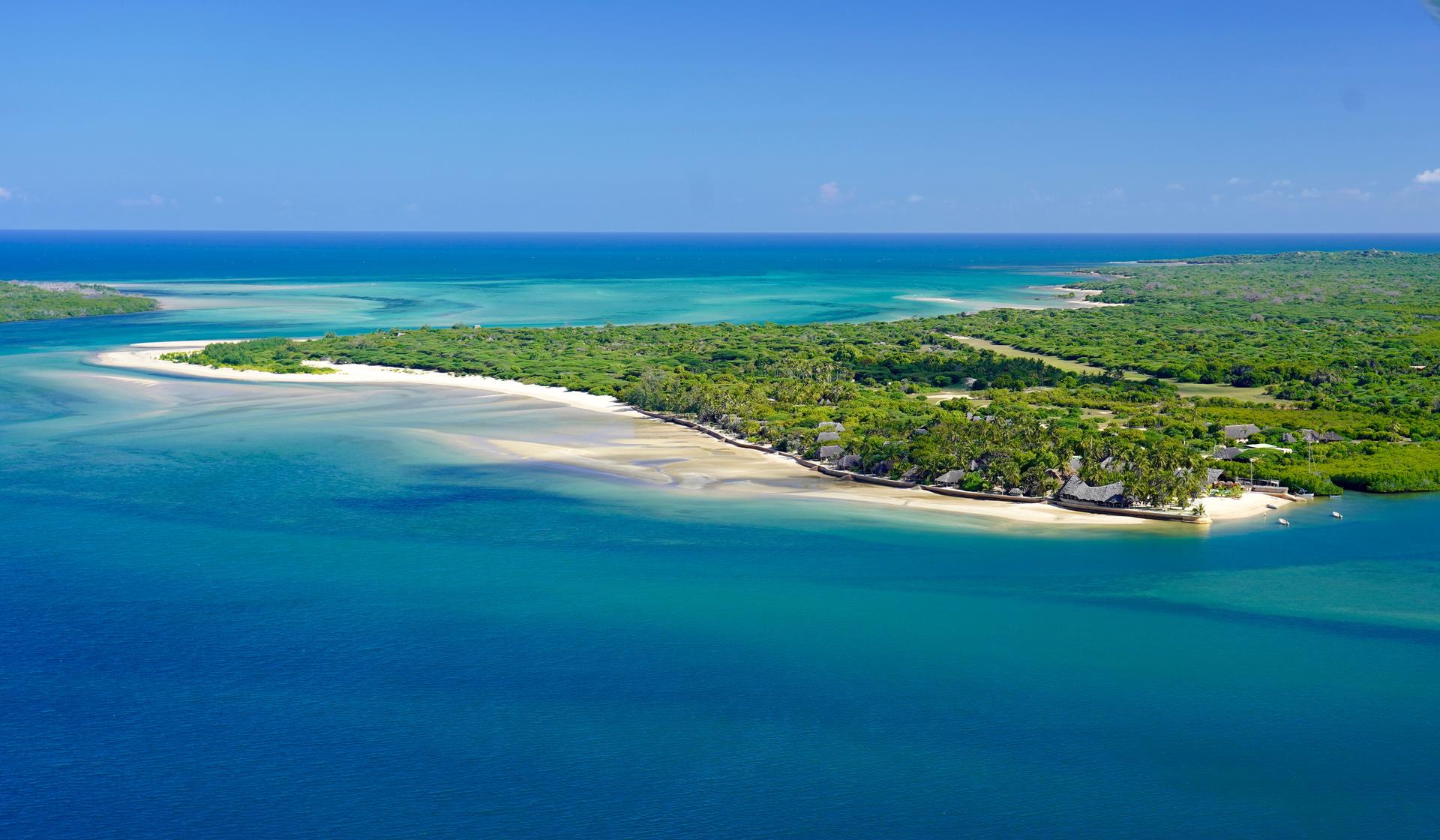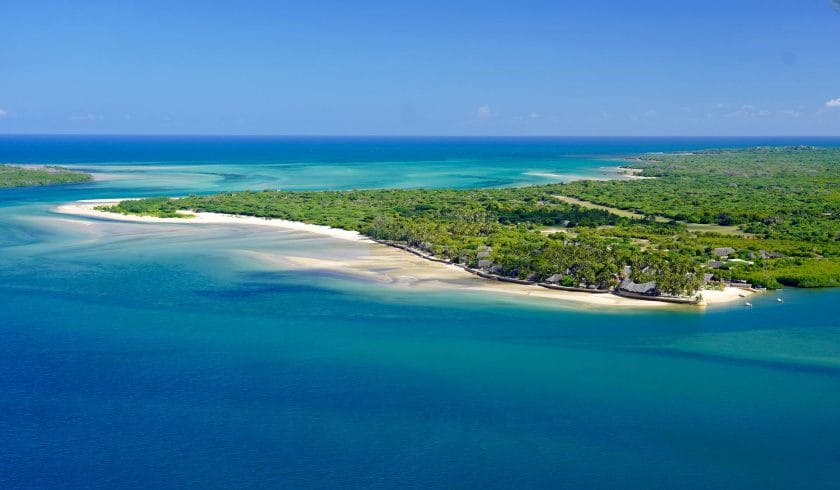 While you're on the island, you can't miss out on a trip to explore the Takwa Ruins. Dating back to the 15th century, these remnants of a Swahili settlement feature intricate architecture. Other activities off the coast of the island include sailing and boat excursions.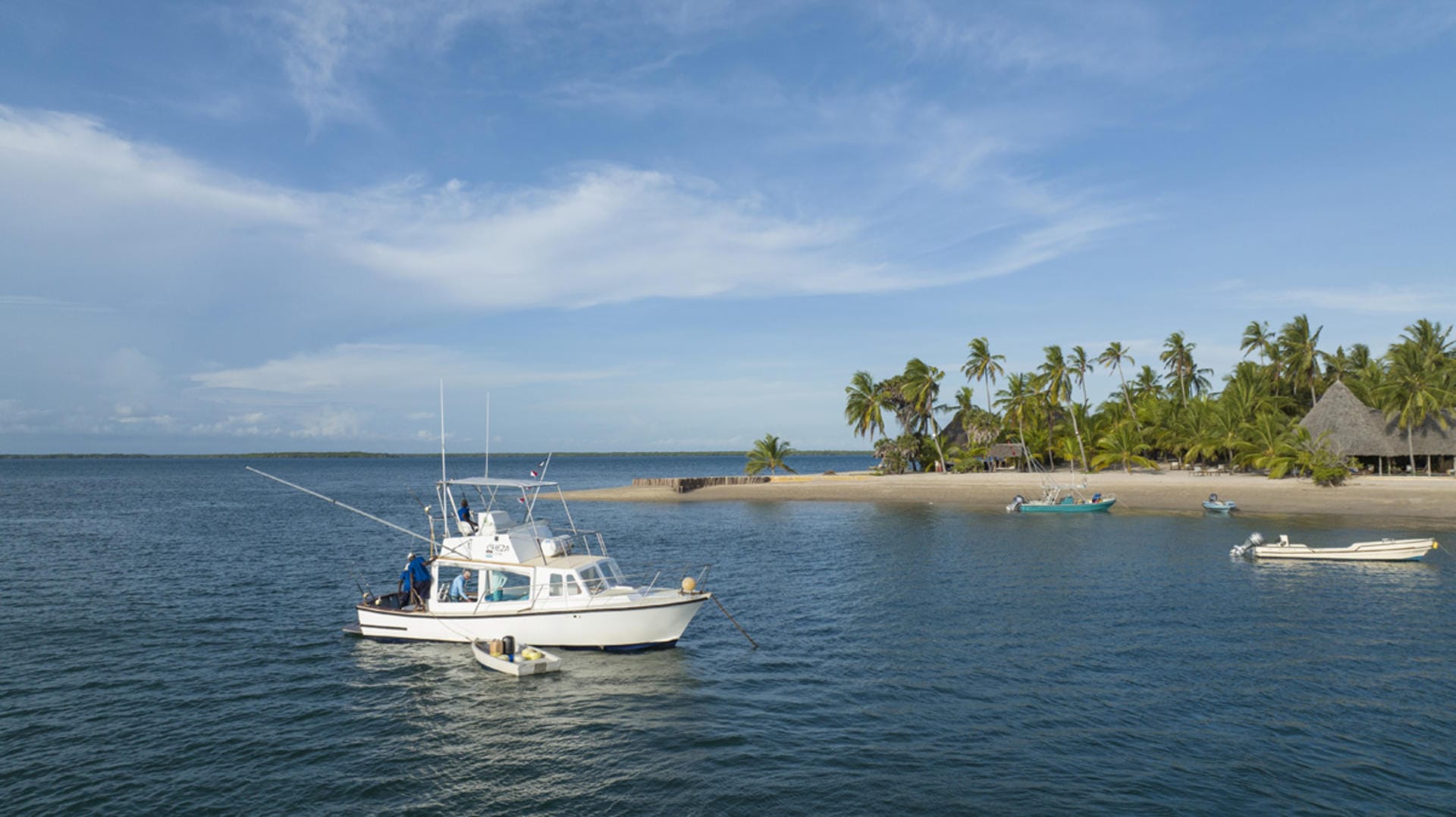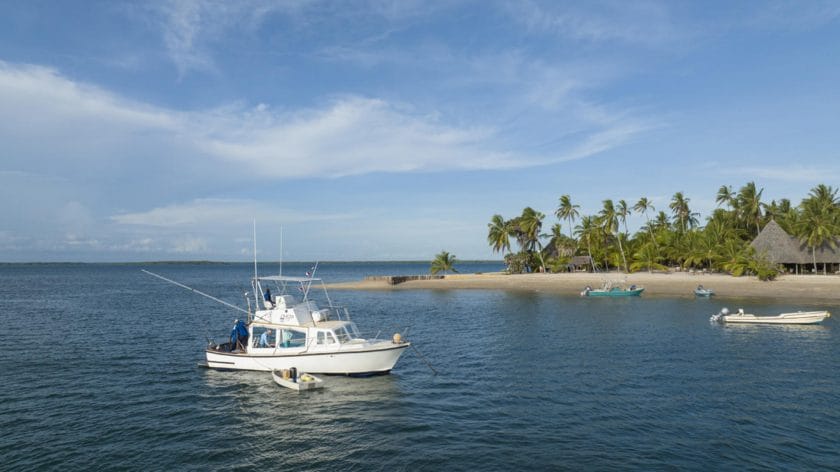 Explore hidden coves, untouched beaches and enjoy the feel of the tropical breeze blowing through your hair. While you can visit Manda Island all year round, the ideal time to go is January and February.
Five of the Best Beach Resorts on Kenya's Coastline
Almanara Luxury Resort (Diani Beach, South Coast)
Nestled between towering palms and tropical gardens, Almanara offers six garden villas and a beautiful 5-bedroom boutique hotel. Featuring a personal chef and maid services, Almanara offers its guests 5-star luxury in one of Kenya's most sought-after destinations. 

For those seeking a more active holiday in Kenya, the resort offers windsurfing, kitesurfing, and scuba diving expeditions. Situated on the beach front within Almanara, you'll find Sails Beach Bar and Restaurant offering a selection of international cuisine blended with local flavors.
Medina Palms (Watamu, North Coast)
Medina Palms is the only 5-star resort on the north coast of Kenya. Stunning Swahili style accommodation and elegant suites make this resort a must-stay. With extensive menus and seven dining locations, Medina Palms is the perfect destination to get away from it all and soak up the tranquility of this part of the coast.
The resort's Sakina Ocean Spa offers signature body treatments from Africology.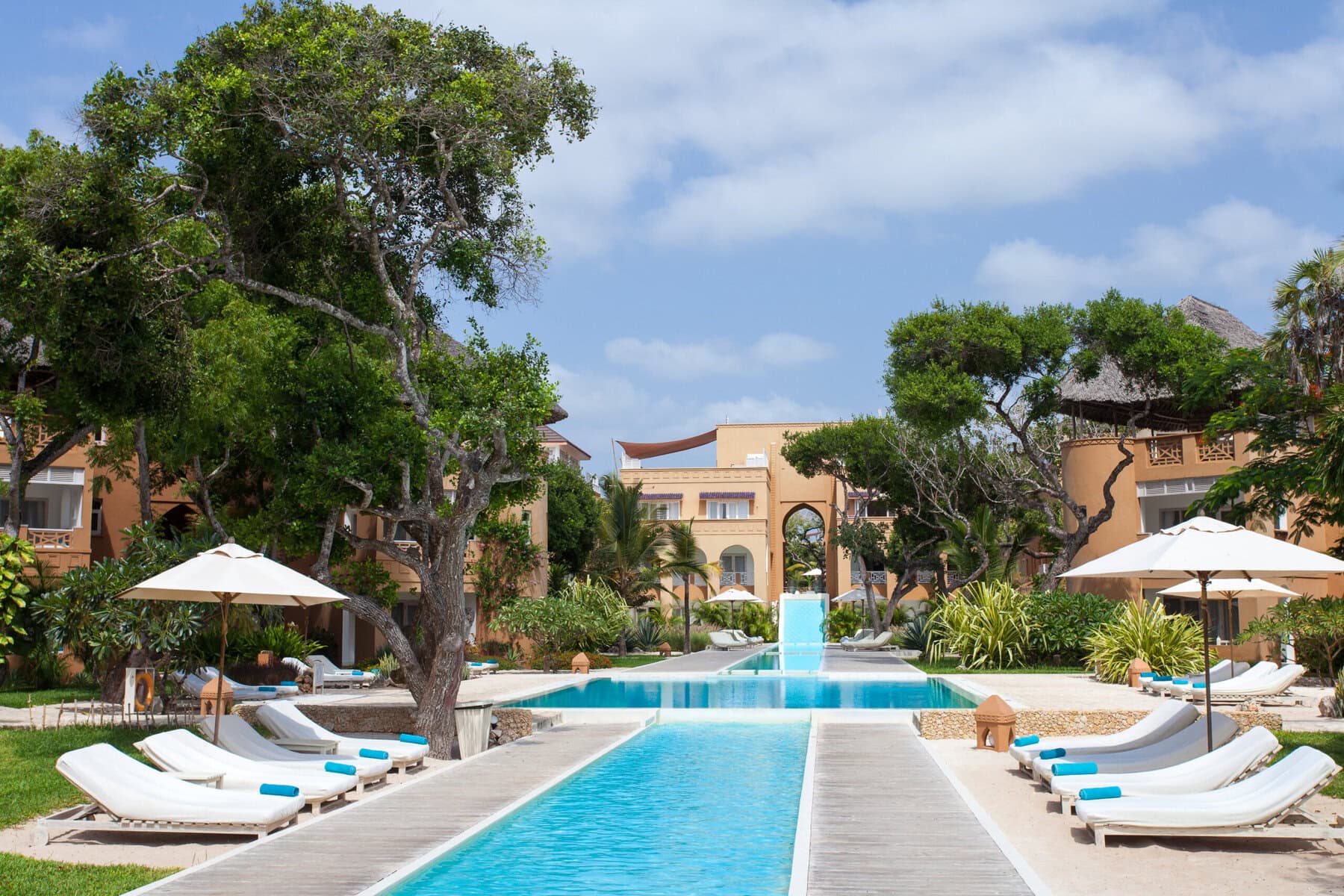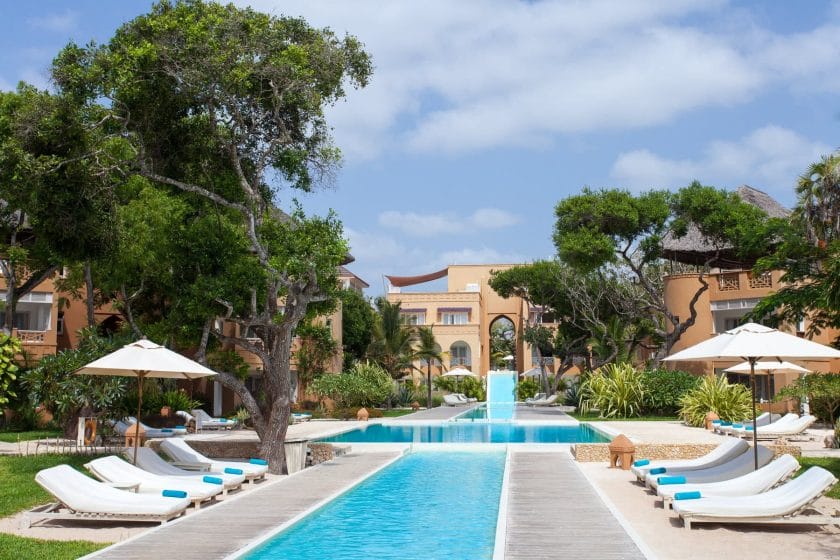 For more active guests, there is an on-site and well-equipped gym, complete with a personal trainer. Activities at Medina Palms include a variety of water sports, safaris, world class big game fishing, sunset dhow cruises, championship golf, exploring the Gede Ruins, visiting the Watamu turtle sanctuary, and mountain biking. 
The Majlis Resort (Lamu Island)
This luxury beach hotel located on Manda Island in the Lamu archipelago offers panoramic views of Lamu Island and Ras Kitau Beach. The hotel is surrounded by lush green trees, exotic Swahili culture, and jaw dropping views of the inviting Indian ocean. Accommodation includes 39 air-conditioned suites and deluxe rooms.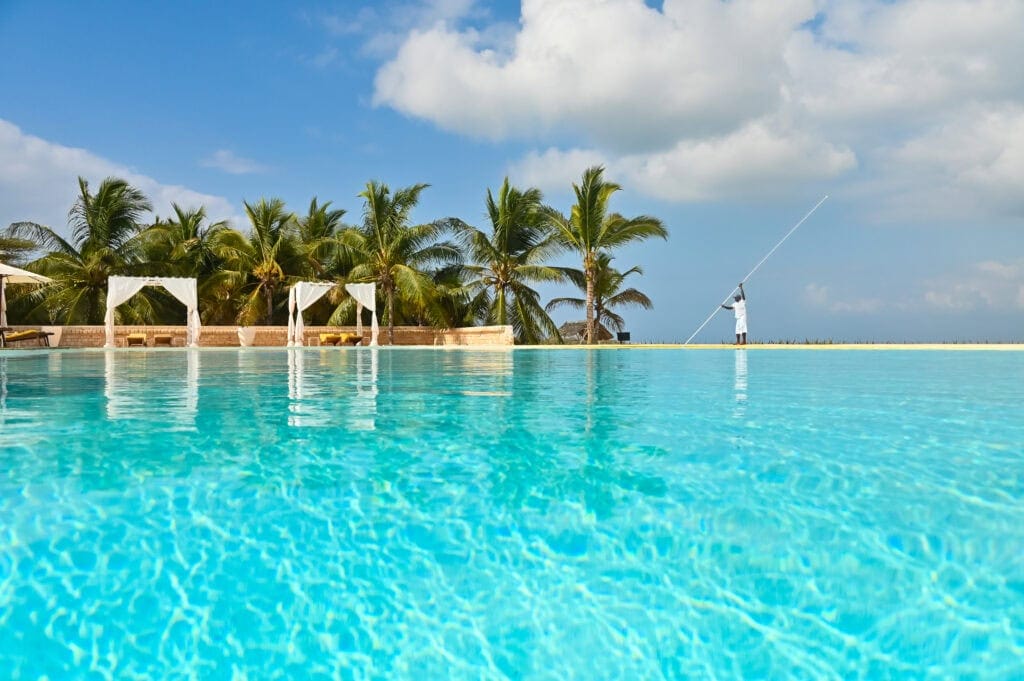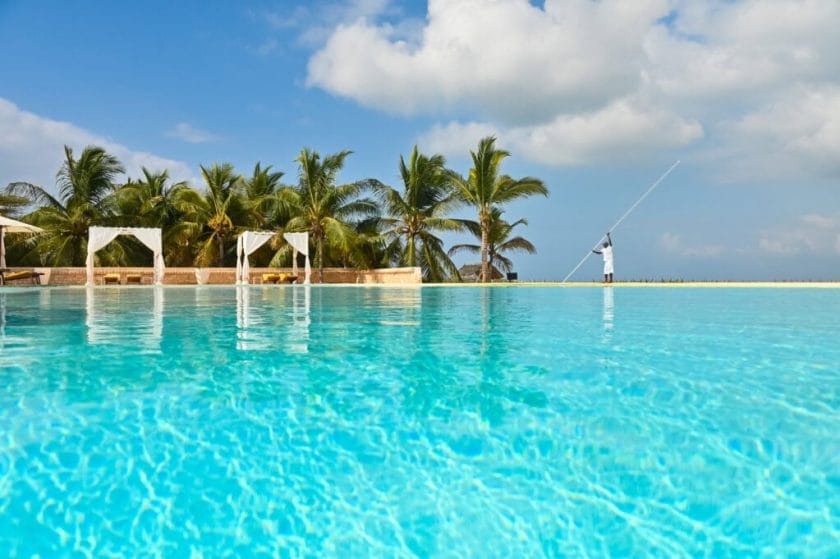 The Majlis caters for its guests at three restaurants and four bars, and features two pools and a well-maintained wellness center. Activities include boat excursions, kitesurfing, fishing, dhow trips, water sports, snorkeling, cultural excursions, scenic flights, and boat and mainland safaris.
Diamonds Dream of Africa (Malindi, North Coast)
Diamonds Dream of Africa is situated along the silver sand beach of Malindi. Each air-conditioned suite features a private terrace with lounge chairs and a hot tub. Rooms are equipped with a flat-screened satellite TV, mini bar and tea-and-coffee-making facilities.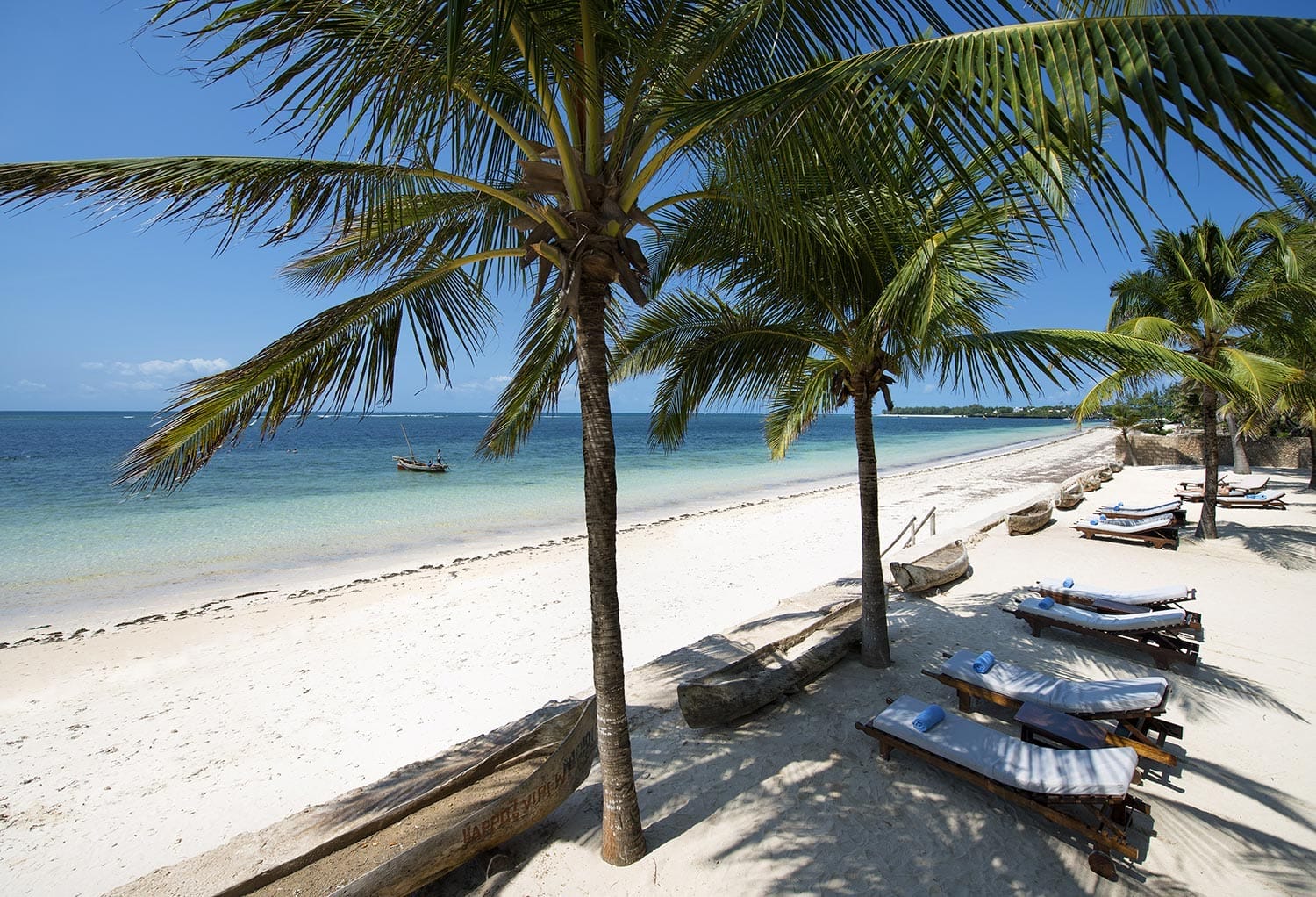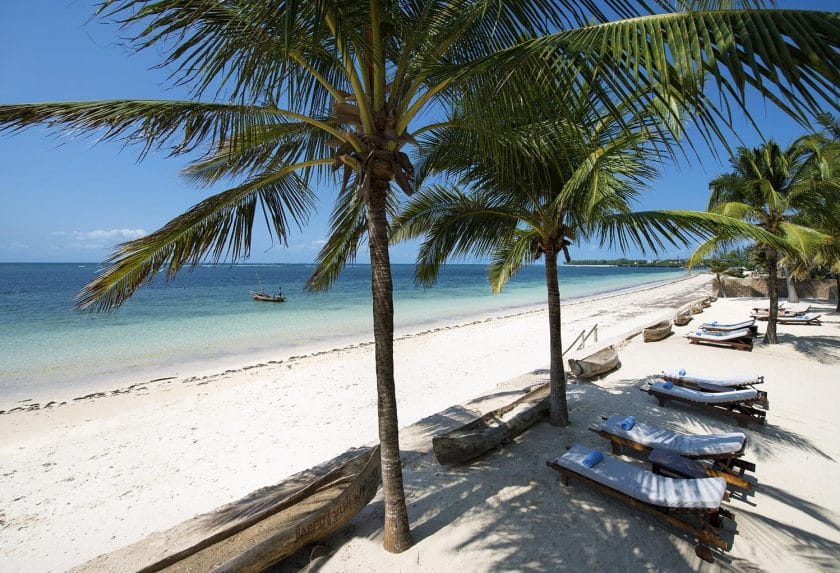 A highlight here is the MVUA African Rain Spa, perfect for pampering yourself. The hotel offers a range of sports, excursions to Marafa Depression, and even a safari in Tsavo National Park. Don't miss out on excellent dining at the hotel's Onda Beach Grill. 
Funzi Keys (Funzi Island)
Located on one of the most beautiful sunset-facing sandy beaches in Kenya, Funzi Keys is a place to unplug and unwind. The hotel's open plan design, rainbow themed cottages, vibrant beach bar, and massive pool invite you to relax and soak up the tropical paradise that surrounds you.
Enjoy fresh seafood at the hotel's unique restaurant and savor the remoteness of this awe-inspiring destination.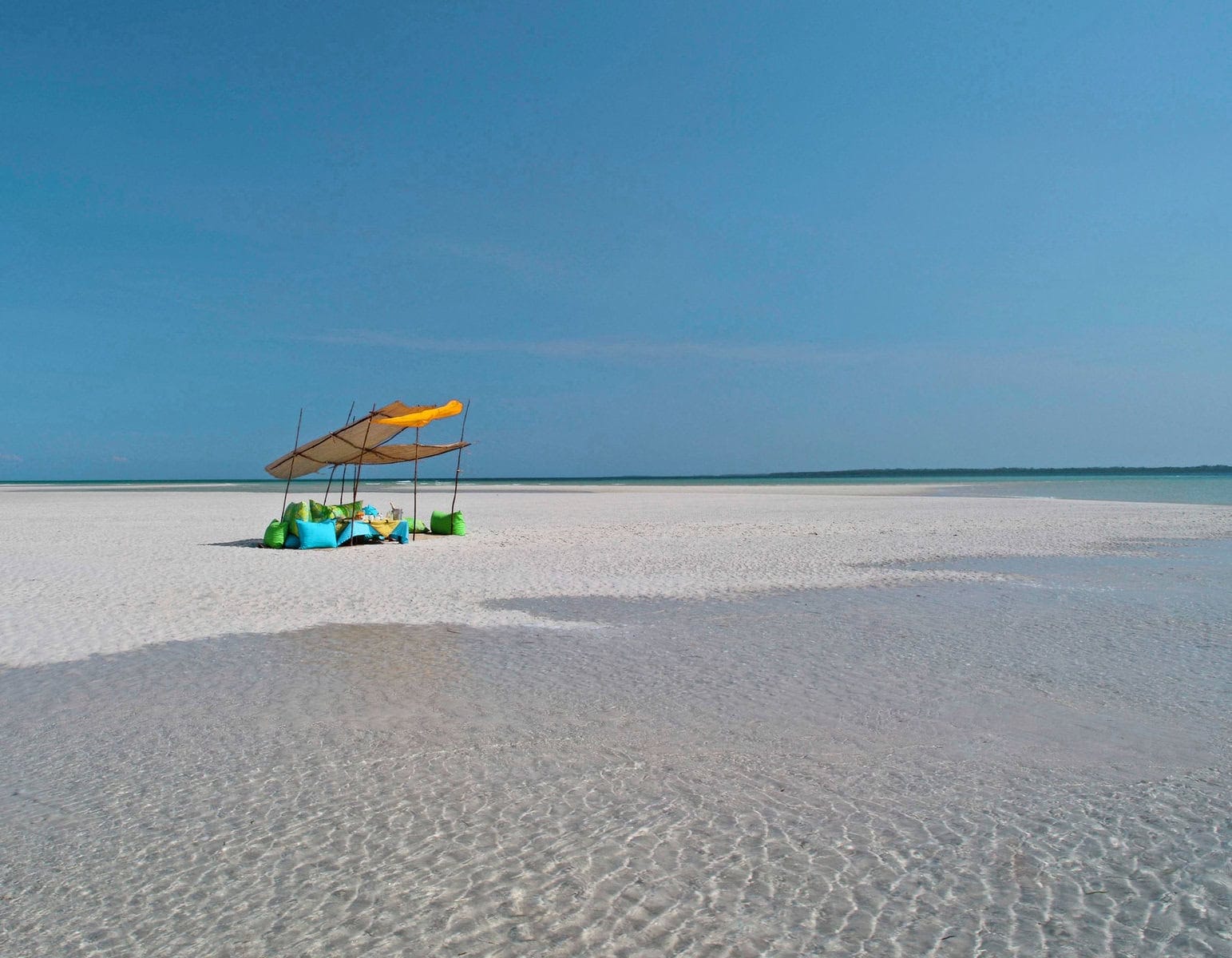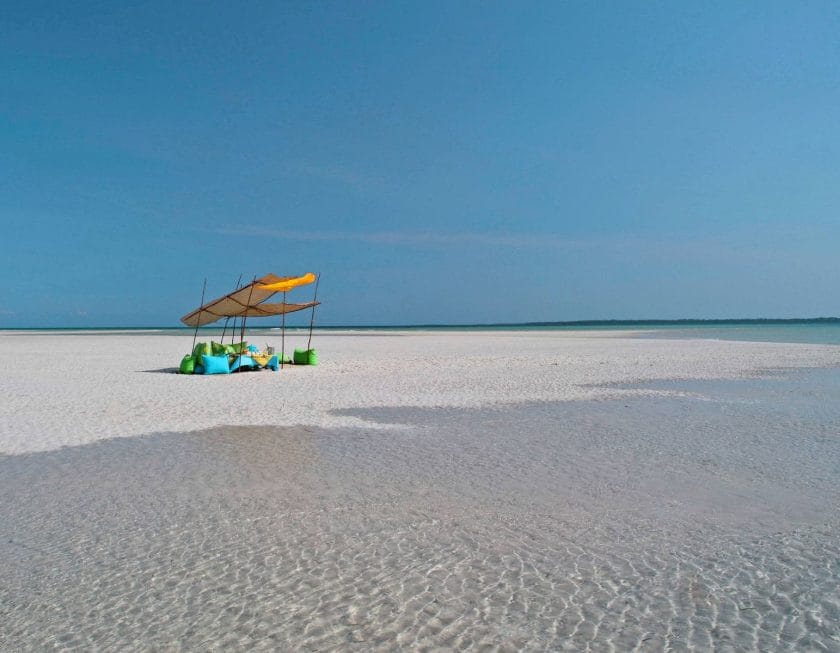 Designed to blend in with its idyllic beachfront setting, accommodation consists of nine spacious seafront cottages, all reflecting coastal architecture and local culture. More energetic guests can look forward to sailing, creek fishing, windsurfing, and canoeing.
Don't miss out on a boat trip up the Ramisi River or to Funzi Creek, where you can spot kingfishers, crocodiles, and even dolphins. Funzi Keys is also an excellent base for deep sea fishing and scuba diving in the Pemba Channel.