WATCH: South Africa's Garden Route vs Kruger National Park

South Africa is more than just a country, it's a world on its own. From the semi-desert landscapes of the Karoo, to the big game country of its world-class national parks and reserves, a South Africa safari means a plethora of safari options that suit almost any traveller.
The 200 km stretch of coast connecting Mossel Bay to the Storms River Mouth is commonly referred to as the Garden Route in reference to its beguiling diversity of wide sandy beaches, lovely lakes and lagoons, shady evergreen forests and protea-studded slopes.
The Kruger National Park on the other hand, extends over a mind-boggling 19,485 km² and is one of Africa's largest and most iconic safari destinations, comparable in area to Wales or the state of New Jersey, and sharing open borders with several smaller private reserves as well as two transfrontier national parks in the form of Gonarezhou (Zimbabwe) and Limpopo (Mozambique). It vies with with Cape Town as South Africa's top destination, attracting more than one million visitors annually.
Which premium destination would you choose? Take a look:
The Garden Route

Kruger National Park

Wildlife

The Marine Big Five (Southern Right whales, African penguins, Cape fur seals, Great White sharks and dolphins
Leopards and elephants rarely spotted in the Knysna Amatole Forest
Stunning bird species including those endemic to the region

All of the Big Five mammals, including endangered mammals such as the wild dog as well as giraffe, cheetah and hyena among them
Over 650 bird species
Game viewing all year round, with certain months being better suited to wildlife sightings based on the weather

Photography

Bird and landscape photography is very popular

Wildlife photography and filmmaking attracts professionals and amateurs from all over the world

Type of traveller

Honeymooners
Family travel
Solo travellers
Active adventurers that enjoy hiking, walking and much more
LGBT travel

Wildlife seekers
Group travel
Families
Couples who are looking for a unique holiday destination

Accommodation

Numerous accommodation options for your budget
Stunning settings and warm hospitality
Comfortable and easy access to all modern amenities

Multiple luxury lodges and camps in private reserves and concessions
Service excellence
Camping and self-catering accommodation available in the national park itself
Authentic African safari feel
Conservation fees apply when booking

Language, culture and history

Almost everyone speaks and understands English
Robust cultural and political history

English is the spoken language at all lodges and camps but multiple African dialects and languages are also spoken
Conservation and ecotourism culture dominates the area

Experiences

Geared more towards adventure-based activities such as hiking, walking, bungee-jumping, shark cage diving, etc
Birding safaris, whale-watching
Beach safaris
Self-drive safaris
Relaxed experiences
Cultural travel
Family safaris

Self-drive safaris
Big Five and wildlife-orientated experiences
Photographic safaris
Birding safaris
Walking safaris (in private reserves and concessions only)
Family safaris

Best time to travel

Year-round based on your budget
Rainfall is common throughout the year
November to April experiences great weather for beach experiences although this coincides with school holidays and South Africa's busy summer season

June to October for favourable weather conditions and optimum wildlife viewing

Transport

Self-drive is an excellent way to appreciate the majestic beauty of the coastline at your own pace
Tour-bus travel available
Taxi travel possible in bigger towns

Self-drive is a popular way to see the park, but one will not have access to any private games and reserves
Fly-ins and transfers included in our safari packages

Malaria risk

Malaria in all parts of the Kruger National Park
Both of these South African destinations offer their own unique experiences. The Garden Route's proximity to fabulous Cape Town means that self-drive adventures are more popular. Enjoy the charm of old towns as well as meet amazing people with their own unique cultural identity and plenty of stories to tell. Spending days on the pristine beaches along the coast is another highlight of the region.
The Kruger National Park is obviously geared more towards wildlife experiences. These are matched by exceptional lodges and a reconnection with nature.
Take your pick: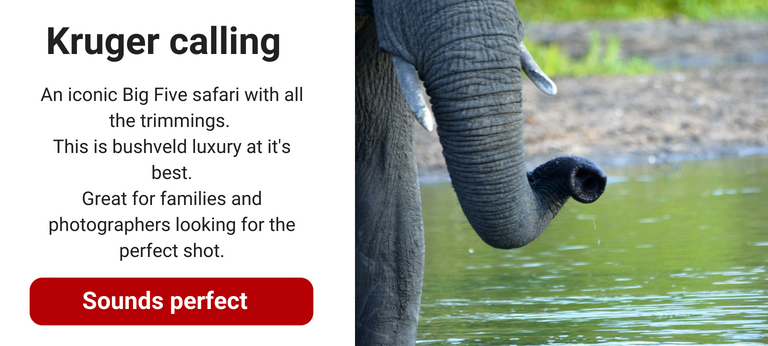 OR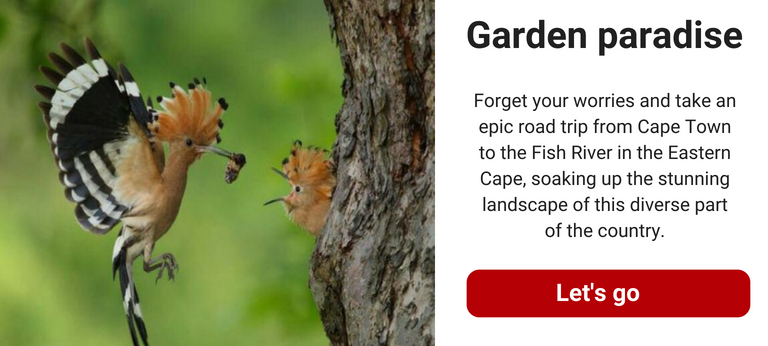 Having trouble deciding? Contact us for travel advice about how to create an itinerary that will take you to both destinations.
You Might Also Like