South Africa's Garden Route Odyssey (14 days)
South Africa's Garden Route Odyssey (14 days)
Discover one of South Africa's best kept secrets - the Garden Route
JanPeak
FebPeak
MayLow
JunLow
JulLow
AugLow
OctPeak
NovPeak
DecPeak
Costing tip: When comparing with other companies, remember most of them only show the low season rate. How pricing works >
What to Expect on This Safari
This popular itinerary can be customised to match your budget and travel dates by adding/removing a few days or selecting different lodges
Classic Cape Town at the iconic Twelve Apostles
You will start your South African adventure at none other then the award-winning Twelve Apostles Hotel and Spa nestled between the unspoiled natural beauty of the majestic Twelve Apostles mountain range. With its breathtaking setting overlooking the Atlantic Ocean, this hotel is the right choice for a special occasion. Your stay here will be on a bed and breakfast basis.
During your time here, use your hired vehicle to explore Cape Town's busy city life, dine at world class restaurants and explore its breathtaking surrounds, such as it's lush green Cape Winelands and its white-sand beaches.
Meals: All meals and selected drinks.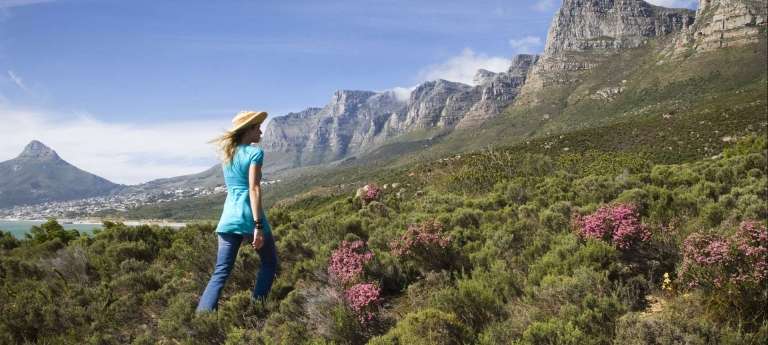 Explore the Grootbos Private Nature Reserve
After spending some time in the city, you'll head to the Grootbos Private Nature Reserve on a fully inclusive basis. Home of the "Marine Big 5" - whales, sharks, dolphins, seals and penguins; and with unparalleled floral diversity, Grootbos offers you a one-of-a-kind luxury African experience.
There will also be guided walks including fynbos nature tours and milkwood walks, nature, marine & coastal drives and walks also include the Walker Bay Nature Reserve, De Kelders cliff walk, Klipgat Cave combined with seasonal land-based whale watching (whale watching is especially prominent during June – December).
Experience a great variety of bird species on the reserve, various maps of the reserve and the area are available for self-guided walks.Transfers are also available to and from all activities.
Meals: All meals and selected drinks.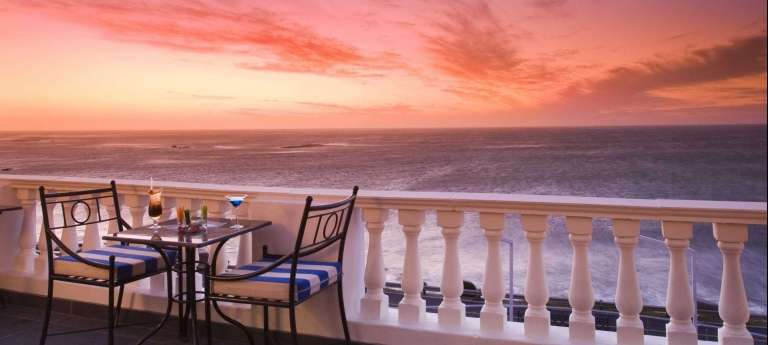 Tranquility at Tsala Treetop Lodge
You'll head further down the Garden Route to your next stop, the Tsala Treetop Lodge. This enchanting lodge is situated in an ancient indigenous forest and epitomizes the freedom and heartfelt legacy that is the African continent. The idea is to combine the rugged African wilderness whilst bringing elements of the sophisticated developed world to come up with something truly original and unique. You will spend two nights at the Treetop Suite on a bed and breakfast basis.
Meals: All meals and selected drinks.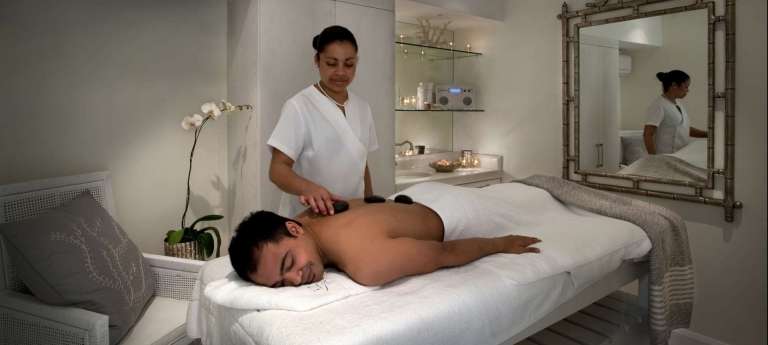 3 night at Kwandwe Fish River Lodge.
Drop your hired vehicle off at Plettenberg Bay Airport for your flight into Kwande Game Reserve, followe dby a transfer to the Kwande Fish Rover Lodge. This lodge is situated on the banks of the mighty fish river and offers patrons an experience which is set to magnify the endless landscape and put guests in a state of calm tranquility as they bask in glory of the African experience. It's no wonder this great establishment prides itself in return business year in and year out.
Your stay at Kwandwe Fish River Lodge includes accommodation on a fully inclusive basis, inclusive of twice daily game drives, nature walks accompanied by an armed ranger as well as big game walking safari (tracking white rhino, black rhino, elephant and buffalo on foot, accompanied by an armed specialist ranger and tracker team; subject to availability), three meals daily, soft drinks, house wines, local & premium brand spirits, beers, teas & coffees, refreshments on game drives, laundry and emergency medical evacuation insurance.
Meals: All meals and selected drinks.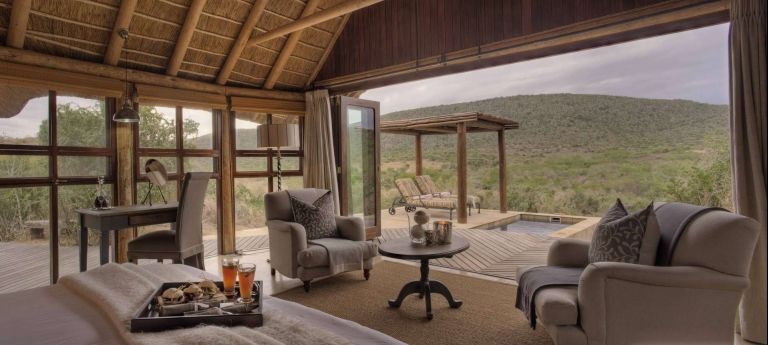 Time to go home.
Scheduled flight Kwandwe to PE Airport. Departs Kwandwe 10.00am Arrives Port Elizabeth airport 10.45am Fly to Johannesburg (cost quoted separately).
Recommended Iteniraries and Tours