The world is opening up after COVID-19, and soon you'll be able to travel again. If you're an avid golfer and already planning an excursion to get your golfing fix, we're looking at some of Africa's most exciting golf courses for your post-COVID bucket list.
If you're lucky, you'll get to cross an African safari off your list at the same time!
The Iles Aux Cerfs Golf Club, Mauritius
The natural beauty of the Iles Aux Cerfs golf course will make you feel as though you've stepped into a postcard. This course was designed by the legendary Bernhard Langer and is on its own little island that's only accessible by boat or helicopter, so it will be a special experience from the start.
Each hole on the 18-hole par-72 course has its unique challenges, in particular hole 9m which is par 5 at 562 yards (which will challenge your drive). With multiple sneakily-placed ponds, lengthy greens, and a dogleg or two, you'll need to be strategic and not get too distracted by the surrounding beauty - every hole has an ocean view.
If you're both a golfer and a nature-lover, this would be a worthy addition to any bucket list. As well as getting in a challenging round, you'll have the opportunity to view the unique Mauritian fauna and flora, as well as interesting volcanic rock formations.
Sigona Golf Club, Nairobi, Kenya
Sigona will test more than your skill and accuracy - it'll also test your physical strength. This 82-year-old golf course was recently redesigned, adding bunkers and shortening some of the holes.
At an altitude of 6000 feet, you'll find the temperature to be enjoyable. You'll have to bring your A-game to this course, but the magnificent Kenyan scenery makes the challenge worthwhile. Although the abundance of greenery may make the course challenging, it's a beautiful walk, and you'll feel nothing but peace and tranquillity as you navigate the course.
Spend the night at one of their suites with a stunning nature view and get off to an early start in the fresh, clean Nairobi air.
Sun City, Gary Player Country Club Golf Course, South Africa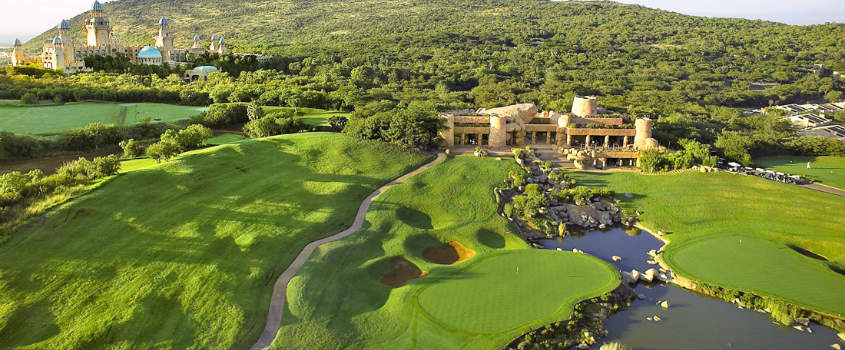 This iconic golf course is on many enthusiastic golfers' "Golf Course Bucket List". Designed by Gary Player, this course may look easy from the tee, but it's extremely fast, difficult to read in some places, and the greens will rise and fall before you.
It's located at one of South Africa's most exciting places - Sun City. You'll be able to get a good round of golf in, but you won't be lost for other activities! Sun City offers state-of-the-art, 5-star accommodation in a resort setting.
Once you're done with your round of golf, you can spend some time in the casino, head to their nightclub for some dancing, wander through the Maze of the Lost City, or hit the water in the iconic Valley of the Waves.
For a truly African experience, take a guided game drive through the Pilansberg Nature Reserve - keep an eye out for the Big 5!
The Lemuria Golf Course, Seychelles
This 18-hole, par-70 golf course has spectacular ocean views and marvellous terraced greens. The natural beauty of this island golf course might be mistaken for being an easy play, but golfers are in for a test of their abilities.
The signature hole for this course is hole 15, which has jaw-dropping views from above the Anse Georgette, water obstacles, and crabs that will steal your ball from you, giving you an authentic experience of nature and wildlife!
The luxury hotel was renovated in 2016 to bring guests the most modern experience. The elegant luxury suites or villas open up to breathtaking ocean views. This is also home to some world-famous diving sites, so if you're a diver, don't miss it!
If not, you can relax in warm, natural pools and wait for the evening's fine dining experience, or perhaps partake in a customised spa treatment.
The Mazagan Golf Course, Morocco
This is the longest golf course in North Africa, at 7529 yards. It features generous fairways, challenging angles to the green, and holes that will have you thinking about your options. The legendary Gary Player also designed this course.
Lush, beautiful greens a stone's throw away from the Atlantic Ocean, the lengthy course will not only require some sporting strategy but be deeply and profoundly satisfying to any nature-loving visitor.
Relax in one of their inviting suites, revel in the freshly authentic Moroccan food at one of 11 restaurants on the resort, and take your pick of adventure-packed activity. Camel ride? Check. Local shopping? Of course!
A full list of sporting activities, plus spa features to help you relax afterwards makes this the perfect resort visit where you can get in a stunning round of golf too.
---