Victoria Falls surely rates as Africa's most iconic and breathtaking natural phenomenon. It is the world's biggest sheet of falling water and occurs where the mile-wide Zambezi plummets over a huge cliff into the 345-foot/105-meter deep Batoka gorge along the Zambia–Zimbabwe border. 
Its local name, Mosi-oa-Tunya, 'the Smoke that Thunders', refers to the massive 1,640-foot-high rainbow-creating spray the Falls generate as millions of gallons of water per minute thunders into the gorge. And it's an awesome spectacle from whichever vantage point you view it – from the Knife Edge bridge, the depths of the gorge below, or from a helicopter or plane!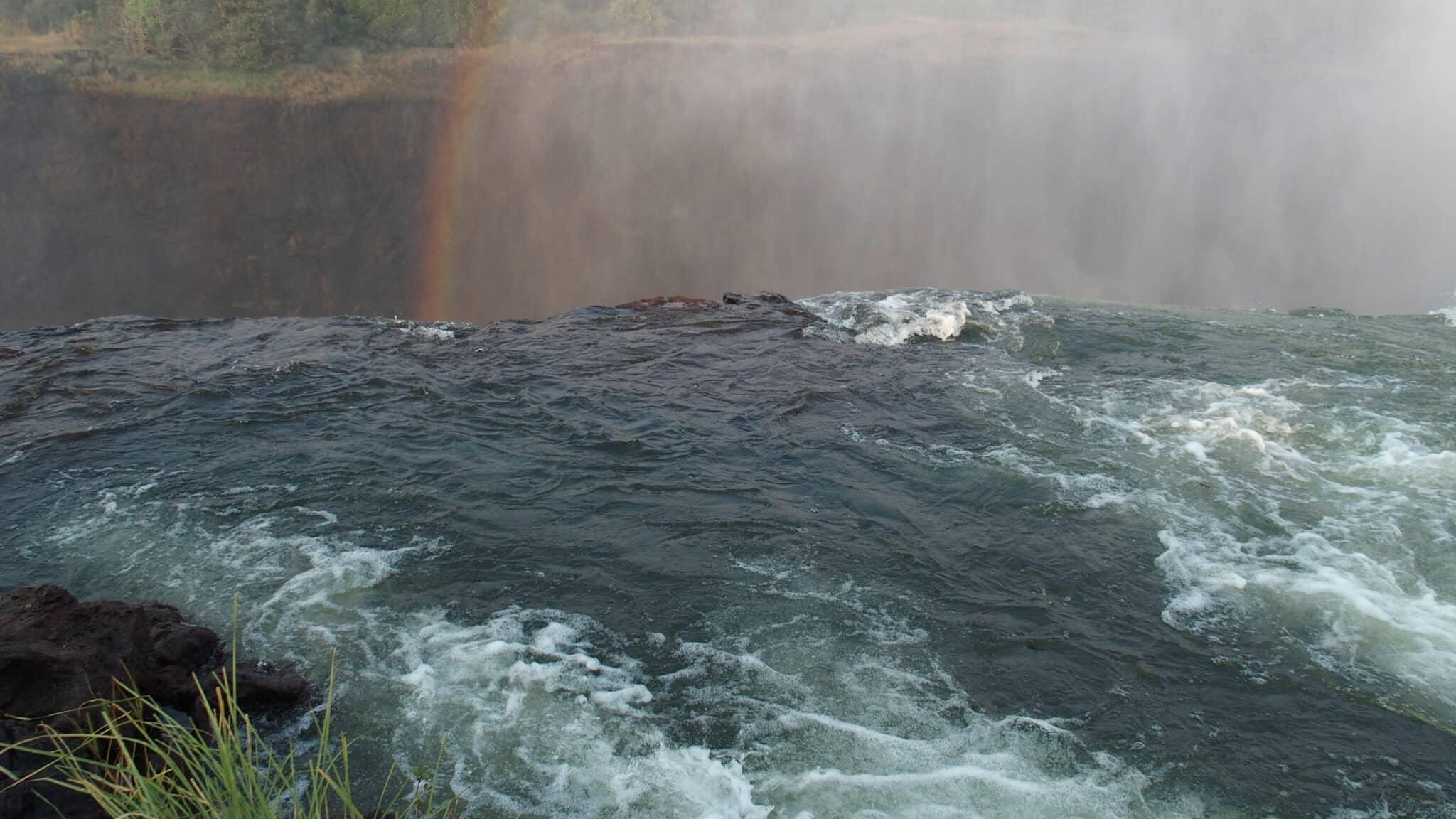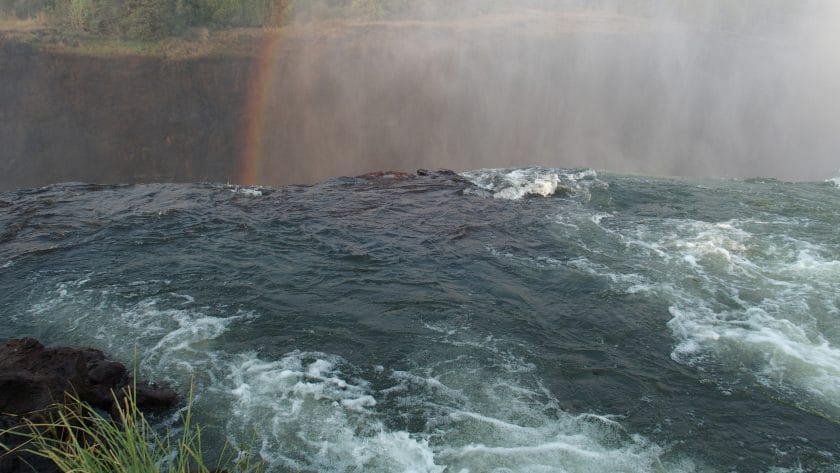 However, if you're looking for a literally immersive and pretty heart-stopping (almost!) experience, you simply must have a dip in Devil's Pool right on the edge of the precipice. By some inexplicable combination of factors this 3-meter-deep pool is completely calm though it's separated from the thunderous white water crashing over the cliff by only a very narrow rock ledge.
In this post, we'll provide answers to the most commonly asked questions we receive about this unique experience. 
What is Devil's Pool?
Devil's Pool is a natural phenomenon that's been created by millions of years of erosion as the swirling waters of the mighty Zambezi have carved out rock pools right near the edge of the rockface. It's assuredly the world's ultimate infinity pool! 
The view and ambiance are utterly unique and uniquely spectacular complete with rainbows built in. To reach it you need to wade across the rocks and do a swim in the Zambezi to reach the pool. Or you can just jump off the rocks right into it.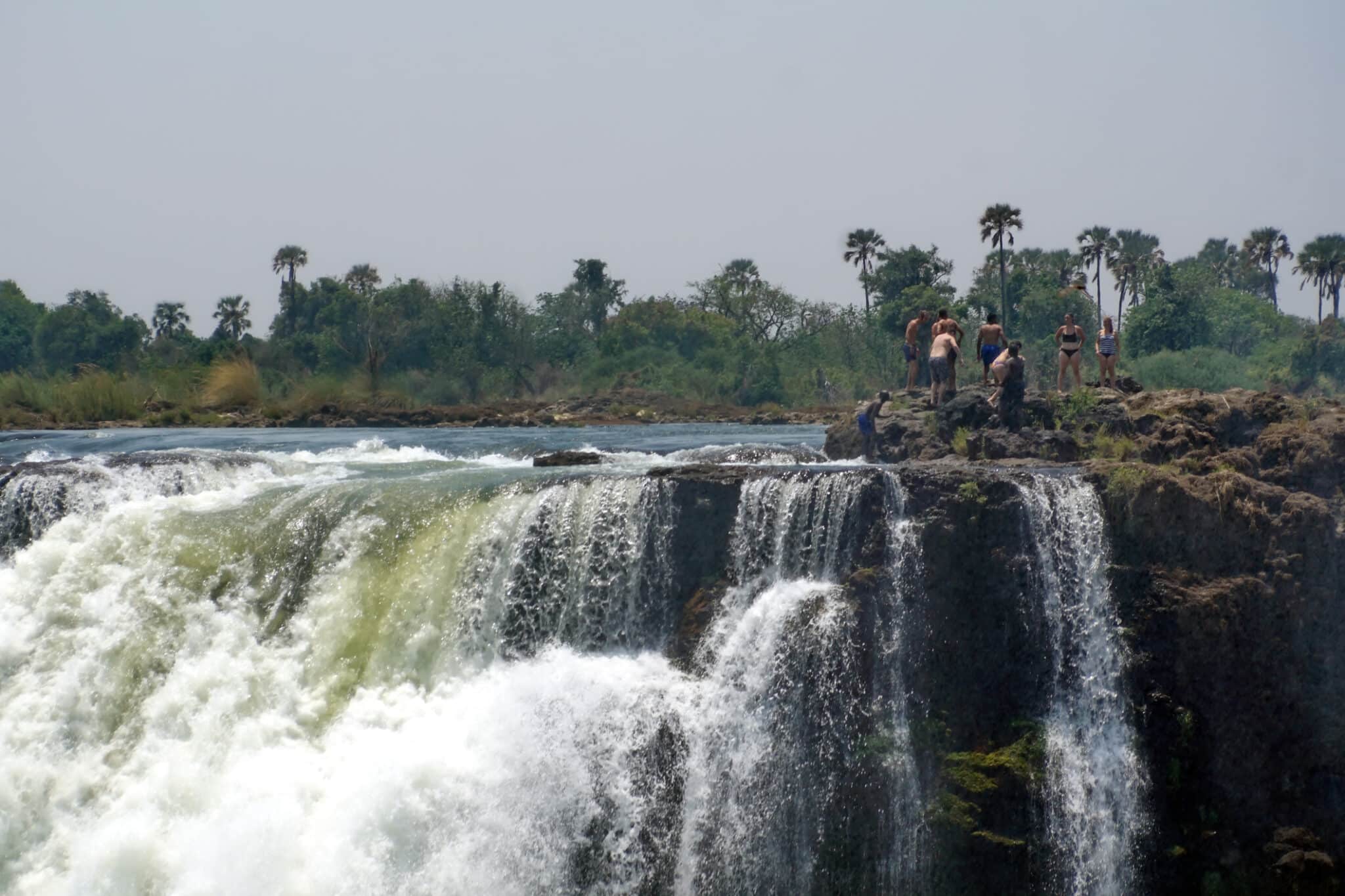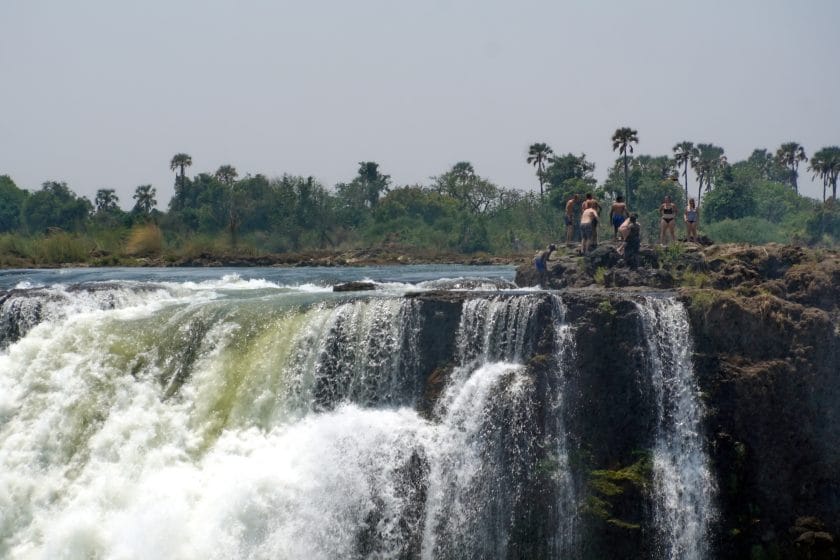 But you won't be allowed to do it on your own! As a safety measure, you are only allowed to do it under the guidance of the Tongabezi tour guides as part of a tour package. Tours are only allowed when the river is quite low from August to December. When the Zambezi is high, Devil's Pool is closed as it is too dangerous. 
 

Where is Devil's Pool located?

Devil's Pool is situated in the Zambezi River on the Zambian side of Victoria Falls. It lies close to the midpoint of the mile-wide waterfall and is close to the famous Livingstone Island. It is only accessible by taking a guided boat tour offered by Tongabezi Safaris. 
Do you have to be fit to reach Devil's Pool?
No, you don't have to be, but it is better if you are a reasonable swimmer. You can then take a short swim upstream from Livingstone Island and then head downstream into Devil's Pool itself.
However, if you're not a good swimmer you can wade waist-deep across from Livingstone Island to the Pool. If that sounds a bit scary, don't worry! The experienced Tongabezi guides will tell you exactly what to do and give you a hand if necessary. Even non-swimmers can wade across to the Pool with the help and instruction of the guides. 
 

Which are the best months to visit Devil's Pool?

You can only gain access to Devil's Pool as part of a Tongabezi boat tour to Livingstone Island, and these only run from June to December. The tours include the option of a dip in Devil's Pool, but only if the river is low enough to do so safely.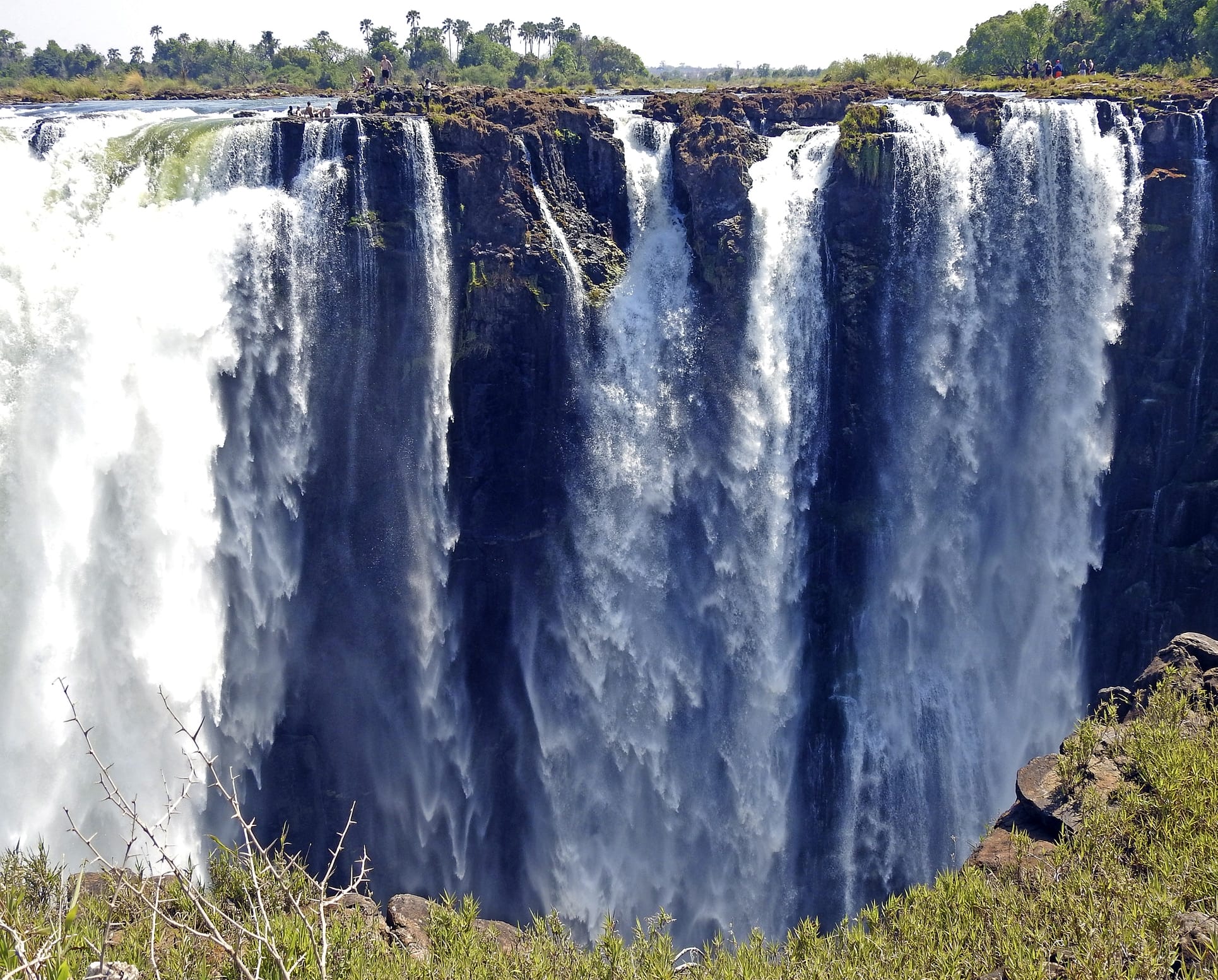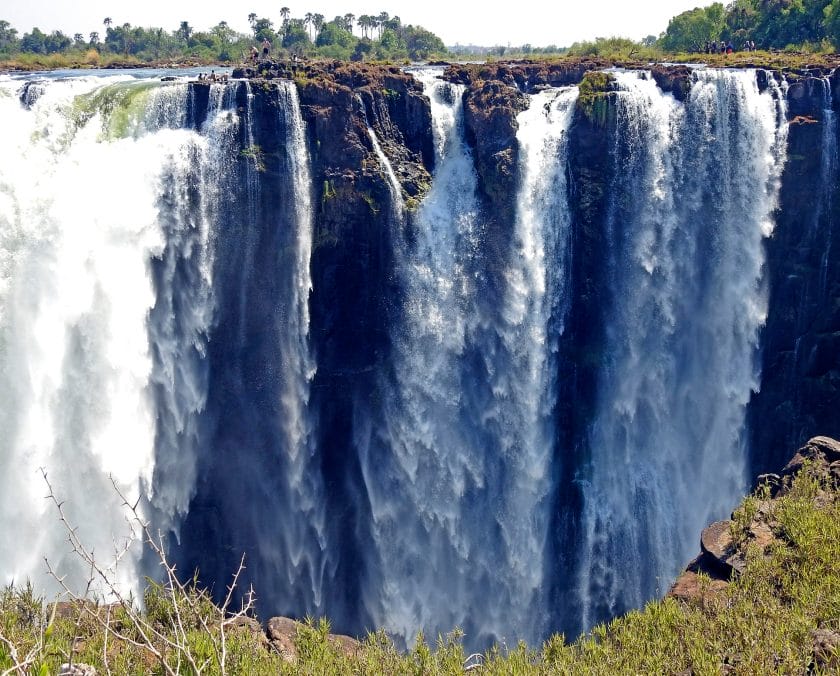 In practice, this means you can basically only do so from mid-August to end-December, with the best months actually being October and November. Note, though, that the flow of the Zambezi is seasonal and can vary greatly from year to year depending on rainfall, and this will obviously affect the accessibility to Devil's Pool.
Is it safe to visit Devil's Pool?
Yes, it is safe if you're sensible and practice common sense. Though minor mishaps have happened on the slippery rocks, no fatalities have occurred on any organized tour to the best of our knowledge.
There is little risk of being swept over the Falls if you stay in Devil's Pool and don't do anything silly. Swimming and wading across to the Pool are also safe provided you listen to your guide. Your guides will also check that there are no hippos or crocs lurking before they let you into the water!  
 

Has anyone died at Devil's Pool by being swept over the edge?

No, as far as we know nobody has ever been swept to their death at Devil's Pool. The incident in 2009, where a South African tour guide died when he was trying to rescue a client who'd slipped, happened further up the river and not at Devil's Pool as first reported.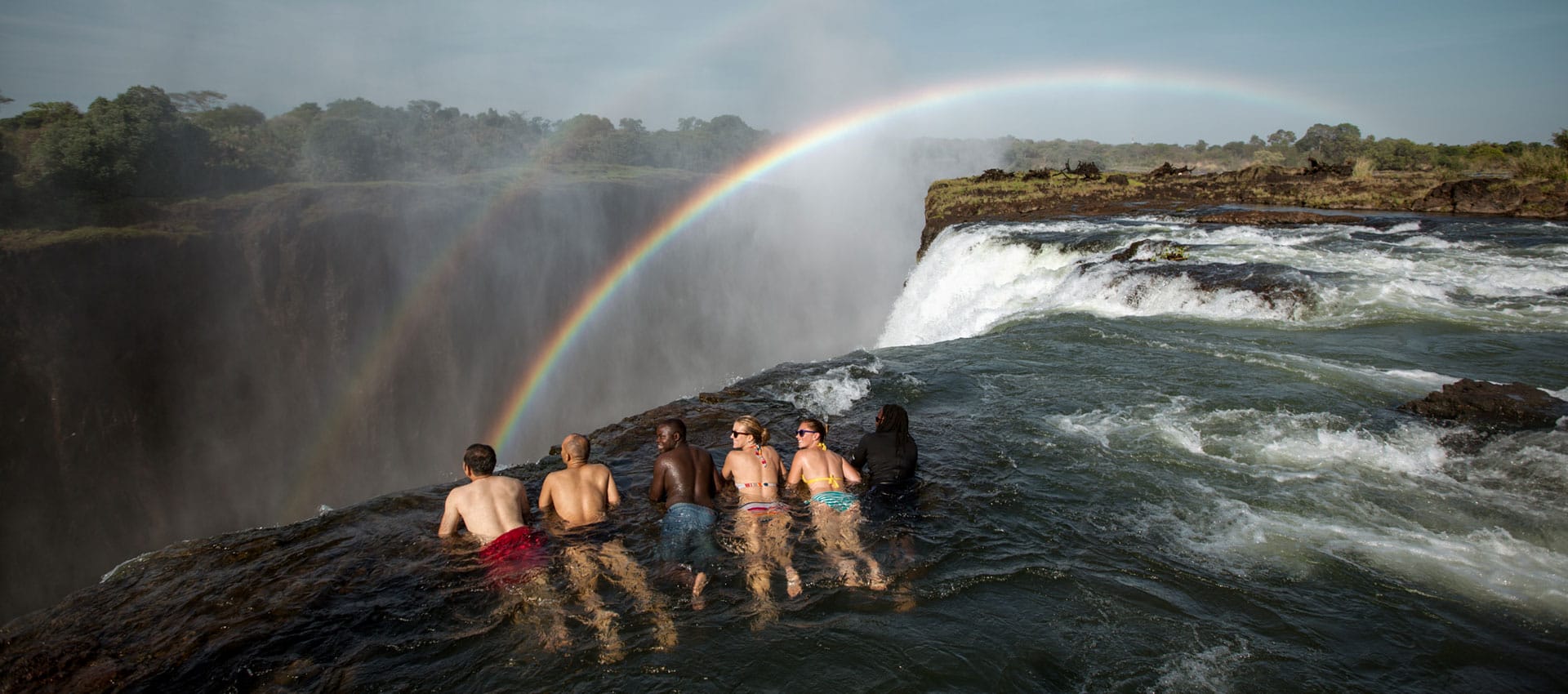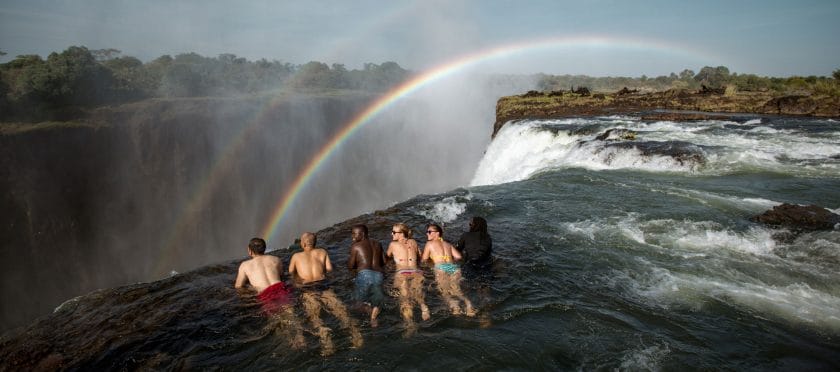 No similar incidents have occurred since Tongabezi Safaris have controlled all access to Devil's Pool. In fact, to our best knowledge, nobody has ever died for whatever reason at Devil's Pool. However, the same can't be said for its Australian namesake in Babinda Creek in Queensland, alas!
What else is there to do and see at Devil's Pool?
On the boat trip to Livingstone Island, you'll cruise along an unspoiled stretch of the Zambezi River lined by lush forests with plenty of wildlife. Most notable, of course, are crocodiles, hippos, and a wealth of birdlife like the iconic African fish eagle, several heron species, waders, egrets, and other aquatic birds. Elephants and other animals like buffalos and antelope species like waterbuck and reedbuck are often seen drinking. 
As its name tells you, Livingstone Island was named after the famous Scottish explorer, David Livingstone. There is even a plaque commemorating the exact place where Livingstone stood in 1855 that he referred to in his diary as so spectacular that it surely must have been "gazed upon by angels in their flight"!
 

Which is the best time of day to go to Devil's Pool?

Devil's Pool can only be accessed as part of a Tongabezi boat trip, and there are five of these per day from June to December. The morning "Livingstone Breezer" tours leave at 7:30 AM, 9 AM and 10:30 AM, and are an hour and a half long.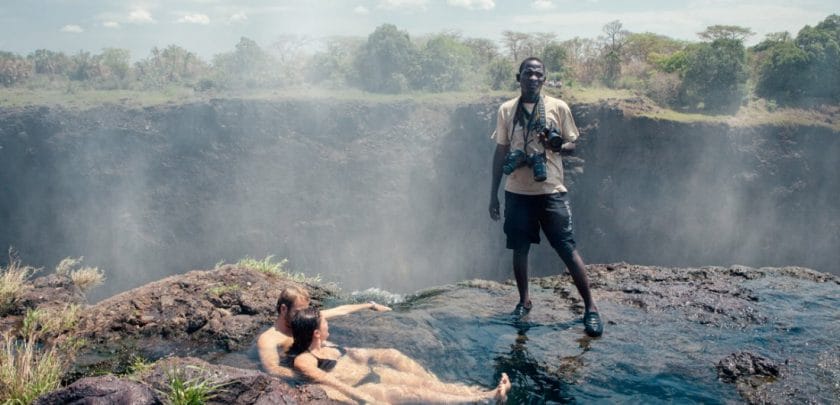 After 12 there are further two tours leaving at 12:30 PM and 3:30 PM respectively, and they are two hours long. As it is nicer to swim during the hottest part of the day, the 9 AM, 10:30 AM and 12:30 PM tours are probably your best bets. However, photographers love the early morning and late afternoon light!
How much does it cost to visit Devil's Pool?
The 1.5-hour morning "Livingstone Breezer" tours are US$115 per person, including some light refreshments, the "Lunch Tours" are US$180 per person, and the afternoon "High Tea" tours are charged at US$155 per person. (Please note these prices are, of course, subject to change.)
Can Devil's Pool be visited from the Zim side of Victoria Falls?
Absolutely! Any hotel or tour operator on the Zimbabwe side of the Falls can make a booking for you on a Livingstone Island and Devil's Pool tour. It's advisable, though, to make transport arrangements to get you to the launch point in Zambia.
You will also most likely need a visa to get into Zambia, which you can arrange at the border. However, there is a fee attached to it, so allow for that, and also allow yourself enough time at the border to do so. And don't forget your passport, of course!  
 

What should I wear and take along when I visit Devil's Pool?

All the guided tours to Livingstone Island and Devil's Pool come inclusive with a meal and drinks, as well as a towel. You do need to take your own clothes, but nothing fancy is required – comfortable pants or shorts, a T-shirt, flip-flops or casual shoes are fine.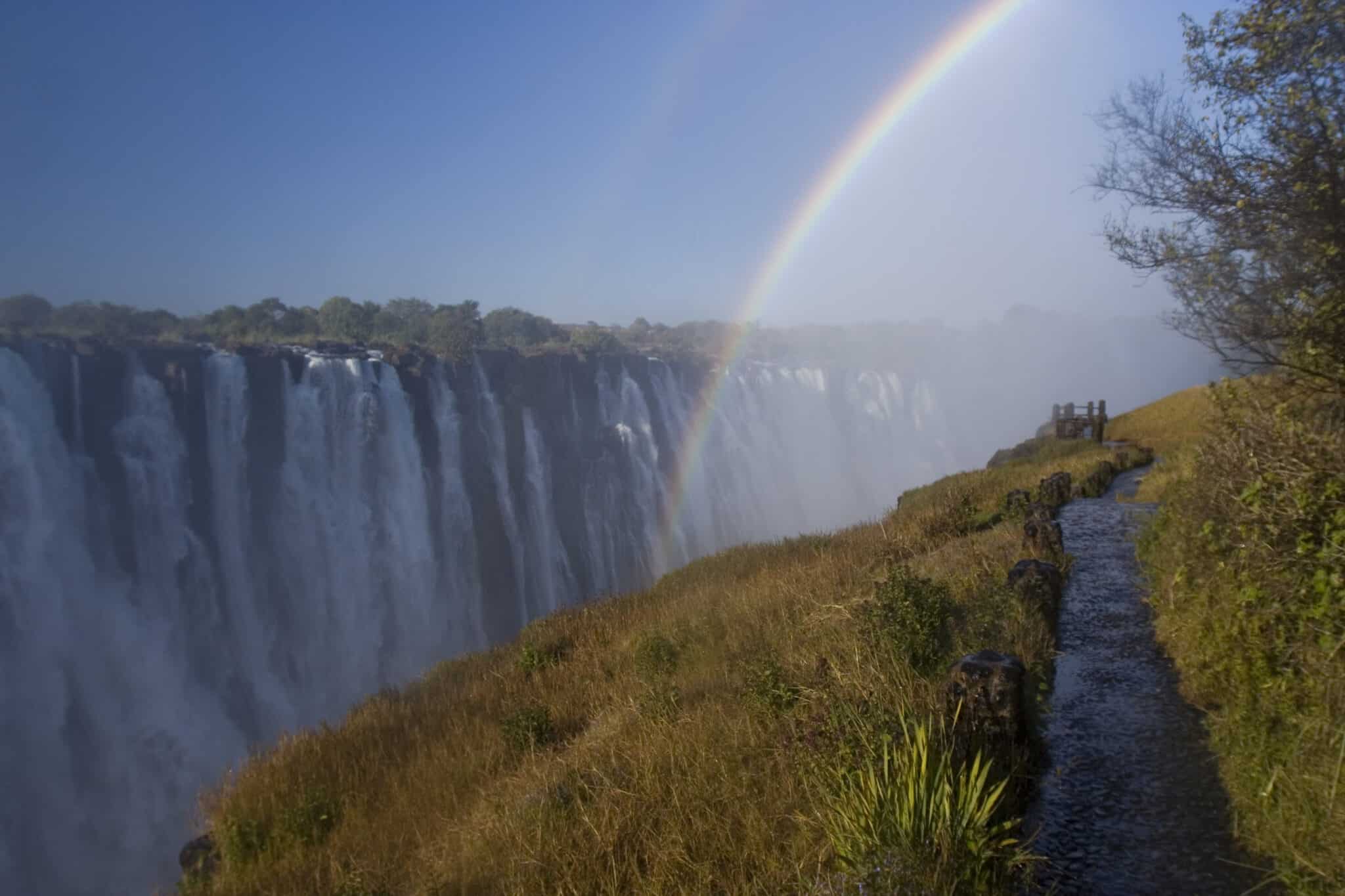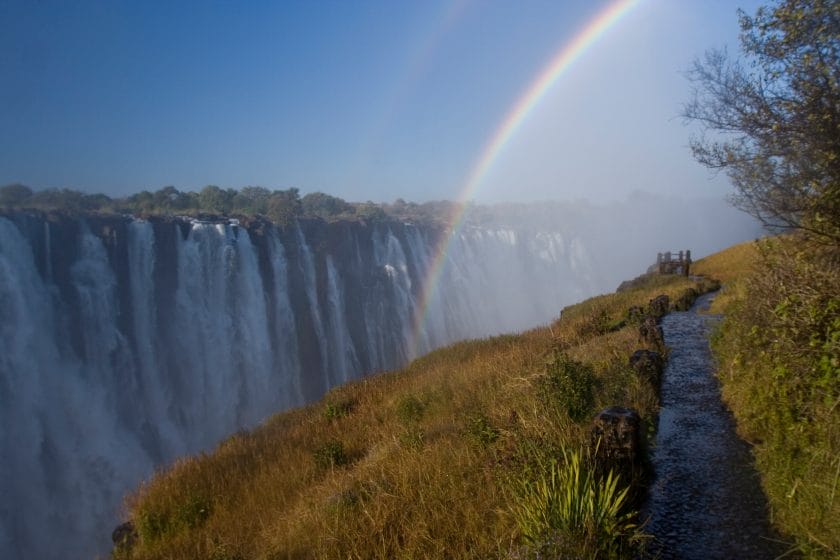 However, don't forget your swimming gear, sunglasses, a good sunblock, and a proper sunhat. And you might want to take along your camera or binoculars, of course.  
Are there any age limits to visiting Devil's Pool?
Yes, indeed there are. Adults of all ages are eligible for a tour of Livingstone Island, but children have to be eight or older. No children younger than 12 will be permitted to swim in Devil's Pool.
Can't wait for a dice with Devil's Pool combined with the African safari of a lifetime? Then check out our many fantastic and exciting Victoria Falls Safaris!