The Masai Mara, Kenya's 'flagship' conservation area, is justifiably renowned as a premier safari destination. It is the ancestral land of the Masai people who live there and offers its visitors a wealth of activities and attractions. It is witness to one of Mother Nature's greatest spectacles – the extraordinary annual Wildebeest Migration from late July to early November.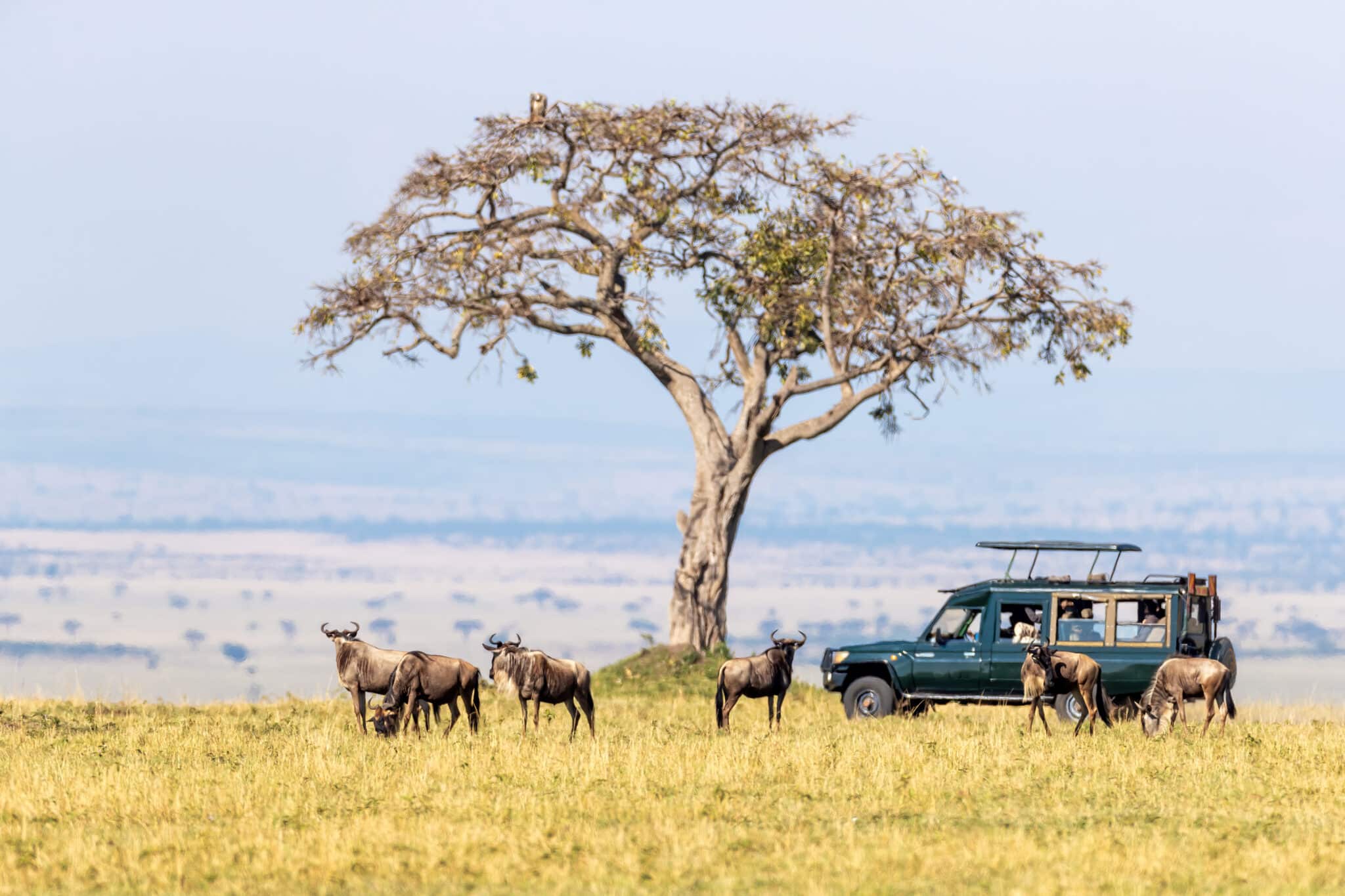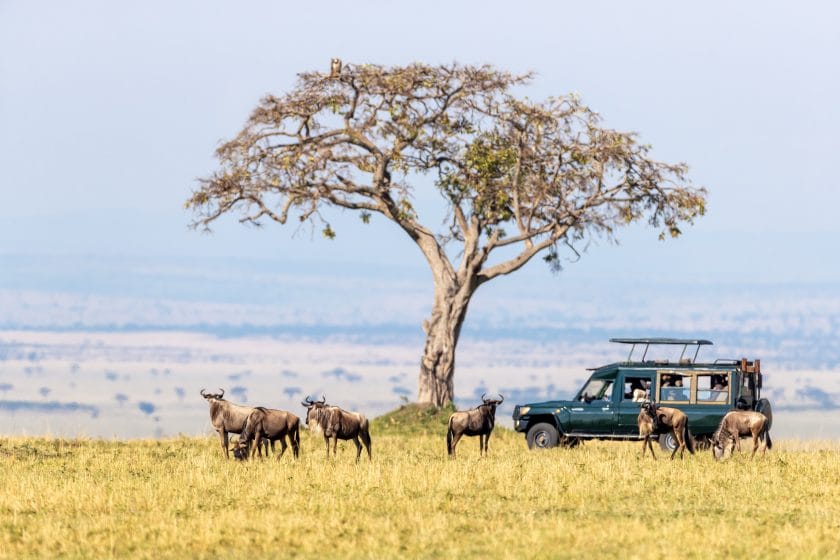 The Mara has superlative year-round wildlife viewing, and visitors can also enjoy authentic interaction with the local Masai people. The area has a wide selection of splendid lodges, tented camps, and hotels to accommodate its visitors whether they be couples, honeymooners, or families. 
About the Masai Mara
The Masai Mara National Reserve is a conservation area in the southwest of Kenya, where it adjoins Tanzania. The Reserve consists of wide valleys, rolling grasslands and escarpments and has a semi-arid climate. Its diverse vegetation includes some riverine forest along the Mara, Talek, and Sand rivers, savannahs, non-deciduous scrub land and acacia thickets. 
Its selection of wildlife is extraordinary with close to 90 mammal species, i.e. lion, leopard, cheetah, wild dogs, hyenas, jackals, elephants, hippos, crocodiles, giraffes and a wide and diverse antelope population. More than 470 bird species have been recorded!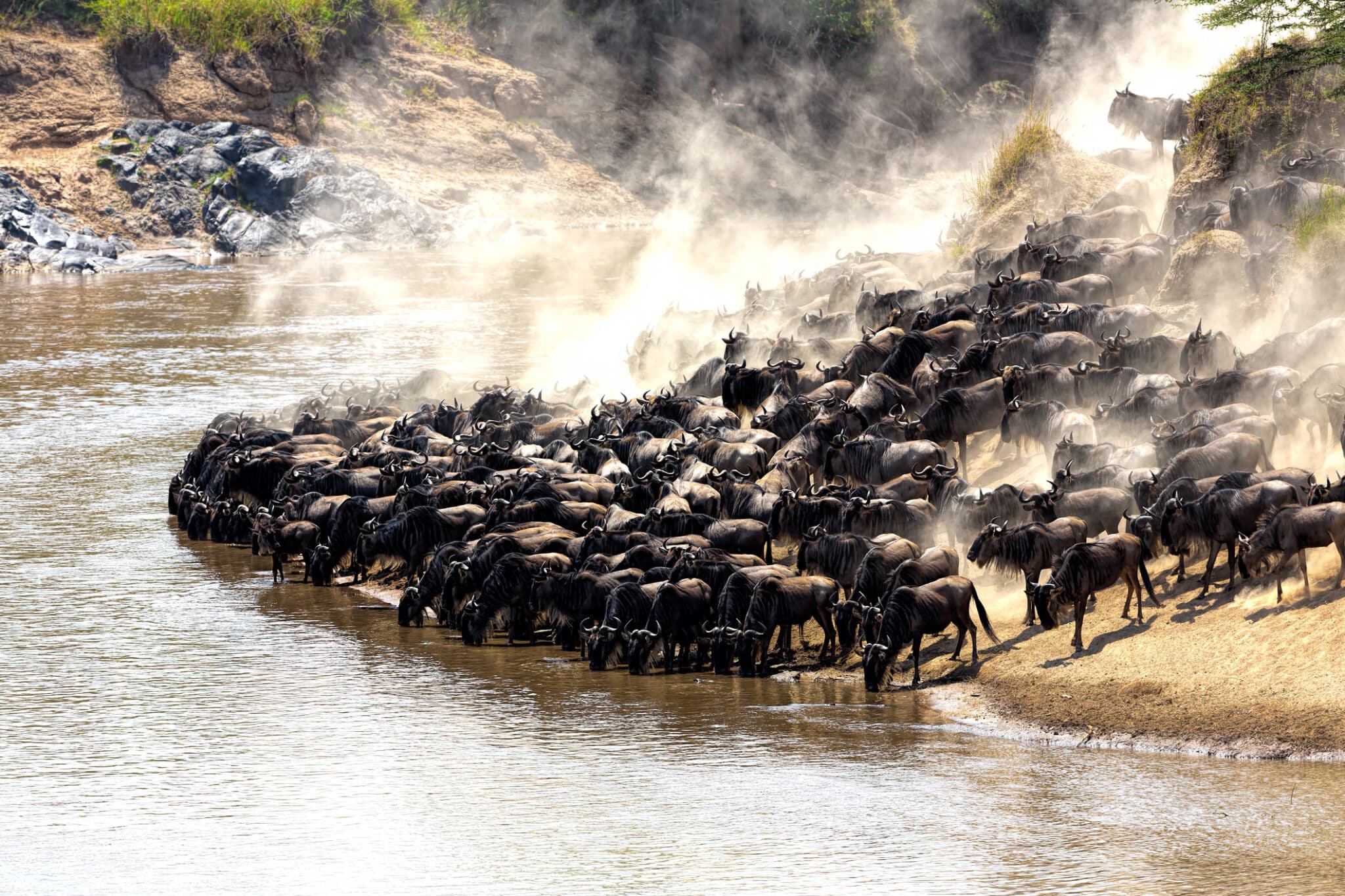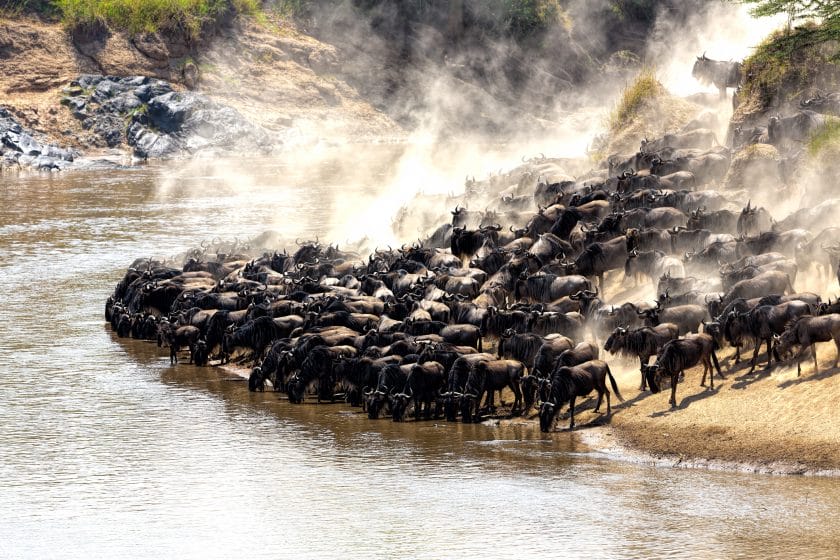 And the activities and amenities! Superb accommodation, cuisine, service, gyms, spas, saunas, game drives, guided bushwalks, walking safaris, bird watching, microlight flights, hot air balloon safaris – the impressive list simply goes on and on! And of course, yes, there is the Great Wildebeest Migration as well with all the drama and predator/prey interaction that provides.  
Now let's look at some of the best ways and places for you to enjoy the marvelous Mara to the full!
Accommodation: Angama Mara
Located high on the Mara Triangle escarpment, the romantic, luxurious, and elegant Angama Mara Safari Lodge is seemingly suspended in the air as its name suggests, with stunning views that the floor-to-ceiling windows and decks maximize to perfection.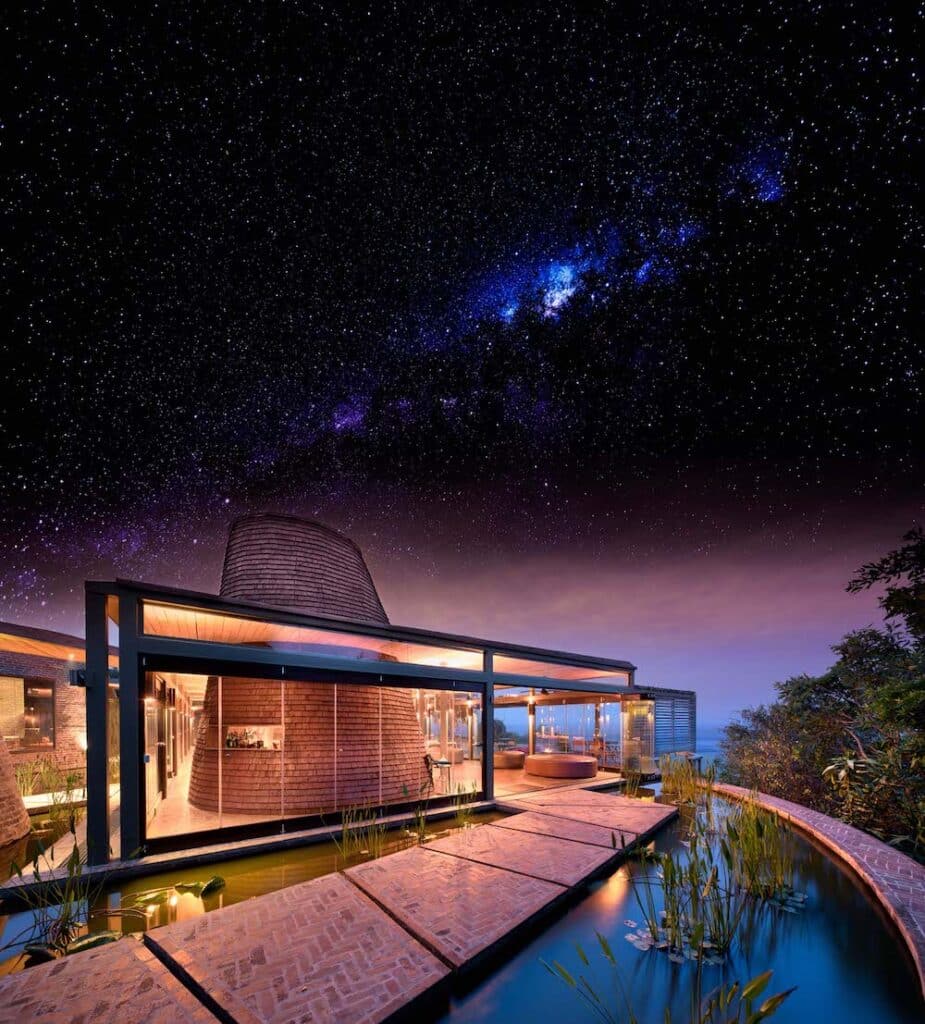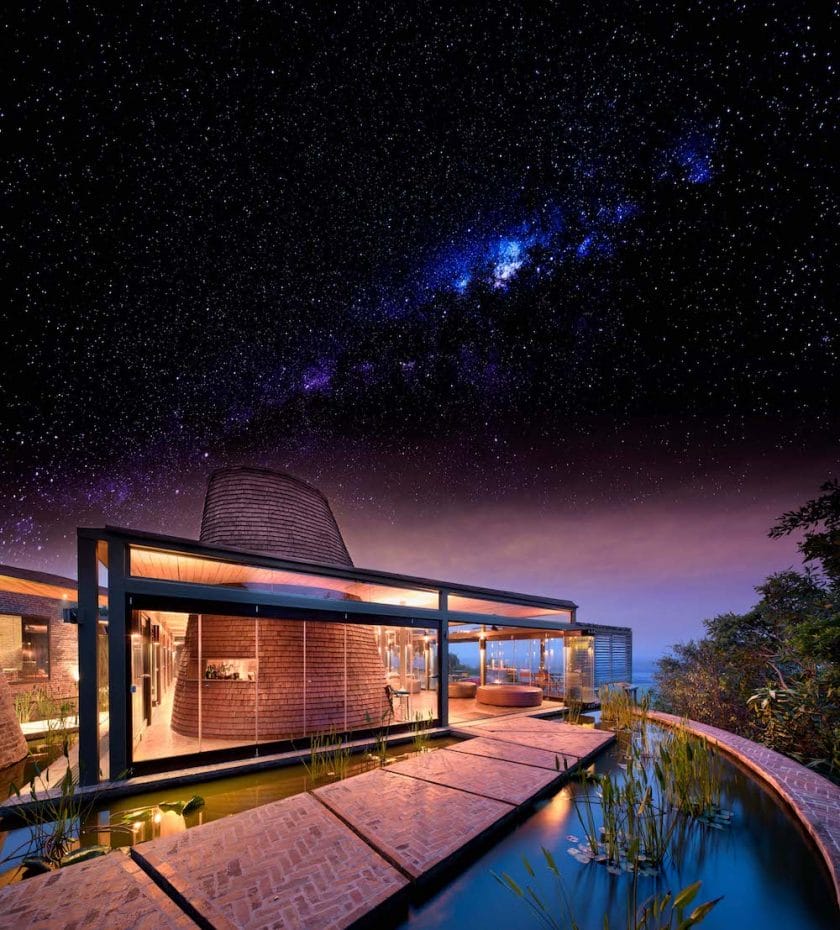 Only 20 minutes from a wildebeest river crossing 'hotspot', it has a photography studio, swimming pool, wellness center and luxury spa. Ideal for honeymooners and couples!
Accommodation: Cottar's 1920s Camp
Ideally placed to see the wildebeest migration, Cottar's 1920s Camp evokes the golden age of romantic luxury safaris with a vintage wood-paneled safari vehicle, authentic white canvas ensuite tents and a private butler.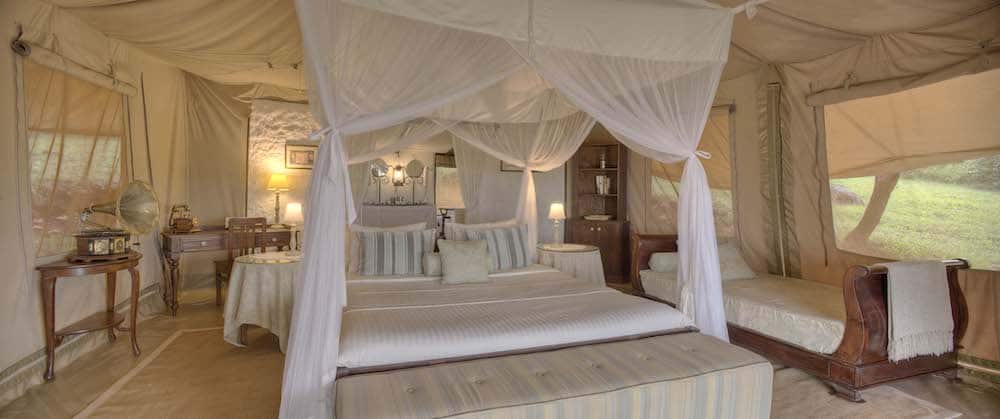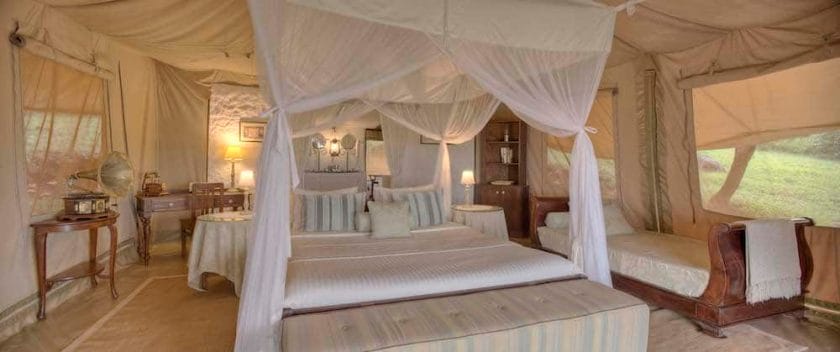 Guests enjoy superlative food, game drives, guided walking safaris, fishing, free wi-fi and in-suite spa treatments. The wildlife viewing is superb all year round and predator sightings are common. 
Safari Tour: Masai Mara Safari Adventure
Your 6-day Masai Mara Safari Adventure starts in Kenya's vibrant capital, Nairobi, with its café culture, lively nightlife and excellent museums. You'll overnight at the upmarket Ole-Sereni Hotel – with gazelles, zebras, ostriches and giraffes grazing right outside your window!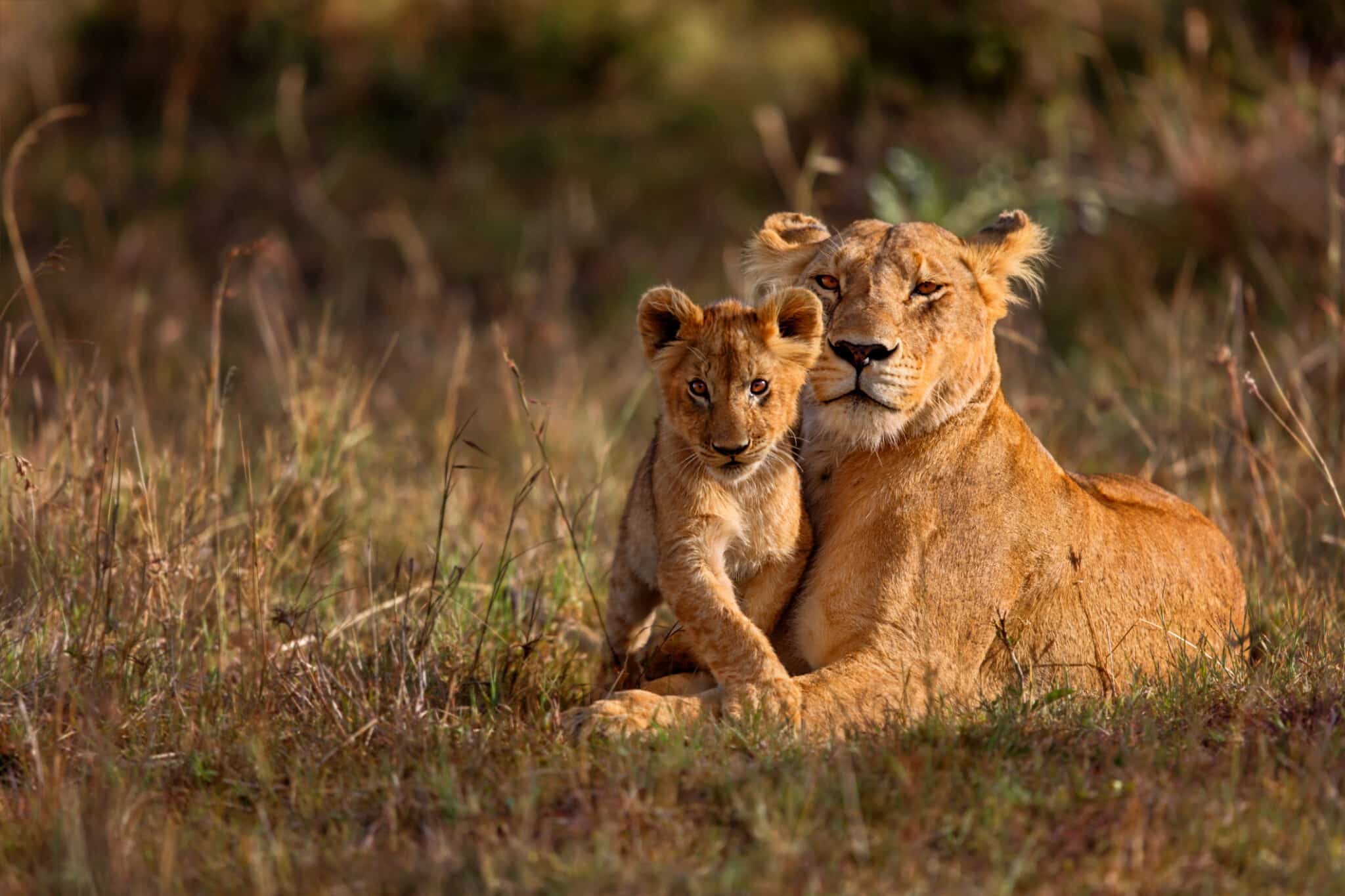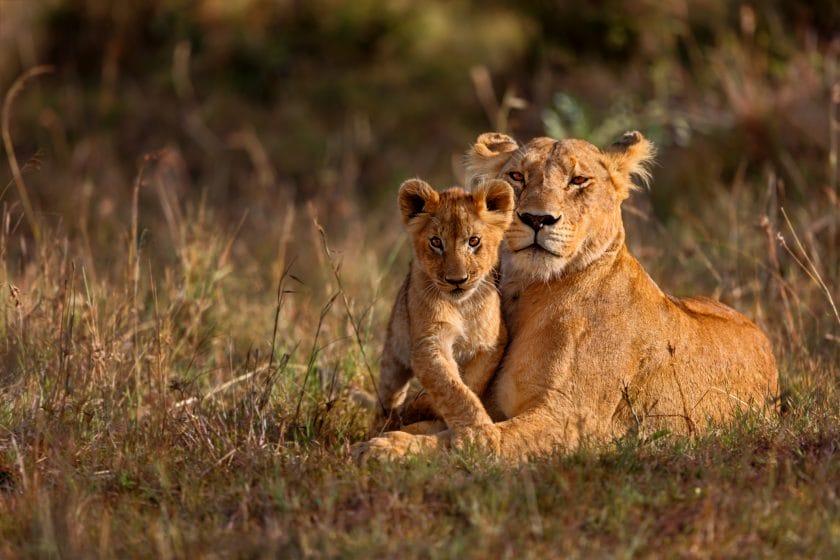 The next day we'll fly you to the Masai Mara and the superb andBeyond Kichwa Tembo Tented Camp. It nestles in a grove of towering trees on the banks of the Sand River right on the edge of the spectacular Oloololo escarpment. Your luxury suite has huge windows and a private viewing deck that draws fantastic views right into your spacious living area. Sumptuous communal lounges and dining areas, superb cuisine, a well-stocked wine cellar, a personal butler, a rim-flow swimming pool and activities like hot-air ballooning and game drives ensure an unforgettable experience. 
Known as the 'kingdom of lions', lion sightings are plentiful, and cheetahs, hyenas, and endangered wild dogs are often seen as well. 
Accommodation: Elephant Pepper Camp
Elephant Pepper Camp offers a complete immersion in the African bush in the protected Mara North wilderness. International cuisine, excellent wines, personalized service and blissful comfort define this exclusive camp.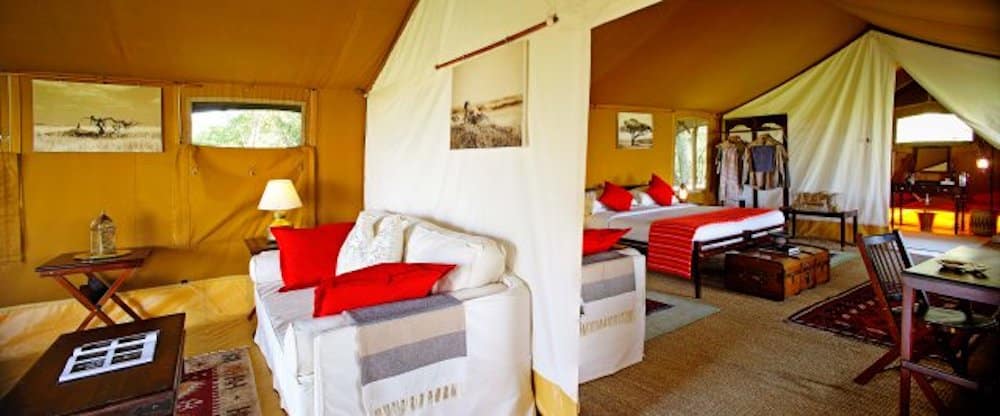 Deluxe ensuite tents ensure unrivaled views and you'll love gathering around the campfire at night. Extended game drives in upmarket 4×4 game drive vehicles will maximize your game viewing.
Accommodation: Governors' Il Moran Camp
Unfenced and secluded in a riverine forest, Governors' Il Moran Camp enjoys a serene and beautiful setting. Hippos loll in the river and elephants stroll through camp! Each spacious, luxurious tent is en suite and has a large verandah to maximize the remarkable views.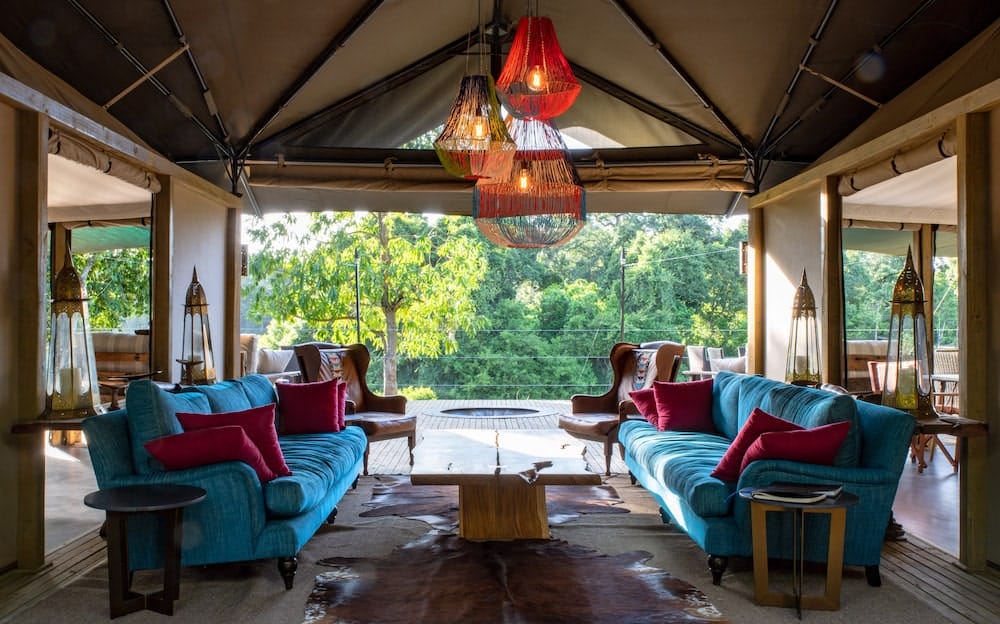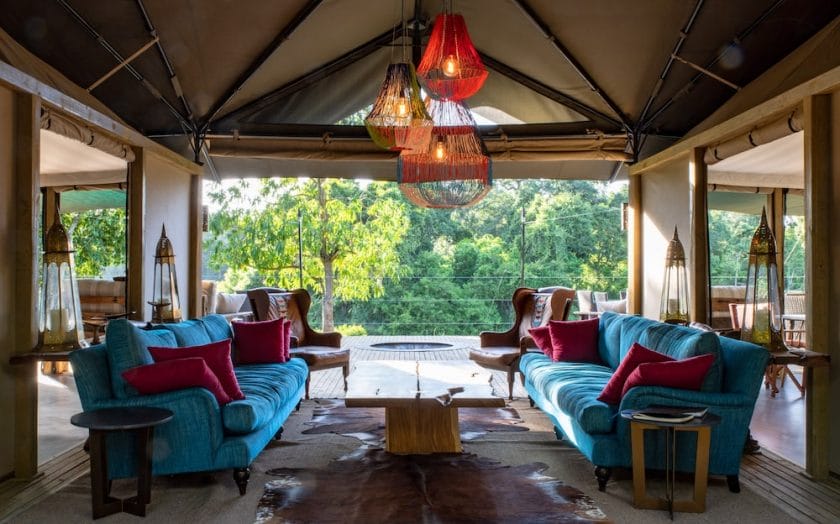 The inviting lounge and dining area on the riverfront ensure you enjoy the delectable cuisine our chefs prepare to the utmost.
Safari Tour: Masai Mara Wildlife Discovery Safari
This 10-day journey will ensure you enjoy a superlative Masai Mara experience! It starts at the iconic Giraffe Manor where you'll enjoy unprecedented interactions with these beautiful creatures. Yep, they'll 'look in' on you and join you for breakfast!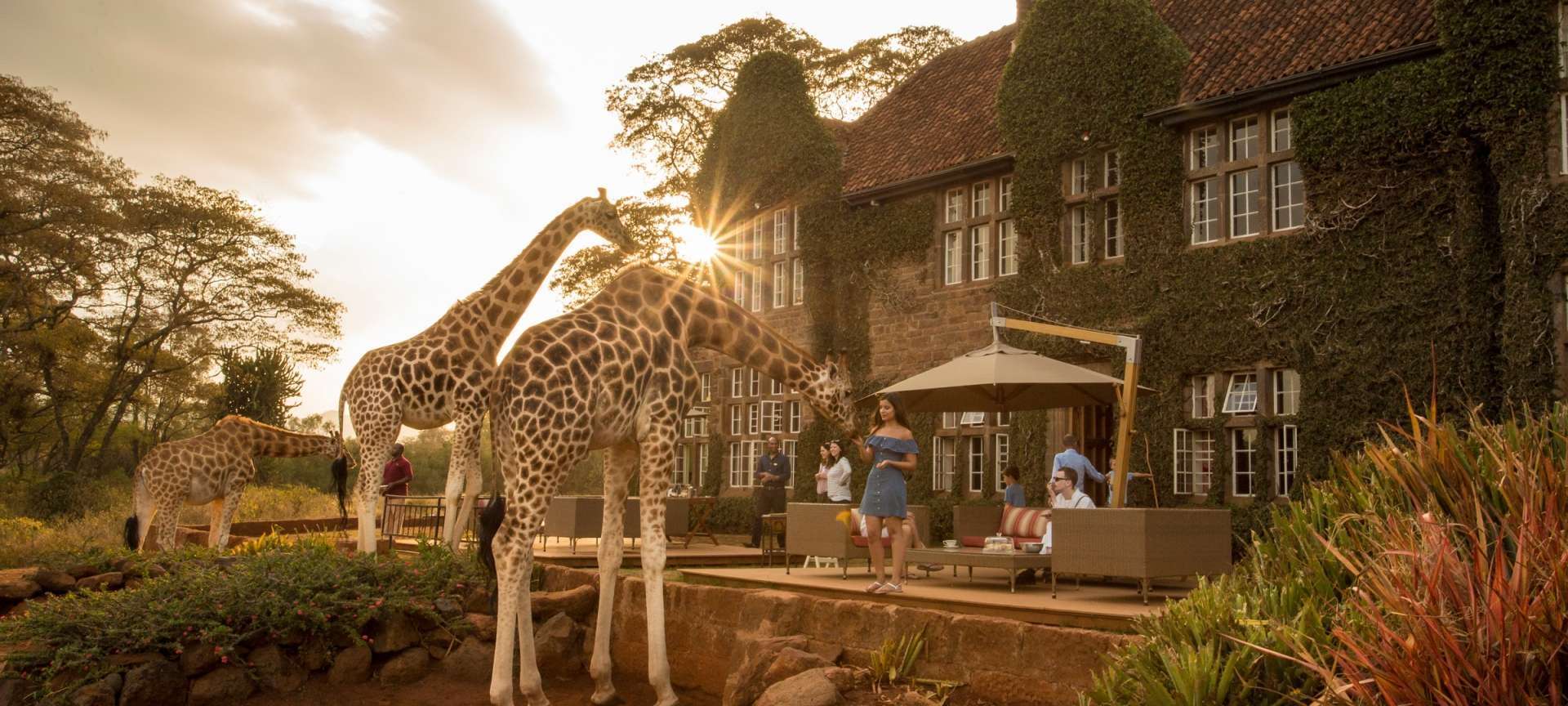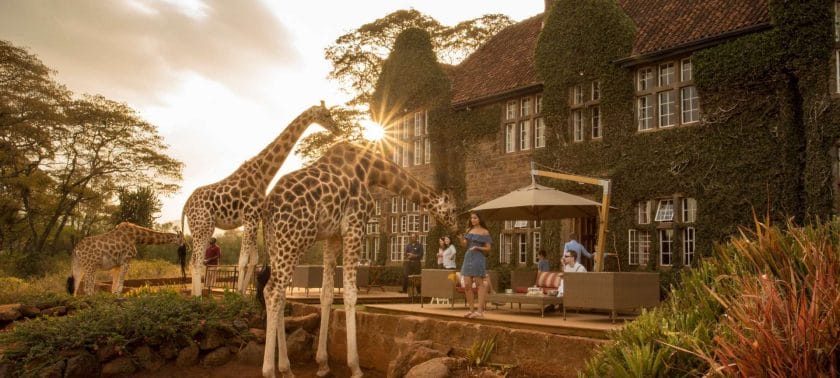 The next eight days you'll spend in the Mara North, Olare Orok and Naboisho Conservancies that absolutely teem with wildlife. You'll stay in remote but superbly comfortable camps, renowned for exceptional food and service, throughout your stay. These include the Rekero Camp from where you'll be able to explore the Paradise Plains and Musiara Swamp of Big Cat Diaries-fame. 
You'll also enjoy the renowned luxury Kicheche Mara Camp and explore the famous Leopard Gorge. Then you'll move to Kicheche Bush Camp in the Olare Motorogi Conservancy. Your final destination will be the Kicheche Valley Camp in Naboisho, a more wooded area with lots of elephants and giraffes. You can even opt for a unique fly-camping experience!
Accommodation: Kichwa Tembo Tented Camp
AndBeyond Kichwa Tembo Tented Camp offers the ultimate game viewing experience! Set where riverine forest meets savannah, it lies slap-bang in the path of the Great Wildebeest Migration ensuring unparalleled sightings.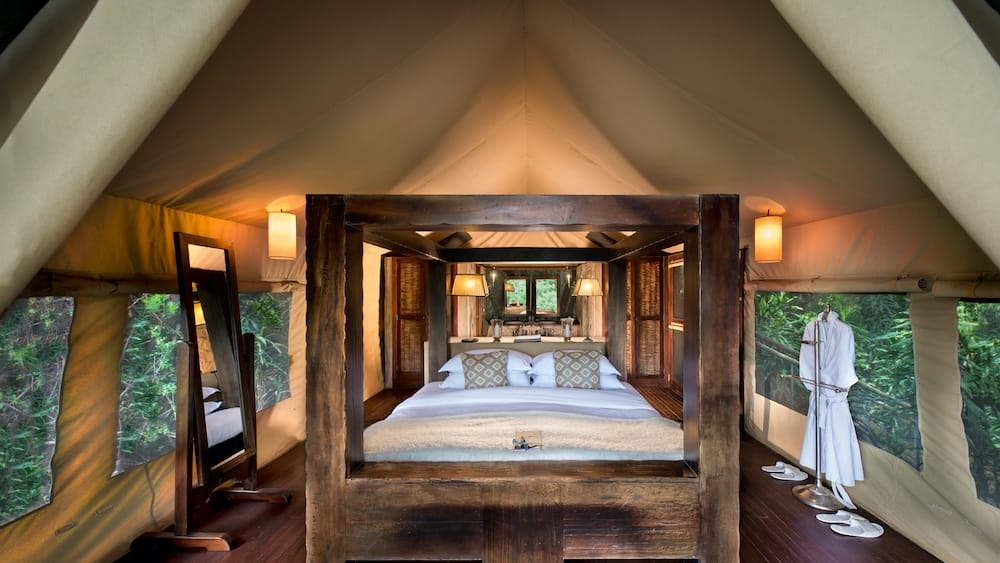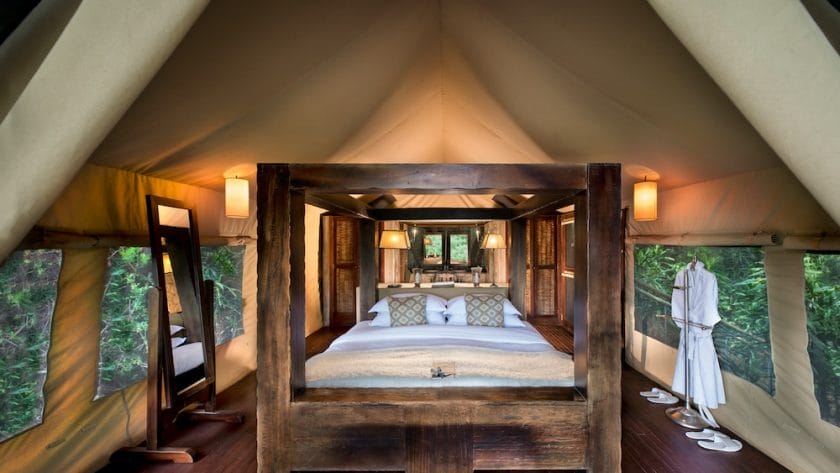 The camp is known for its famous Kenyan hospitality, excellent service, and superb amenities. 
Accommodation: Little Governors' Camp
Luxury Little Governors' Camp can only be reached by boat followed by a walk through the riverine woodland. Resident elephants often visit during lunch and many animals frequent its natural waterhole.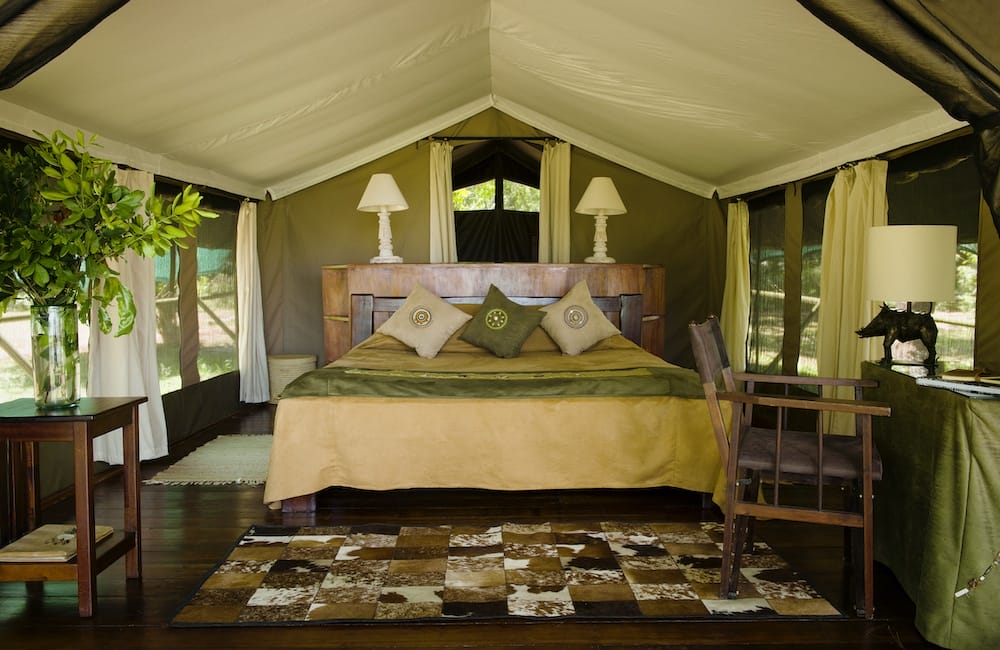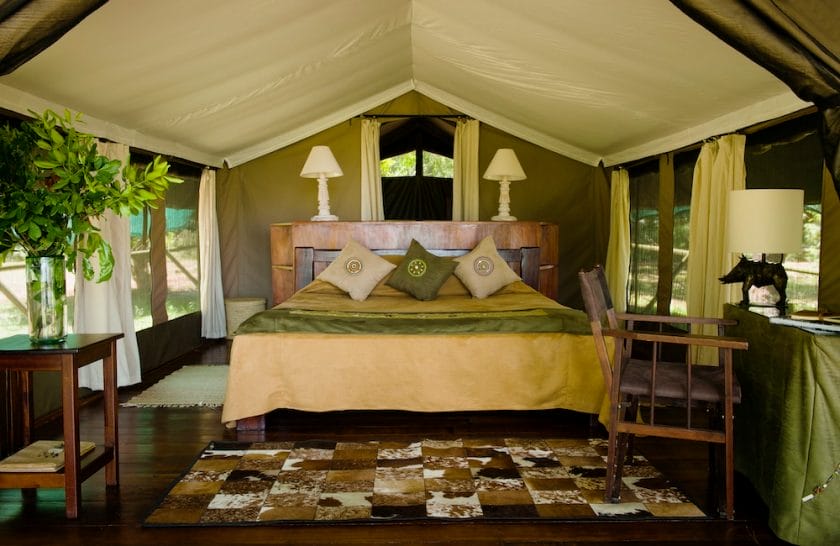 And yes, it has the best seats in the house for the annual Great Wildebeest Migration. You can also follow this in real-time on our Herdtracker app. 
Accommodation: Saruni Mara
Hidden in a secluded valley, Saruni Mara offers luxurious cottages furnished with antiques, Persian carpets and marvelous cedarwood beds. Masai warriors will guide you on bush walks, and relaxing spa treatments will soothe your body and mind.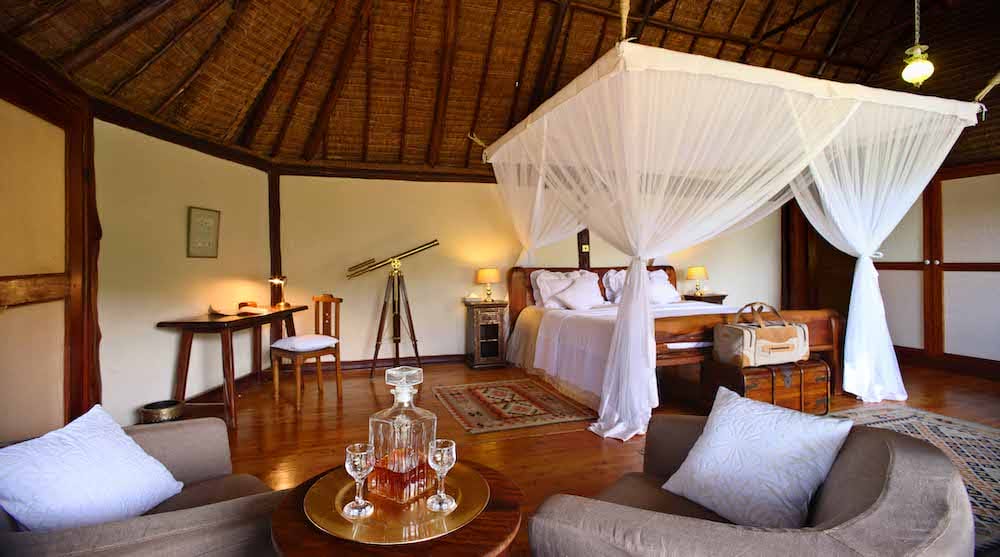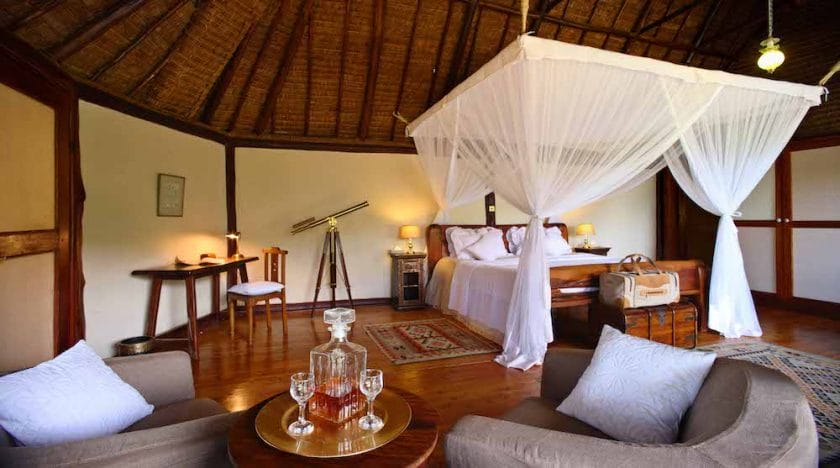 It is an excellent base for a Wildebeest Migration safari, and guests will enjoy game drives to sole-use and exclusive areas.
Safari Tour: Mara and Serengeti Combo Safari
Your 7-day Mara and Serengeti Combo Safari allow you a wonderful week to enjoy the Great Wildebeest Migration!  You'll start your wildlife adventure at the Elephant Pepper Camp taking you into the heart of an African wilderness rich with wildlife, including lions, cheetahs, leopards, as well as endangered black rhinos and wild dogs. Enjoy game drives, guided walking safaris, delicious food and delightful evenings around a campfire.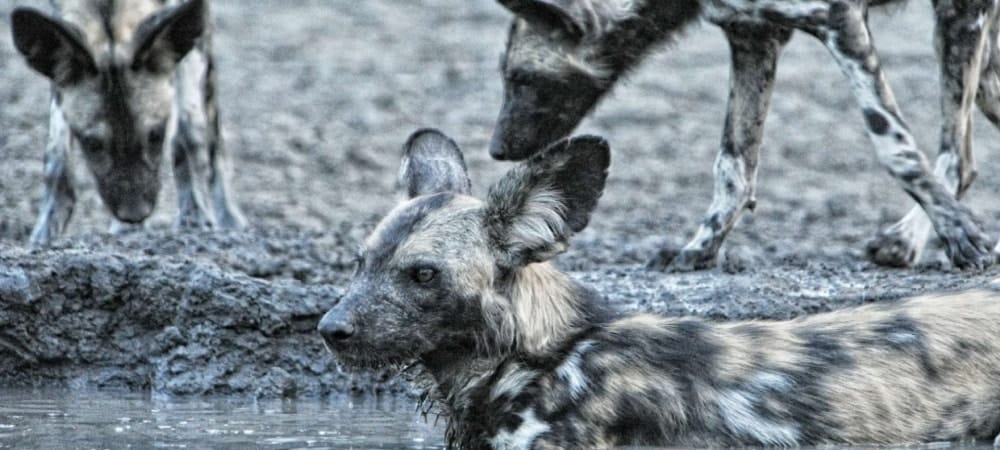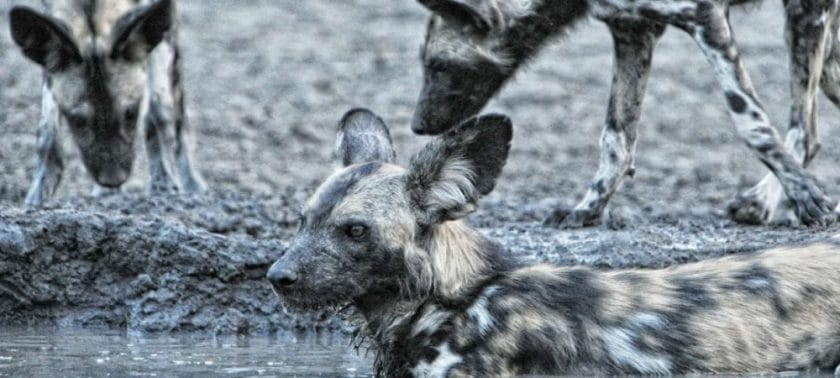 Next, you'll fly to Tanzania's renowned Serengeti and be ensconced at the Elewana Serengeti Migration Camp right next to the famous hippo-inhabited Grumeti River. You'll enjoy roomy luxury tents, game drives, champagne breakfasts, delectable picnics, sundowners, open-air dinners, convivial evenings around the campfire …
Accommodation: Mara Intrepids Camp
Situated on the scenic Talek River, Mara Intrepids Camp has stylishly furnished ensuite tents and gorgeous four-poster beds! It has a terrace complete with bar, lovely riverfront dining areas, and offers al fresco breakfasts, lunches and dinners.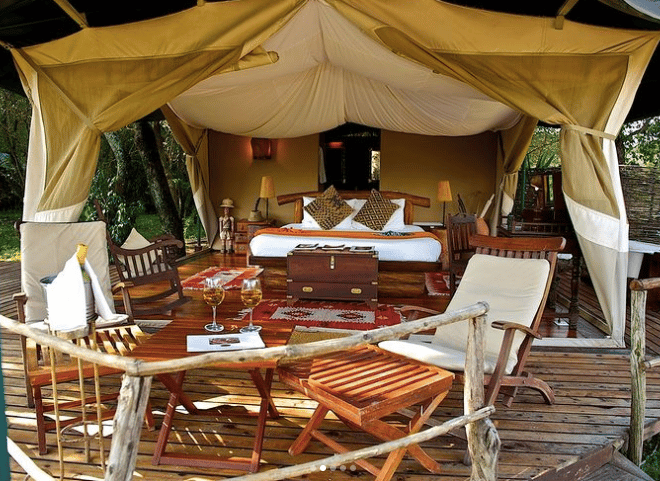 There are three guided daily game drives, and the camp's superb pool is surrounded by tempting loungers. Its library also has board games and there's a safe playground for children. 
Accommodation: Naboisho Camp
In a conservancy renowned for its conservation and community involvement,  Naboisho Camp offers a rare look at the diverse Serengeti-Mara ecosystem.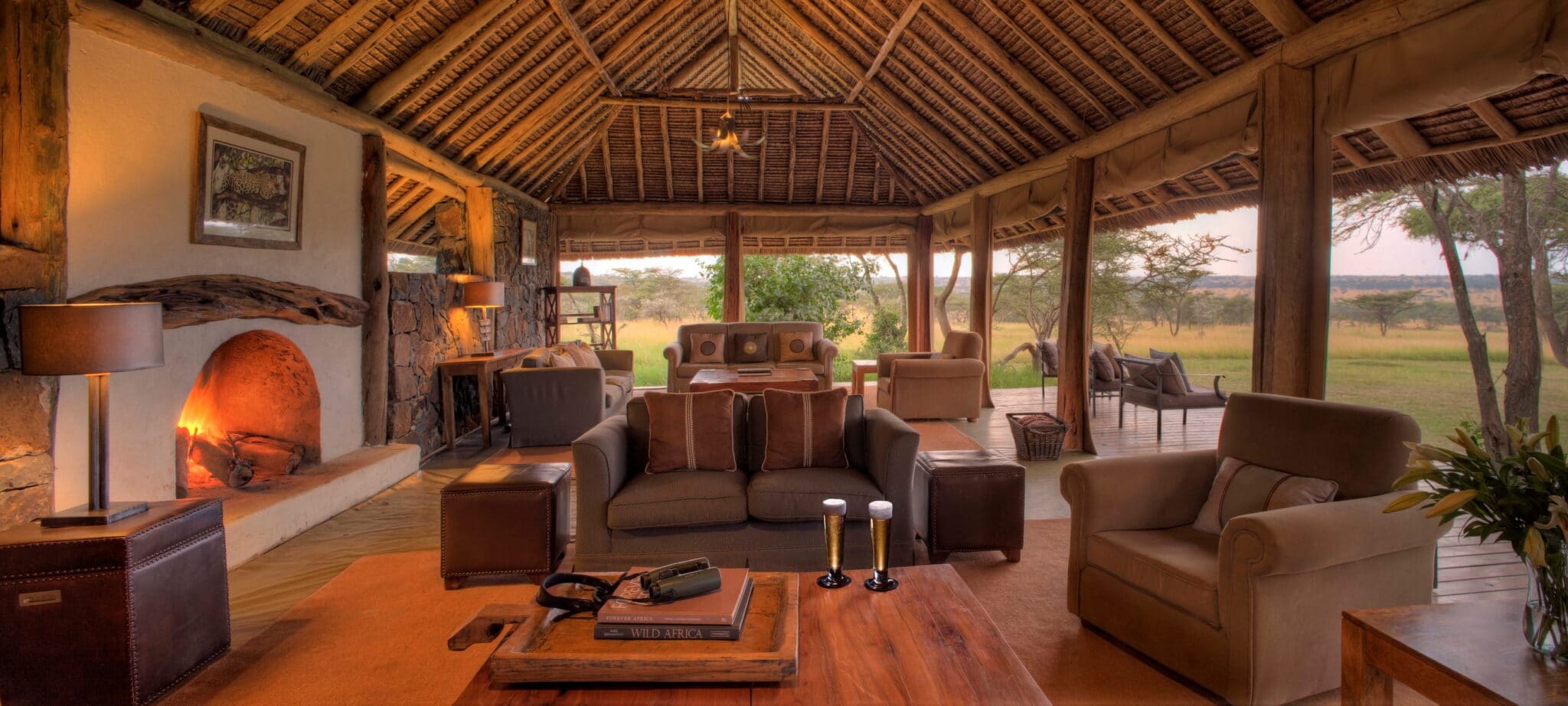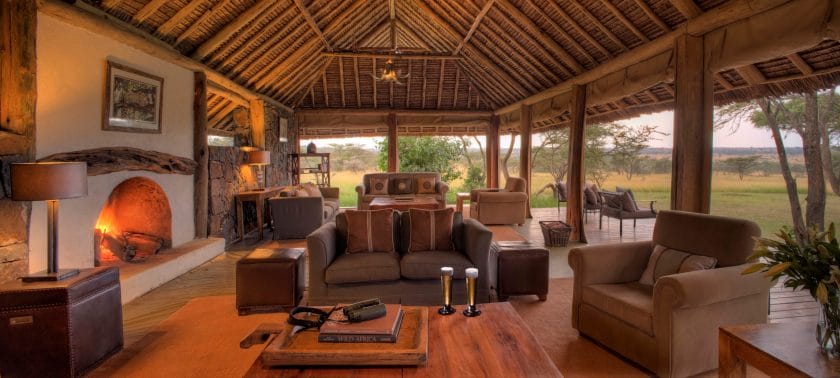 Guests enjoy excellent accommodation, board and amenities, expertly guided bush walks, night drives and wilderness excursions in a luxury camp that treads very gently and respectfully on the earth. 
Safari Tour: HerdTracker and Kicheche Camps Safari
This jam-packed 7-day safari starts in the magnificent wilderness of the Mara North conservancy and the luxury Kicheche Mara Camp. You'll see multitudes of antelope, buffalo, zebra, eland and wildebeest, as well as lions, cheetahs, leopards, hyenas, and wild dogs. You'll enjoy game drives, picnic breakfasts, al-fresco lunches, sundowners, delicious dinners and social evenings around the campfire. You can explore Leopard Gorge, made famous by BBC filmmakers Jonathan and Angie Scott.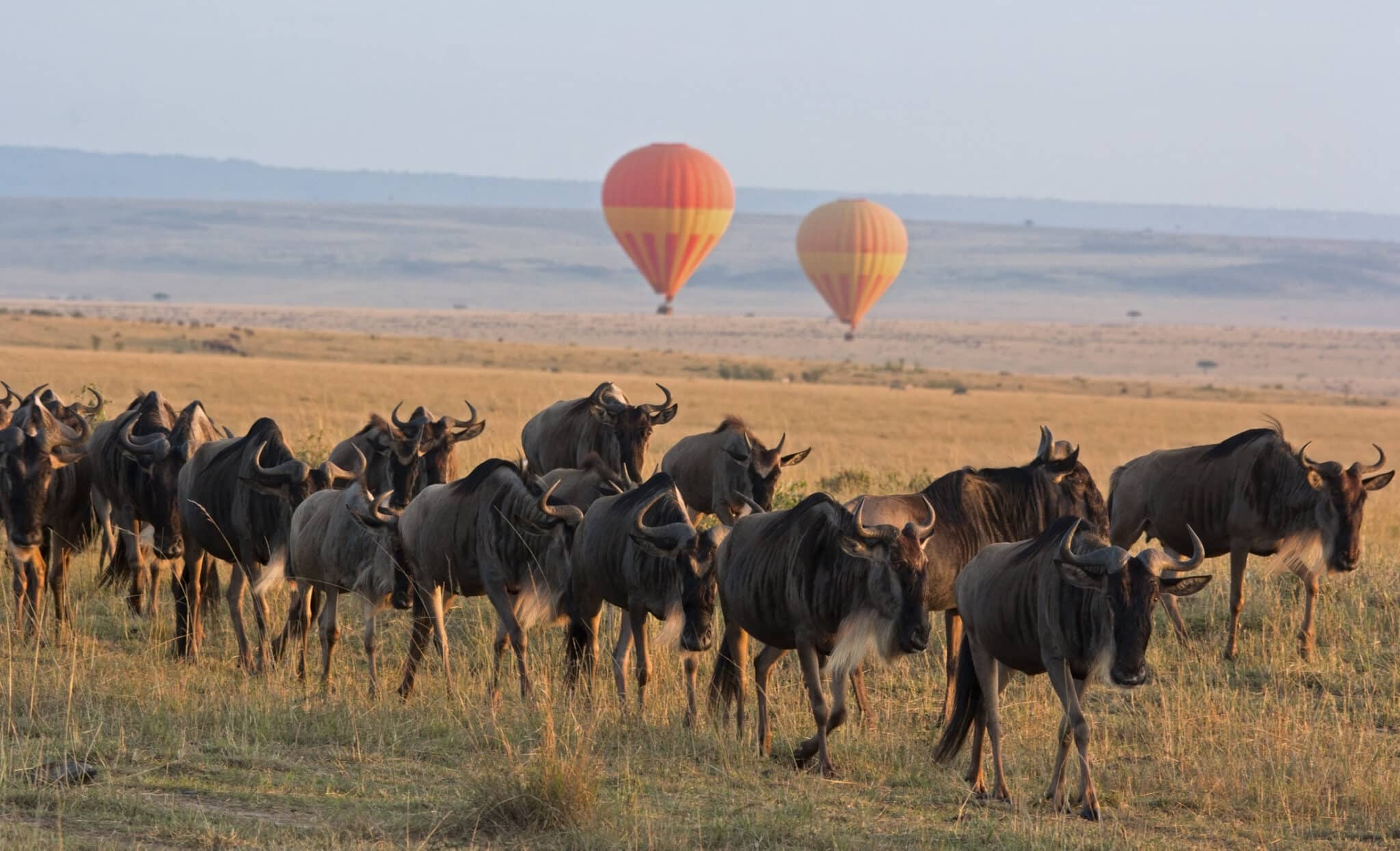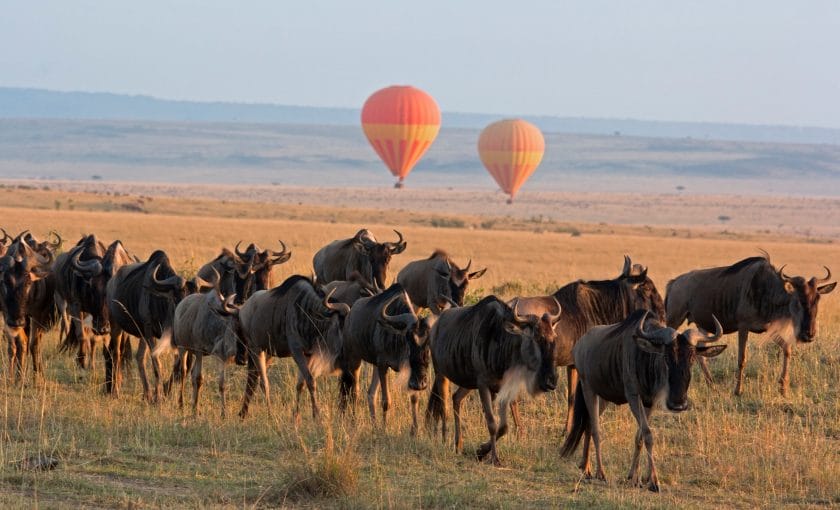 Then you'll move to Olare Orok Conservancy where you'll stay at the deluxe Kicheche Bush Camp renowned for great walks and fly-camping. You'll enjoy guided game walks and drives, a visit to a traditional Masai village and scrumptious dinners and drinks. Your final morning will include a morning game drive and picnic breakfast. 
Accommodation: Porini Lion Camp
With only ten tents, solar-powered Porini Lion Camp treads lightly on the earth! It sits on the banks of the scenic seasonal Ntiakatiak River in the Olare Motorogi Conservancy famous for its exceptional big cat sightings.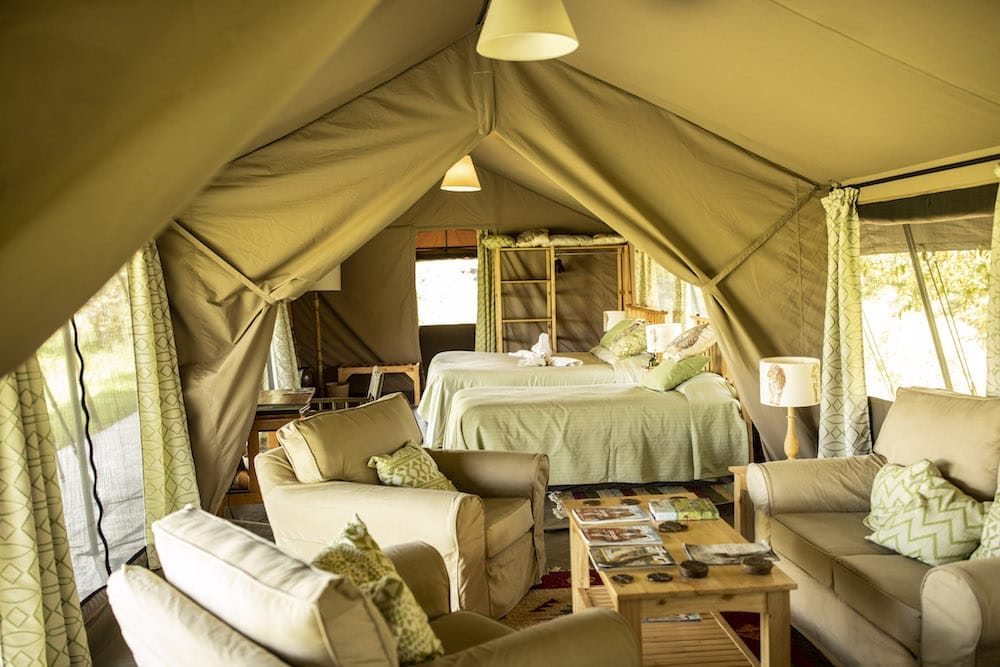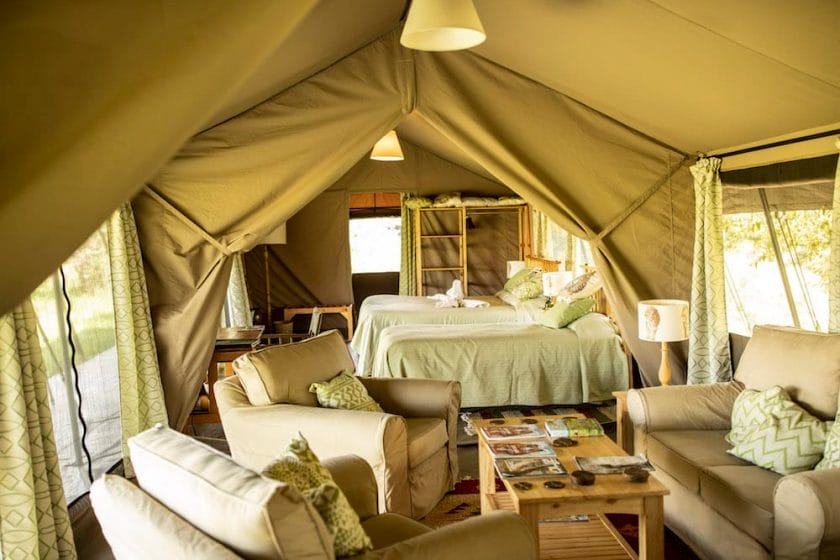 It offers excellent game viewing, nature walks with Masai warriors, outstanding accommodation, cuisine and service, and optional hot-air balloon safaris.
Accommodation: Rekero Mara Camp
Think Rekero Camp – think Great Wildebeest Migration! This intimate Camp sits in a game-dense area on the banks of the Talek River and immerses guests in the ambiance of the African bush.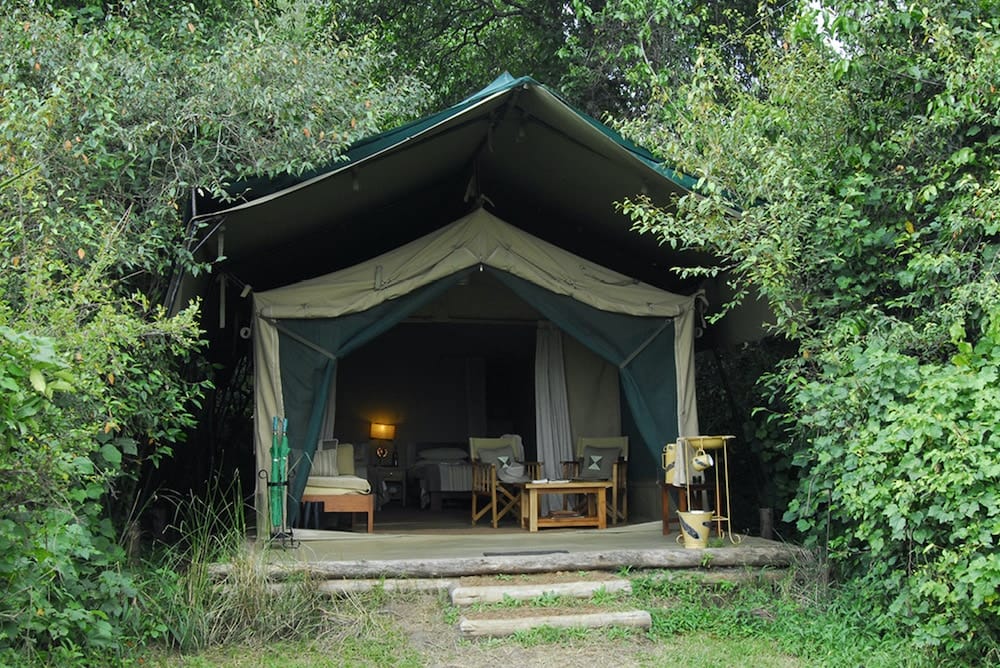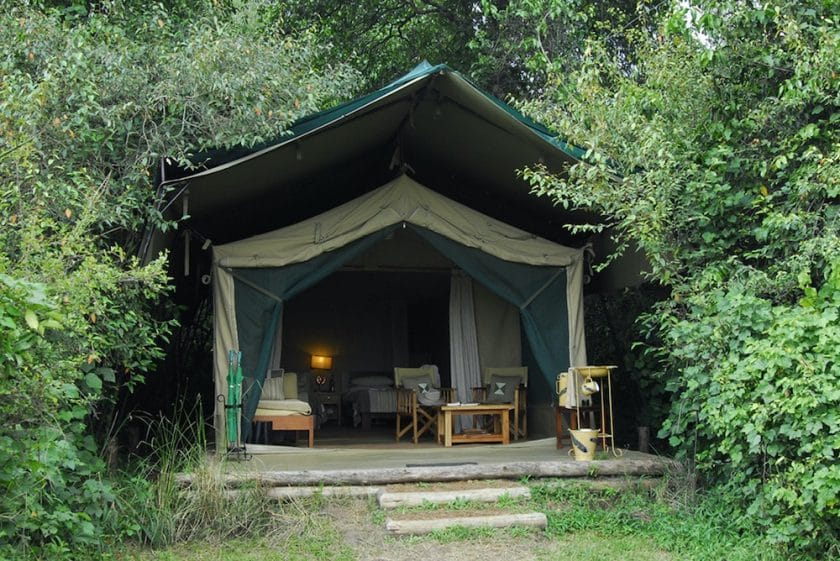 Wildebeest can often be seen crossing the Talek River as you relax on the camp's main deck. The highly skilled and dedicated camp crew ensures the safari of a lifetime. 
Accommodation: Topi Mara Bush House
A secluded, private farmhouse in a verdant acacia forest a mere stone's throw away from the route of the Great Wildebeest Migration – that's Topi!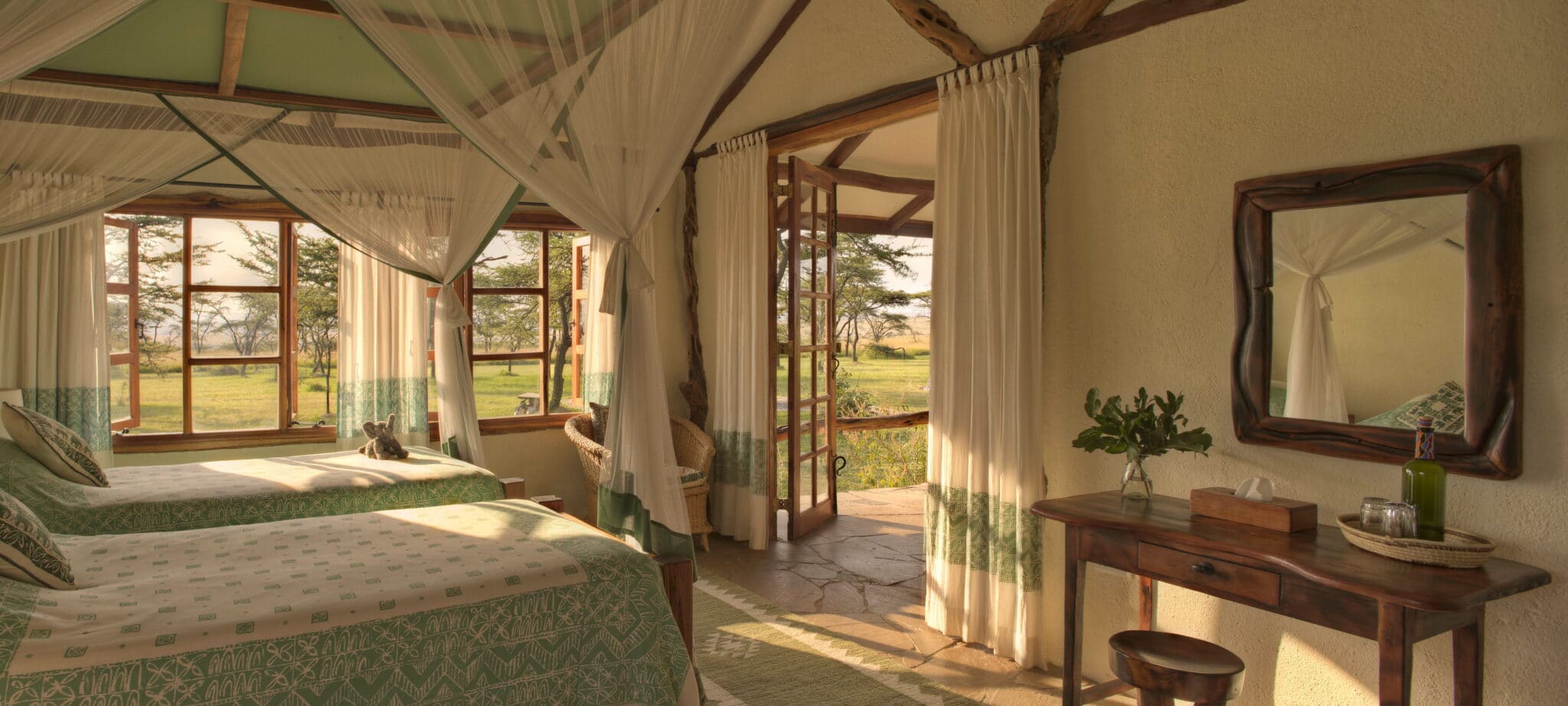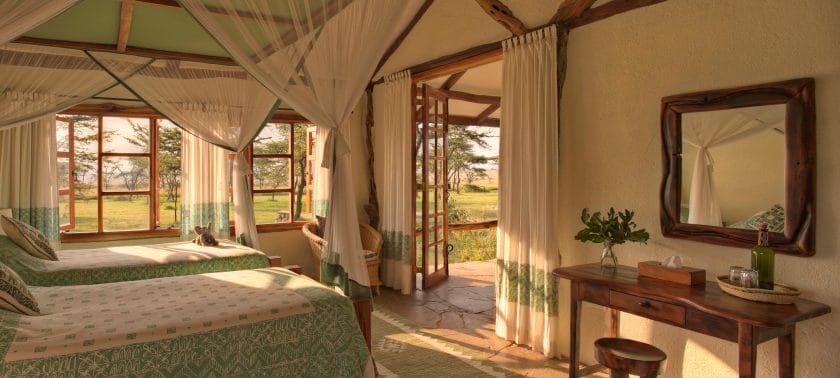 You'll have a personal chef, wildlife guide and farmhouse manager, and your schedule, meals, drinks, and safari activities are all tailored to your personal preferences. Sheer bliss!
Safari Tour: July to September Wildebeest River Crossings
This safari is crafted to follow the Great Wildebeest Migration's route from the Serengeti in the south to the Masai Mara in the north. You'll arrive at Kilimanjaro Airport and be taken to Arusha Coffee Lodge on Tanzania's largest coffee plantation. The next day you'll fly over the Great Rift Valley to the luxury Singita Sabora Tented Camp on the Grumeti River. You'll revel in game drives, superb food, a spot of tennis, or a guided horseback safari or nature walk.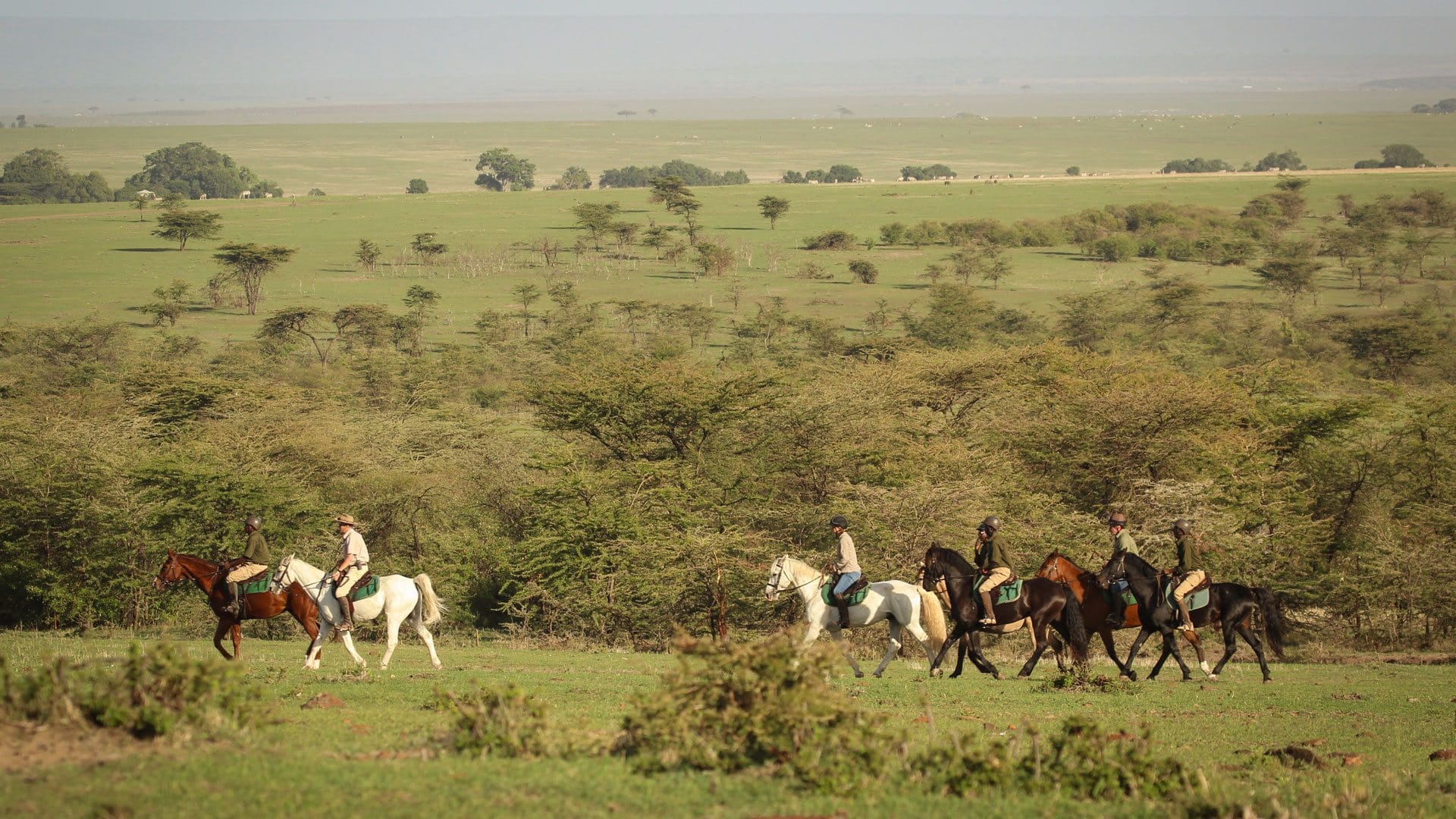 Day Five sees you flying off to the northern Serengeti and Olakira Camp, excellently placed for viewing wildebeest crossings of the iconic Mara River. You also won't want to miss the unsurpassable African sunsets – sundowner in hand, of course! 
Day Eight heralds your move to comfortable Rekero Camp next to a premier wildebeest crossing of the Talek River. It is also ideally placed for exploring the famous Paradise Plains and Musiara Swamp. 
Accommodation: Sala's Camp
This elegant, secluded camp lies on the route of the Great Wildebeest Migration in the remote southern Masai Mara. The seven en-suite tents nestle under shady trees at the scenic convergence of the Sand and Keekorok Rivers.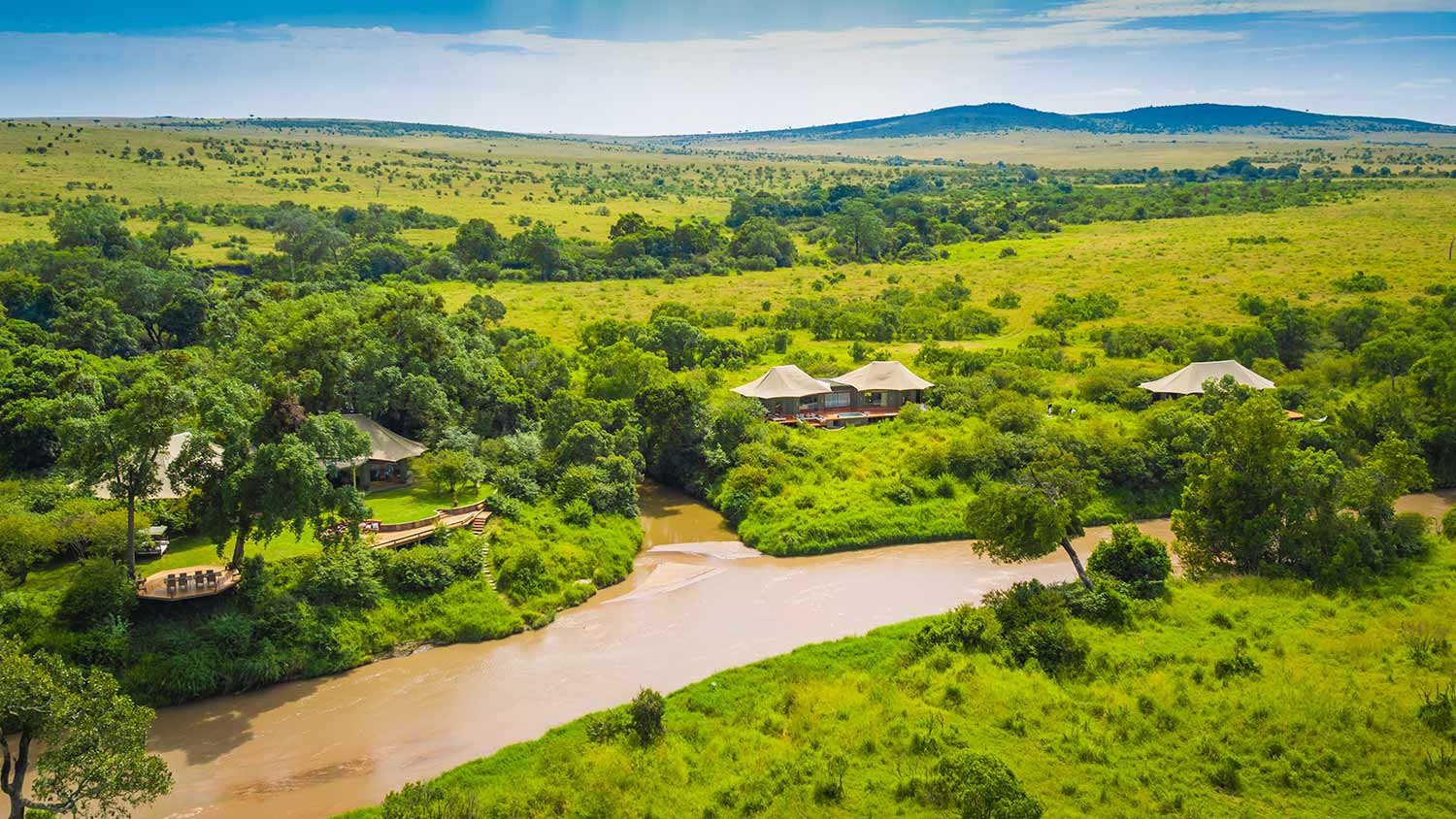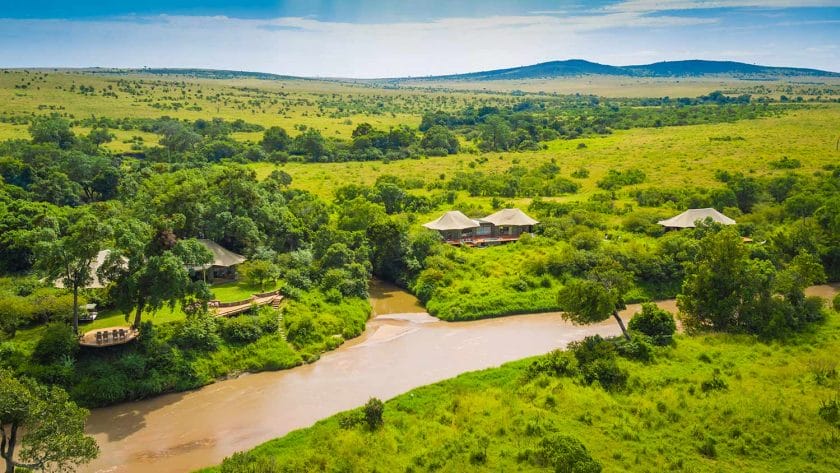 Guests enjoy unsurpassable game viewing, heart-stopping predator action and delicious meals prepared by chefs in the time-honored safari way over an open fire.  
Accommodation: Sanctuary Olonana
This small and exclusive tented camp sits on a private stretch of the Mara River.  Sustainably built and solar-powered, it has earned a gold award from Ecotourism Kenya.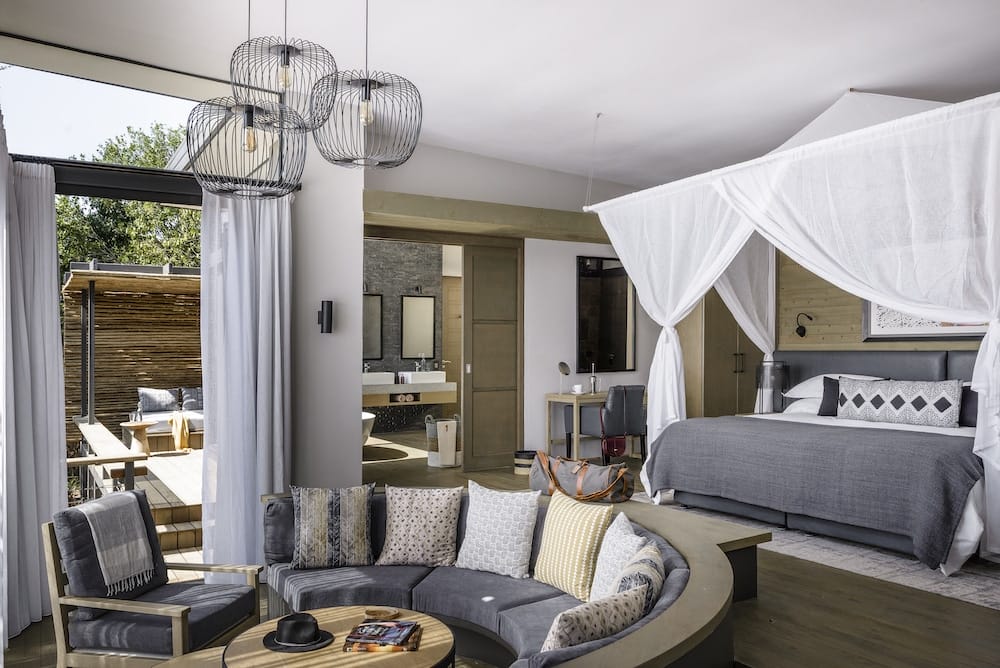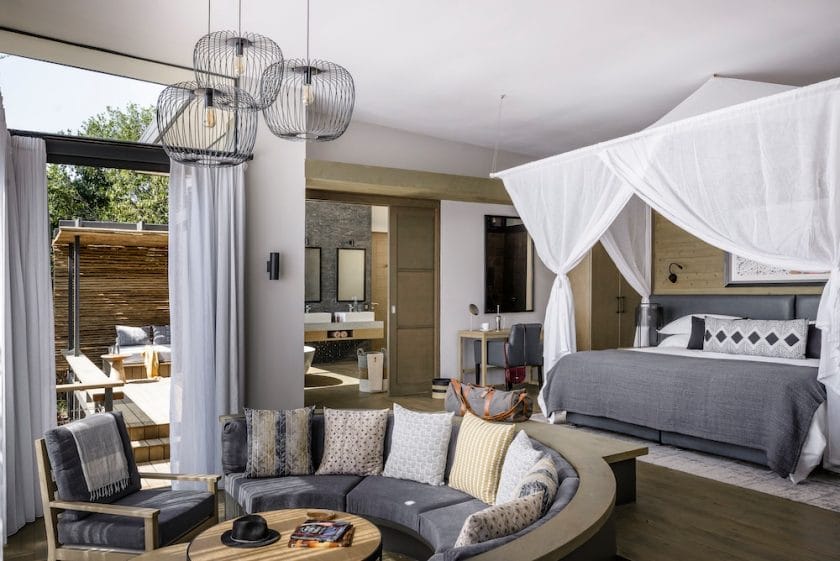 It offers its lucky guests game drives, sundowners, delectable bush dinners, cultural visits, a spa, a gift shop, free wi-fi, as well as scenic flights and magical hot air balloon rides.
Accommodation: Sand River Masai Mara
Located in a private riverside setting with stunning views across the Sand River and its extensive flood plains, this is one of Masai Mara's premier lodges. Each canvas suite is elegantly decorated with the glamour of the 1920s exclusive safari chic ethic and has private butler service.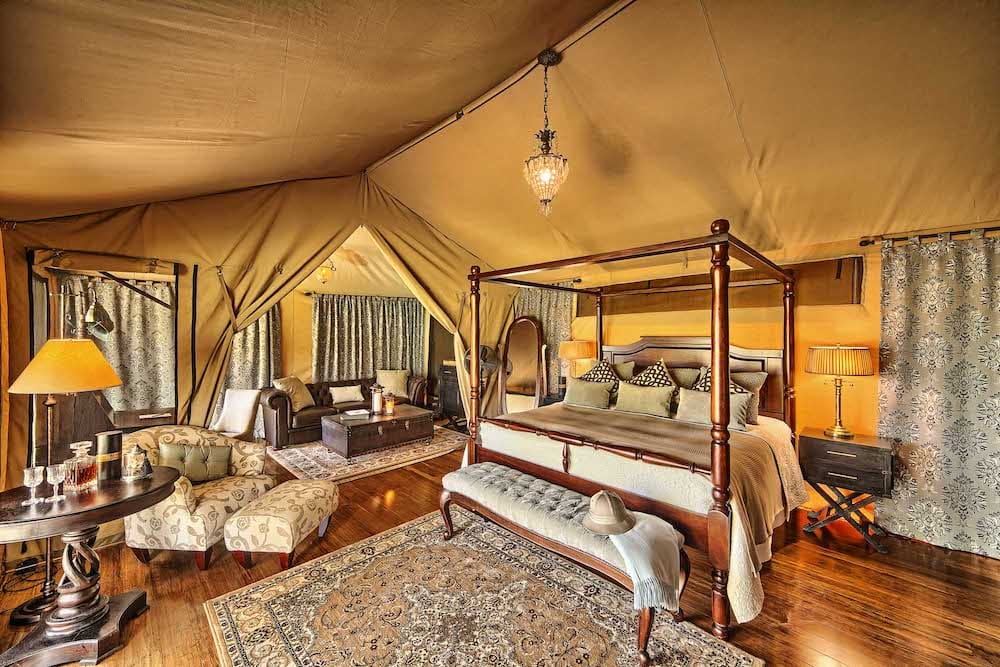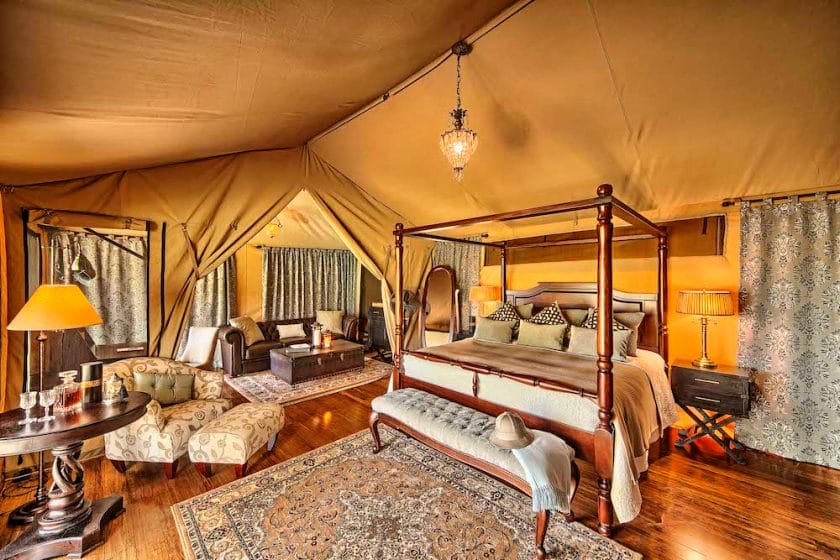 It offers the ideal destination for all-year-round exceptional game-viewing. The area is also renowned for its thriving populations of predators like lions, leopards, cheetahs and the formidable matriarchal hyenas. Amenities include a well-stocked bar, a sumptuous communal lounge and dining room, a spa, and a large and pristine swimming pool. 
Activities include both day and night game drives, expertly guided nature walks, flavorsome bush meals, sundowners to celebrate those magical African sunsets, and cultural experiences. Balloon safaris can also be arranged but must be pre-booked.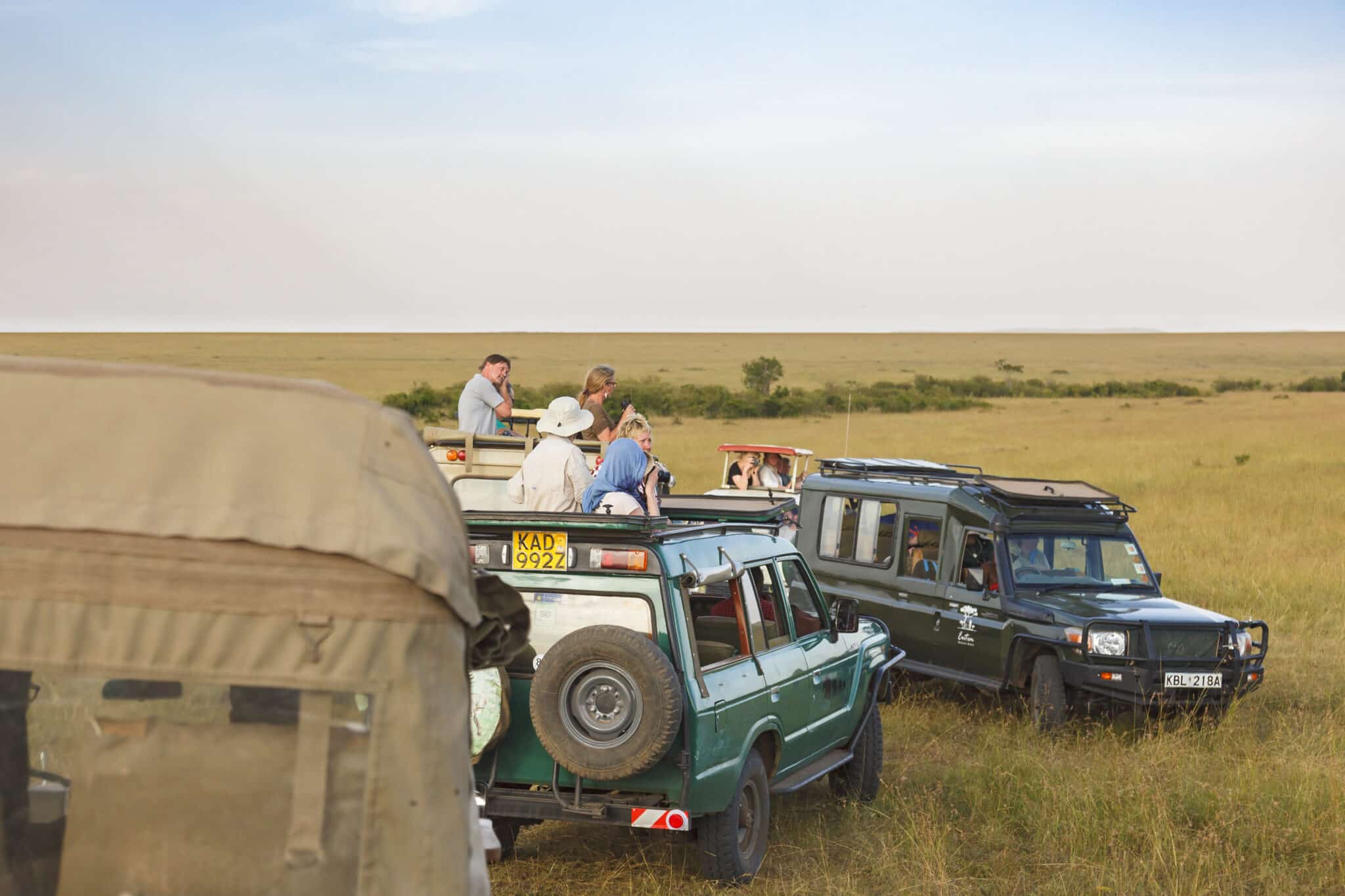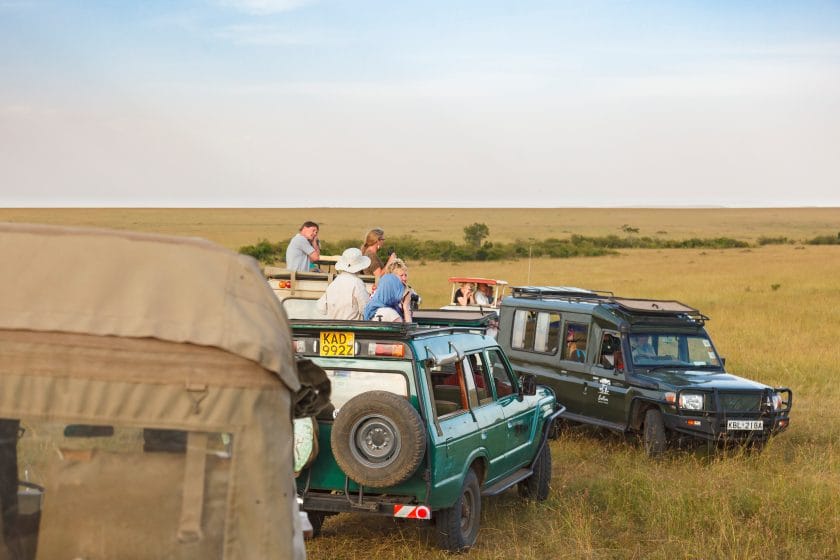 If we are correct in thinking that you may now be raring to go on that dream African safari to one of the superb locations we've highlighted above, why not let us arrange it for you? We can create a bespoke safari tour in the Masai Mara for you to incorporate all the requirements on your bucket list and fulfill your African safari dream!