While there's a lot to see and do on Africa's endless plains, there's a whole world to discover under the waters of its massive coastline. Take a trip beneath the waves with this guide to South Africa's Top 5 reefs…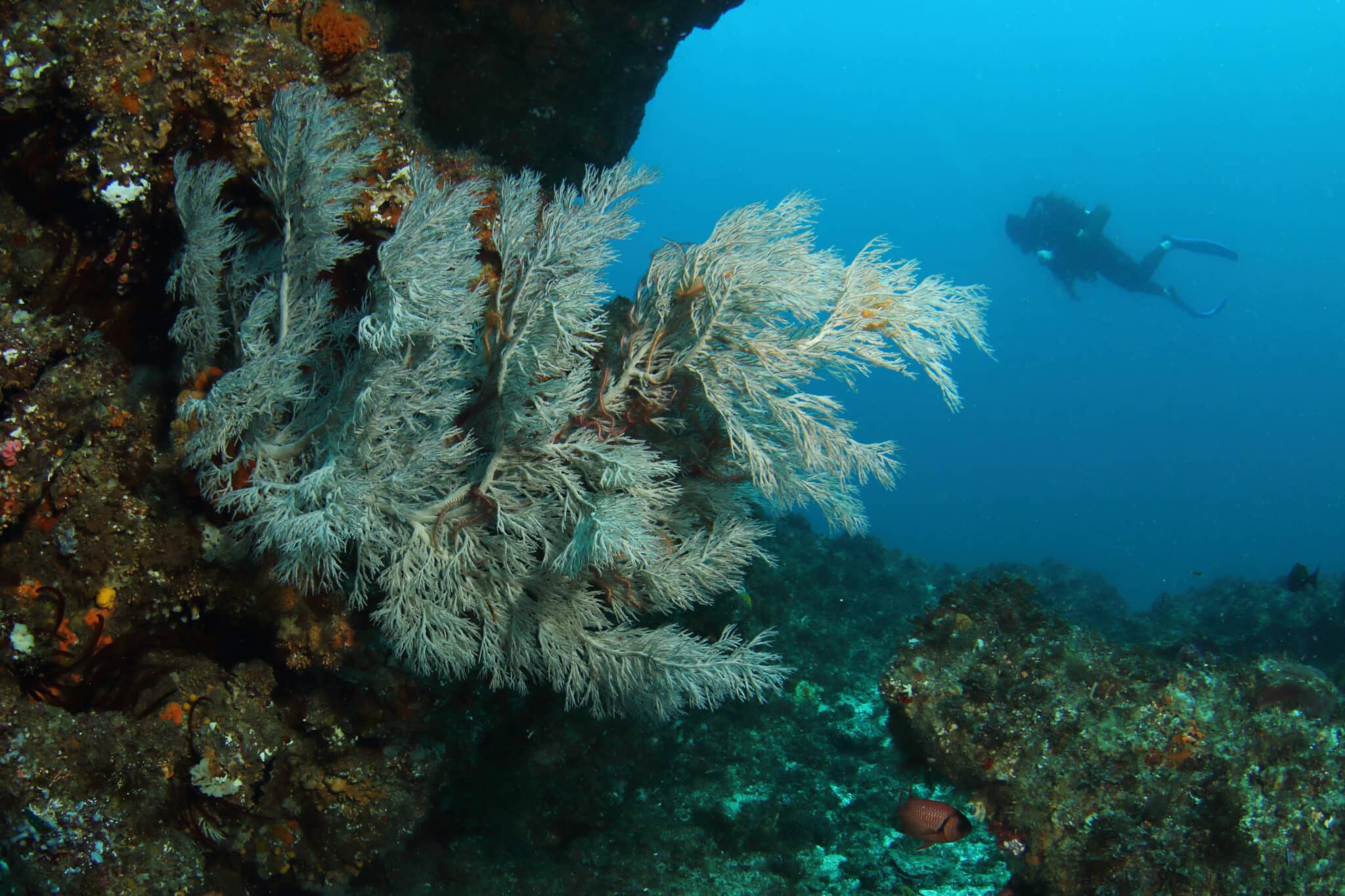 100% of South Africa's coral reefs are in a Marine Protected Area, making it unique in the sense that most of the world's coral reefs are only slightly protected in comparison. South Africa's coastline runs for over 2500km (1553mi) and about 150km (93mi) of that is coral reef. You'll find most of these reefs along the northern KwaZulu Natal coast between Cape Vidal and Mozambique. There are also, however, reefs further south in colder waters. Here's our round-up of South Africa's Top 5 reefs worth getting wet for.
Pinnacles at Sodwana Bay, KwaZulu Natal

Pinnacles is a unique area of long, spiny rock formations on the Aliwal Shoal. Thousands of species of tropical fish make their home in these gullies, caves, and swim-throughs. While you'll see Chocolate Dip, Angelfish, Butterflyfish, Wrasse, Dominoes, and Two-Bar Clownfish here, you might also spot occasional Manta rays and turtles. From June to November, Ragged Tooth sharks are prolific in the area, presenting a unique opportunity to witness these magnificent predators in their natural environment.

Playground at Protea Banks, KwaZulu Natal

On the south coast of KwaZulu Natal, you'll find Playground in Protea Banks, an area famous for its abundant shark population. This popular dive spot's name is derived from its interesting rock features like Whale's Fluke, Whale's Tail, the Clown's Head, and a massive swim-through named the Dragon's Mouth. The water here can be as warm as 24°C/75°F, making it popular for tropical fish and toothy predators alike. Diving expeditions here focus on two areas (Southern and Northern Pinnacles) said to be among the best game fish and shark dives worldwide.

 Seven Mile Reef at Sodwana Bay, KwaZulu Natal

Seven Mile Reef is often compared to the Red Sea dives. Its stunning visibility, plentiful multicolored fish life, a mix of hard and soft coral, and interesting topography make it one of the most gorgeous dive sites on the planet.

Coral Reef

On a dive here you can expect to see a plethora of tropical reef fish, massive Moray eels, Potato bass, huge schools of pelagic fish, and numerous species of turtles. At the right time of year, you could even find yourself diving with Humpback and Southern Right whales. If you're lucky enough, you'll be able to snorkel with a pod of dolphins or a Whale shark en route to the dive location.

Castle Rocks at False Bay, Cape Town

This dive spot is located past Miller's Point on the False Bay coast of the Cape Peninsula. The water this far south is much colder than in KwaZulu Natal, but the marine life is endlessly diverse, and cold-water corals are uniquely appealing. You can expect to see a multitude of colors in sea fans, neon yellow sponges, basket stars, and stunning sunburst corals. This zone is recognized for being home to over 200 species of nudibranchs and is also one of the rare places where the tropical Doublesash Butterflyfish is found in cold water.

 Landers Reef, KwaZulu Natal

Landers Reef is brimming with aquatic activity, playing host to a massive variety of tropical fish and spectacularly colorful nudibranchs. Often spotted along the reef are game fish like Barracuda, King mackerel, Geelbek (Cape salmon), and Kingfish. At a maximum depth of 32m (105ft), the water is colder than most other dive spots in the east coast region, but the sights make the cooler dive well worth it.