Imagine a falling curtain of water, 1700 metres across, falling into a chasm of between 70 to 108 metres. As 625 million litres of water plunges into the gorge below, water sprays 500 metres back up the sheer sides, making Victoria Falls one of the largest waterfalls in the world and one of the seven natural wonders.
Archeological evidence proves that Victoria Falls has been inhabited by humans for about three million years, making it an area of rich historical value. Locally, Victoria Falls is called Mosi-oa-Tunya, the "Smoke that Thunders". David Livingstone was the first European to make reference of the Falls saying:
"The whole scene was extremely beautiful; the banks and islands dotted over the river are adorned with sylvan vegetation of great variety of color and form…no one can imagine the beauty of the view from any thing witnessed in England. It had never been seen before by European eyes; but scenes so lovely must have been gazed upon by angels in their flight."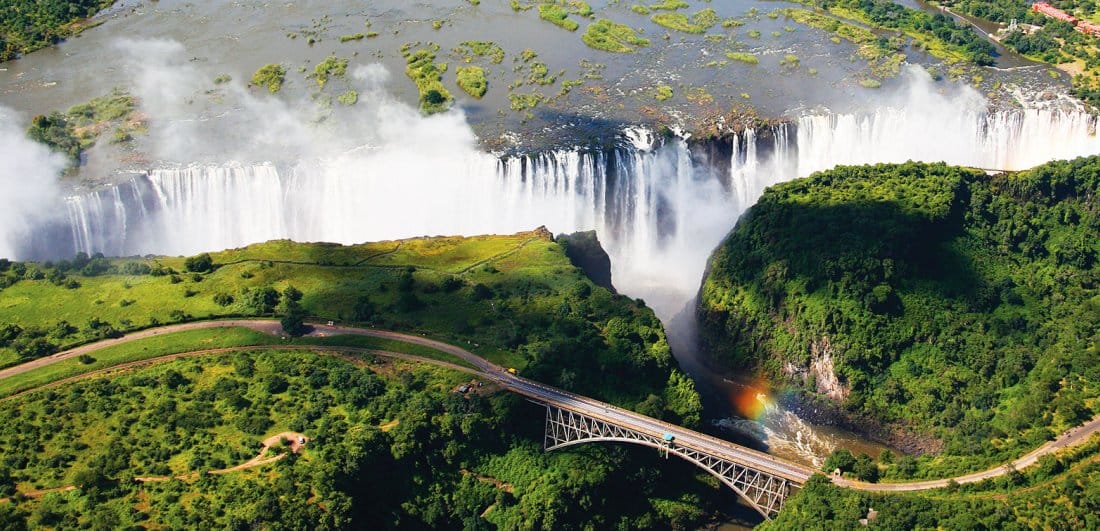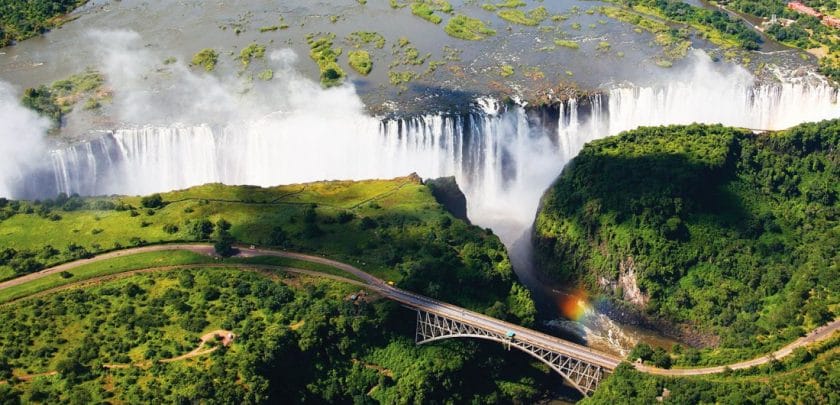 1. Both sides of Victoria Falls offer something unique
Victoria Falls is the accumulation of the Zambezi river meandering through the earth. It begins in the north-east of Zambia and flows all the way to the Indian ocean. It also forms a natural border separating Zambia from Zimbabwe. The best news is that you're able to view the falls from either country, although Zimbabwe offers perhaps the best views.
Victoria Falls is also within close proximity to the north of Botswana, where you'll find the Chobe National Park and the country's watery world of wildlife and birds. A regret we often hear from clients is that they wished they had included a trip to Victoria Falls in their itinerary.
There are also national parks on both sides of Victoria Falls. In Zambia, you have the Lower Zambezi National Park and the Zimbabwean side offers Mana Pools National Park.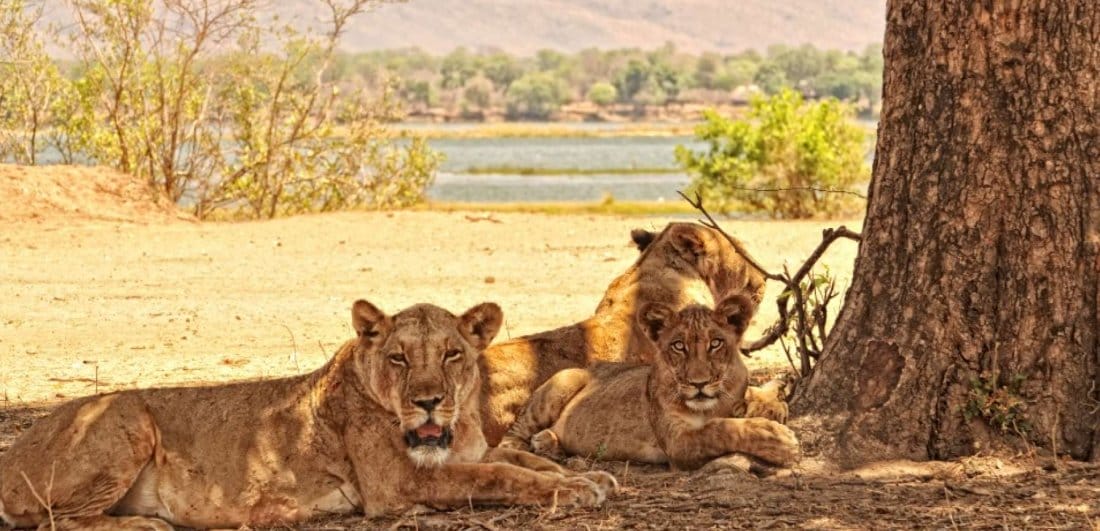 Mana Pools National Park, Zimbabwe 
2. It's an adrenaline-junky hotspot, filled with adventure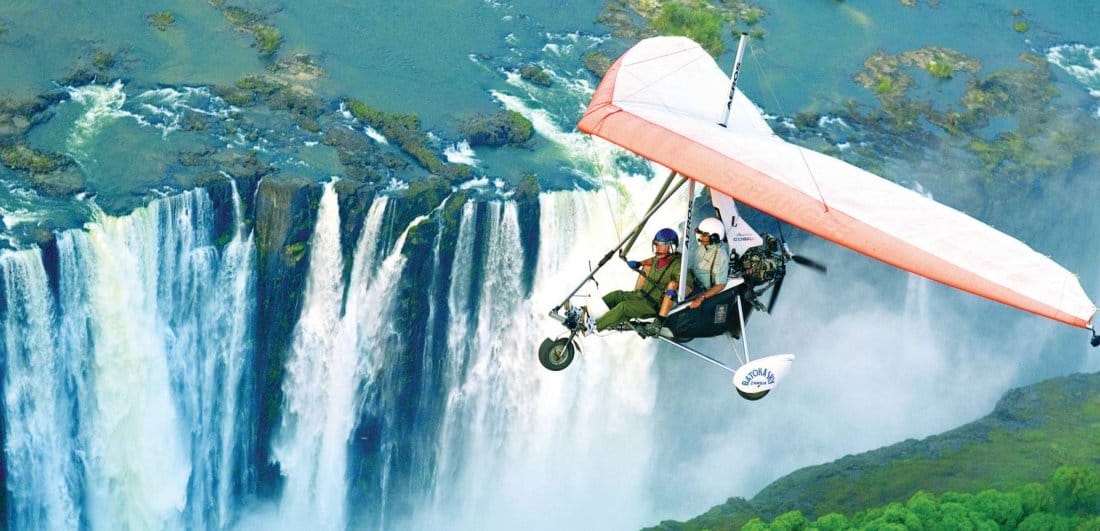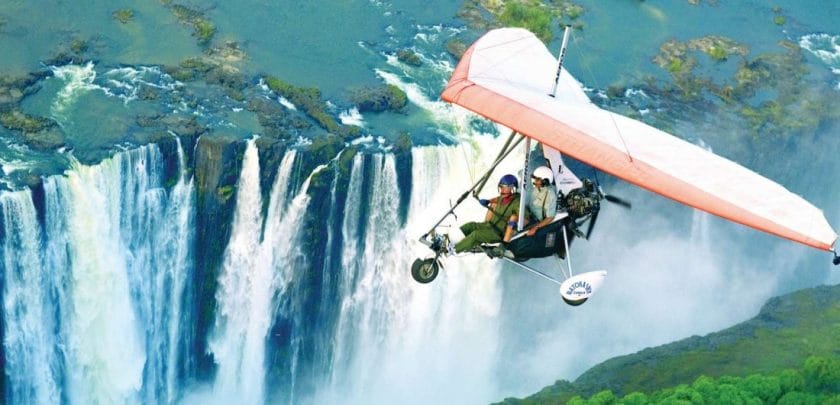 You can ejoy tandem microflights over the Falls, offering one of the bets views you'll ever see 
Both national parks provide an array of great adventure-driven activities. These include:
Walking safaris in the bush with professional guides
4×4 guided game drives (Mana Pools is the only park in Africa where you are allowed to get out of your safari vehicle, but we would not recommend that)
Canoeing adventures (seeing elephants, buffalos, crocs and hippos from the river is an incredible experience)
White-water rafting
Tiger fishing
In Victoria Falls itself you'll have to opportunity of bungee jumping from Shearwater Falls (111 metres), white-water rafting, exploring the town and learning about the local culture, dining and microflights over the falls. With so much to do, we'll advise you on the best tour operators to use on your trip.
3. You'll be surrounded by wildlife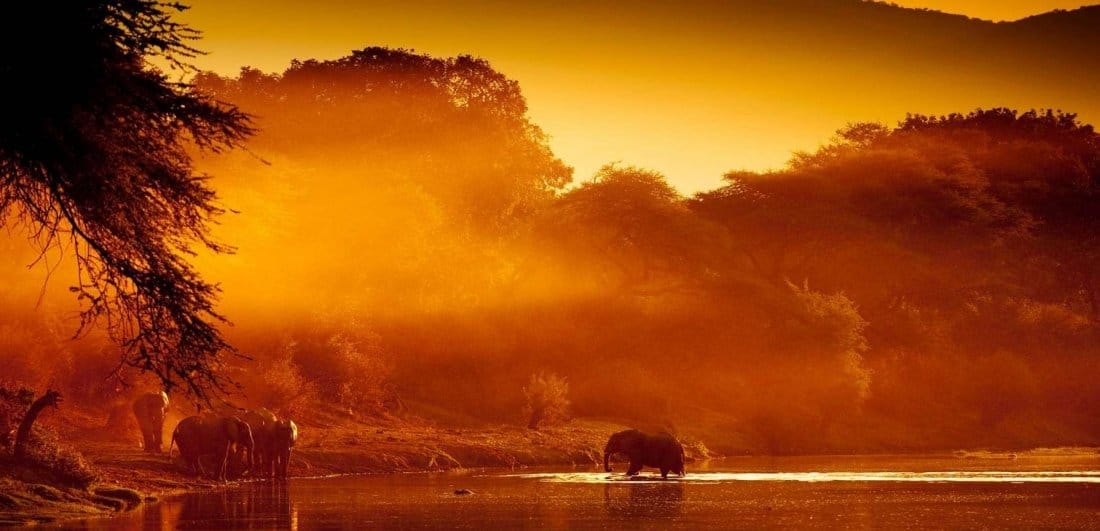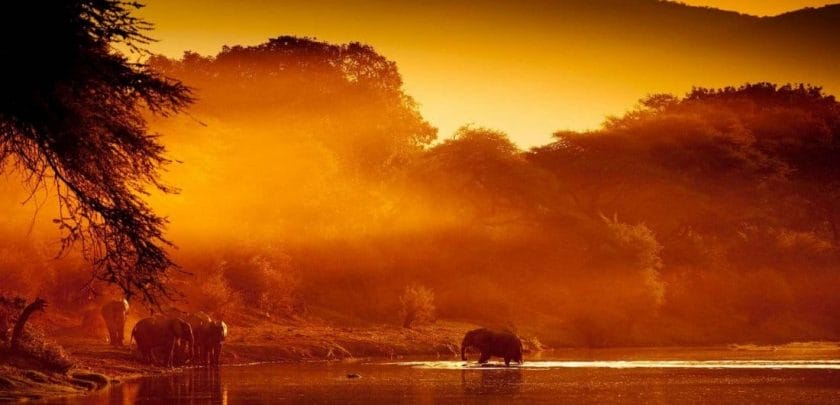 Lower Zambezi National Park, Zambia 
Both Zambia and Zimbabwe offer great game-viewing opportunities. See the endangered African wild dogs, elephant and buffalo in large numbers, big cats (lion, cheetah, leopard), four of the Big Five (rhino are not found here) and a multitude of birds.
4. African meeting point
You can enjoy all of these parks using Victoria Falls as a base as it is a greet meeting point for an extended stay in Southern Africa. We recommend pairing your safari with another destination like Botswana or greater Zimbabwe.
Travel tips:
The best time to visit Victoria Falls depends on your safari itinerary. February to May is considered better for adventurous activities as the water levels swell after the long rains. However, if you're coupling a Victoria Falls safari with a trip to Botswana or South Africa, then the best time of year to go is June to September.
If you're going to the Zimbabwean side of Victoria Falls, bring a bather and light raincoat so that you don't get drenched by the back spray (unless you don't mind)
Avoid the Zambian side of Victoria Falls during October to November. You'll likely be met by a bare rock face as the warm summer without rain dries everything up
The sheer magnitude of the Falls astounds visitors and provides us with a humbling experience before the might of nature.