Wildlife is in abundance here, in fact, there are more elephants in Botswana than anywhere else in the world. This includes over 164 different kinds of mammals which include the Big Five - African lion, African elephant, Cape buffalo, African leopard and white rhinoceros as well as about 550 different kinds of bird species.
Safari activities range from game drives, game walks, boating and mokoro excursions, which is a type of dug-out canoe made by digging out the trunk of a large, straight ebony tree or Kigelia tree.
Completely contrasting to the wet Okavango Delta is the Makgadikgadi Salt Pans, offering wide open spaces with its own unique experiences. Here you get to spend time with the Bushmen of the Kalahari, go on safari by horse, experience quad bike safaris and sleeping out on the pans under the stars
The Chobe National Park is an essential destination to visit while on safari in Botswana as well. During the dry season the wildlife of Botswana gathers at the Chobe floodplains and Chobe River.
The uniqueness of a visit to Chobe National Park is the combination of wildlife, birdlife and reptiles along the banks of the Chobe River.
Boating on the Chobe River – Image by Sanctuary Retreats
How to get to Botswana?
There are very few direct international flights to Maun and Kasane, which means you'll have to fly in via Johannesburg (South Africa). It's a short two-hour flight from Johannesburg to Maun or Kasane.
Whether you fly to Chobe or Kasane you can always get around via a road transfer or a charter flight depending on your budget. The scheduled charter flights cost more but shorten your travel time giving you more time on safari.
Please note the following airline regulations for charter flights:
Charter planes are very small. If you are a nervous flyer or don't like small spaces you'll have to consider a road transfer.
Due to space restrictions, you must have soft-sided luggage.
If you weigh more than 100kg you might need to buy two seats on the plane. Your travel consultant will need to check this with you when booking your safari, so please don't feel offended.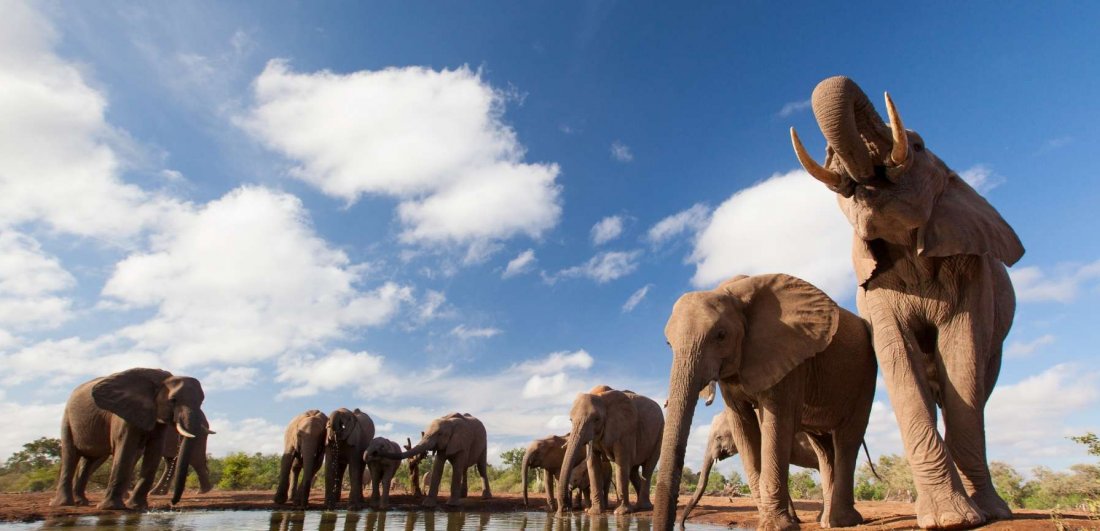 Elephants at the waterhole – Image by Mashatu Game Reserve
How long should I stay in Botswana?
We recommend spending six nights minimum in Botswana. There is a lot of land and water activities to do considering you'll also be traveling to different areas during your stay. If you want to end on a high note, make sure you do the Delta last. There is nothing quite like a sunset river cruise on the Okavango Delta.
When is the best time to go to Botswana?
Be sure to discuss the best time to book with one of our travel consultants. Keep in mind that many of the lodges are small compared to the safari options of other countries, only offering between four and 10 rooms.
Rooms are limited, so make sure you book well in advance.
Best time to travel is largely influenced by the seasons:
Green Season runs from November to March and is recommended because the prices at the lodges are good, combined with the weather.
April and May make up the wet season. Even if you are a water-baby, you may not enjoy travelling in these months.
June to October is the best time to travel because it is dry and the game viewing is phenomenal. It also means that this is the most expensive time to travel.
What else do I need to know about traveling to Botswana?
Botswana is a remote country therefore in terms of the network there is minimal to no reception for mobile phones. Some lodges provide Wi-Fi via satellite. It's not very fast but you'll be able to check your emails and do the odd status update. The lodges are trained and developed in terms of emergencies; so trust them while you are in their care.
English is spoken across the country so you won't need any last minute Setswana language courses.
Botswana is a malaria area because of the wet lands. Consult with your doctor or travel clinic before coming on safari.
Feel free to contact us for more information about Botswana and travel options.
---