Custom designed Horseback Safaris in Kenya
Describe your dream trip
We'll source the best value for you
Book when you're ready
Help Me Plan
Get up-close-and-personal with herds of wild game in one of Kenya's most immersive wildlife experiences.
Kenya is a pioneer of horseback safaris in Africa. It was here that the concept began in the 1970's and several decades on, it's still a highlight. The country offers the best in terms of wildlife diversity as well a breathtaking landscape. There are numerous safaris and accommodation facilities, as well as guides for the perfect horseback savannah adventure. Having said that, planning for horseback safaris in Kenya is the key to a truly enjoyable experience.
More on Horseback Safaris in Kenya
Introduction
Timing is everything for a horseback safari in Kenya. While most parks and game ranges are open for much of the year, November and the rainy months of March to early May, sees some of the major parks closed. The rainy months will also limit the amount of time you are out riding because the terrain can be muddy. The African summer can be quite hot with the sun scorching as early 10 and it is only till late in the evening that temperatures cool. If you are riding on the plains this can be an issue you want to prepare well for while highland ranges and parka can be quite forgiving even in summer.
Horseback safaris in Kenya are dependent on the season you are in the country, the tours company you select and the location of your safari. Set out your safari goals beforehand and then contact several tours and travel company and listen to their offers and advice.
Know before you go
It goes without saying that before embarking on a horseback safari, you need to ensure that you're comfortable on a horse. The service provider and experienced ranger/guide will ensure that you are paired with the best horse for your temperament. You will be spending extended periods on horseback, so this type of safari requires more stamina from the tourist - having a good level of fitness will aid your experience. Before booking your safari, ensure that you use an affiliated service provider with experience in horseback safaris. Do your research to find the best regions/countries for horseback safaris and then list the accommodation options and service providers that offer horseback safaris to compare rates and packages - check the region to see what season is best for this type of safari.
When to go
​It's best to go in the dry season and ideally during the great wildebeest migration.
What to pack
Horse riding helmet (if you prefer your own)
Riding boots
Sunglasses
Half chaps and jodhpurs (if you prefer your own)
Scarf and gloves
Head torch
Binoculars
Medicines
Waterproof jacket
Weather and Climate
If you are riding on the plains you'll want to prepare well for the highland ranges and a light parka jacket can be quite forgiving even in summer. However early mornings and late in the evenings can get quite chilly regardless of the location. June and July are some of the coldest months and it can get foggy too, but nothing that warm clothing can't take care of. The rainy season can expose you to snap showers or unceasing rainfall as well thunderstorms, which makes it a challenge riding out.
Safari / Holiday Styles
​A truly immersive safari experience that brings as close as possible to wildlife. It will be a guided safari with an experienced guide.
Where to stay
​Aloe Blossom Ride
Olea Africana Safari
Equitours
Maasai Mara
Amboseli
Chyulu Hills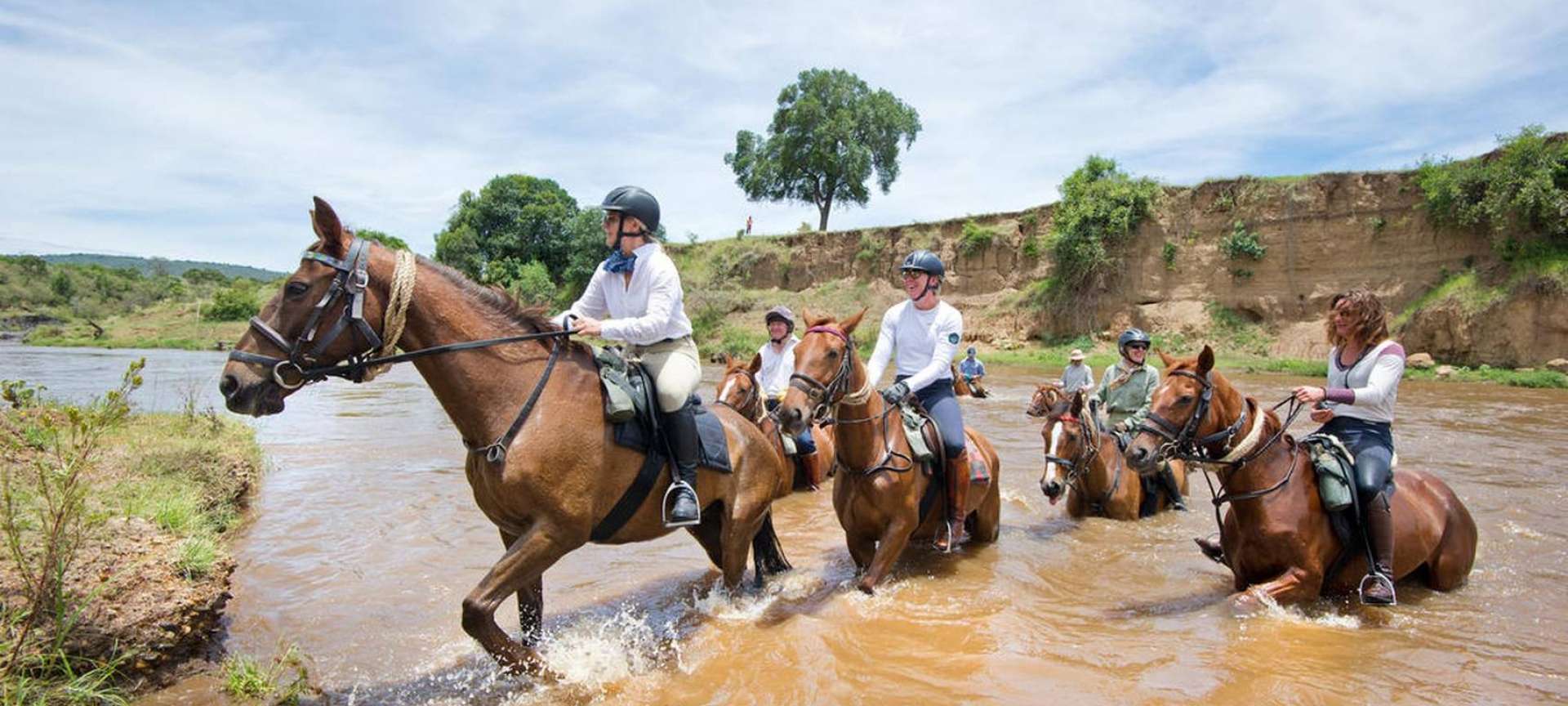 Reviews on our Horseback Safaris in Kenya
Since the beginning, agents and staff of Discover Africa already work in a professional way for me to plan the trip. Their quick responses to my questions help us a lot before departing from our place to the Africa continent. When we were…
YT
from Hong Kong
This was my first safari. I didn't expect to be so pampered. Everything was first class. We had everything provided for us before even asking. We had a dedicated team at our service. Megan was on call whenever we needed something and she…
Saada
from Nigeria
Tanya was an absolute delight to deal with. From the first phone call she was extremely polite, professional and very eager to facilitate my requests regarding our safari. Our 3 nights at the V & A Hotel were fabulous and Motswari Game…
Debbie
from Australia
Perfectly tailor-made tours that take all your wishes and requests into consideration. All my expectations were beyond fulfilled.
Henrik Wetterstrand
from Sweden
Living afar and trusting in an organisation with whom you have no previous knowledge can lead to feeling of mistrust and wondering whether what we have paid for actually exists. A little more proactive communication would have eased those…
Tony Russell
I just wanted to thank Discover Africa and Karl Svendsen - the safari was great - we saw many more animals than expected including cheetah, leopard, many lions and even a three-day old elephant calf. Additionally, we had our own hippo…
Margaret Dean