Kenya as a memorable safari destination is hard to beat. It offers exposure to Kenya's rich and diverse culture in a setting of the most awe-inspiring natural beauty.  
Add simply incomparable game viewing to this list, like the mind-blowing yearly Wildebeest Migration, and it is abundantly clear why Kenya is where safari travel had its origins. 
Whether you have your heart set on seeing Amboseli's fabled elephant herds, experiencing the dramatic beauty of Mount Kilimanjaro, immersing yourself in cultural experiences in Samburu, or marvelling at the teeming wildebeest herds in the Maasai Mara – Kenya is the place to go.
An added bonus is that it's very easy to combine one of our Kenyan safaris with the unique adventure of a gorilla trek in Rwanda or Uganda. If you've been longing for the indulgence of a tropical beach holiday alongside the endless warm blue water and palm trees of the Indian Ocean, that is entirely possible, too!
So here are our top 10 unforgettable Kenyan safari tours. All are fully customisable to meet your specific travel requirements. All have been fully tried and tested to ensure a safe, authentic, and hassle-free experience. 
Special Big Five Safari in Kenya's Samburu
This unique 8-day Special Big Five Safari in Kenya's Samburu gives you a chance to meet the more unusual animal species of northern Kenya. It's specifically designed for travellers who wish for more than the Great Wildebeest Migration and big cats, and want to experience new places and new species in more remote, less frequented areas. 
This safari focuses specifically on Samburu's Special Five:
The long-necked gerenuk, aka the giraffe gazelle 

The reticulated giraffe, aka the Somali giraffe, and native to the Horn of Africa

The highly endangered Grévy's zebra, aka the imperial zebra

The magnificent East African or beisa oryx 

The Somali or blue-necked ostrich
You'll also be able to see the rare and striking bongo at Aberdare, as well as black rhinos.
Masai Mara Wildlife Discovery Safari
This 10-day Masai Mara Wildlife Discovery Safari gives you a unique opportunity to learn about the different areas encompassing the greater Mara ecosystem. You'll spend time both inside and outside the reserve. Your trip starts at the iconic Giraffe Manor famous for its ultra-extraordinary interaction with giraffes. 
The next eight days of your safari will be spent in the Masai Mara Conservancies. You'll stay in remote but superbly comfortable camps throughout your stay as you explore Mara North, Olare Orok and Naboisho, all simply teeming with wildlife. 
You might even witness Kenya's own lesser-known migration in the Loita Plains when the resident wildebeest, zebras, and antelopes move south into the Masai Mara during the dry season.
But, of course, the Masai Mara is a renowned big cat paradise with large numbers of lions, cheetahs, and leopards. If you wish to learn more about these magnificent creatures and experience some heart-stopping predator-prey interaction, this safari is a must for you! 
Tanzania and Kenya Highlights Safari
This 10-day Tanzania and Kenya Highlights Safari focuses on the highlights in Kenya and Tanzania. These include the most popular areas in Arusha National Park, with towering volcanic Mount Meru, Tarangire National Park, Lake Manyara, iconic Serengeti National Park the Masai Mara, and Nairobi, Kenya's capital.
On this tour you'll discover:
Justifiably regarded as the finest national park in Africa, the Serengeti offers an abundance of wildlife viewing with pretty much every large animal in East Africa being represented in the Park. 
Tarangire is home to the famous tree-climbing lions and the rest of the Big Five – leopards, black rhinos (though sightings are rare), elephants, and African buffalos. Baobabs dominate the landscape of granite ridges, river valleys and swamps. 
This famous UNESCO World Heritage site was formed when a huge volcano exploded about 3 million years ago, creating the largest unflooded caldera in the world. It is 600 metres deep and 20 kilometres wide. Its extraordinary ecosystem provides a mecca for wildlife, including the Big Five. You might even be lucky enough to see one of those endangered and famously short-tempered Black rhinos! 
The Big Cats of East Africa Safari
This 10-day The Big Cats of East Africa Safari is tailor-made for all passionate big cat aficionados! Therefore, the focus of this safari is on finding the awe-inspiring cats of East Africa – lion, leopard, cheetah, serval, and if you're extremely lucky, the stunning caracal. 
As these are all formidable predators you can also expect to witness some high-octane predator-prey interactions! 
The journey entails early morning starts and late afternoons excursions. You'll be visiting the two premier big cat destinations in the world, Tanzania's Serengeti and Kenya's Masai Mara, with dense concentrations of big cats. But you'll have to cultivate some patience to see these lethally beautiful creatures go about their deadly business.  
This 16-day Best of Africa Safari really showcases the best wildlife and landscapes Africa has to offer as you stay in the finest camps and lodges.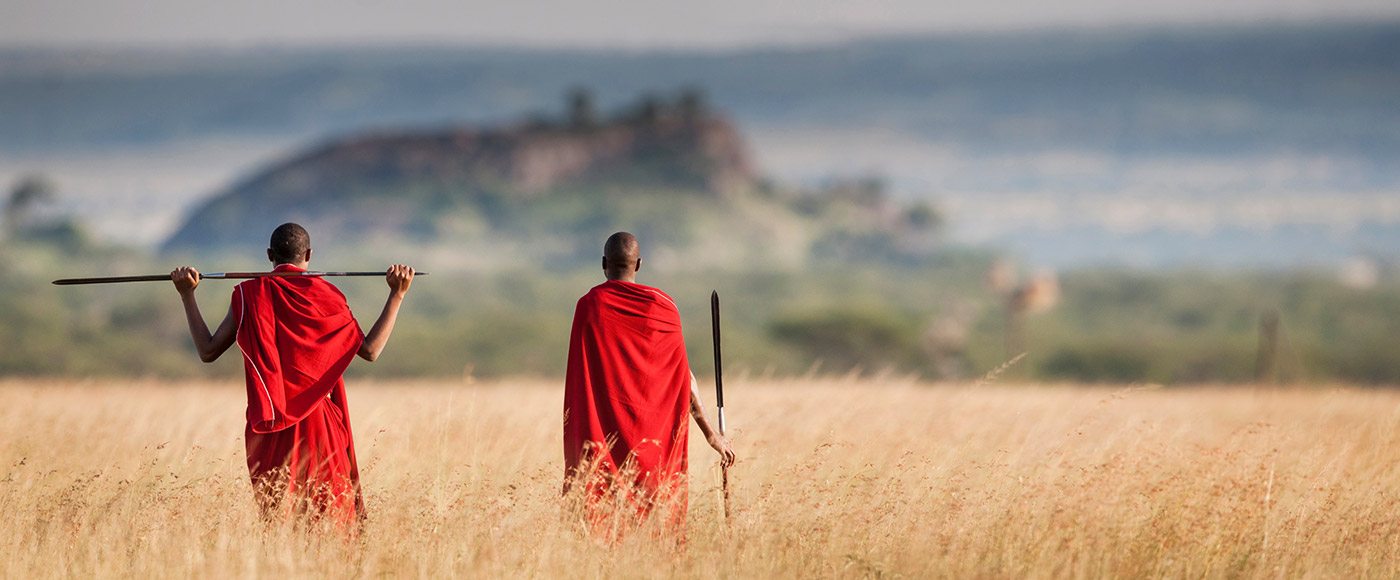 Your journey through South Africa, Botswana, Rwanda, Tanzania and Kenya, will include:
This vast inland river delta in northern Botswana is known for its grassy plains that become lush animal habitats during the seasonal floods. Dugout canoes, known as mokoros, are used to navigate past elephants, hippos and crocodiles in the flooded landscapes. On dry land, the astonishingly diverse wildlife include wildebeest, giraffe, lion, cheetah, leopard, brown and spotted hyena, kudu, sable antelope, lechwe, topi, warthog, and black and white rhinos – to mention just a few! 
This is Rwanda's flagship park and is home to some of the last remaining wild mountain gorillas on our planet.
The Serengeti National Park
A trip to Tanzania to take in the Big Five and witness the annual wonder of the Great Wildebeest Migration is an absolute must, and is included.
World-renowned as a big cat destination, the Masai Mara also offers the Great Wildebeest Migration and the Mara river crossing experience from the Kenyan side.
Mara and Serengeti Combo Safari
This 7-day, 6-night Mara and Serengeti Combo Safari offers you a week to see what is assuredly one of the greatest shows on earth – the Great Wildebeest Migration. It takes place from the Mara North Conservancy in Kenya to the northern Serengeti in Tanzania.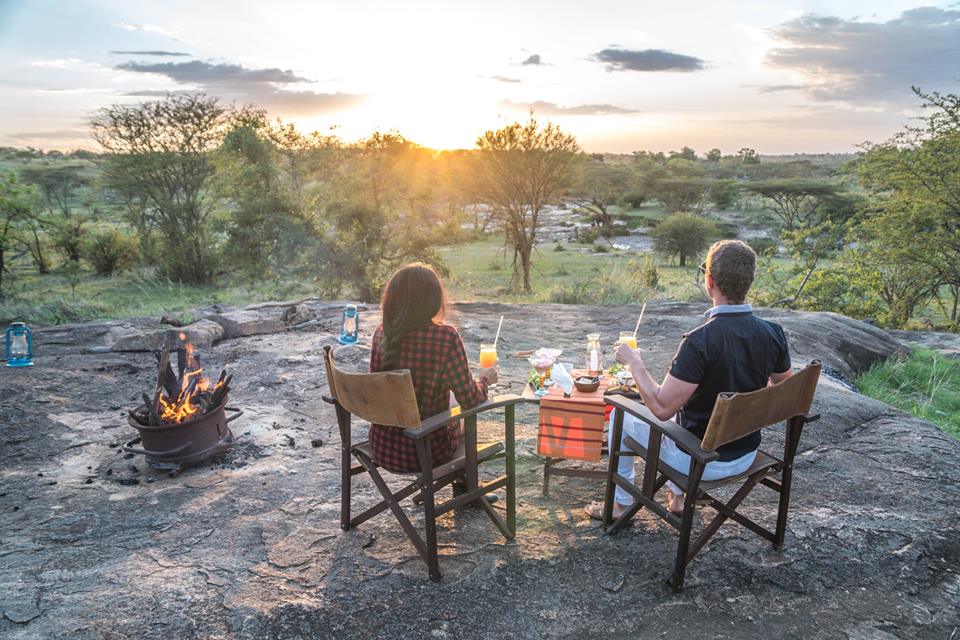 The Migration brings an abundance of plains game to the area as well as the many predators that hunt them in this season of plenty. You'll have a 'front-row seat' to witness this annual wonder of the natural world as millions of animals cross the Mara River. 
You'll likely be joined by some of the world's most famous wildlife photographers, journalists and broadcasters too.
East Africa Great National Parks Migration Safari
This 10-day East Africa Great National Parks Migration Safari includes all of the most popular national parks in East Africa. After your arrival in Kenya's capital, Nairobi, you'll first visit the Solio Game Reserve, a privately owned and protected wildlife conservancy committed to rhino conservation. 
Next, you'll be moving to the Masai Mara National Park where you will witness one of the most stunning marvels of the natural world, the Great Wildebeest Migration. 
The final days of your safari will be spent in the Serengeti National Park, which is a World Heritage Site. It is home to more than 35 species of plains animals, as well as the highest number of lions in the world, with some estimates exceeding 8,000 of them! 
There are also spotted hyenas, leopards, cheetahs, rhinos, hippos, giraffes and baboons, to mention but a few. During your stay, you'll also visit the beautiful Ngorongoro Crater which also teems with diverse wildlife, and Africa's greatest water body, Lake Victoria. 
Migration River Crossings Safari with Governors' Camps
Originally founded as a 'getaway' for the colonial governors of Kenya, Governors' Camp was the first permanent tented camp in the heart of Kenya's world-renowned Masai Mara National Reserve. 
This Migration River Crossings Safari with Governors' Camps is located in one of the most superb wildlife viewing locations in the Park, and is completely unfenced. A better site for viewing the dramatic river crossings of the countless wildebeest and some accompanying zebras would be hard to find.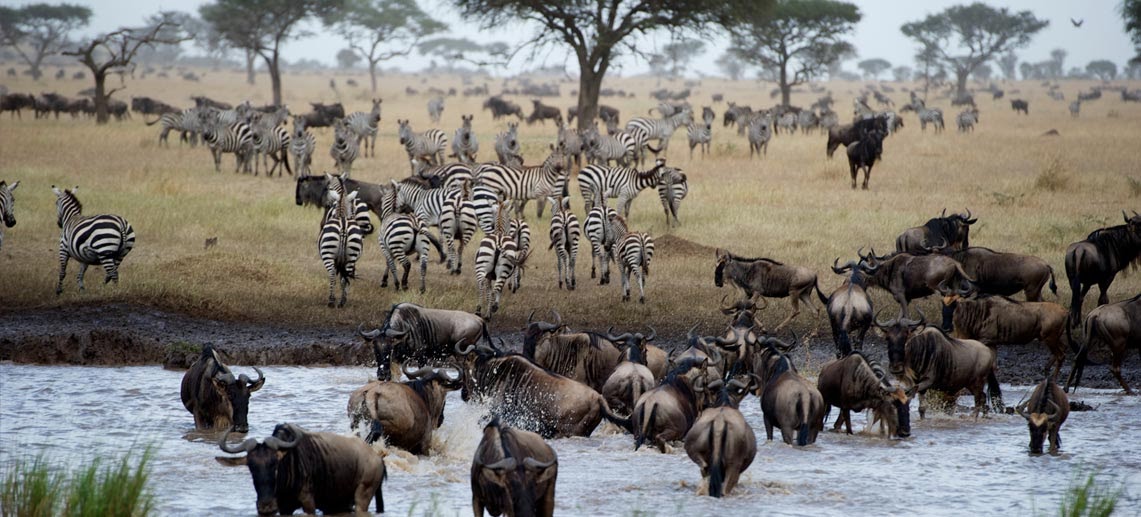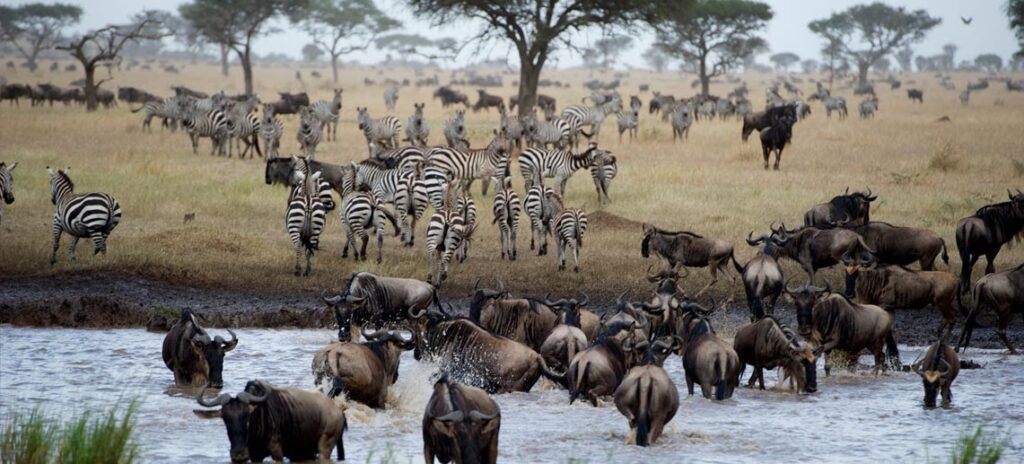 The setting is completely magical, as Governors' Camp is snugly ensconced in the riverine forest alongside the meandering banks of the Mara River. The river teems with hippos and crocodiles and is famous for its large numbers of enormous barbels (or catfish or mudfish as the Masai call them).  
The rich and varied birdlife around the Camp will delight any twitcher's heart. Families of elephants often come down to drink and enjoy the water, as do many other animals including warthogs with their enchanting piglets, and you'll often see dwarf and banded mongooses foraging for grubs in the leaf litter. Photographers rave about the superb photographic opportunities! 
HerdTracker and Kicheche Camps Safari
This 7-day HerdTracker and Kicheche Camps conservancy safari offers visitors something different and unique. Silver-qualified and experienced guides ensure your safety and superb wildlife sightings. Mara North airstrip is a mere 20-minute drive away. 
You'll enjoy three delicious meals a day, lots of activities and extended daily game drives in customised 4WD safari vehicles. We even have an electric vehicle that will whisper you quietly through the bush! Convivial evenings are spent relaxing and talking around the campfire.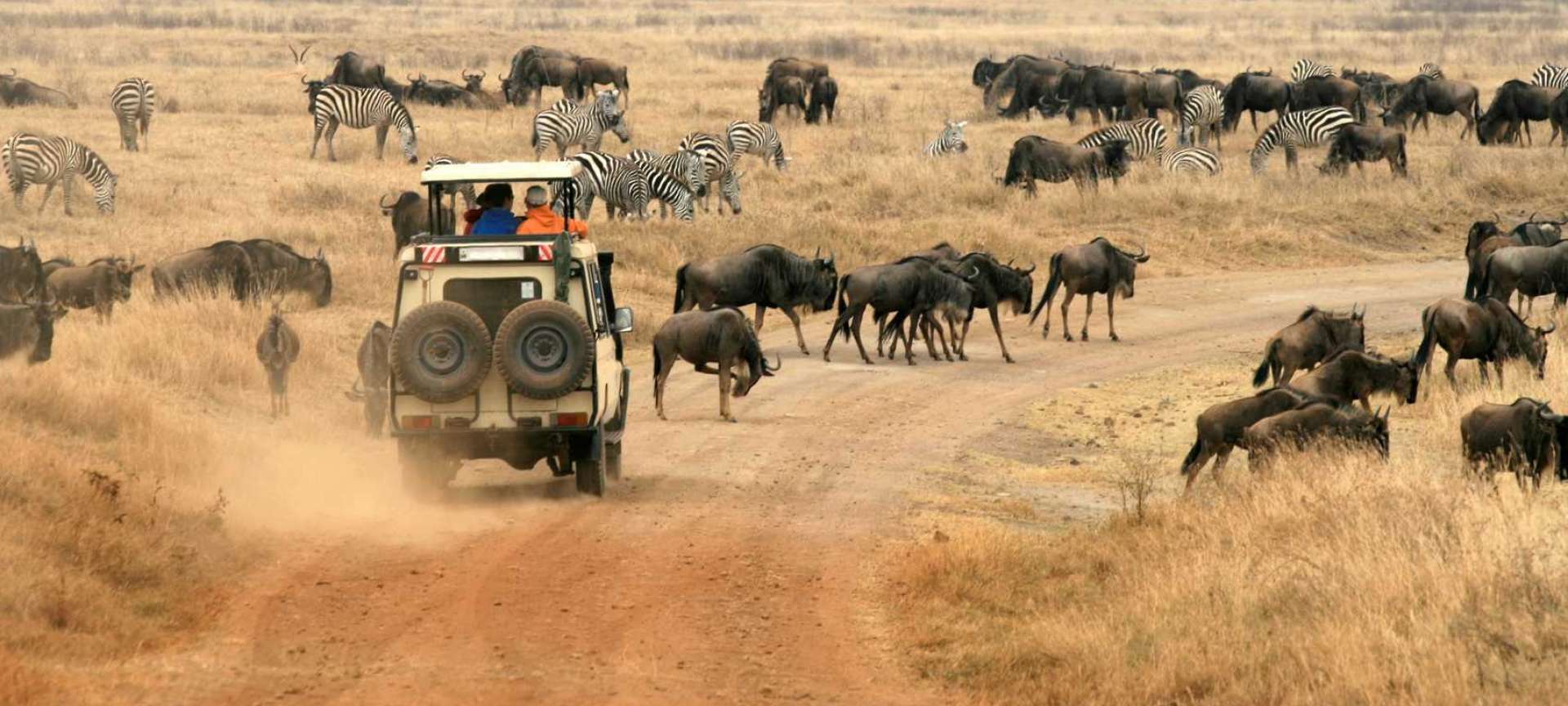 Kicheche Mara Camp is a classic luxury tented camp tucked away in a pristine valley in one of the most beautiful wildlife areas of the Mara North Conservancy. It sits on the banks of a seasonal stream with lots of animal visits and a wide range of resident birdlife. Leopard Gorge ensures some fantastic leopard sightings.
Masai Mara Safari Adventure
This 6-day Masai Mara Safari Adventure starting in Kenya's capital gives you a wonderful chance to enjoy the best of Kenya. You can revel in Nairobi's café culture, vibrant nightlife, and cultural places like the National Museum and the Karen Blixen (author of the famous Out of Africa) Museum. 
But here's the amazing thing! Just a mere 7kms from Nairobi's bustling city centre, you have the teeming wildlife of Nairobi National Park, the world's only 'urban' game reserve!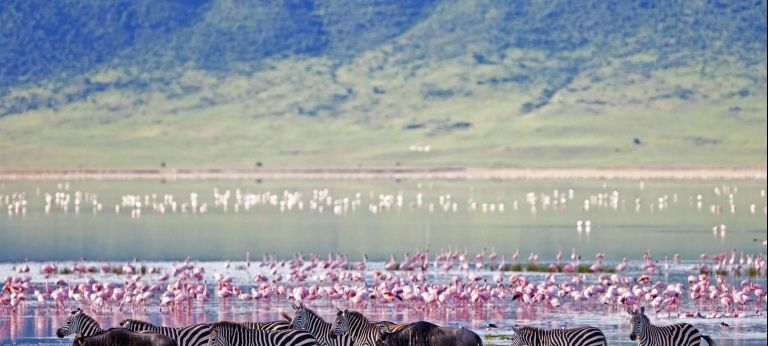 You'll also visit the Masai Mara National Reserve, with its famous Big Five, and what is considered by many experts as one of the richest and most diverse collections of wild animals to be found anywhere in the world. There are more than 90 species of mammals and over 570 species of birds. Our Masai Mara safari adventure is one of the best and most authentic African safaris on offer. 
We trust that we've managed to imbue you with some of our own love, enthusiasm, and passion for wonderful Kenya and all it has to offer! 
If we have, why don't you find out more about Discover Africa's wonderful Kenya safaris here?