One of the main reasons why people travel to Africa is to see the Big Five - the African lion, African elephant, Cape buffalo, African leopard, and the White/Black rhinoceros.
However, one of the most frequently asked questions we get is which destination offers the best chance to see all five species?
To answer this question, we've asked eight travel experts to share their favourite Big Five safari destination with us.
Mala Mala Game Reserve, South Africa

Roger de la Harpe
Professional wildlife photographer
Website: https://rogerandpatdelaharpe.com/
Twitter: @RogerdelaHarpe
Instagram: @rogerdelaharpe
That's a difficult one. There are so many that are so good! The Sabi Sand Game Reserves are stunning and popular of course, as are places like the Okavango Delta, the Serengeti, Moremi, Masai Mara and Chobe to name just a few of the more well-known destinations.
If it has to be the Big Five and you have to see them, then you are almost limited to Southern Africa and even then, probably only South Africa.
There are places like MalaMala and Londolozi in the Sabi Sand where Big Five sightings are almost guaranteed as is the case in KwaZulu Natal at Phinda and Madikwe Game Reserve in North West Province.
These destinations are somewhat pricey though and if you are looking for something a little more affordable then there is nothing wrong with Kruger, Hluhluwe iMfolozi Park or Mkhuze.
If I had to choose one out of all of these I think it would be MalaMala but if the price was an issue then I would go with Mkhuze - visit in July, August or September and sit in the hides and wait - it will all come to you!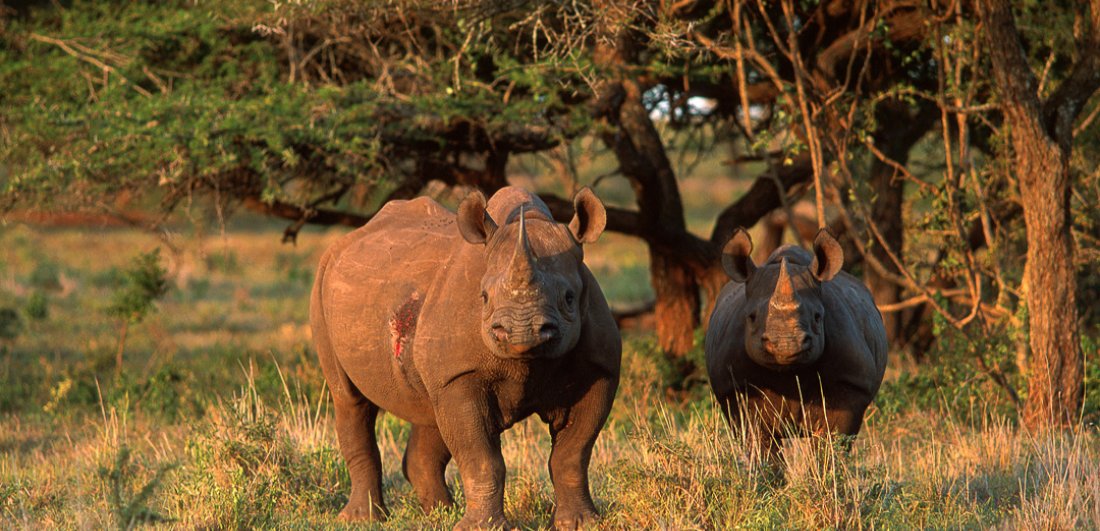 A Black rhino in the Mkhuze Game Reserve, South Africa. Image by Roger de la Harpe.
Okavango Delta, Botswana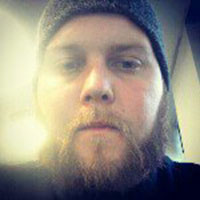 Russell Jarvis
Head of Communications at Travelstart
Website: https://www.travelstart.co.za/
Twitter: @russelljarvis
Instagram: @russjarv
Botswana's Okavango Delta is my all-time favourite big game viewing area in Southern Africa. In addition to 4x4 game drives, it also offers the unique opportunity to view wildlife from the water by making use of the floodplains that surround the lodges and camps.
Depending on when and where you travel to you can cruise the lush floodplains in a motorised boat to view game or be taken out on a Mokoro (a traditional dugout canoe).
For this activity your poler, similar to what one would get on Venetian canals, will skilfully steer you through the reeds stopping along the way to see view the uniquely-adapted wildlife that make the Delta so special – an abundance of birdlife, tiny reed frogs, crocodiles, vividly coloured lilies, and Lechwe on the banks who seem to defy sinking mud.
Of course any African safari, no matter where you are, is not complete without the obligatory sunset G&T's. Pulling up somewhere in the middle of the reserve (whether that's atop a small hill or anchored to the reeds) with your guide cracking open a cooler box to reveal all kinds of snacks is something special.
What you will notice most about Botswana as a whole is that conservation is at the centre of their tourism outlook – government and lodge owners support the collective focus on sustainability and even the premium camps are designed to have the little impact on the environment as possible.
The Delta is a year-round destination, but I particularly like April and May – just after the "Green Season" where you get the best of both worlds as the landscape transitions from the wet season to the dry winter season.
The rates are still less than in peak season (although not as low as between December and March) but the moderate weather makes game viewing a little more comfortable.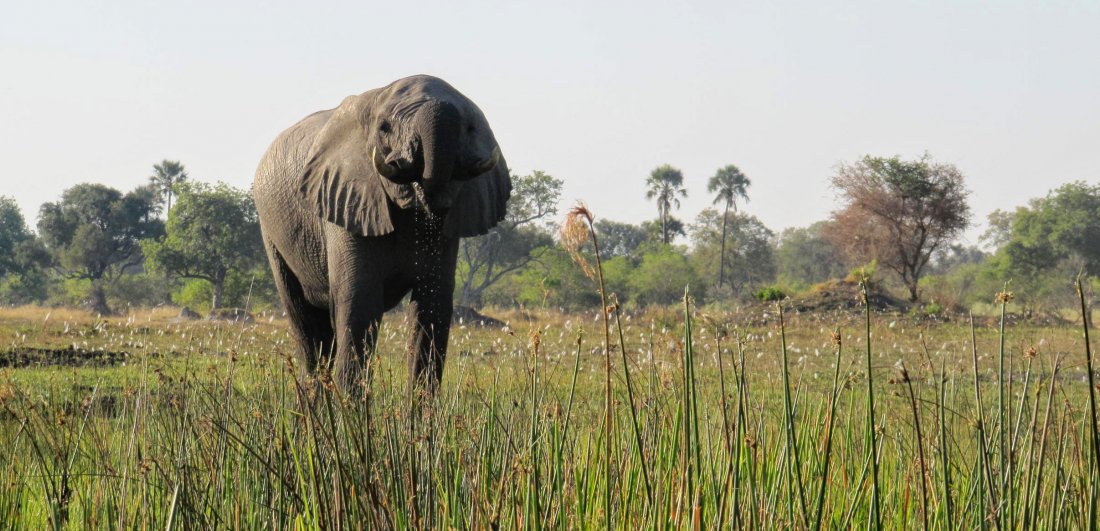 An African elephant rehydrates itself in Botswana's Okavango Delta. Image by Russell Jarvis.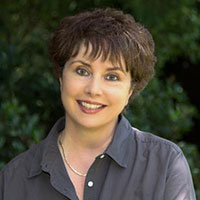 Roxanne Reid
Travel writer
Website: https://www.roxannereid.co.za/
Twitter: @RoxanneReidSA
Instagram: @roxannereidsa
Although South Africa's Kruger National Park is a reliable place to see the Big Five and I love both Namibia's Etosha National Park (no buffalo) and Zambia's South Luangwa National Park (no rhino), my top choice would be Botswana's Okavango Delta.
A UNESCO World Heritage Site, it's a true wilderness that changes with seasonal flooding.
There's no chance to get bored given the mix of land-based game drives and bush walks, as well as game viewing from boats along the waterways, all with clued-up guides. Apart from the Big Five (though your chance of seeing rhino is small), there are wild dogs, sitatunga, lechwe, tsessebe and sable in the Delta, and nearly 600 bird species in Botswana.
You can get to some camps only by air, letting you bask in expansive views of the Delta laid out below. There's a romance to the camps' setting, with gorgeous African sunsets like a windfall at the end of the day. Many camps embrace responsible tourism principles that benefit both conservation and local communities, so you can feel smug that your safari has done some good.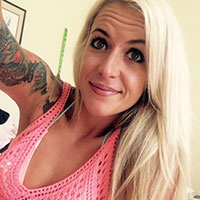 Clare Townsend
Digital Marketer at Safarious
Website: https://www.safarious.com/
Twitter: @BloodyClarey
What a magical world the Botswana wilderness is. I spent four infatuated days exploring the Ker and Downey camps in the Okavango Delta, Kanana Camp, Okuti Camp and Shinde Camp.
It was a whirlwind of amazing scenery, fantastic boat rides and incredible game drives - suffice to say - I left my heart in the bush.
Being in the Okavango and so close to the wilderness awakens a sense of belonging and fills you with a profound respect and adoration for nature, tapping into a very innate part of you. The smells, the sights, the sounds, from the big elephants to the tiny frogs, it was all such an incredible learning experience and one that I will cherish for a very long time.
There was never a dull moment on safari in Botswana, from exhilarating boat rides through the water highways and getting down with the little reed frogs in mokoros in the Okavango Delta, to experiencing morning tea on an island in the middle of this watery maze and then back to land to explore the wild landscapes, all flush with game and life, it truly was an awe-inspiring experience.
The constant potential for excitement is only made that much more palpable by the ever-present wildlife and the feeling of never knowing what lurks beyond the tall grass waiting to be seen.
Savuti Marsh, Botswana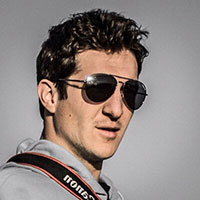 Tyson Jopson
Deputy Editor at Getaway Magazine
Website: https://www.getaway.co.za/
Twitter: @TysonJopson
Instagram: @tysonjopson
I can't recommend this place highly enough. The wildlife is incredible. The marsh is a relic of a large inland lake, fed by the erratic Savuti Channel.
Birds, allies and antelope are all drawn to the waterholes and wetlands. So, too, are predators. Leopards stalk prey on the muddy marsh banks, lions have been known to take down elephants here, packs of wild dog and hyena are regularly seen feasting on kills and cheetahs and jackals glide beneath the long grass, looking for opportunity.
Spend more than two days driving the network of sandy 4x4 roads around this area and you're guaranteed action. Go in May to avoid the crowds but still have good sightings.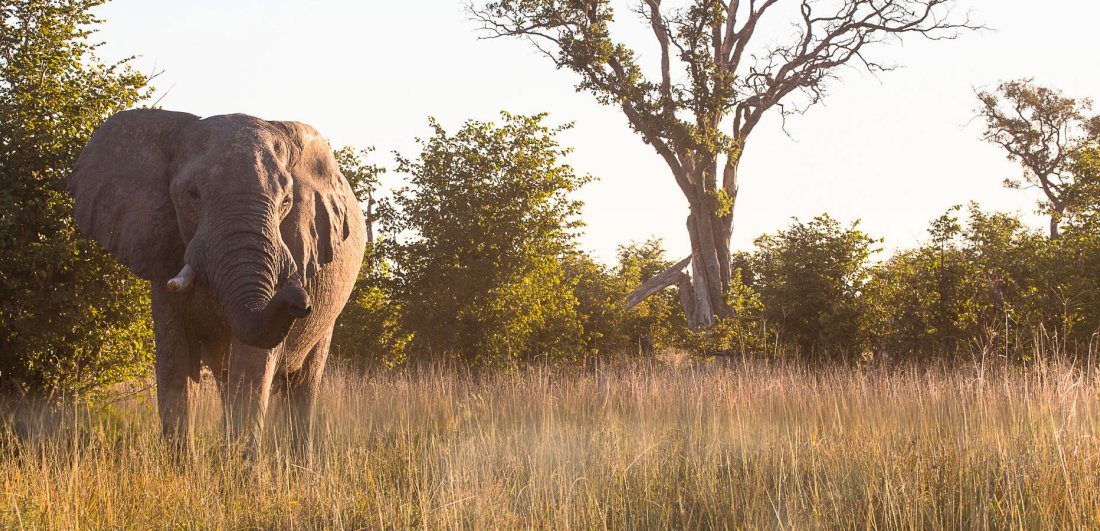 An African elephant stands in the African sun of Botswana's Savuti Marsh. Image by Tyson Jopson.
Pafuri, Kruger National Park, South Africa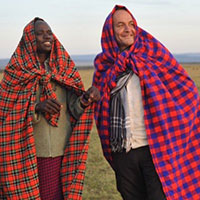 Anton Crone
CEO of Safarious
Website: https://www.safarious.com/en
Twitter: @antoncrone
Instagram: @antoncrone
The Pafuri region of Kruger National Park is home to almost 75% of the park's diversity, yet it is just 1% of Kruger's size.
You can't help but bump into elephants here; leopards prowl through your camp at night, and buffalos slow your walking pace like thuggish speed bumps. That's right, walking trails are the thing here. They bring you closer to the elements and heighten your senses by amplifying your vulnerability. Walking among Pafuri's legion of wild creatures, you begin to feel human.
Forming part of the Great Limpopo Transfrontier Conservation Area, it's not just the Big Five that lure people to Pafuri. Immense fever tree forests give way to deep river gorges lined with baobabs, fig trees and aloes.
The birdlife is remarkable with over 450 species, and the water so plentiful that just sitting along the river banks provides you with a grand view of this wild theatre.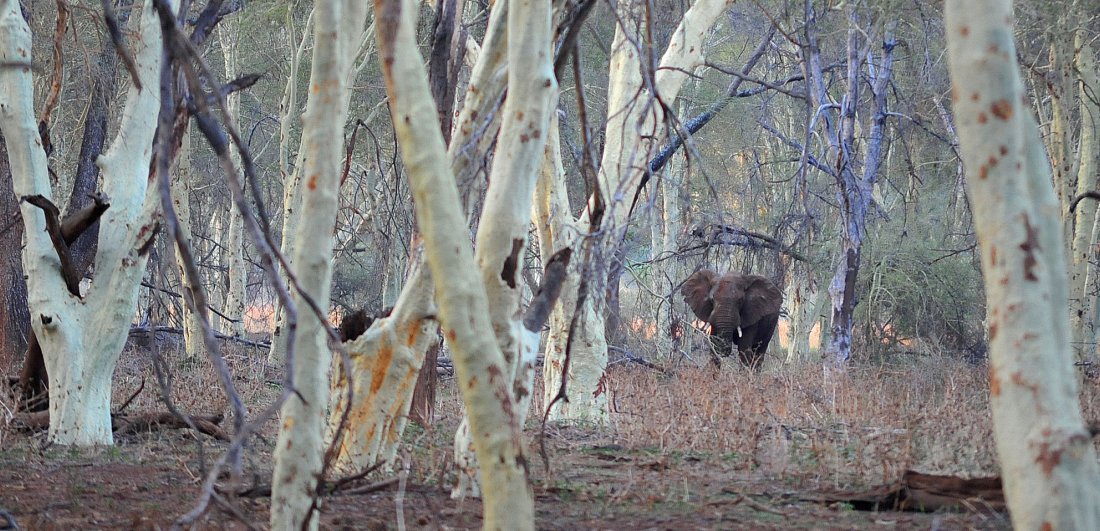 Tracking elephants during a walking safari in the Pafuri region of the Kruger National Park. Image by Anton Crone.
Masai Mara National Reserve, Kenya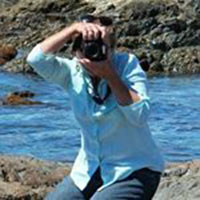 Di Brown
Travel writer
Website: https://jabedi.com/
Twitter: @DiBrown5
Instagram: @roaming_giraffe
I only spent two days in this reserve but it was enough to persuade me that this was it.
I love the fact that it is not easily accessible. It is a hard day's drive from Nairobi, travelling from the chaotic city, down into the Great Rift Valley and finally off into the real Africa, driving on roads discernable as such only to the experienced guides who weave a route over extremely rough terrain, around large rocks and into huge holes. This bumping and bouncing goes on for hours. Of course the uber rich can fly in with ease, but for the average traveller, it's a long road.
For me, this means the animals have the best possible chance to live as they were meant to, with minimum interference from humans. The reserve is so vast that you truly get a feel of the amount of space required to sustain naturally living lion, elephant, buffalo and giraffe.
The wildlife in this reserve is prolific, so you do have a very good chance of seeing at least three out of the big five, but it is not guaranteed. This makes any sighting all the more thrilling.
My guide was impressive in the restraint he showed when implored by tourists offering lots of dollars if he would drive closer to a lion kill. He explained to them why this is not a good idea both for the safety of the tourists and the wellbeing of the animals.
Sadly not all the guides are as educated or scrupulous as he is, as we witnessed two incidents of vehicles getting close enough to allow for excellent photographs but disturbing the animals, which is unacceptable behaviour.
These incidents were reported to the reserve management and apparently are dealt with effectively.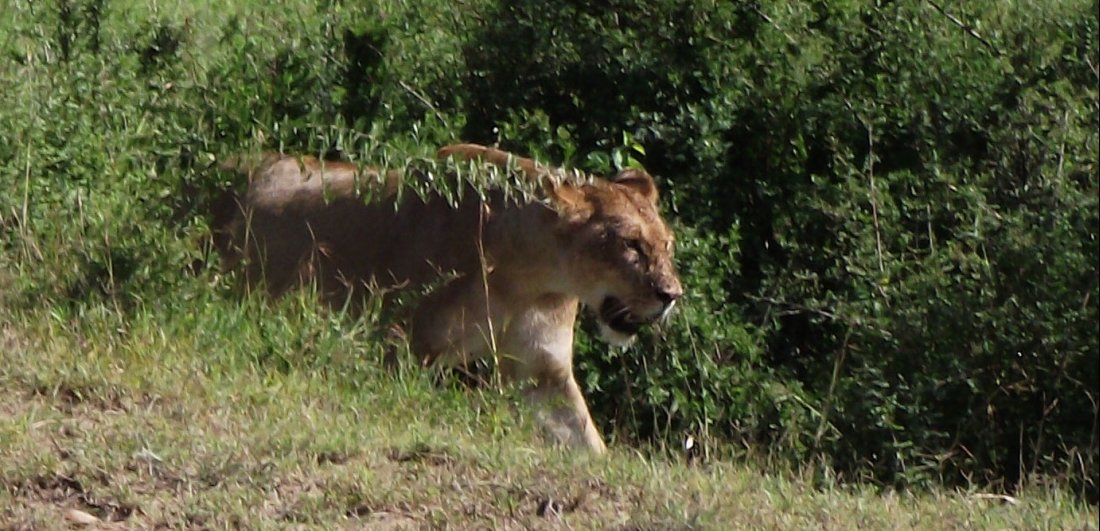 A lioness in the Masai Mara Game Reserve, Kenya. Image by Di Brown.
My first experience in the Mara was in the late evening. The sky although cloudy, seemed endless and the greens of the grasslands appeared to never end. Not long after we started our drive, the heavens opened and the hailstones were bouncing off the dry earth. In the distance thunder grumbled, lightning flashed and giraffe huddled miserably under the trees.
Zebra ran as puddles grew into small rivers in a matter of minutes. The sky darkened and we had to head back.
The following morning we were in the reserve just after sunrise and spent an entire day driving through this relatively unspoiled natural wonderland. We spent ages watching two cheeky jackals trying to approach a lion kill while the lions dozed having eaten their fill.
Elephants with young flapped their ears and trumpeted protectively as we watched from a safe distance.
We followed a lion spoor for many kilometres before giving up and changing direction.
The Masai Mara was where I first saw a Sausage tree, its heavy pods swaying in the breeze as our guide explained some of the uses of this particular fruit. Uncooked, the fruit will cause painful blisters to the mouth if eaten, and green fruits are allegedly poisonous. The most common use is in traditional beer making where it aids the process of fermentation.
The crushed pulp is used to treat blisters as well as syphilis. The birdlife in the area is a twitchers dream and landscape a photographer's delight.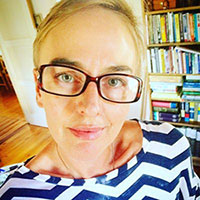 Dawn Jorgenson
Travel writer
Website: https://theincidentaltourist.com/
Twitter: @DawnJorgensen
Instagram: @dawnjorgensen
A tough one, as I love every safari I go on hugely, but somehow when I sat down to really think about it, the Masai Mara wins.

The Mara, as it is fondly known, is situated in south-west Kenya and is undeniably one of Africa's greatest wildlife reserves. Named in honour of the Masai people whose ancestral land it is, this is the site of the annual wildebeest migration and throughout the year holds a rich residential population of Masai lion, leopards, cheetah, zebra, hyena and Thomson's gazelle. I truly love it here.
On my visit, I stayed in the Olare Motorogi Conservancy, which forms part of the Masai Mara National Reserve, but allows a more private safari experience, as the actual reserve can get very crowded, especially during those months when the thundering hooves of wildebeest echo across the plains.
The word Mara literally means 'spotted', which refers to both the landscape patched with groves of acacia and thorn bushes, as well as the colour red of the earth that pushes through the grass. Sun-bleached bones litter the land as wildebeest and zebra graze nearby, oblivious to the pack of lions that lie fully seated under a tree, legs in the air occasionally swatting at lazy flies, all the while looking deceptively domesticated.
I took to exploring the area by full day safari, tucked up under red checkered Masai blankets to ward off the cold first thing, and was astounded by the rich wildlife sighting. There is literally game everywhere and given that the green plains resemble perfectly mowed lawns, very easy to spot.
The area is said to have the highest density of lions in East Africa with numerous prides found, hyena walk boldly across your path in broad daylight and cheetah take advantage of the anthills to get a better view.
We stopped for breakfast and sundowners, visited an authentic Masai village to learn about their culture and spent much time at a nearby rhino sanctuary, where the rhinos are under 24-hour guard for their safety.
One of my favourite memories was walking the green plains with my guide and a Masai Tourist Police member. We were out there for a few hours, stopping to watch a journey of giraffe go by, antelope grazing oblivious to our presence, checking underfoot as a snake was discovered and following tracks dried in the mud after the early morning rains. This truly is the best way to see an area and was a great privilege for me.
The magic of wild Kenya is quite unbeatable, the animals relaxed, the guide invested and incredibly knowledgeable and the lodges beautiful, yet true to their surrounds. This visit truly was a dream come true for me and happy as I am anywhere in the bush, I'd return here in a heartbeat.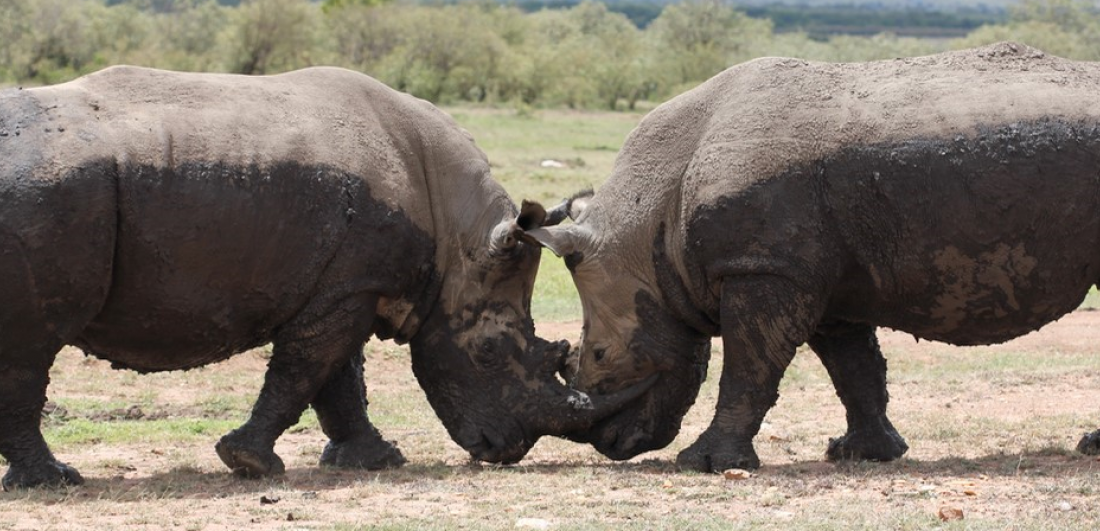 Rhinos jousting in the Masai Mara National Reserve in Kenya. Image by Dawn Jorgenson
---