Mount Meru Hotel
Arusha, Tanzania
Make Mount Meru Hotel part of your safari from
USD 235
Show price in
USD $ 235
GBP £ 187
ZAR R 3,382
EUR € 208
per unit per night
Discover the place where the heavens meet the earth, where the rhythm of nature pounds to the beat of an African drum, and where life is all about a revival of the senses.
Situated at the foothills of Mount Meru in the city of Arusha, Tanzania, the Mount Meru Hotel lies on 9 acres of lush landscape, surrounded by some of Africa's most breath-taking vistas, rich with a diverse array of wildlife, etched against the fertile slopes of this beautiful mountain.
Give your imagination wings as you sit at the mountain's feet, and listen as it reveals stories it has kept hidden for centuries.
Whether travelling for business or pleasure, you are invited to take delight in the breath-taking setting, lend your ears to the beautiful sounds of nature meeting civilisation, and touch the heart of Tanzanian highlife and luxury.
The Mount Meru Hotel, its management and staff members have made every endeavour to ensure that your stay is a rejuvenating and refreshing experience of African hospitality and look forward to meeting you in person.
Tanzanian warmth and kindness is renowned all over the world and the opportunity to prove this fact much more than mere legend is an exhilarating opportunity to all at this pinnacle of splendour, and our home, the Mount Meru Hotel.
With temperatures averaging a pleasant 25 degrees Celsius for most of the year, it not only makes the Mount Meru Hotel a tranquil getaway, but a place where you can really put your feet up and find your grounding again.
Stay at Mount Meru Hotel on these recommended safaris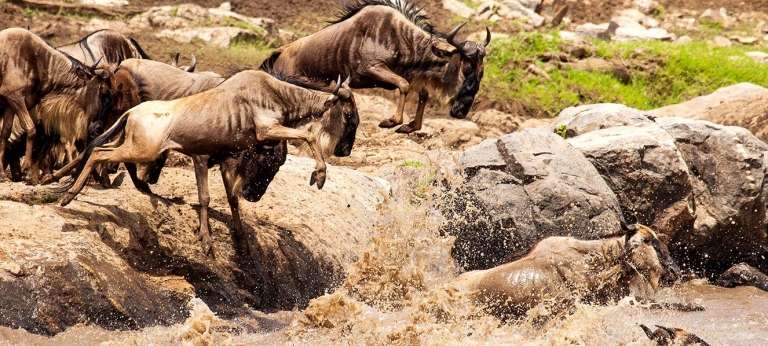 Join HerdTracker on a wildebeest migration safari in the Serengeti National Park's Grumeti region
$ 6,195
£ 4,928
R 88,966
€ 5,488
per person
10 days
Mount Meru Hotel Details
Amenities
Bar/Lounge
Business Center
Free High-Speed Internet
Restaurant
Swimming Pool
Wheelchair Access
Electronic Safe
Air-conditioning
Tea and coffee making facilities
Tanzanite jewellery store
Forex counter
Babysitting facilities

Included in your stay
Meals: All meals
Drinks: All drinks
Activities: 3 safari activities per day

Mount Meru Hotel Map
Mount Meru Hotel's location in Tanzania on Google Maps
Reviews on our safaris in this area
Discover Africa and Carel has put in such an effort for us to experience the annual wildebeest migration, meticulous planning and accurate predictions with logical and the best accommodation options both sides of the Mara River guaranteed us…
Jates and Hil Oettle
from South Africa
I just wanted to thank Discover Africa and Karl Svendsen - the safari was great - we saw many more animals than expected including cheetah, leopard, many lions and even a three-day old elephant calf. Additionally, we had our own hippo…
Margaret Dean
We had the most wonderful time in Tanzania. We left yesterday and miss it already. We saw the big 5 and felt super lucky to see the lions and leopard with their kill. Our guide was also wonderful. Thank YOU for planning our trip of a…
Debbie Wei
We had a wonderful experience with the Discover Africa team on our trip to Kilimanjaro and Zanzibar. Due to unforeseen circumstances we needed to head down early and their team were most helpful in arranging exciting new options for us while…
Mark Tomlinson
from South Africa
Our service from Carel at Discover Africa was outstanding. His recommendations on the timing of our trip, the lodges we should book, communication and overall assistance ensured that our trip went off very smoothly and that we were in the…
Patti Legg
from South Africa
History was made in supporting Chaeli Mycroft to become the 1st quadraplegic female to summit Kilimanjaro. What amazing partners Discover Africa are! Great communications from home team ensured that getting to Tanzania happened without a hitch.
Zelda Mycroft
from South Africa