Enchanting Moremi Mobile Camping Experience (7 days)
Enchanting Moremi Mobile Camping Experience (7 days)
Moremi Game Reserve in the beautiful Okavango Delta is well-known for self-drive camper vanning. Explore this exciting way of travel with us
You start your mobile camping journey at Moremi Game Reserve where the amazing vision by Chief Moremi created one of the world's most famous reserves, as well as conserving part of the Okavango Delta and the plains to its east.
Moremi Game Reserve covers more than 4,871 square kilometres of pristine wilderness, where the varied terrain includes savannah, winding waterways and thick forest.
Travellers will have the opportunity to spot a wide variety of wildlife, ranging from about 550 bird species, to large herds of buffalo, wildebeest, zebra, rare sitatunga, lechwe antelope, lion, cheetah, birds and a pack of wild dogs; all in the open grasslands.
The Khwai area of the Okavango is situated along the northern boundary of the Moremi Game Reserve. This is an unfenced boundary, allowing wildlife to move freely between the woodlands in the wet season and back to permanent river and lagoons in the dry season. This area offers a wildlife experience through morning and night game drives, walking safaris and mokoro rides.
JanLow
FebLow
MarLow
AprLow
MayLow
JunLow
JulPeak
AugPeak
SepPeak
OctPeak
Costing tip: When comparing with other companies, remember most of them only show the low season rate. How pricing works >
What to Expect on This Safari
This popular itinerary can be customised to match your budget and travel dates by adding/removing a few days or selecting different lodges
Botswana, Arrival!
On your arrival at Maun International Airport, you will be met at 14h00 by Mack Air for your charter flight to the Xakanaxa airstrip in the Moremi Game Reserve. This is where you will be met by your guide in the Camp Xakanaxa region and spend your first three night with all meals included.
Being on the banks of the Khwai River in the Xakanaxa Lagoon ensures that it is one of the only safari camps that provides guests with an authentic, year-round Okavango Delta land-and-water safari experience, known locally as mokoros. Enjoy scenic game drives and nature walks in the Moremi Game Reserve and Xakanaxa. The diverse habitat ensures prolific sightings of elephant, buffalo, wild dogs, hyena, giraffe, hippo, wildebeest, kudu, lechwe, lion, leopard and cheetah to name a few. However, birding is spectacular in the spring and summer months, when the migrants are breeding.
Meals: Full Board
Transport: Included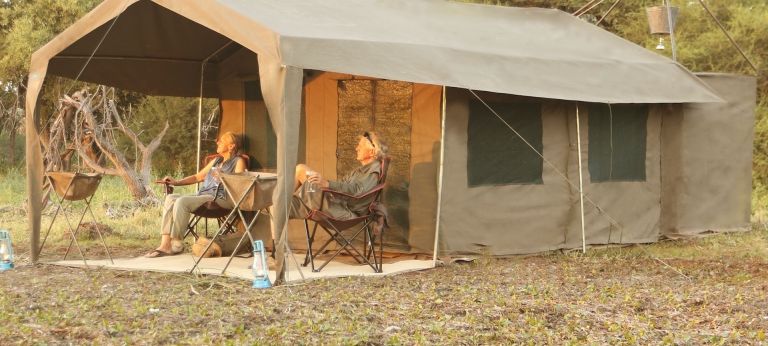 Enjoy the perfect view
Your next stop is the Khwai Area. After an early morning breakfast, you will take a slow drive through Moremi Game Reserve, north-east towards the Khwai community area where you will stay on a full board basis for three nights at the Khwai Tented Camp.
The camp is positioned on the edge of a leadwood and fig tree forest, overlooking the Khwai River floodplains and the Moremi Wildlife Reserve.
Morning and afternoon game drives are offered, as well as night drives for avid stargazers. Cultural visits to the local village will provide fascinating insights into the African life. If you want a true outdoor experience, guided safari walks and mokoro rides along the Khwai River are offered and are an adventurous way to experience the Okavango Delta wilderness more intimately.
Meals: Full Board
Transport: Included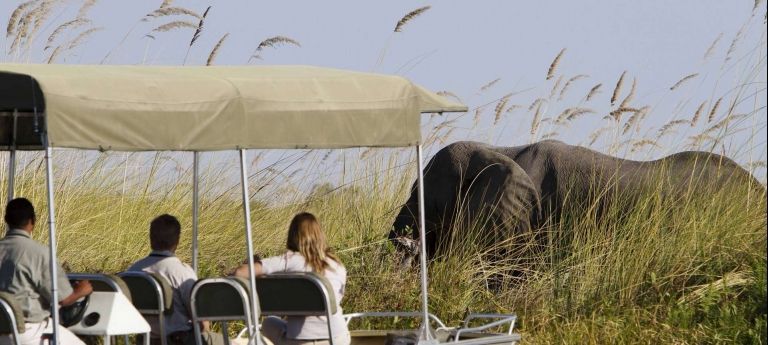 This marks the end of your safari
After breakfast, take a game drive to the airstrip, where you will be met by your charter flight back to Maun International Airport.
Recommended Iteniraries and Tours