Affordable Chobe Holiday
Travelers lucky enough to be armed with strong international currencies should be able to explore Chobe in perfect comfort (sometimes top-end comfort) for a reasonable price – but remember that Botswana is a destination where low-volume, high-income tourism is promoted. As such, you might need to look for ways to keep costs down.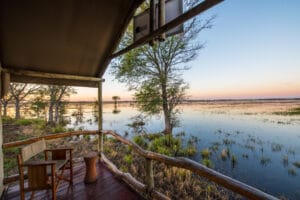 Most lodges and camps in Chobe Riverside, Savuti, and Linyanti are all-inclusive, which means that once you've paid the lump sum, you theoretically won't need to touch your wallet until it's time to tip the staff and say goodbye.
But not all seasons are equal, and this is where you can make considerable savings. Great deals can be had in the shoulder season (around May and November, when the weather and animal activity is less predictable) and the "green season" (December to March, when it's hot and humid, and wet weather can make road travel tricky).
As an example, one high-end brand's high-season lodge rates were $1,000 per person per night in 2019; their low-season special was $580, and shoulder season rates $750. This does not include a single supplement.
For those determined to get close enough to the wilderness to hear buffalo chewing at night in, say, Savuti, a mobile safari operator is an option. These cater to varying budgets, but the better options will take the trouble to pack good bedding and quality food, and guests can enjoy a deluxe camping experience.
Guests will sleep in large dome or walk-in tents with stretcher beds and good linens, and water will be warmed for hot showers, plus short-drop toilet facilities provided rather than a spade and a loo roll. Better mobile safaris may even have "en-suite" tents.
Guests usually travel in an appropriate game-viewing vehicle while a second vehicle hauls the gear and sets up camp. This has the advantage of getting one deeper into Chobe without flying and having that authentic safari experience so many yearn for.
Of course, affordable options mean traveling with a group of other people. As an example of costs, one "mini" seven-day mobile safari with a top-end outfit is from $3,540 per person in low season to $6,050 per person in high season. This is based on a group of six.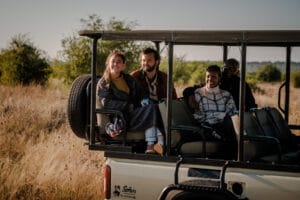 For pure exclusivity, you need to book a private guided safari, and that, unfortunately, is not within everyone's budget.
Although the private concessions of Linyanti and Selinda are generally more high-end and thus possibly only an option in green season, there are a few simple yet quality options that are easier on the budget. Check with your Discover Africa expert.
Practical Advice for an Affordable Chobe Holiday
The Chobe Riverside lodges and camps can work out to be more reasonable than those deeper in the park, especially the concessions. The western Chobe Riverside can be more expensive than the east. Also, check accommodations over the Chobe River in Namibia.
Another possible way to save is to look at newer lodges opened by the excellent safari lodge brands. These sometimes offer lower prices as they are becoming established.
Tipping can be an awkward subject. There is no obligation to tip for poor service, and it's always voluntary. Don't be embarrassed to ask the manager about the camp's policy – some lodges will have this information in the info packs in your room. As a general guide, tip only at the end of your stay. Consider first tipping your guide, who you will spend a lot of time with and who may become a friend. $10 a day is suggested for group guides and $20 for private guides. Then most camps have a "staff tip box" or envelope for the general staff, from cleaners to chefs and waitrons. Here, we recommend giving a lump sum divided equally between the staff, based on around $5 per guest per day.