WATCH: Zambia vs Botswana

Should you go to Zambia or Botswana? The choice depends entirely on the type of holiday you prefer. Both countries are extremely safe and have excellent wildlife and national parks, but each is suited to a slightly different type of traveller.
Which premium destination would you choose? Take a look:
Zambia

Botswana

Wildlife

All of the Big Five although rhino concentrated in North Luangwa
Game-viewing is great all year round although Luangwa is closed between May and November

All of the Big Five as well as many endangered species like the African wild dog, red lechwe and Slaty egret (bird)
Zebra migration is a wildlife highlight

Photography

Excellent, especially in the Luangwa Valley
Victoria Falls is always a fantastic photographic subject

Botswana's pristine, well-maintained national parks and reserves are brilliant for photography.

Type of traveller

Active travellers who enjoy walking safaris
Honeymooners
Adventurous travellers will enjoy Lower Zambezi and Victoria Falls
Photographers and filmmakers

Wildlife-based travellers
Photographers
Family travel
Group travellers
Active travellers

Accommodation

Premium, exclusive accommodation with warm and friendly people
Accommodation is often much less expensive than similar styled lodges in other countries
Guides are fantastic and highly skilled

Premium, high-end accommodation is readily available
Mobile camping is popular
Expect superb service and knowledgeable guides and trackers

Languages

The official language of Zambia is English but there are a multitude of dialects and ethnic languages spoken
Stable economy and political culture

Almost everyone speaks English
Stable political history and economy

Experiences

Walking safaris
Land and water-based game-viewing, with canoeing a popular activity
Birding
Adventure holidays
Relaxing holidays on Lake Kariba

Water and land-based game viewing
Fishing on the Zambezi and Chobe rivers
Horseback safaris in the Makgadigadi National Park and Selinda Game Reserve
'Glamping' and mobile camping
Walking safaris
Photographic safaris

Best time to travel

June to November for game-viewing
November to April for birding
May to September for walking safaris

June to October is the best time for game-viewing
November to April (green season) is best for visits to the Central Kalahari Game Reserve

Transport

Fly-in safaris are most popular due to the poor road conditions and weather-related difficulties during the rainy season

Fly-in transfers are popular due to the vast expanses of wilderness
Self-drive in Botswana is more popular than in Zambia

Malaria risk

Medium to high risk of malaria in most parts of the country
Take your pick: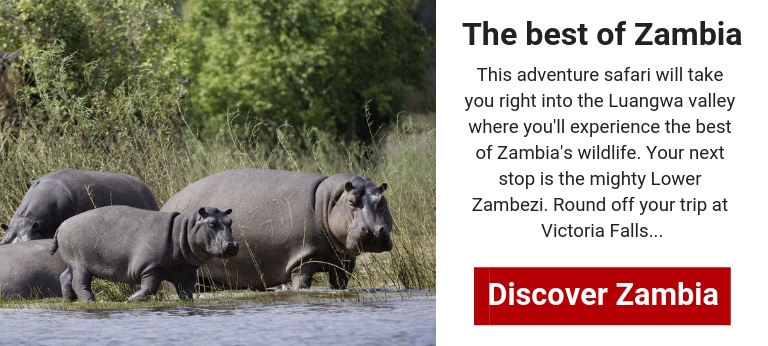 OR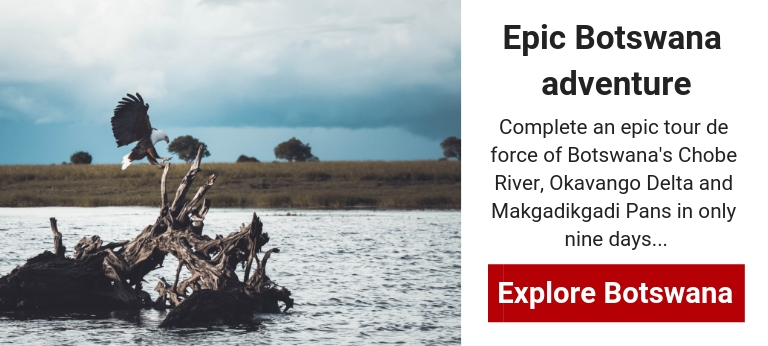 If you're having trouble deciding, contact us for a combination safari to Botswana and Zambia that we'll create for you based on your budget.
Previous Article