WATCH: Tanzania vs Rwanda

While Tanzania unquestionably has a far more extensive and diverse safari offering, it does not have mountain gorillas! With semi-habituated chimpanzees in the beautiful Nyungwe Forest and habituated mountain gorillas and golden monkeys in Volcanoes National Park, Rwanda trumps Tanzania when it comes to primate safaris.
Tanzania on the other hand, will allow you to tick off every bucket list safari experience you may have.
Take a look:
Tanzania

Rwanda

Wildlife

All of the Big Five, including millions of wildebeest, giraffe, cheetah, hyena and wild dog
Chimpanzees concentrated in the Mahale National Park along with other monkeys

Mountain gorillas and other primates including red and white colobus monkeys as well as chimpanzees
Elephants and hippos are among the largest mammals in Rwanda

Photography

Exceptional photography due to the abundance of wildlife, naturally beautiful landscapes and the Great Migration

Bird photography is great in Rwanda. There are 21 globally endangered species.

Type of traveller

Family travel
Adventurous couples
Solo travellers
Photographers and filmmakers

Couples
Group travel
Hikers/active travellers

Accommodation

Mobile camps that follow the Great Migration are popular
There are a variety of luxury accommodations available
Accommodation is quite pricey in general although there are budget camping facilities in large parks like the Serengeti

Accommodation can vary from luxury to budget but all are very comfortable and service is excellent
An adequate selection of hostels are also available
Lodges closest to the mountain gorillas tend to be more expensive

Language, culture & history

Exceptionally diverse cultures and languages in Tanzania, depending on the region
Swahili is widely spoken and English is the language medium at all tourist destinations
Zanzibar and coastal regions practise Islam

Turbulent history; site of one of the worst genocides in African history but the country is slowly rebuilding itself
Kinyarwanda is the national language, alongside various other dialects
English, Swahili and French is also spoken

Experiences

Big Five and wildlife safaris
Great Migration safaris
Photographic safaris
Birding safaris
Walking safaris are popular

Safari-goers who enjoy primates will love Rwanda
Adventure/active travellers
Birding safaris
Cultural safaris

Best time to travel

January to March for the wildebeest calving season
June to September for better game viewing and the migration river crossings. Also a wonderful time for an island vacation, although December to March is also pleasant

Transport

The southern safari circuit is remote, so fly-in transfers are necessary, as well as for mobile camping trips
Self-drive can be tricky due to the great distances between parks and road infrastructure is not well developed

Transport infrastructure is improving steadily. Public transport can be somewhat unreliable so metered taxis is the preferred way to get around.
Fly-in transfers are not as popular

Malaria risk

High risk on the mainland but a much lower risk on the islands

High risk all over the country, facilitated by the rainy season
Try this combination safari that includes both gorilla trekking in Rwanda and the opportunity to see the Great Migration from both side of the Mara River: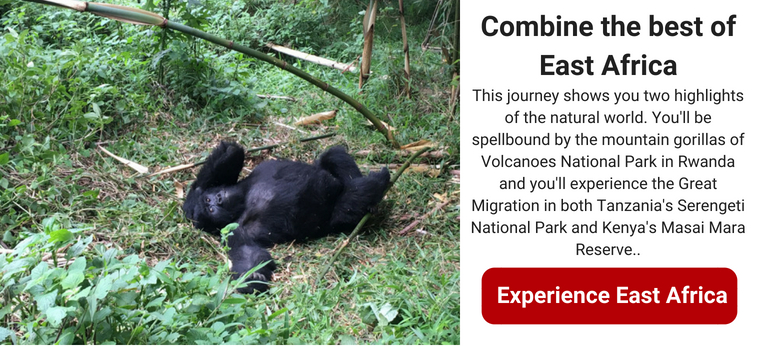 If you'd like more information about Tanzania or Rwanda as a safari destination, contact us here.
Next Article