There is a lesser known movement or migration of up to 250 000 wildebeest and zebra on an annual journey from Loita Hills, to the northeast of the Masai Mara - into the Masai Mara itself - and its neighbouring conservancies.
The herds have arrived in the Masai Mara and we are happy to report that our people on the ground confirmed that herds up to 20 000 have moved through Naibosho Conservancy - further west into Olare Orok and even onto paradise plains inside the Mara.
We expect the herds to linger a little longer in and around the Masai Mara this year because of loss of space further east. Here is feedback from Zarek, Operations Manager at the Encounter Mara Camp based in the Naibosho Conservancy:
"I hope you're well Carel. The Loita herds are already here. They've spread across the top of Naboisho and some have gone into Olare Motorogi Conservancy as well. I predict the Loita migration will come earlier and earlier each year and stay longer as the Loita Plains to the North are becoming increasingly cut off by new fences and settlement."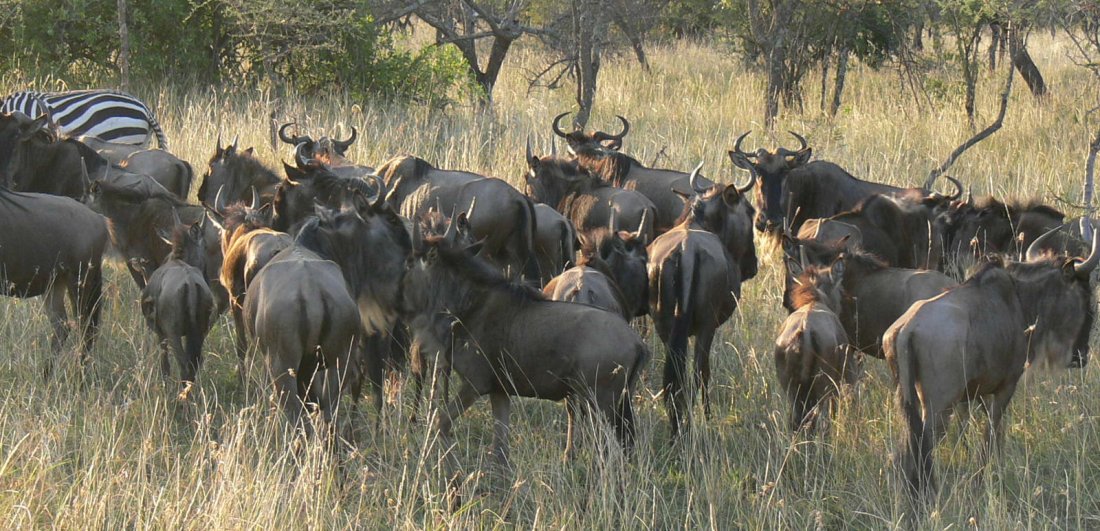 Image by: Wildlife Direct
In the long-run, we expect the pressure on the area around Loita Hills to force the Loita migration into the greater Masai Mara earlier and that could have an impact on how long the Great Migration (from the Serengeti) can afford to stay in the Masai Mara before they run out of grazing too. We are monitoring the annual movements and keeping an eye on substantial shifts in arrival dates of both migrations.
"Generally, the wildebeest from Serengeti continue moving throughout the Mara ecosystem until early to mid-October. Lesser known to many as the Loita wildebeest migration, originating in the Loita Plains to the North East of Naboisho, an event that brings what many estimates to be well over 200,000 wildebeest into the Mara from their dry homeland in May. They will graze in Naboisho and the surrounding areas until the next big rains hit the Loita Plains, often keeping them here until March the following year! The Loita migration and a sometimes early Serengeti migration makes May / June one of the best times of the year to visit Mara Naboisho Conservancy. The grass is still green, the game is present en-masse, there are hardly any other visitors around, and the prices are low! You get the best of both worlds: low-season prices and tourist numbers, and high-season game-viewing," says Zarek.
Although the Loita migration would not cross the Mara River to go south into the Serengeti, it still provides an incredible migration experience at an incredible time of the year, wonderful interaction and you can enjoy private conservancies that offer walking, night drives and off-road driving – this all makes visiting the Masai Mara for the Loita migration worth your while!
Image by: Wolfgang H. Thome's Blog
---