Imagine travelling hundreds of miles to see and experience the spectacular herds of the Great Wildebeest Migration, only to arrive at your destination and find out that you've missed it by one week.
How disappointing!
Luckily for you, we're here to help. Here are five reasons people miss the Great Wildebeest Migration and how to ensure that this doesn't happen to you.
1. Wrong place, wrong time
After months of preparation and waiting for you for your safari to begin you arrive at the lodge with no wildebeest in sight. For whatever reason, the herd decided to change its route and can't be viewed from your accommodation, or reached by safari vehicle. You're at the wrong place at the wrong time.
Operating daily scenic flights over the Serengeti, Captain Joel Fernandes from Coastal Aviation offered a great suggestion on how to prevent the disappointment of just missing the herds.
"We drop off clients and pick them up again on a daily basis and have done this for many years. Some clients are disappointed because they did not see the migration just because they were not informed where to go and didn't know who to ask. If you are going to come all the way to East Africa then you might as well give yourself the best chance to come to see this wonderful phenomenon. We want to be part of helping people see the migration, that's why we provide up-to-date migration location information to clients out there in real time. We do this in hope of getting more people to be at the right place at the right time.", says Fernandes.
How to prevent this:
We've partnered with tour operators, lodges and camps, as well as other experienced contributors to offer you daily updates via our HerdTracker app on where the Great Migration is at any time of the year.
2. Staying in one lodge
When you stay in one lodge for your entire safari holiday you take a big risk of missing the migratory herds. When booking your getaway, you can't be 100% certain the herds will be in the area where your lodge is located for the duration of your stay.
How to prevent this:
Our travel experts recommend:
"Book two or three lodges in the neighbouring areas, for maybe two nights each. This way you increase your game drive area and chances of seeing the migration. Besides that, it can also improve your total safari experience. Every wilderness area is slightly different, with vegetation and landscapes that vary. Every lodge has a different ambience too, and it's great to experience more than one."
3. Booking too late
The wildebeest migration is a popular, once in a lifetime experience. With limited accommodation in the areas that give you a front-row seat to migratory herds, you'll find most lodges are sold out a year in advance. This leaves you to choose from lodges that are further away from the action, lowering your chances of seeing the migration. Don't forget about busy holiday seasons too - they play a big role in the accommodation availability.
How to prevent this:
Knowing everything there is to know about the availability of rooms and when to book accommodation, Sales Manager of Asilia Africa, Adele Roux sheds some light on the matter;
"When our mobile camps are at Ndutu or the Mara River, rooms are easily sold out more than a year in advance. We cannot add more beds because there is just not enough water and capacity for more guests, especially in the south. Mobile camps are dependent on water and that is the Serengeti's biggest limiting factor. My advice is, book early to have options.", says Roux.
4. False advertising
There are some tour operators that are not real safari enthusiasts and lack the knowledge and skills that are required when offering guests the best possible Great Migration experience. These operators will simply say that the herd is not in the area instead of driving the extra kilometers, to ensure you get your sighting. It's operations like these that often use inexperienced guides and trackers who don't know where they can find the herds or where the best viewing spots are.
How to prevent this:
Godfrey Kimaro is a ranger in Tanzania and knows every tour operator in the area. Kimaro offers advice on how to decipher between a cheap operator and an authentic one:
"It can be very difficult to find out which tour operators are reliable and which aren't. Every operator will have a nice website with beautiful images, but still, you will only really experience it when you are at the lodge and on a game drive. A reliable source to use for more information on an operator is through reviews, accreditation from a national or international tourism governing body and to simply ask the agency you're interested in using for information. You'll quickly be able to discern between the two based on their responses."
Years of experience and a close working relationship with our lodges and camps means that we are able to match your desired experience to your budget, without compromising on your safari experience.
5. Too crowded for comfort
Peak season is usually very busy, especially around the time of river crossings and when calves are born. This time of year it's not uncommon for guests to struggle to take a photograph without another safari vehicle in the shot.
How to prevent this:
Having the pleasure of experiencing the wildebeest migration twice, Richard Davies shares the vast difference of his safari experience based on the time of year he went.
"The first time we went to the Masai Mara was during September 2010, and the river crossings were crowded by minibusses. We visited the "Mara Triangle" just because that was what we were told to do. However, for the 2012 migration season, we went a little earlier - at the beginning of August - to catch the start of the crossings. We spent half the time on the Serengeti side and the other half on the Mara River close to the Mara / Talek River confluence. The experience was magical. What a difference it makes when you are well informed.", says Davies.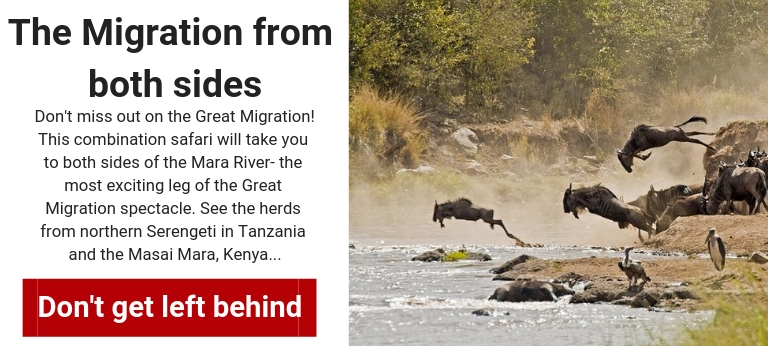 ---