The Great Migration is one of the most intriguing spectacles of nature. Every year, millions of wildebeest and plains game traverse the Serengeti in Tanzania and head north to Kenya's Masai Mara in search of rich feeding grounds, and fresh water sources.
The paths that these animals follow present their own unique set of challenges, including surviving the Grumeti river crossing in Tanzania and the Mara river crossing in Kenya. There is a dramatic interplay between the plains game and various predators, including the Big Five's most ferocious predators, as well as opportunistic smaller mammals and predatory birds.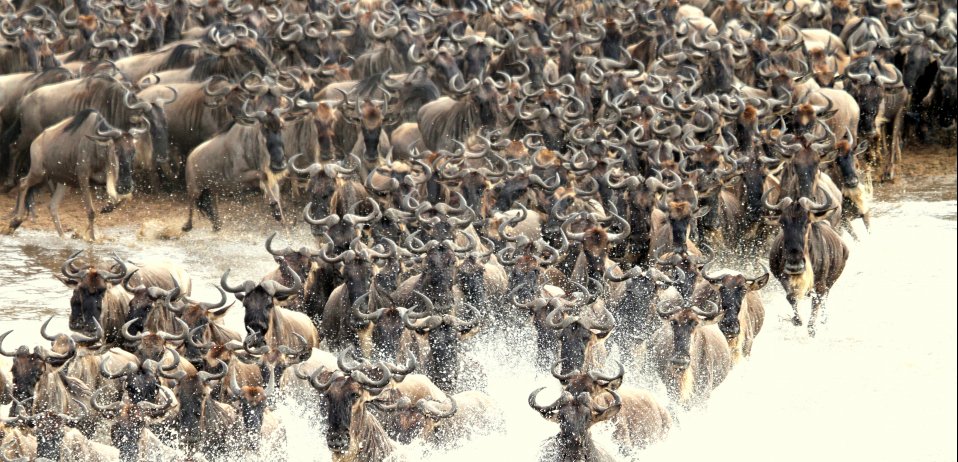 The Great Migration is one of the most amazing feats of nature you will ever encounter | Credit: Camp Zebra
The weather
The Great Migration journey is largely dictated by the weather. While the weather is most often unpredictable, historical data has given us great insight into the wildebeests' movements throughout the year. It is important to remember that the migration is not a single event, but a year-long journey that never ends. Once the wildebeest cross the Mara river in Kenya, they then head back to the Serengeti where the process begins all over again.
January, February and March
This period is often referred to as the 'green season' in the Serengeti. Copious rainfall turns the landscape into a lush garden and this is the time that the wildebeest and other game give birth to their young. Up to 200 000 baby wildebeest will be born during this period.
You can expect a reduction in safari prices and packages during this period, which is perfect for a large family looking to go on safari. In addition, the birth of thousands of baby animals is a wonderful way to introduce your children to the concept of birth and survival in the bush. It is a highly educational discovery that will stay with them their whole lives. The rains bring plenty of incredible bird life to the Serengeti which is a great introduction to Africa's diversity of species for any bird-loving little one.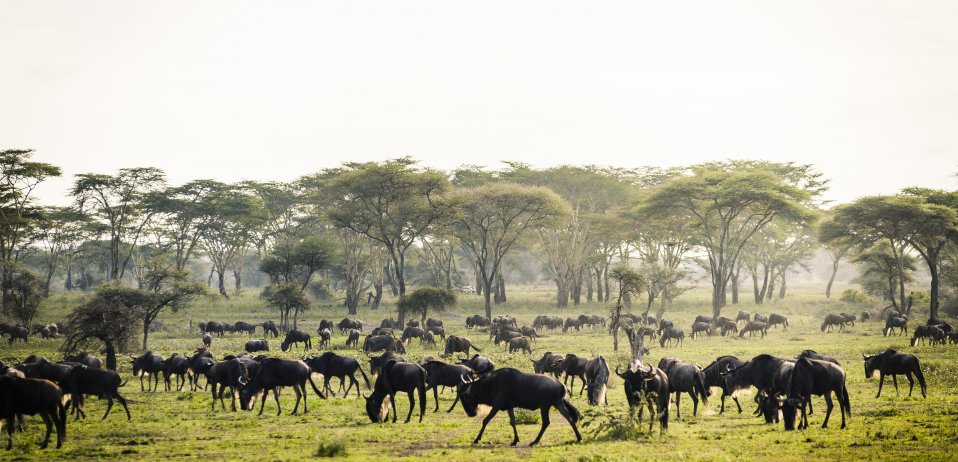 The green season, characterised by long rainfall is a beautiful time of year to visit Kenya or Tanzania | Credit: Sanctuary Kichakani Serengeti Camp
April and May
During this period, the herds begin heading north towards Tanzania's Grumeti river, although this does not happen linearly, with different herds spreading out to the east and west. However, these animals' internal instinct to trek north towards Kenya seems to be overwhelming. With diminishing short rainfall in the area, the herds will seek water and a safe haven for their newborns, but with risks. Movements of thousands of columns of wildebeest makes this leg of the journey a challenging one; there are predators waiting for one mistake, one slow animal that will become a target.
There is plenty to see and experience during this time. You can still expect rainfall before as well as during this period. However, safari activities are rather enjoyable at this time, with the warmer and drier weather making game viewing on guided drives a pleasure. Outdoor-based activities such as sporting, and cultural visits are popular child-friendly experiences to be had. They will be able to learn about new cultures and make friends.
June
June is an exciting month as the wildebeest herds arrive at the Grumeti river. This is a smaller river compared to the Mara river, but presents its own challenges for these animals. Crossing the river is still a huge challenge for the young wildebeest so you can expect a lot of predation during this period, although not as extreme as what is to come in the Mara river crossing when the herds eventually reach Kenya.
This is not a great leg of the journey for young or sensitive children, as the inevitable death of many animals might be painful or even traumatic. Most camps and lodges along the way have child-minding options, so you can still enjoy this part of the migration alone, while your children enjoy sporting and other child-friendly activities during your absence. We will gladly find out for you which camps and lodges have these child-friendly options.
July and August
The animals that managed to successfully cross the Grumeti river now have only one choice left; to continue this arduous journey towards the Mara river. This is the period where the herds split again, while some will remain in place for a while, other braver animals will continue north, particularly those with older young that are strong enough to make the journey.
The drier climate means that game visibility increases as the savannah turns golden. You can expect high-action sights and majestic sunsets.
September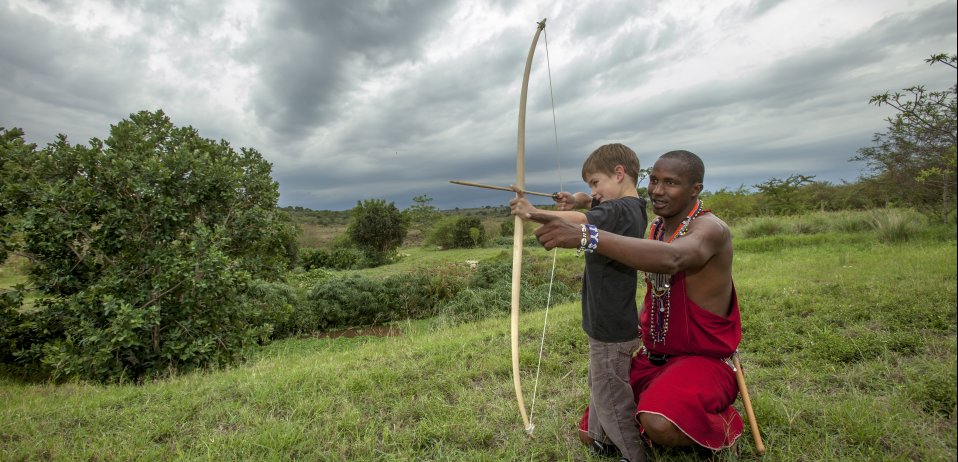 Credit: Sanctuary Olonana Camp
This is the climax of the Great Migration when the wildebeest finally reach the Mara river in the Masai Mara reserve in Kenya. Crossing the border, these animals go through an astonishing display of resilience and a desperate struggle to stay alive during this challenging time.
This is an epic but oftentimes brutal time to observe the Great Migration. Depending on your child's level of experience, maturity and sensitivity, this could be a wonderful adventure for them. We would recommend that only older children participate in this leg of the journey.
By this time, the Masai Mara is dry and the wildebeest begin to make their way back to the Serengeti to the new cycle of the rains and lush pastures. The animals that have survived the Great Migration will go on to have calves of their own in a few months time and the cycle begins again.
So would we recommend taking children to see the Great Migration?
This will depend on your child's experience and level of maturity. We do not recommend taking children younger than eight or nine on a Great Migration safari. In fact, some lodges and camps have an age restriction on children joining their parents on safari. We'll gladly advise you on any restrictions at your chosen lodge.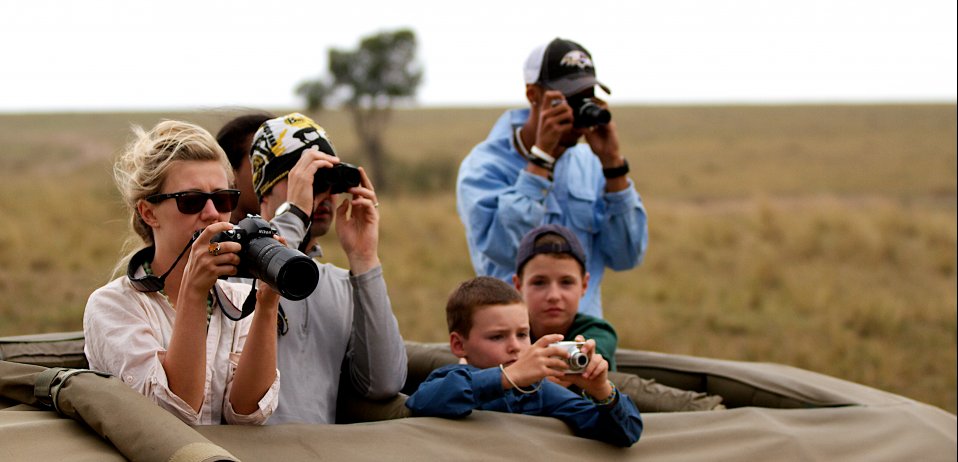 Credit | Steven Dieveney
Over and above that, this is an incredible, life-changing experience that is worth every moment. Give your child the opportunity to learn about different cultures, countries and the value of nature.

* Feature Image: Camp Zebra
---