Have a look at our featured interview with celebrated nature and wildlife photographer Shem Compion. He tells us about his passion for wildlife photography, where he draws his inspiration from and some of the challenges he's faced as a professional nature and wildlife photographer.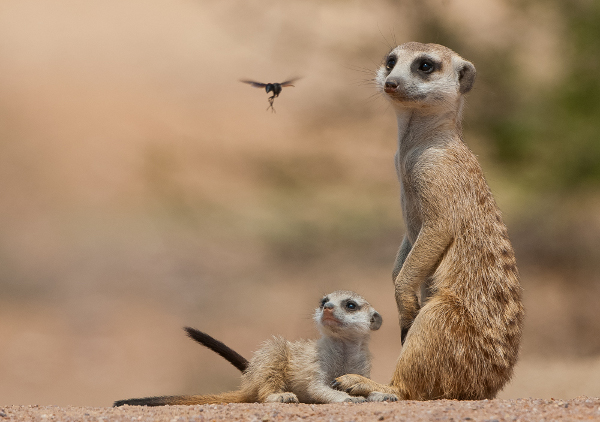 Above: A hornet flies past two very mesmerised meerkats in the Kalahari.
1. How did you get into photography?
I have always had a love for nature. I even studied it at the university. When I picked up my camera it was inevitable that I would combine the two, which is exactly what happened.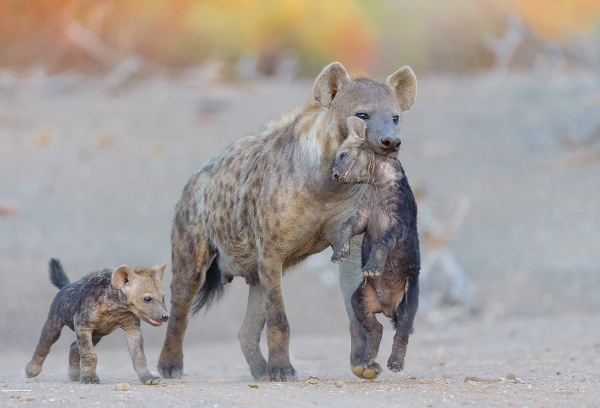 Above: A mother hyena carries her young while the older pup struggles to keep up.
2. What kind of photography are you most passionate about?
Nature and wildlife are truly the two aspects I feel most passionate about. When I'm placed in an environment where these two elements are present I can really feel my photographic/creative side emerging.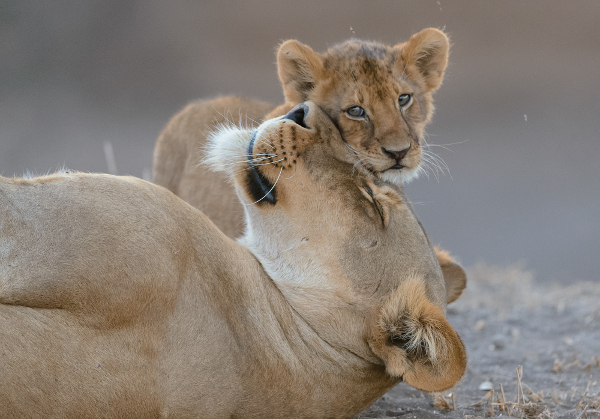 Above: A young lion cub greets its mother in a show of affection that imprints a special bond between the two.
3. What do you draw your inspiration from?
I draw inspiration from being surrounded by nature. The calmness and the vastness of the true wilderness makes me want to capture them to the best of my ability. Observing the work of the photographers I grew up admiring also inspires me. Seeing what those photographers did with hardly any equipment makes me realise how hard I still have to work. This is quite a driving force for me.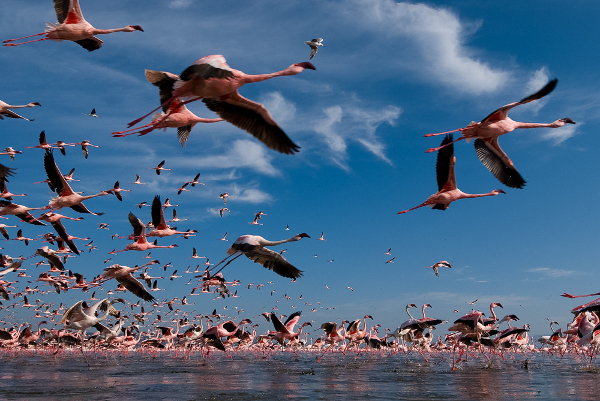 Above: Flamingoes fly over the shores of Lake Nakuru; covering the sky in a wash of beautiful pink.
4. How would you describe your photographic style?
I don't consider myself as having any kind of specific photographic style; instead, I try to concentrate on taking the best photograph each and every time. It seems to be working as I've received numerous awards in a number of nature and wildlife categories.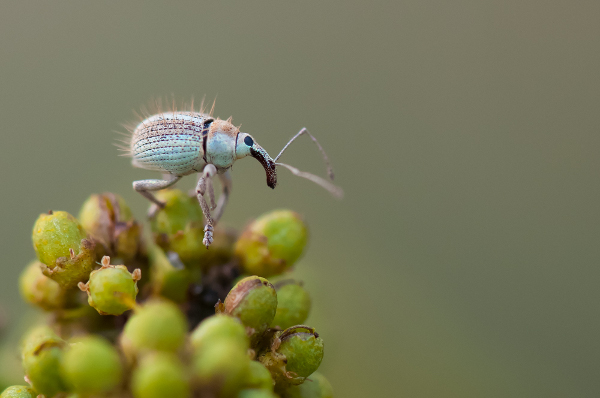 Above: A tiny, but beautiful weevil clings to a flower bud at the start of summer.
5. Are you a traditionalist who occasionally uses film or have you gone completely digital?
For work, I use digital cameras. When I play around with old cameras I use film.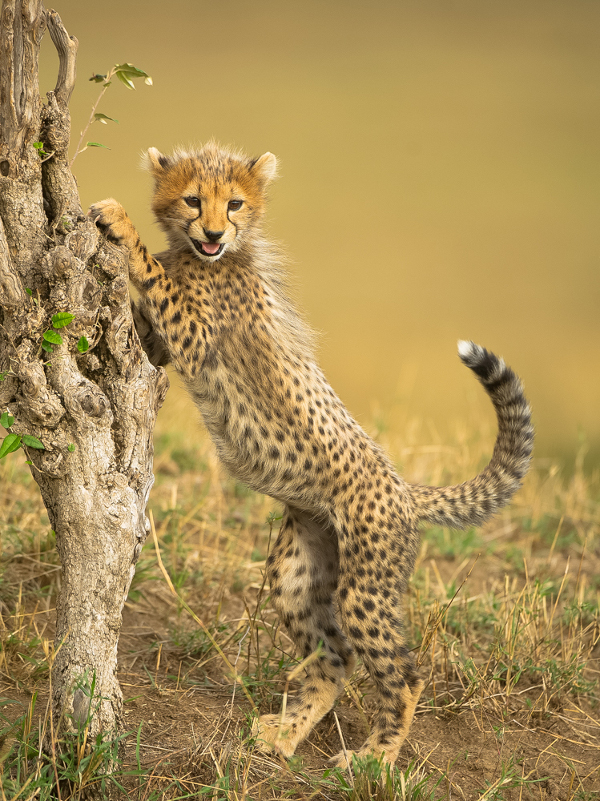 Above: A young cheetah cub investigates its surrounds as an act of learning.
6. What advice do you have for aspiring photographers?
Get out there and enjoy the medium for all it can offer. Don't worry too much about equipment; rather focus on the results that you are getting. Always try to improve on your photography by coming up with new and creative ideas.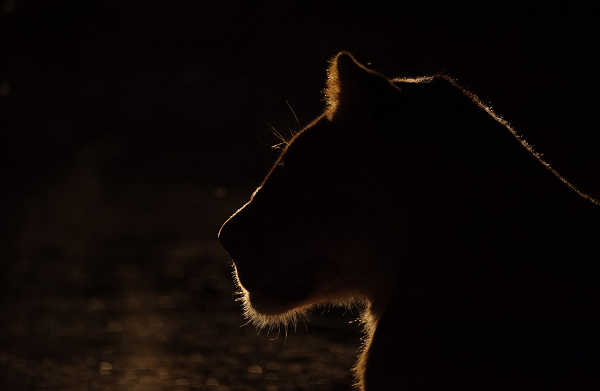 Above: A light outlines the profile of a lioness in the evening, alert and just about to head off to hunt.
7. What are some of the greatest challenges you've had to face as a photographer?
My greatest challenge up to this point has to be the photo market crashing. Stock images went from $500 an image to $5 an image. This affected practically all photographers and everyone had to find some way to reinvent themselves. I personally went the route of photo workshops and tours, which is great because I interact well with people and I love to travel.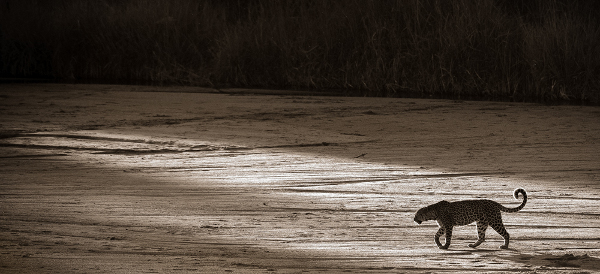 Above: In South Luangwa, a leopard stalks from the shadows across a dry riverbed late in the afternoon.
8. Have you ever fallen short of taking the perfect shot?
All the time; I've come to question what exactly a 'perfect shot' is. Even when I look at my best images, I can find flaws in them. That's one of the joys of being a photographer; we are always searching for an image that's just a little better than the previous one.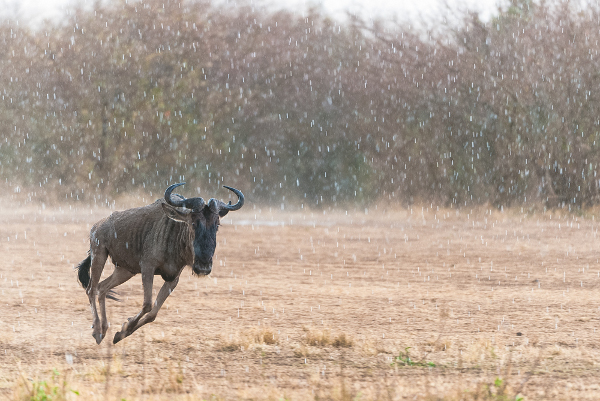 Above: A wildebeest running in the rain.
9. Where is your favourite place to take photographs of wildlife?
Probably dry, arid areas, these environments require you to focus on the little you have around you, thus presenting a greater challenge. Also, when change happens, it happens fast, which is very appealing to me.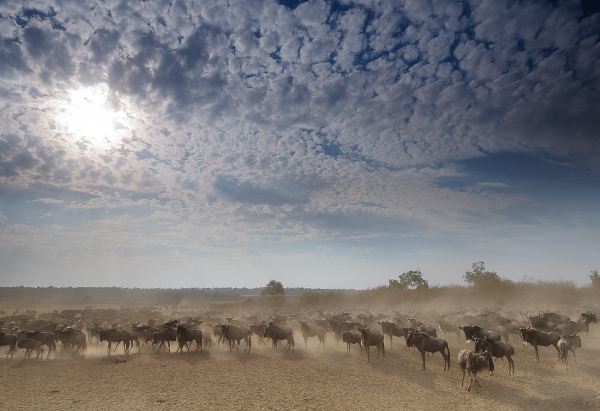 Above: Wildebeest gather in a stampede of dust just before crossing the Mara river.
10. What is your greatest achievement as a photographer thus far?
I'd have to say being able to support myself as a wildlife photographer in a very small market. The international awards are great and they increase exposure to one's work, but being able to do what I love while being able to live comfortably is an achievement in itself for me.
If you enjoyed Shem's photographs as much as we did and would like to see some more of his work, take a look at his website.
---