HerdTracker - Great wildebeest migration updates from Kenya and Tanzania
HerdTracker is a real time Google map showing live weekly updates of the wildebeest migration's precise location. Real time updates are sourced weekly from pilots who fly over the Serengeti and Masai Mara, safari guides on the ground, Tanzania National Parks Authority rangers and lodges in the Masai Mara in Kenya.

Want to stay up to date? Get live Wildebeest migration updates via email.
No Spam, no more than one email per day, just the facts.
About HerdTracker™
What is HerdTracker?
HerdTracker is a web app which plots the precise location of the great wildebeest migration in real time to a Google map and in a Twitter-style timeline. HerdTracker is publicly accessible from any web browser -- desktop, mobile or tablet.
How does it work?
The migratory herds' precise location is sourced weekly from four different trusted sources: pilots who fly over the Serengeti, safari guides on the ground, Tanzania National Parks Authority rangers and lodges in the Masai Mara in Kenya.
Who's behind HerdTracker?
HerdTracker was started by Carel Verhoef in January 2014. Carel Verhoef is a qualified safari guide and has lived in the Tanzania for ten years. Between 2003 and 2011 Carel led over 300 wildebeest migration safaris, and developed a deep understanding of- and appreciation for the annual wildebeest migration. While living in Tanzania, Carel also climbed Kilimanjaro nine times. His 10th assent is scheduled for August 2014.
Currently Carel heads up the East and Central Africa safaris division for DiscoverAfrica.com, a safari operator that tailor-makes authentic safaris for travellers from around the world.
HerdTracker on twitter
HerdTracker's wildebeest migration updates are available on twitter via the @HerdTracker handle.
If you follow @HerdTracker, keep an eye out for "guest tweets" by Conrad the tweeting wildebeest. Conrad -- who's name is taken from the latin name for his species Connochaetes -- shares delightful and sometimes startling anecdotes from life "on migration" (not vacation).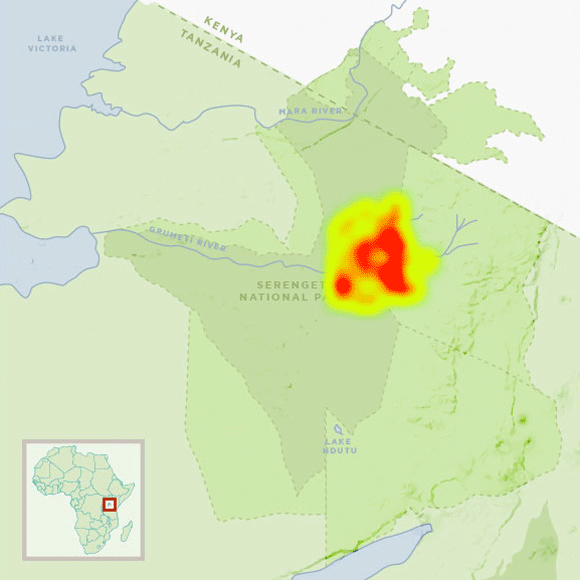 Planning a trip to see the wildebeest migration, but not sure when or where to go?
Find out where the herd will be, and what to expect each month of the year, using our migration map with monthly predictions.
Our expert, Carel Verhoef, predicts how the wildebeest migration will move based on previous years migratory patterns and real time updates received from pilots, rangers and safari guides in the Serengeti.
View migration map and monthly prediction
What to expect and where to stay each month of the year
Many people think that the great wildebeest migration only happens once a year, but the migration is in fact an all-year-round event -- with each time of year offering a unique widlife experience.
Select a month below to find out what each month offers in terms of weather, wildlife, migratory movements, predator interactions, river crossings and where the best place to stay is, to get the most out of your trip to see the great wildebeest migration.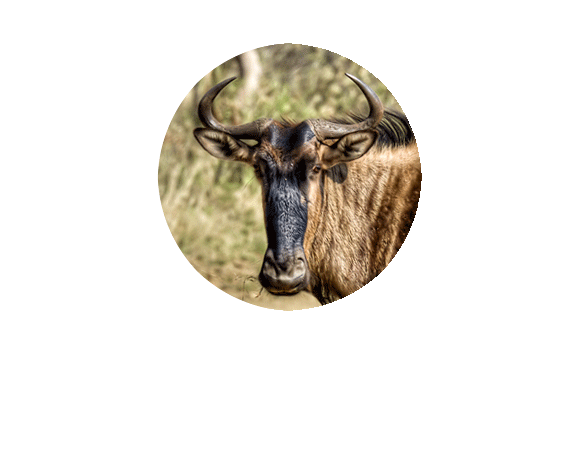 Get HerdTracker updates on Twitter
Every great wildebeest migration update is tweeted by @HerdTracker.
The twitter account is run by Conrad, the world's first tweeting wildebeest (Conrad's name is taken from the latin name for his species -- Connochaetes).
Apart from tweeting real-time updates of the herd's movements across the Serengeti (on behalf of the HerdTracker team) Conrad also tells what it's like to be a young, curious and braver-than-the-rest wildebeest making his way across the plains of the Serengeti on the annual great wildebeest migration.
@HerdTracker on Twitter