Want to See the Migration?
HerdTracker is a web-app which plots the precise location of the great wildebeest migration in real time to a Google map and in a Twitter-style timeline. HerdTracker is publicly accessible from any web browser – desktop, mobile or tablet.
HerdTracker calculates the distance between the exact location of the migrating herds and various lodges and camps in Kenya and Tanzania. This gives you the best opportunity to book last-minute accommodation so that you can experience the wildebeest migration in the Serengeti and Masai Mara.
In addition, HerdTracker also offers scheduled wildebeest migration safaris during peak tourist season months February to August.
How Does HerdTracker Work?
The precise location of the migratory herds is sourced weekly from four different trusted sources: pilots who fly over the Serengeti, safari guides on the ground, Tanzania National Parks Authority rangers and lodges in the Masai Mara in Kenya. These trusty sources also send us exclusive images and videos of the wildebeest migration to back-up their report.
Every single HerdTracker update can be found on our live-feed page, where can join the conversation about the great wildebeest migration.
What Makes HerdTracker Migration Safaris unique?
Value for money
We want you to make the most of your hard-earned cash. Herdtracker Migration Safaris takes you to the location of the migratory herds in the Serengeti National Park.
Private safari experience
Private migration safaris offer four-star accommodation in the Serengeti, with all your meals, drinks ad full day safari experiences included. HerdTracker Migration Safaris offers exactly the same features at a reduced cost.
Right place at the right time
HerdTracker Migration Safaris are scheduled to take place in February, April and July/August - statistically the best time to see the wildebeest migration.
Planning a trip to see the wildebeest migration, but not sure when or where to go?
Find out where the herd will be, and what to expect each month of the year, using our migration map with monthly predictions.
Our experts predict how the wildebeest migration will move based on previous years migratory patterns and real time updates received from pilots, rangers and safari guides in the Serengeti.
View Migration Map and Monthly Prediction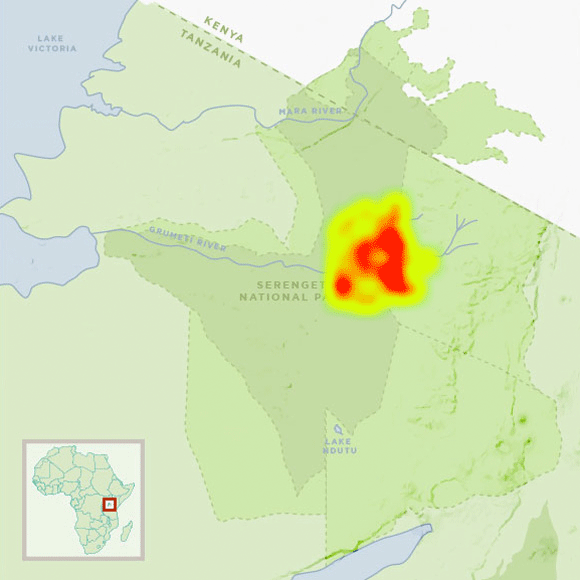 © Copyright Discover Africa Group