Wildlife Wonders in Tanzania (13 days)
Wildlife Wonders in Tanzania (13 days)
This epic safari takes you to the famous Serengeti regions for 13 days of pure wildlife and landscape pleasure
Begin your journey in Arusha, the gateway to the Serengeti. Here you'll explore Lake Duluti from the old-world charm of the Serena Hotel. The placid waters of Lake Duluti makes for great activities such as canoeing, kayaking, biking and trips to Mount Meru and Arusha national parks, each with distinctive wildlife experiences. This is a great introduction to this action-packed safari.
The next leg of your journey will take you to the Mara River Kati Kati camp in the northern Serengeti. This is where the Great Migration's famous Mara river crossing is best observed. Watch as hundreds of thousands of wildebeest and plains game attempt a dare-devil jump to cross the river that is teeming with crocodiles, while apex predators watch from a safe distance for any mistakes that the wildbeest may make, signalling their daily feast. Moving from the northern to central part of the Serengeti, your next stop will be at the Serengeti Kati Kati Tented Camp, where you'll have the opportunity to take a hot air balloon across this formidable expanse of land and dine in the middle of this world-famous national park.
The journey continues as you make your way to the Ngorongoro region, where an ancient collapsed volcano has transformed the land into an enormous crater, rich in fertile soils that attract thousands of wildlife species. Your Great Migration experience doesn't end here, with thousands of wildebeest giving birth during the months of February-March, the interaction between species is thrilling. Enjoy your experience from the comfort of the Farm House Valley Lodge, a new addition to the area. You'll also get to meet the local Maasai people at the nearby village, learning about their culture and rich heritage in this part of the Rift Valley.
Moving onto your next destination, you'll have the unique opportunity to explore the Lake Eyasi basin, a remote,dry area of desolate beauty, which offers a great natural experience. Stay at Kisimi Ngeda Tented Camp and discover the shallow lake and dry salt beds that lie near the dramatic Alipi escarpment that rises 650 meters up into the Endulen area of the Ngorongoro conservation area. To the north is Alkaline Lake, a hub of bird life, fresh springs and woodland forests. Get to know the pastoralist Datoga people in their traditional mud huts and the nomadic wa Hadzabe people who hold on fiercly to their hunter-gatherer lifestyle despite the pressures of globalisation and urbanisation.
Venture onwards to Lake Manyara National Park where baboons, tree-climbing lions, elephants and hippos dwell, in addition to many other species of wildlife. This might be a small national park, but makes for an intimate experience as your accomodation at Lake Manyara Wildlife Camp suggests. "The loveliest place I had visited in Africa," attested Ernest Hemingway.
The final leg of this incredible journey will take you to Tarangire National Park. After the Serengeti, this park has the highest concentration of wildlife in the country and is dotted with hot springs and Lake Tarangire, a vital water source for thirsty wildlife. This is where epic predator vs prey action takes place. Nestled amidst acacia and ancient boabab trees is Maramboi Tented Camp, one of the only permanent camps in the region. Learn about the process of evolution, as well as the origins of mankind in this exploratory and culturally-rich centre.
JanPeak
FebPeak
MarPeak
AprLow
MayLow
JunPeak
JulPeak
AugPeak
SepPeak
OctPeak
Nov
Costing tip: When comparing with other companies, remember most of them only show the low season rate. How pricing works >
What to Expect on This Safari
This popular itinerary can be customised to match your budget and travel dates by adding/removing a few days or selecting different lodges
Arusha
Welcome to Arusha, the gateway to the Tanzania's famous parks. You will be met on arrival and transferred to Lake Duluti Serena Hotel, an old country manor in the middle of a coffee plantation. The colonial feel of this place gives visitors a certain sense of nostalgia of when life was both simplier and grander.
You'll spend your evening in this lovely hotel, with dinner before your Serengeti safari truly begins.
Meals: Breakfast and dinner
Drinks: Not included
Transport and transfers: Included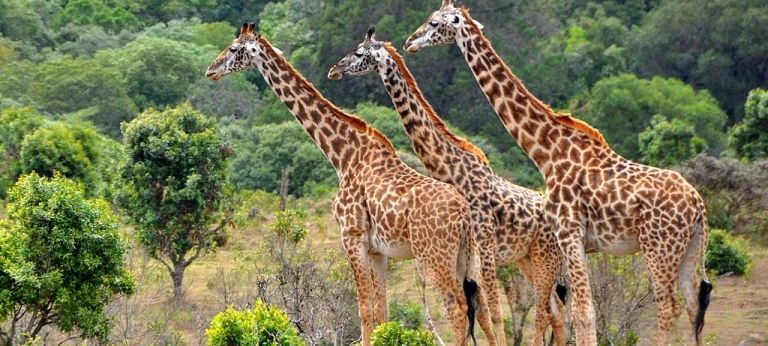 Northern Serengeti
In the early morning, you'll be transferred to Arusha airport where a coastal flight will take you to the Serengeti. Get ready for a full day game drive as as you find yourself in the thick of the Great Migration. Packed lunches will be available to eat while you observe the best of Tanzania's wildlife. Your day safari will end with a delicious meal.
Your home for the next two nights will be the Mara River Kati Kati camp. Stylish yet equipped with all amenities, this camp is only a 10 minute drive from the Mara river, the most desirable spot to view the famous wildebeest Mara river crossing. These mess tents are comfortable and great for children. Your day safari will end with a delicious meal at the camp, where you'll recharge your batteries for the next day of an intense, full day game drive.
You'll have the unique opportunity to enjoy the pleasure of a panoramic hot air balloon safari at an additional cost. Transport to the launch site will be provided, with a bush breakfast after your thrilling flight.
Enjoy your last bush dinner and early morning breakfast at this tented camp before your journey continues.
Meals: Included
Drinks: Included (alcoholic beverages not included)
Transport and transfers: Included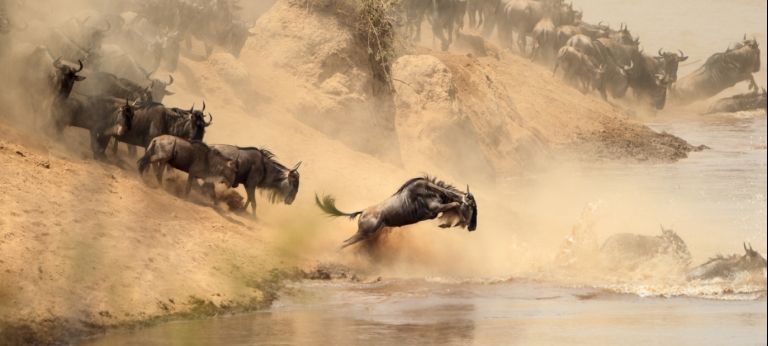 Central Serengeti
A vehicle will take you on a scenic drive to the central Serengeti, where another full game drive awaits you. There is so much to see in this world famous park that you could stay here forever and still not learn all the secrets to be discovered in this expansive landscape. Packed lunches will be included on your day game drive.
Your day of discovery will end at the Serengeti Kati Kati Tented Camp, a fully equipped and spacious camp site with hot showers and a lovely dinner.
If you missed the hot air balloon flight the previous day, you can still opt for this exciting activity (at an additiona cost. but well worth it).
Meals: Included
Drinks: Included (alcoholic beverages not included)
Transport and transfers: Included
Ngorongoro Region
After an early breakfast, you'll be picked up at 08h00 and drive to your next destination, via Oldivai Gorge to Ngorongoro.The trip will include a packed lunch before your arrival at the Karatu village for dinner. The Karatu village is a cultural centre for safari-goers on their way to various parks and camps, Maasai warriors and local herdsmen. Make some new friends here, or learn about the fascinating people in the area. Do try a cup of delicious Tanzanian coffee before you hit the road again.
You will be staying at The Farm House Valley lodge, where a crystal clear pool awaits you for a refreshing swim after your long trip. Enjoy the views of the Oldeani Volcano and a welcome respite from your previous days camping. The restaurant serves excellent homestyle food, grown in the hotel's local vegetable garden.
Your second day here includes a six-hour game drive that will descend into the Ngorongoro crater where outstanding bird life, the Big Five, wildebeest and game along their migratory journey, hippos, crocodiles and cheetah resdie. You'll have lunch on your game drive and a free afternoon at the lodge to do relax, or visit the local Maasai village.
Meals: Breakfast
Drinks: Not included
Transport and transfers: Included
Lake Eyasi
After a morning breakfast, you will be taken to Lake Eyasi for a cultural visit. You can explore the trails around the seasonal Eyasi lake, or walk through nearby tribal villages like wa Datonga and learn about the important and valuable heritage of the local people. Therefater, you will make your way to your next camp, Kisima Ngeda.
The camp is beautifully set in a date palm and acacia forest and is part of 200-acre family-owned farm with a natural spring nearby which feeds into the lake. Sitting in a small forest of acacias on the edge of a spring the camp is designed to blend in with the natural environment. Constructed almost entirely with palms and trees, this is sustainable and low-impact camp with stunning lake views.
A melting pot of culture, Kisima Ngeda offers a different experience from what you'll find on a traditional safari. You can explore the trails around the lake, canoe along the shore, mountain bike by baobobs and acacias, walk through nearby tribal villages, or just sit and enjoy the beautiful lake views (especially at sunset on top of the rock). While it's possible to see some wildlife, what makes Kisima Ngeda truly special is the opportunity to visit with the local tribes. The waDatoga are a pastoral group like the Maasai, and its interesting to visit their local blacksmith or a Datoga boma
Meals: Included
Drinks: Included (alcoholic beverages not included)
Transport and transfers: Included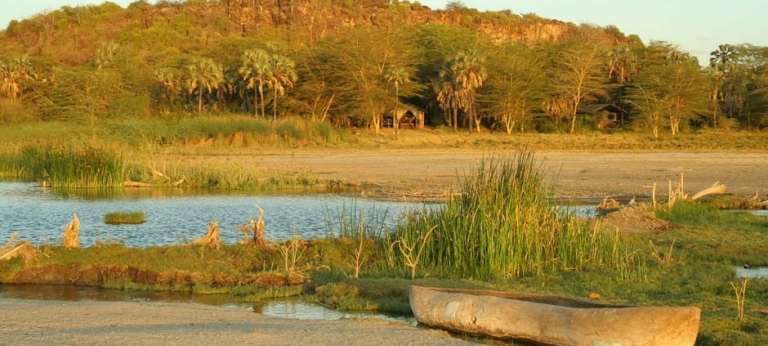 Lake Manyara National Park
After a filling breakfast at your lodge, you'll hop on a safari vehicle that will continue your wildlife education. On your journey you will get the opportunity to enjoy a great walk in the treetops and experience the forest like never before. Afterwards proceed with mid-morning and afternoon game drives in Manyara National park, with packed lunch for when you get hungry.
This exciting first day will end at Manyara Wildlife Safari Camp. Dining out in the open-air restaurant overlooking the African bush is an opulent experience. The evening campfire provides a welcome spot for pre-dinner drinks after a day of wildlife viewing. The camp will also introduce, on request, night drives which will enable the vacationer to take part in the nocturnal nightlife activities of Manyara's secretive creatures.
On your second day you'll be treated to a guided walk of Mto wa Mbu village in Manyara to experience what life is like in a typical Tanzanian town. This village is unique in Tanzania since it is home to over 120 different tribes from across Africa.
Meals: Included
Drinks: Included (alcoholic beverages not included)
Transport and transfers: Included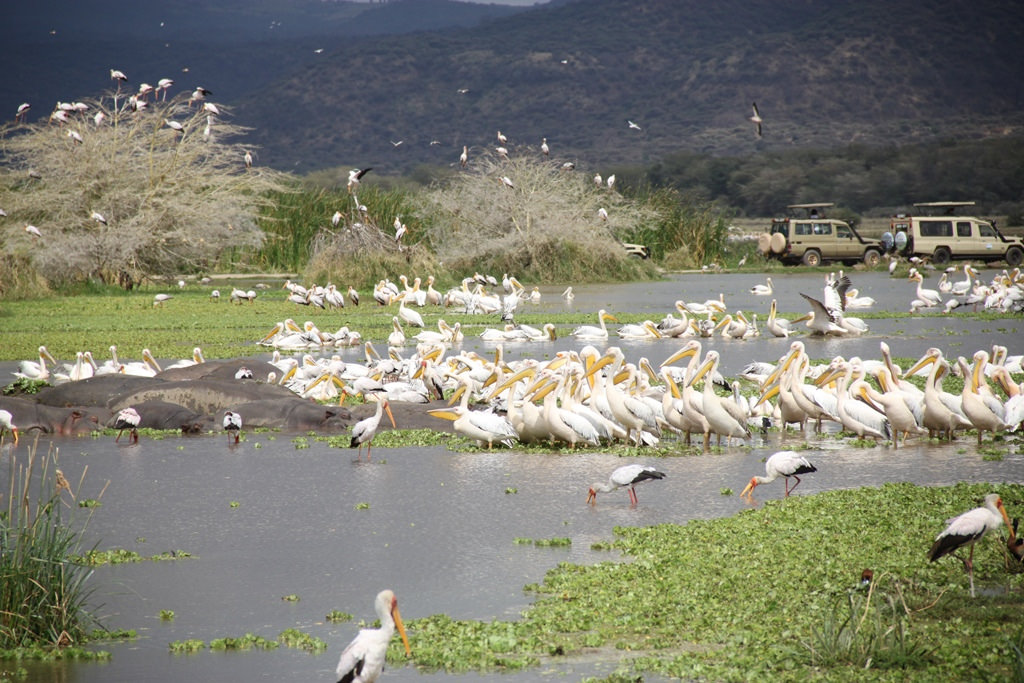 Tarangire National Park
Enjoy an early breakfast before you head to Tarangire National Park, the heart and soul of the Tarangire and Manyara ecosystem. The first activity will be a guided game drive in this park and a packed lunch to enjoy on your drive. Maramboi Tented Camp awaits you after a fun-filled day spotting wildlife and enjoying the sights and sounds of this amazing park.
Your camp is set on wooden walkways leading to your thatched safari tent nestled between endless vistas of rolling golden grasslands and palm lined desert between Tarangire and Manyara Lake. A visit to the area is essential for anyone interested in evolution and the origins of Mankind and an explanation of the Rift Valley. It is a complete semi-desert experience focusing on safari walks and game drives. Enjoy a sundowner, cocktails and snacks on the shores of Lake Manyara in private areas of the park. Pleasant and intimate set-ups can be arranged for private breakfasts and/or cocktails.
Meals: Included
Drinks: Included (alcoholic beverages not included)
Transport and transfers: Included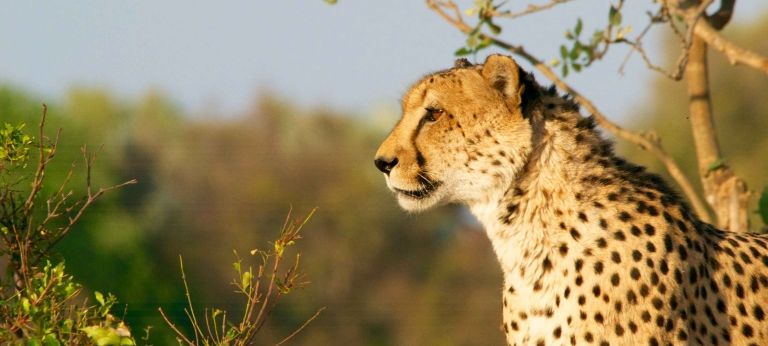 Departure
Today is your last day on safari. After breakfast you will drive back to Arusha, with packed lunch to enjoy on your drive and end at. Kilimanjaro airport where you will then check-in for your onward flight.
We're sure that this safari, that mixes the best of Tanzania's abundant cultural and wildlife experiences will be a heart-warming and eye-opening experience to remember for the rest of your life.