After months of planning, your big day has finally arrived and now you are newlyweds. Time to enjoy your honeymoon together. Yes, there are romantic cities, but what better way to celebrate love than in Africa?  Just the two of you in the African bush with a private candlelit dinner on your veranda with wildlife passing by. Sunsets of red and orange fill the sky as you end another day on your African Safari!
When to Visit
Botswana is an all-year-round destination. The most popular time to visit would be during the dry season from about May to October. Days are warmer with clear skies. With less rain, the vegetation is not as lush and it is easier to spot wildlife. They tend to concentrate around the water sources and this tends to become an action-packed area. However, with the popular season, the number of visitors increase and camps can be full and some sections of the park can feel a little crowded.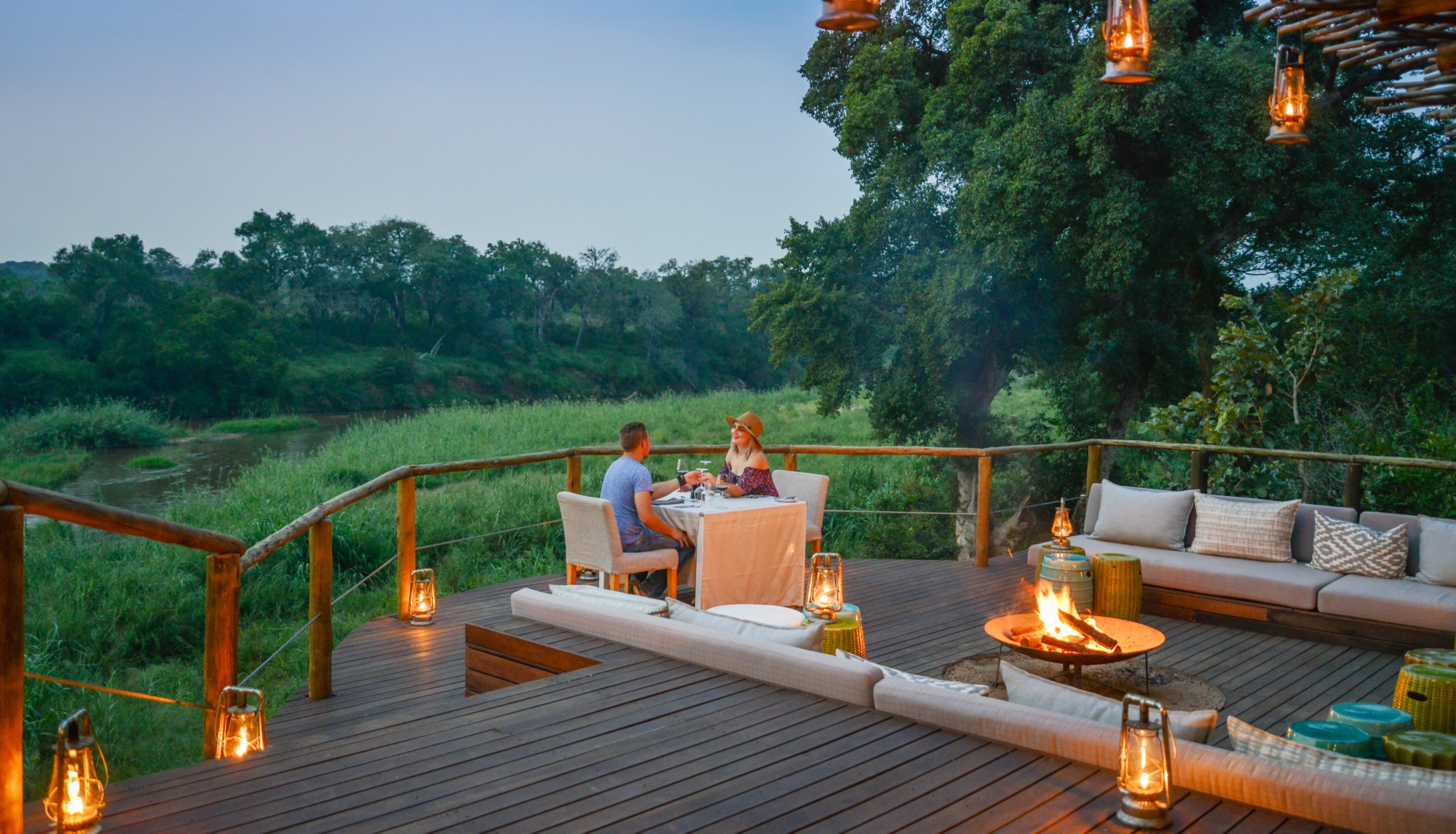 Travelling during the wet season, or green season as it is known is a great time to travel if you don't mind a rain shower or two. The parks tend to be a little quieter and lodges offer great prices and value adds. Showers are mostly in the afternoon and therefore would have little impact on your safari. The bush is lush and green.  With water comes new life and you would get to see plenty of newborns and this would also be the time of migrating birds to visit.
Where to travel to
The most popular route travelled in Botswana would include a visit to the Chobe National Park, the Okavango Delta and the Kalahari. The Chobe National Park is known for its large herds of Elephants and cruising along the Chobe River while spotting hippos and crocodiles. The Victoria Falls is also only a short 2-hour drive from the Chobe National Park and is a great day visit should you be staying a little longer.
The sparkling waterways of the Okavango Delta is a must-see when visiting Botswana. The channels create mazes and paths through the wet bush, forming small islands. These channels are great for exploring while in a mokoro and the islands are ideal for bush walks. The destination often forgotten is the Kalahari. Magical red sand is the home to many desert-adapted animals including the Black Maned Lions.
Accommodation
Botswana has you spoiled for choice when choosing your accommodation. Except for the different options regarding your budget, you would also have so many types of accommodation. There would be your standard lodge type accommodation, but to add a little extra special to your trip, why not opt for a tented camp.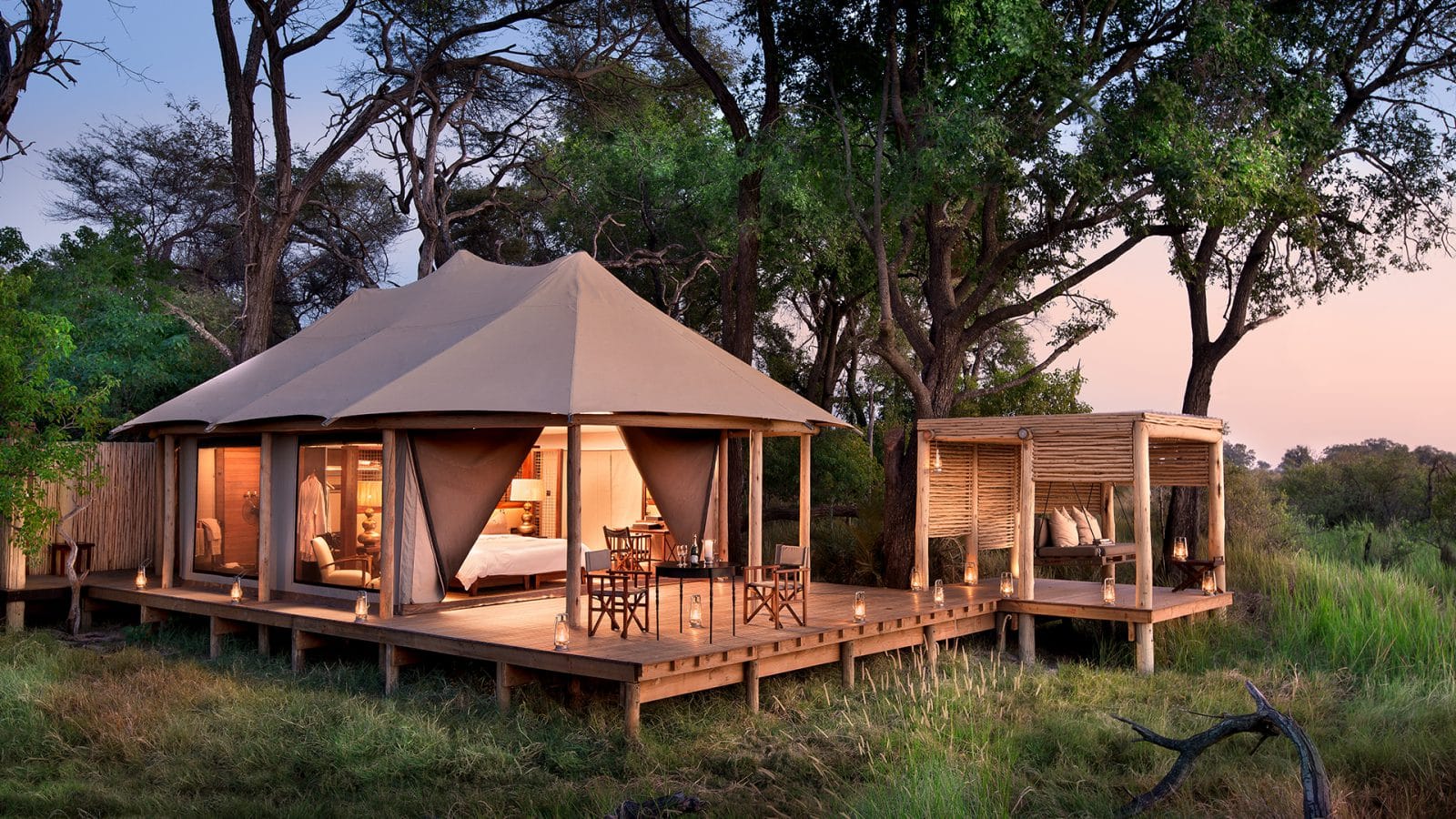 Botswana offers you the option of luxury tents that are built on raised wooden walkways with canvas walls, but all the bells and whistles. White linen and mosquito nets draping the beds. Some even have an outdoor bath to enjoy after an early morning activity and watch the wildlife pass by as you unwind. There is also an option of sleeping under the African skies where you can wheel your bed out onto your deck. Fall asleep with the night sounds of the African bush and the stars shining bright.
Which activities to include
Just as you are spoilt on the different accommodation options, you would also have a variety of activities to choose from while honeymooning in Botswana. Game drives, either early morning or in the afternoon, would be available in most areas throughout Botswana. You drive out as the sun rises, catching the wildlife as they start their day.
Some of the more unique ways of exploring Botswana would be cruising the Chobe River or exploring the waterways of the Okavango Delta in a mokoro. Cruise the Chobe river with your loved one as the cool breeze offers a relieve from the hot African Sun. Here you get to enjoy each other's peaceful company as you watch elephants enjoy the refreshing waters and crocodiles lurking around.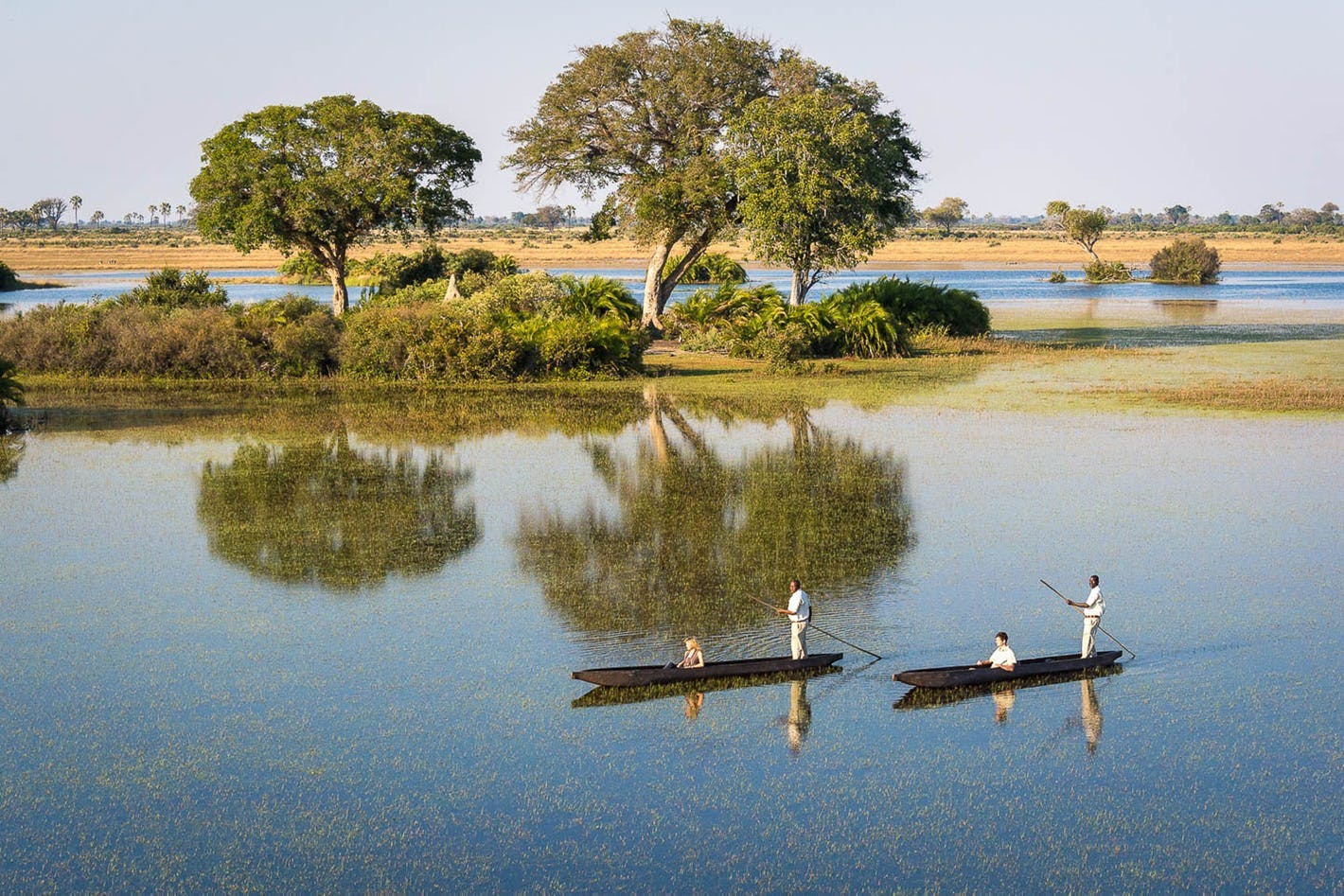 While in your mokoro, just the two of you with your guide, enjoy getting to know the smaller wildlife while in safari. Read frogs and dragonflies would be among the more popular creatures. Nothing more tranquil than a mokoro ride in the Okavango Delta. You can even ask your guide to help you surprise your loved one with a traditional waterlily necklace.
There is just something romantic about flying. Why not take to the sky, while in Botswana. Not only can you view the beautiful landscapes below as you board your scheduled flight between camps, but you can also spoil your loved one with a romantic early morning hot air balloon safari. Wake up before the sun rises as you are transported to the launch site. Here you get to see the beautiful colourful balloon get filled with hot air as you sip on your coffee before you jump aboard. With the sun rising over the landscapes and the wildlife stretching as their day begins, this would be an amazing start to yours.
When planning your honeymoon, the bright city lights might sound romantic. But imagine lanterns leading the way to your candlelit dinner around a bush fire with wildlife roaring in the background… This would be hard to beat when creating your honeymoon. No traffic jams or queues to visit that famous attraction. Just the African bush and natural beauty! You would surely fall in love all over again, not just with each other but with Africa as well.