Masai Mara Luxury Safari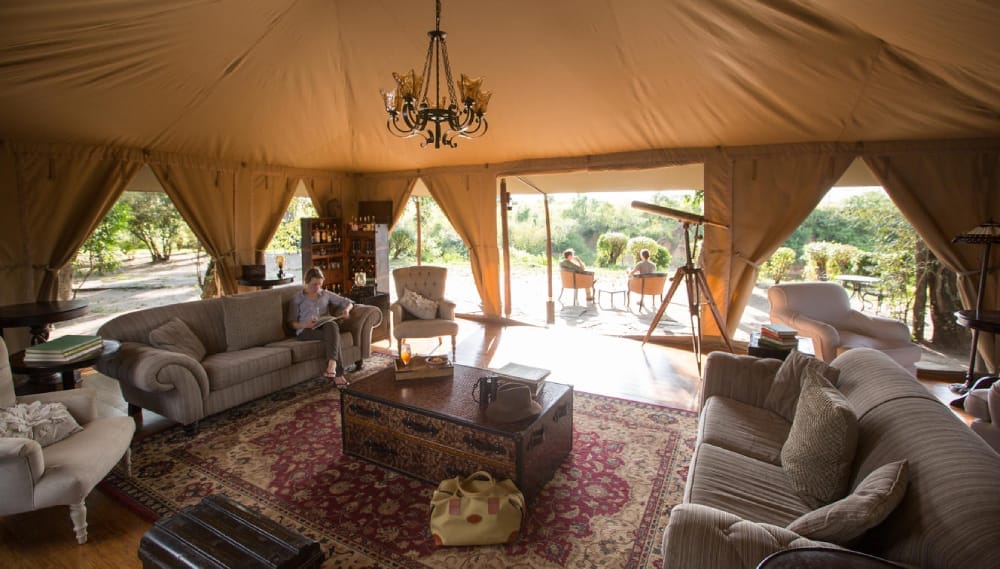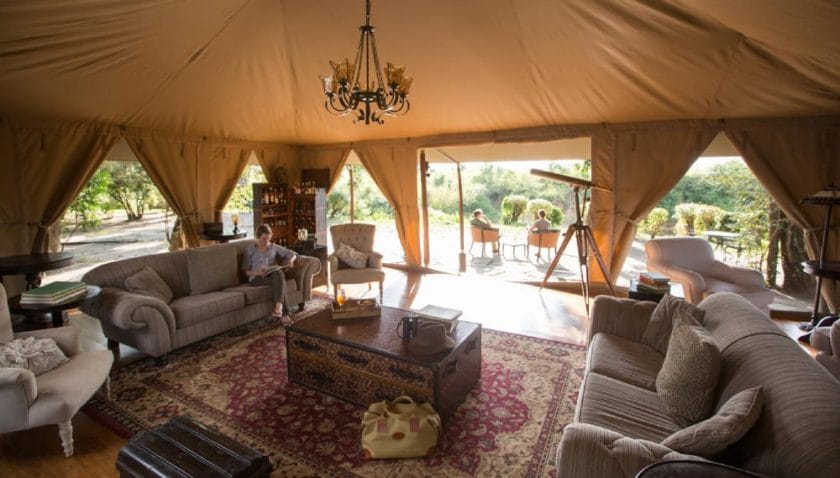 Credit: Elewana Sand River Camp
There's no shortage of luxury lodging in the Masai Mara, so you're spoiled for choice when it comes to picking a superb place to stay, whether it's an intimate tented camp or a stylish lodge. Upmarket camps and lodges usually offer fully-inclusive packages that encompass all your meals and activities, such as twice-daily guided game drives, and if you're on a concession, then night drives and bush walks. Extra activities such as hot air balloon rides can also be arranged through your lodge. From high-end properties you can expect fabulous locations stylish décor, lots of attention to detail, excellent service and amenities such as infinity swimming pools and spas.
To escape the crowds don't stay in one of the large hotels in the east of the park but rather at one of the camps in the Mara Triangle in the west, or for even more exclusivity, book your trip at one of the luxury camps or lodges situated in one of the many conservancies that border the park. These private conservancies have a limit of the number of beds per hundreds of acres, as well as vehicle limit at sightings, so you're guaranteed to avoid the cars that can pile up around a sighting in the Masai Mara itself.
For the ultimate Great Migration experience, stay at one of the mobile luxury tented camps which move position in the Greater Mara Ecosystem along with the herds of animals between July and October. These minimal footprint camps get you closer to the action than anything else, and you'll get to experience the magic of camping in the bush – without actually camping. There's no sacrificing comfort, as the spacious tents come with en suite bathrooms (flush toilets and hot bucket showers) and solar power, as well as communal dining and lounge tents decked out in rugs and antique furniture. Gourmet meals and attentive staff seal the deal. Mobile camps usually only have less than 10 tents, so you're guaranteed an intimate experience that makes the most of an immersion in the wilderness.
Wherever you stay, consider hiring one of the top private freelance guides to the Maasai Mara – such as Jackson Looseyia, one of the presenters of BBC show Big Cat Diary – who will join you for all of your game drives and enhance your wildlife viewing immeasurably.
By far the easiest (and most luxurious) way of getting to the Masai Mara, or any of the conservancies, is by flying in on a scheduled or chartered plane. Some camps have their own private airstrip but if they don't then you'll be able to land at one of the landing strips scattered around the park, and your camp will arrange a pick up and transfer. If you're travelling around Kenya after your Masai Mara safari, you'll be able to fly to Mombasa or Malindi on the coast, as well as other safari destinations, or to Nairobi.
While you can organise your own luxury Masai Mara safari, many travellers prefer to have a tour operator put together a tailor-made package of flights, guides and safari lodges. Going through a tour operator will take a lot of the hassle out of arranging the trip, and also ensure that you're staying at the right lodge or camp at the right time of year to see the best of the park's wildlife.