Snorkelling, diving, game watching, cultural learning and beautiful accommodation are the hallmarks of the Phinda Private Game Reserve. This small but powerful reserve is home to facinating wildlife species and a unique ecosystem that never fails to enchant visitors. A great alternative to the Kruger National Park, with just as much game and activities to enjoy, Phinda should be on your safari bucket list destination on a safari in South Africa.
Here is why you should take a trip to Phinda:
1. Seven different ecosystems
With so much biodiversity you'll be treated to a wonderful world of nature, flora and fauna that only an area such as the iSimangaliso / Greater St Lucia Wetland Park in northern KwaZulu-Natal can deliver. Although the Phinda Private Game reserve is not quite in the wetland park it still is exposed to a similar ecosystem, creating the perfect environment for wildlife and birds to thrive.

2. Close to the coastline so you'll get the best of both bush and beach
The amazing thing about Phinda Private Game lodge is it's close proximity to South Africa's pristine coastline so if you'd like to do a little more than just relax and see game you can also visit the beach in Northern KwaZulu-Natal which has some of the country's most untouched and beautiful beaches. This is the private game reserve where visitors are treated to the best of both worlds.
3. See endangered wildlife such as the cheetah, black rhino and the Big Five
With this much biodiversity, its no wonder that the Big Five and other engandered animals call this home. You're bound to see the world's fastest land mammal (cheetah) on a safari to Phinda, as well as endangered black rhino and turtles who lay their eggs on these beaches.
4. A world of great accommodation facilities available on site
There really is so much to offer any discerning safari-goer at Phinda. Here, you choose your own adventure, whether it be a tented camp or luxury lodge, there is no shortage of options. Expect walking safaris, game drives and much more at any of your lodge stays.
5. Children safaris available, fun for the whole family
There are ample child-friendly safari packages available for travelling families. Educate your children about the earth's natural heritage on guided bush walks, insect hunts, child-friendly game drives, an introduction to basic astronomy, babysitting options and even arts and crafts. Babysitting facilities are also available at certain lodges. Speak to one of our safari experts for more family-based options at Phinda.
Getting there
Most of our safari packages offer a transfer by road from King Shaka International Airport in Durban to the Phinda Private Game Reserve. This journey should take about three hours, while you discover the secrets of Kwazulu Natal's amazing landscapes.
Suggested safari
Phinda Private Game Reserve is the best option for malaria-free, family-based travel, as well as couples who want a little more privacy and five-star accommodation. Click below for a safari option that you can edit to suit your budget and expectations: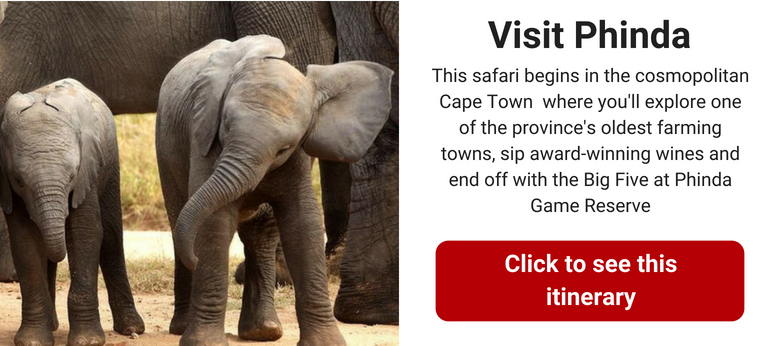 ---