Known as the home of walking safaris, the landlocked country of Zambia is the ideal holiday destination for travellers looking to for an authentic African safari experience.
If visiting Zambia is on your African travel bucket list, here are five reasons why you should go on a Zambia safari.
The Zambezi River
The Zambezi River is Africa's fourth longest river, stretching for approximately 2574 kilometres, flowing through Angola, Namibia, Botswana and making it's way through the borders of Zambia, Zimbabwe and Mozambique.
It's also home to the thundering Victoria Falls, one of the world's largest waterfalls. The river supports large concentrations of hippopotamuses and crocodiles as well as hundreds of species of fish, some of which can only be found in the Zambezi.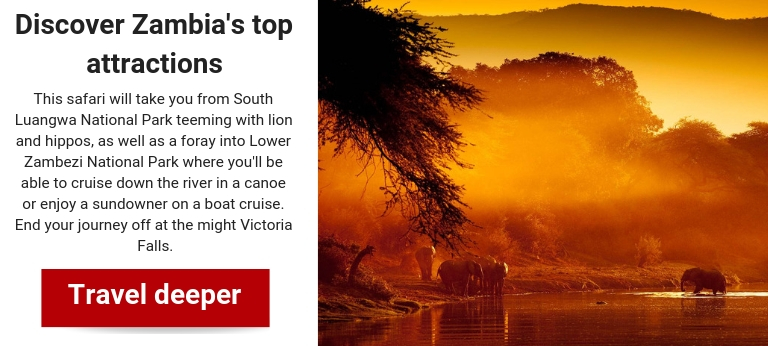 The river is also a popular water sport destinations, as travellers flock to the Zambezi for wave boarding, surfing, fishing and many more activities.
The Victoria Falls
Known as "Mosi oa-Tunya" (the smoke that thunders), Zambia's Victoria Falls is one of the Seven Natural Wonders of the World.
The falls is located on the border of Zambia and Zimbabwe. It's two kilometres wide and has a drop of 108 meters.
For those planning on visiting the Victoria Falls, the best time to visit is during February and March when the river is at its fullest.
Devil's Pool
Video: Cloudsurfing
During the months of August and mid-January (depending on the water levels), travellers can actually choose to swim to the edge of the Victoria Falls via a section known as Devil's Pool.
The view from Devil's Pool is breathtaking, as you feel the currents of the Zambezi River flow past you before dropping just over a 100 metres to the bottom.
Safety is very important when swimming in Devil's Pool and there are guides in attendance who are there to make sure you don't go over the edge.
North and South Luangwa National Park
North and South Luangwa is one of the greatest wildlife sanctuaries in the world. There are over 60 different animal species and more than 400 different bird species in the park.
A walking safari is the best way to experience Luangwa's pristine wilderness first-hand.
Kafue National Park
The Kafue National Park is the oldest and largest national park in Zambia. It's name derives from the Kafue River, which is known for attracting large herds of buffalos, zebras and antelopes.
The best time to visit the Kafue National park is during June to October, as the park is inaccessible during the wet months of November to April.

---