Florencia's first time travelling to Africa [Traveller story]
Florencia Andrews sitting on a tree in Namibia that's over a million years old Hi, I'm Megan - a Discover Africa travel consultant. I put together a 22-day safari for Florencia Andrews and her husband Terry. Their Southern Africa safari included a visit to South Africa, Namibia, Botswana and Zimbabwe in…

Florencia Andrews sitting on a tree in Namibia that's over a million years old
Hi, I'm Megan - a Discover Africa travel consultant. I put together a 22-day safari for Florencia Andrews and her husband Terry. Their Southern Africa safari included a visit to South Africa, Namibia, Botswana and Zimbabwe in September - boy, did they enjoy it!
Florencia was kind enough to share her safari experience with me, which she believes was 'a holiday of a lifetime that was full of adventures'. A close, yet safe, experience with elephant and buffalo (while on a river cruise through the Chobe River) was just one of the couple's safari highlights. Having successfully seen Africa's Big Five while on safari was another. I'm thrilled that they feel their trip had it all.
Here is a little bit more about Florencia and the safari experience she shared with me.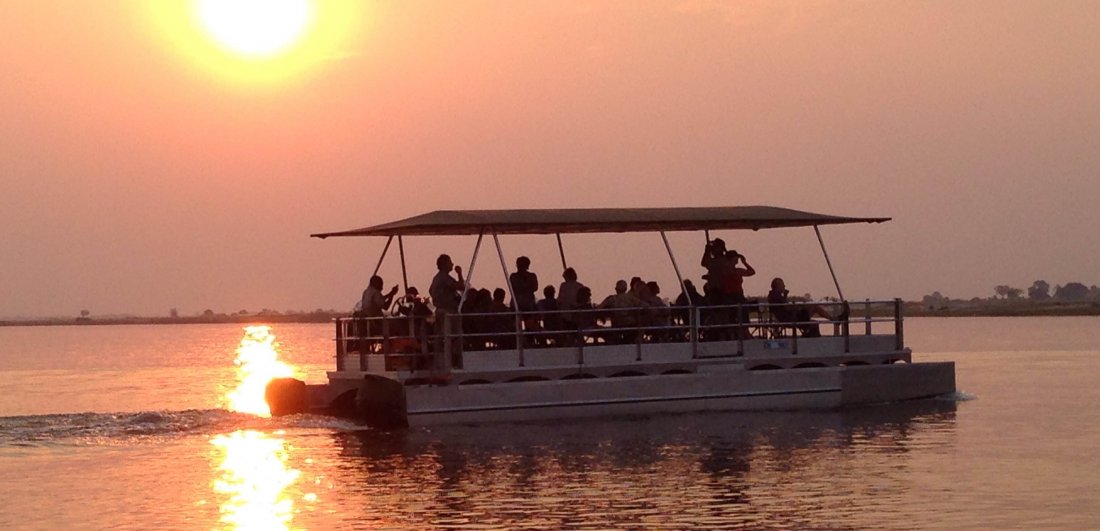 Cruising at sunset on Botswana's Chobe River
Meet traveller Florencia Andrews
Where are you from and what do you do for a living?
I'm from Sydney, Australia. I'm the local area manager in the Government Department.
Do you have any special hobbies and why do you enjoy doing it?
Travelling is my passion. I'm working to be able to finance my travelling! I also love shopping and catching up with friends and walking.
"The main purpose of my trip was to tick my bucket list and to fulfil my curiosity about Africa."

The group Florencia travelled with to Namibia's Fish River Canyon
More about Florencia Andrews safari story
Why did you choose Southern Africa and what was the purpose of your trip?
The company was referred to me by Amanda Conradie who then referred me to Steve Conradie [of Discover Africa]. I met Amanda through work colleagues who used to work with her in Sydney. The main purpose of my trip was to tick my bucket list and to fulfil my curiosity about Africa.
Have you travelled to any other African countries before?
Never. This was my first time travelling to Africa.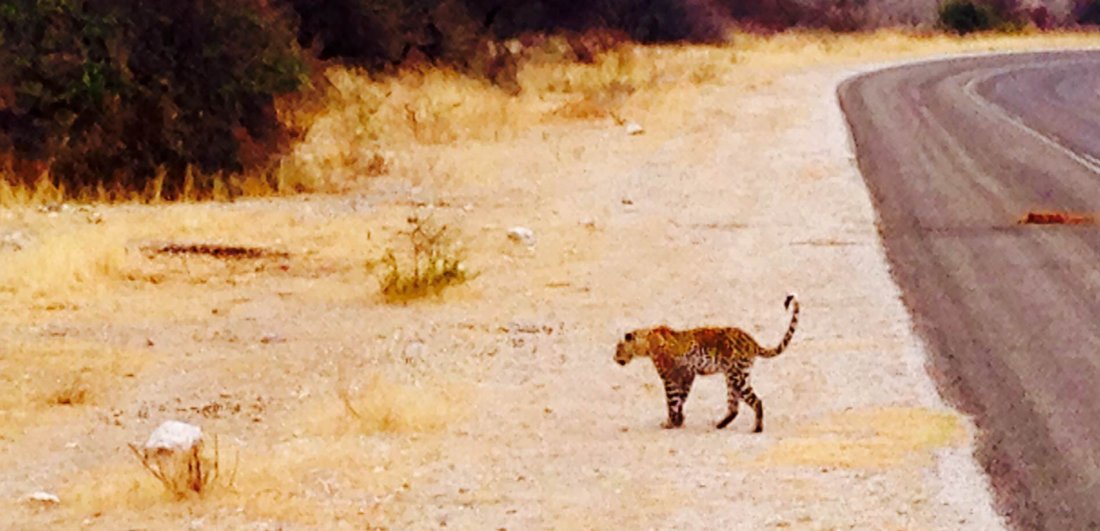 Florencia spotted this leopard crossing the road just before they left Etosha National Park
Who did you travel to Southern Africa with?
My husband Terry was my travel companion.
What was the most exciting part of your Southern Africa trip?
Being able to see the Big Five with my own eyes and patting and walking with the lion! I was also excited to be in Cape Town as I've heard lots of wonderful stories about the city.
"I loved seeing the elephant, rhinos and the buffalos!"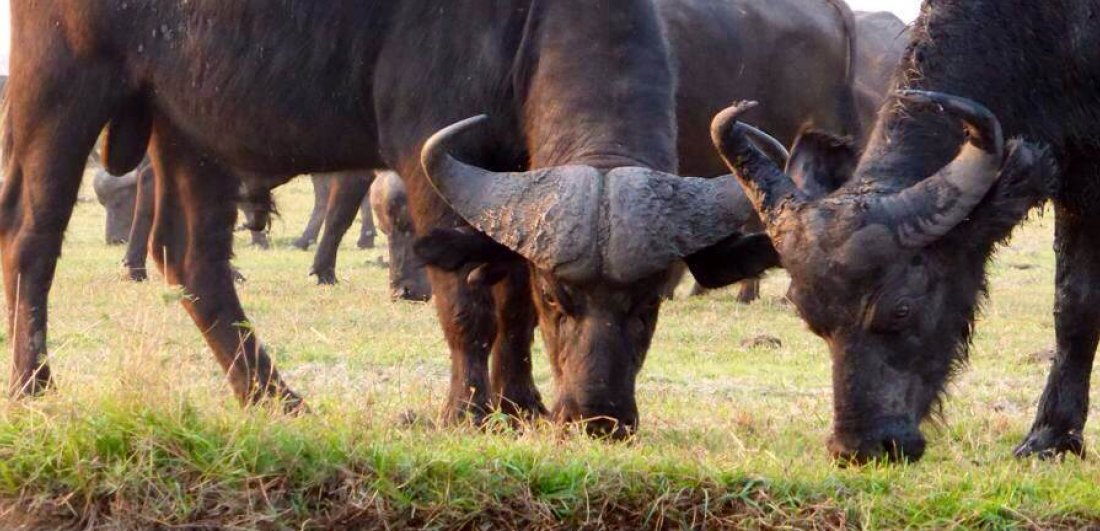 While on a boat cruise Florencia saw this herd of buffalo grazing on the banks of the Chobe River
Was there a wildlife experience or destination that you'd go back to in a heartbeat?
I would like to back to Cape Town again to see the Garden Route which we missed as we ran out of time. I'd also like to go back to Chobe National Park to do the river cruise again and be with the animals a metre away. I loved seeing the elephant, rhinos and the buffalos!
If you were to visit Southern Africa again, what would you do differently?
I'd love to do another tour of the Garden Route as I regret not seeing it. Then I'd probably do a short safari to different places like Mozambique, Botswana, Zambia and Madagascar!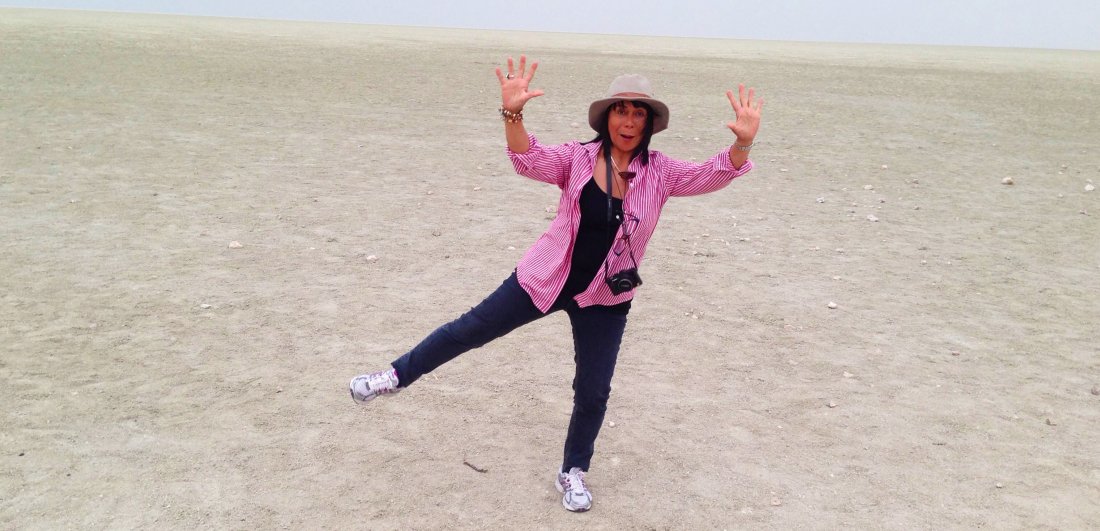 Florencia doing the 'Lindy hop' dance move on the Etosha Pan
Where do you want to go next in Africa?
Madagascar! Then Mozambique and the Garden Route in Cape Town.
Details of Florencia and Terry's safari
The South Africa, Namibia, Botswana and Zimbabwe safari lasted 22 days and 21 nights (9 September 2014 – 30 September 2014)
Day one - Arrived in Cape Town, South Africa. Overnighted at The Townhouse Hotel.
Day two - Left Cape Town for the Cedarberg Mountains. Overnighted at the Clanwilliam Lodge.
Day three and four - Travelled to Namibia's Orange River in a canoe. Overnighted at the Felix Unite Camp Provenance.
Day five - Headed towards Ai-Ais (for lunch) and Namibia's Fish River Canyon. Overnighted at the Canyon Road House.
Day six and seven - Went inland towards the Namib Naukluft National Park and visited the world's highest sand dunes at Sossusvlei and Deadvlei. Overnighted at the Hammerstein Lodge.
Day eight and nine - Left the Namib Naukluft National Park behind for Swakopmund. Spent the night at Hotel A La Mer.
Day ten - Departed the coastal town of Swakopmund and visited Cape Cross before heading inland towards Brandberg. Overnighted at the Brandberg White Lady Lodge.
Day eleven - Explored Twyfelfontein, the Petrified Forest and the Himba Village. Spent the night at the Oppi Koppi Restcamp.
Day twelve - Travelled towards Etosha National Park. Overnighted at Okaukuejo.
Day thirteen and fourteen - Experienced game drives in the Etosha National Park and animal interaction at the floodlit waterholes. Spent the next two nights at the Halali Camp.
Day fifteen and sixteen - Left Etosha for the Kavango River. Stayed at the Kaisosi River Lodge for the next two nights.
Day seventeen and eighteen - Travelled from Namibia to Botswana's Okavango Delta. Explored the waterways on mokoros (dugout canoes) as well as the abundant variety of wildlife. Stayed at the Pepere Island Lodge.
Day nineteen - Left Botswana and headed back into Namibia. Stayed at Camp Kwando situated on the banks of the Kwando River. Enjoyed a game drive in the Mahangu National Park.
Day twenty - Journeyed back into Botswana, this time into Chobe National Park and enjoyed cruises on the Chobe River. Overnighted at the Chobe Marina Lodge.
Day twenty-one - Drove from Botswana to Zimbabwe's Victoria Falls. Spent the rest of the day touring Victoria Falls. Stayed at the A'Zambezi River Lodge.
Day twenty-two - Ate breakfast at the A'Zambezi River Lodge before we were transferred to Victoria Falls Airport for our flight home.
| | |
| --- | --- |
| | Megan Warrington, one of our friendly Africa Concierge Expert's arranged Florencia's South Africa, Namibia, Botswana and Zimbabwe safari. If you'd like to arrange your dream African safari with her, contact us now. |